Foster to Adopt
We have some terrific cats who have been overlooked.  When in a cage at our adoption events they don't show all their wonderful qualities that we witness while they are in their foster homes.  Often the cats feel nervous or anxious, or may struggle from cage stress stemming from their time in a shelter.  It is difficult for them to show how sweet and loving they are in that environment.  
Because of this, we offer these beautiful cats through our new Foster to Adopt program.  What do we mean by Foster to Adopt? After becoming a pre-approved adopter you will take the kitty home for up to a month at no cost.  Purr Partners will provide the food, litter and vet care.  During the month, you will see what we already know —  these are very special kitties that just need someone to take a chance on them! 
At the end of the month, you will either complete the adoption for a reduced donation of only $50 or simply return the cat to us. 
If this appeals to you, we encourage you to consider one of these very special kitties.  The beautiful babies below are patiently waiting for their special person to come along and love them forever.
 If there is  a kitty that speaks to your heart please complete the Adoption Application include the name of the cat followed by F2A and one of our adoption specialists will be in touch!
---
CHARLESTON
DSH, Tuxedo, Male
DOB 3/1/12
Charleston is a wonderful boy who gets along with everyone! He loves his other foster friends and even tries to get the kittens to play with him. His favorite toy is a crinkly rabbit that he found and now he likes to carry it around the house. He watches each evening for his foster mom to come home so he can show her how much he missed her. Charleston is a youngster at heart and would love to find a family that he can call his own.
---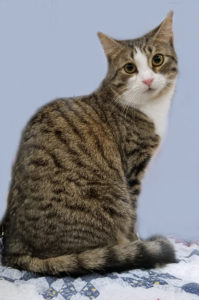 CHELSEA17
DSH, Grey/Brown Tabby, Female
DOB 3/8/17
I am Chelsea, a little grey/brown tabby with white paws, bib and face.  When I was rescued I was all by myself and only weighed 13 oz.  I had to be force fed every few hours because I was scared and didn't want to eat.  After a diet of kitten milk and baby food, I started gaining weight and now I eat regular kitten food.  I was all alone during the 2 week quarantine, but once that was over I was able to join 7 other kittens.  However, my 'kitty manners' were lacking and the other kittens avoided or ran from me.  Who knew they wouldn't like being jumped on and beat up?  With time I have learned how to behave and now they are my close friends.  I have lots of energy, and love to get in trouble.
---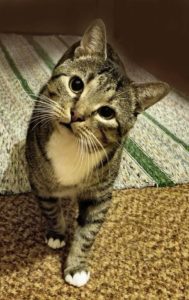 CHEVY
DSH, Mackerel Tabby, Male
DOB 4/26/15
My name's Chevy and I'm a good ole country cat. Just like my namesake, I'm fast and ruggedly handsome. I'm a sports model 'cause I like to play; show me feathers, kicker, toy mice, most anything that moves and I'm ready for the game. I'm quite the lover, too. I like to find a soft lap and snuggle up real close for some TV, especially sports or movies that have some animals in them. And in bed — well, that just means more snuggle time and some warm sleeping. I do my bit around the house, keeping up with whatever is going on and helping out by being entertaining. My foster mom says I shouldn't live with preteen children. I think dogs are OK from a distance, but I haven't had much experience with them close up. If you are cat savvy and looking for a good-tempered companion, someone to hang out with you, I'm your boy.
---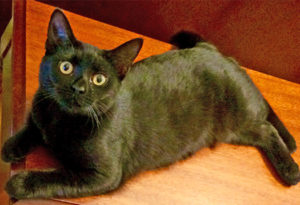 GOLDIE17
DSH, Black, Female
DOB 3/1/17
Goldie is a sweet and extremely wonderful black cat. She was named Goldie, because of her beautiful golden eyes. She is great with children, other cats, and her foster family's dog!!!  Goldie LOVES toys and LOVES TO RUN! She loves playing with toys, and loves to be petted. She is READY TO GO to her new home! If you will come and visit with our sweet Goldie, we just know that you will want her to be part of your family.
---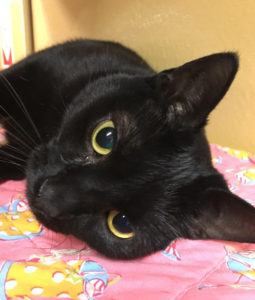 LICORICE
DSH, Mini Black House Panther, Female
DOB 6/1/2014
"Miss Licks" as she is called by her foster Mom is a lovely, sweet, and playful girl. Miss Licks had a very difficult beginning finding herself in a kill shelter, but happily rescued by Purr Partners. Upon arrival at her foster Mom's it was quickly noticed that she had a serious and very painful injury to her tail. 2 hours later she was being seen by a Veterinarian who also discovered that she had several bite marks on her hip as well. It appeared that she had been attacked possibly by another cat. She stayed overnight for medical care, then home to her foster Mom for love and healing. Today Miss Licks is a beautiful, sleek, playful girl who loves attention and is always happy to see you. She had been terrified of other kitties but over time and trust she now has many kitty friends she plays with and enjoys time out on the screen porch with. She loves to "wag" her tail when she greets you and give lots of rubs and head butts. Miss Licks is now ready for her next step to find a loving family who will love to be loved by a tail wagging kitty!
---
MARIEL
DMH, Maine Coon Mix, Female
DOB 5/1/15
Mariel is a delightful tiny little fluff ball and is as sweet as she is petite! She's quirky, and talkative, and curious and everything that makes cats so wonderful. Mariel is one of those kitties that just breaks our hearts, when she is at home she is a warm, sweet, wonderful little girl who just wants to curl up on your lap, purr and to be loved.  But when she meets someone new, she's scared and doesn't like the attention.  Because of that she is overlooked, folks assume she is not loving and friendly – nothing could  be further from the truth!  She is looking for someone who will be patient with her and can see past her fear and in time she will show what a truly wonderful cat she really is.  Mariel would do best in a calm household where she can be your one and only.  We hope there is someone out there that can see what we see in Mariel –  a beautiful, special girl that just needs someone to give her a chance!
---
DSH, Orange and White Tabby, Male
Nehi is just a big bundle of love in a big soft, furry body!  He loves, loves, loves attention and he will put his paw out to touch you to let you know that he wants you to keep petting him.  When he looks at you with those beautiful, almost clear green eyes, you will keep on petting him!  He likes to lay next to you or on you and will give gentle little head butts to let you know he appreciates you.  When Nehi came to Purr Partners, he had an infected bite wound and he was obviously sore all over.  He acted like he had been abused in some way and was a little cautious with his foster.  He wouldn't play because he was just unsure of the outcome. After treating with antibiotics and some pain medication he has made a full recovery and is now a trusting and loving boy.  He loves to gallop through the house and sis having a great time playing. He may take a little time in a new home to feel completely safe but once he does, he is an amazing companion.  He is not bothered by the other cats or the dog.
---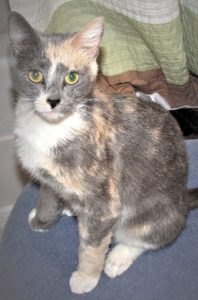 SUSANNAH18
DSH, Dilute Calico, Female
DOB 2/1/2017
Hi ya'll!  My name is Susannah and I am a sweet southern belle and love head and body rubs and in return will purr and purr!  I look forward to petting times with my foster mom and snuggling with her at night.  The small, gentle dog I live with and I get along just fine.  Oh, and my foster mom gave me this neat mouse that is the best toy I have ever had, I haven't had too many in my short life.   I have long, slender legs and tail which makes me look a bit elegant, I think.  And I do have a unique characteristic, my little black nose!   I probably would enjoy being your one and only.  I really am looking forward to my forever home and hope you will consider me.  I will love you and give you lots of purrs!!  I might even share my mouse with you!
---