Special Needs Cats & Kittens
Please read our Adoption Policies before completing an Adoption Application.  More info on how to adopt a Purr Partners cat can be found here.
---
KITTENS
TUMBLEWEED
DSH Orange Striped Tabby, Female


Special Needs: Cerebellar Hypoplasia (CH)
DOB 4/10/17
Tumbleweed is a beautiful and rare striped ginger girl – only 20% of all orange tabbies born are female.  She has a fuzzy coat and is a silly little kitten, definitely the comedian of the litter!   Her CH is very mild, she has a very cute high stepping gait and a bit of a head bob when she is focusing on something.    She loves to play with her siblings and one of her favorite things to do is "attack" tiny mice and stuffed animals when they are not looking.   She's a lot of fun and always busy! She is also a girl that loves attention and petting. She cannot jump up very well due to her CH, so that should keep her off your kitchen counters!   Her mobility is very good and she can climb like crazy!   This little kitten is definitely one to consider if you want a lot of cuteness and love in your life!
Cerebellar Hypoplasia (CH)  is a disorder found in cats and dogs which causes jerky movements, tremors, and generally uncoordinated motion, just like ataxic cerebral palsy in humans.  A cat with CH often falls down and has trouble walking or cannot seem to walk at all.  CH in cats is non-progressive, meaning it does not get worse with age.  It occurs when the cerebellum, the part of the brain that controls fine motor skills and coordination, is not completely mature at birth.   Cat and kittens with CH have a normal life expectancy and are very affectionate, sweet and loving.  They return the extra care they need with and intense love for and bond with their adoptive families.  Read more at chcat.org.
---
CATS
CHANTILLY
DMH, Grey and White, Female


Special Needs: FIV+
DOB 6/25/16
This shy, pretty teenage mom is looking for the safe, peaceful home that will encourage her sweet personality to blossom.  Not a lap cat yet, but responds to affection with a purr will warm your heart.  She is good with gentle children, and she is very hopeful for home where she is loved and cared for the rest of her life.   Chantilly is FIV+, which is transmitted only through a serious bite from another cat – the kind of bite that occurs in a fight between two unneutered males.  She can live safely with other cats as it is not contagious:  sharing food and water bowls, mutual grooming, play, sharing a litter box – none of those things transmit the virus.  Her lifespan will be of normal length, so essentially, this virus has little or no effect on pretty Chantilly!  This sweet girl has not had a good life, but she is now learning that people can be kind and loving.  She is a beautiful girl that will continue to fill in her coat and grow more beautiful as a good diet and good health develop.
Chantilly was dumped in a high kill shelter with her cute baby, Cupid.  She adores Cupid, but he's becomes a bit wayward, so she's adjusting to the empty-nest syndrome, and she's ready to transfer all her love to her human companion.  If you are interested in beautifying your home, and filling your heart with love, Chantilly is the girl for you!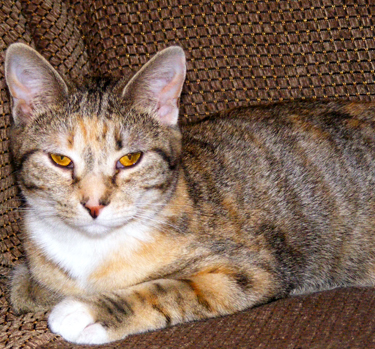 DARBY
DSH Torti/Tabby/Tuxedo, Female


Special Needs: Epilepsy
DOB 5/26/11
Darby is a cutie, a bit shy at first but definitely comes out of her shell after she explores her surroundings. She loves to play with her toy mouse and a game of smack and chase is always fun! Toys are great, but in the sunny afternoons, Darby stretches out by the door to watch the birds and wonder just how she might catch one of those very aggravating and tempting creatures. Darby loves belly rubs and doesn't mind asking nicely for more and more and more and more… well, she loves to have her belly rubbed – you get the idea! Darby was rescued from a local high kill shelter when her time was almost up, and ever since then, she's been determined to show her gratitude. Loving and affectionate, gentle and easy-going, Darby is very sure there is someone somewhere just for her. After all – she was lucky once: why not twice? Kitty daydreams of a forever home keep her spirits up and her heart hopeful. Darby is patient, and she is keeping the faith that very soon it will be her turn to go home to where she will live out her days as the much loved kitty of the household.
GARFIELD
DLH Orange and White, Male
DOB 7/15/05


Special Needs: Diabetes*
*Garfield is currently on a medical hold until his vet is able to regulate his insulin, and he has surgery for entropion which is a condition where his lower eyelids roll inward and his lashes scratch the surface of his eye.
Sweet Garfield was picked up by animal control after being out on his own for quite some time. He was very thin and in poor condition. Since coming to Purr Partners, he has gained weight and been treated for an upper respiratory infection. He does seem to have a chronic runny eye. We were surprised that our vet estimated his age to be 10 or more years. He obviously had a pretty rough life and we'd love nothing more than to find this deserving boy a home to live out the rest of his life in comfort. He is extremely gentle and prefers to walk away from other cats that might want to fight with him. He really wants to be loved. He purrs loudly when his foster mom comes in and yet he hides at the same time because he had to become cautious of all of the bad things that could happen to him. Please consider opening your heart and home to this special boy.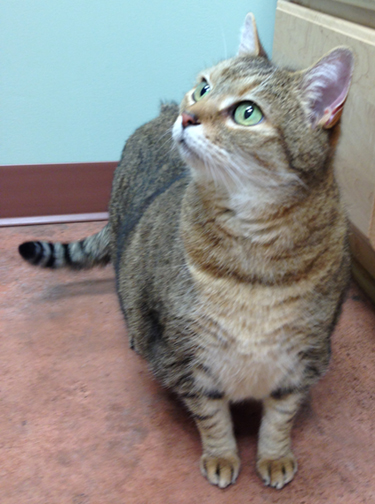 MINDIE
DSH Brown Tabby, Female


Special Needs: Obese and needs to have a limited & probably prescription diet
DOB: 7/15/11
Mindie's story is a sad one. She clearly was someone's pet and through no fault of her own she would up in a high kill shelter. Her whole world was turned upside down. Mindie was naturally terrified by this turn of events. Because she was so frightened, the shelter assumed she was mean and nearly put her to sleep. Purr Partners agreed to rescue her and take her into foster care until a new home can be found. Mindie is a very loving cat that is confused about her circumstances. She loves her foster mom but is still wary of her surroundings. Mindie is overweight and must lose some weight. Her current foster home is working with her on a diet. She needs to be brushed in the back because she is unable to groom herself. She is very good about being brushed. She will flop over on her side and roll around to solicit attention from her foster mom. Mindie needs a gentle and patient person who can heal her psychological wounds and restore her faith in humanity. She will probably require a prescription diet or all canned food diet to assist with her weight loss. Other than this, she will be no trouble and a wonderful companion for the right person.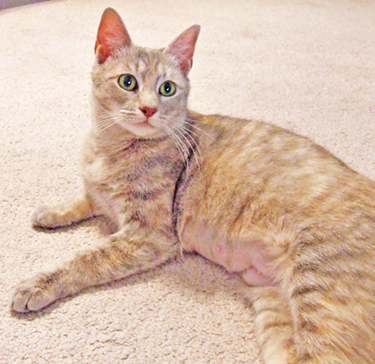 PASTEL
DSH Dilute Tabby, Female


Special Needs: FIV+
DOB 3/7/15
Pastel was rescued from a shelter and is FIV+. This means that she has a compromised immune system, however, as an indoor cat, she can live a long happy life.
Pastel is a very affectionate girl. She comes running when you call her and likes to snuggle with you, purring non-stop. Pastel likes to be the center of attention and will do well in a house by herself where she can be the star. She likes to play and does well with children. Take a few minutes to meet Pastel and you will see why she would be a great addition to your home!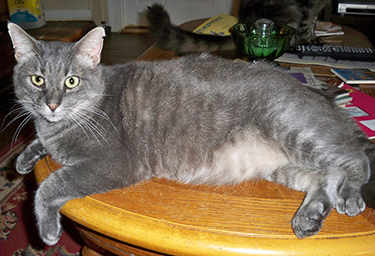 THOMAS
DSH, Male


Special Needs: FIV+
DOB 6/1/13
Thomas is one BIG Beautiful grey boy!! Weighing in at around 14 lbs., this boy is a very gentle, kind, easy-going, sweet boy. He so loves attention, lounging on the screen porch chairs, dozing in the sun, peeking at the birds and squirrels who come to eat. He gets along easily with other kitties and enjoys playing with the little catnip mice and crinkle balls. He so enjoys attention and always comes to see what you are doing and if you might need a paw to help!!!
Thomas was rescued only hours from death as he had tested + for FIV.  The virus in cats means that they have a compromised immune system. However it does not diminish a long and happy life, many FIV kitties live well into their late teens, enjoying a long and loving life. For more info on Thomas please contact Purr Partners. Thomas is waiting for his furrrrever loving family.
---
Top 10 Reasons to Adopt an Adult Cat
10. Older cats are calmer.
9. Their personalities are well developed and a good match is easier to make.
8. There's no question as to how big they will get.
7. They are less likely to get into mischief around the house.
6. They need less attention than young kittens, but can still be quite playful.
5. They still make strong bonds with their new families.
4. Many don't mind if they are left alone while you are at work or school.
3. Cats often live 15 or even 20 years, so an 8 year old cat is only middle-aged and has many years of affection left to give.
2.These wonderful loving kitties deserve a second chance.
And the #1 reason to adopt an adult cat is…kittens aren't kittens forever!