Meet Pogo
This sweet boy was hit by a car and dumped in a drop box at the Granville County shelter this past Sunday, December 10.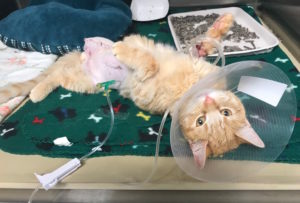 Fortunately, Pogo had a strong will to live and once he was discovered, Purr Partners received an urgent call to help.
Bunn Animal Hospital – always ready and willing to help on a moments notice – accepted Pogo, first thing Monday morning.  They did the initial diagnosis determining that he needed surgery, ASAP.
We immediately got Pogo to Quartet Veterinary Specialty & Emergency Hospital where he underwent emergency surgery that saved his life.
The pressure of the impact caused a 

diaphragmatic

  

hernia — a rupture in the diaphragm, allowing his internal organs to protrude through the rip and up into his chest cavity. He could barely breathe.

In addition, Pogo's hind leg was broken in three separate places and it was necessary to amputate.

However, this did not break this sweet boy's spirit, he purred and purred his gratitude for finally being out of pain.

It was as if he knew the best was yet to be…

Raleigh Diamond is donating this classic-style charm bracelet in sterling silver, featuring a solid 14k yellow gold kitty cat, playing with a ball of yarn, or getting into a little trouble!  A  $375 retail value.   This bracelet is going to whoever raises the most money for our sweet boy Pogo's medical care between today and 

Friday, December 22nd

.

Please consider making a donation to Pogo's medical care.  His initial bill is over $4000.  No amount is too small, even if it is only $1!  

Question:  Should we put all this money into one cat when there are so many out there?  

We have been asked this many times, and we have heard the comments.  While there is no one right or wrong answer, here is our position.  

First, it's not an either/or situation.  It's not help Pogo OR save more cats.  In this case, it's both – save Pogo and save cats.  We are limited by space more than anything, so that $4000 could not be used to save other cats – we don't have room for them.  Spending this on Pogo will not impact the number of cats and kittens in which we save.

Second, we don't save a cat based on some perceived "worth."  Is a pretty cat worth more than another?  Is a highly adoptable cat worth more than a cat with medical issues?  How can we possibly assign the worth of a cat?  Our belief is that every cat is worth whatever we can do:  foster care, medical care, love, affection, and hopefully adoption. 

Last, while we can't save every cat out there, we can save the ones that come our way.  When we pull ANY cat or kitten from the shelter, we don't know what medical or behavioral issues it comes with.  We are always flying blind.  But once they are "ours" we do whatever is necessary.  

So. our answer to this question is YES,  we should put all this money into saving Pogo, AND we will continue to save as many as we can – just like we always do!
Don't want to donate online?
Mail a check to:
Purr Partners, PO Box 905, Youngsville, NC 27596
Purr Partners is a 501(c)(3) ALL volunteer organization – 100% of ALL donations go to supporting and rescuing more cats and kittens. Thank you for saving a life!