Meet Sparta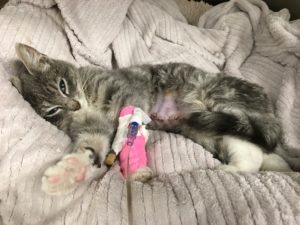 Strong, Stoic, Sparta was rescued by Purr Partners from the Duplin County Animal Shelter. No one knew that this sweet kitten was suffering with horrific internal injuries.  He was scheduled for neuter, shortly after his arrival that is when his injuries were discovered.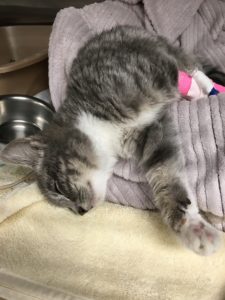 The vet could see that he was having difficulty breathing and he became progressively worse. Sparta was working extremely hard to breathe, his respirations were rapid, any slight stress caused him to struggle for more air. Every breath was exhausting, his little abdominal muscles were working so hard and managed to get just enough air in and out of his lungs to keep him alive.
Sparta was diagnosed with a diaphragmatic rupture, most likely a result of blunt force trauma. Upon more testing and X-rays it appears that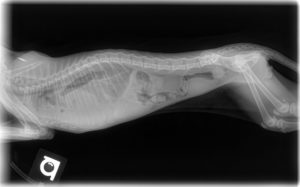 two of his ribs had been fractured at some point and were left untreated.  We believe that he was either stepped on or kicked as a tiny kitten. Greater than 50% of his diaphragm had a gaping opening which had allowed his stomach, liver, and intestines to enter the chest cavity.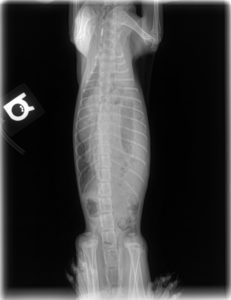 The abdominal contents were compressing his lungs and prevented them from fully inflating, causing respiratory distress. One lung was nearly collapsed and his heart has been pushed so far back that it is literally in his back!   
In the short two months of his life and barely weighing 2 pounds this tiny kitten had been subjected to extreme cruelty.  We have no idea how long he had been suffering. 

Undergoing a successful surgery at Quartet Veterinary Specialty & Emergency Hospital the surgeon was able to repair the rupture in his diaphragm.  Sparta's prognosis is favorable; he will be in the hospital until he is stable after which he will continue his recovery at the home of his foster family.  
---
Question:  Should we put all this money into one cat when there are so many out there?  We have been asked this many times, and we have heard the comments.  While there is no one right or wrong answer, here is our position.
First, it's not an either/or situation.  It's not help Sparta OR save more cats.  In this case, it's both – save Sparta and save cats.  We are limited by space more than anything, so that $3000 could not be used to save other cats – we don't have room for them.  Spending this on  Sparta will not impact the number of cats and kittens in which we save.

Second, we don't save a cat based on some perceived "worth."  Is a pretty cat worth more than another?  Is a highly adoptable cat worth more than a cat with medical issues?  How can we possibly assign the worth of a cat?  Our belief is that every cat is worth whatever we can do:  foster care, medical care, love, affection, and hopefully adoption.

 Last, while we can't save every cat out there, we can save the ones that come our way.  When we pull ANY cat or kitten from the shelter, we don't know what medical or behavioral issues it may have,  we are always flying blind.  But once they are "ours" we do whatever is necessary.
So, our answer to this question is YES!    We should put all this money into saving  Sparta AND we will continue to save as many as we can – just like we always do!
Please consider making a donation to help with his veterinary care, no amount is too small!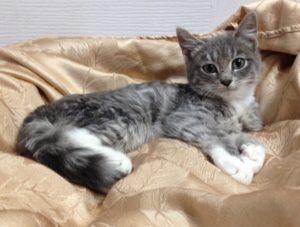 Don't want to donate online?

Mail a check to:
Purr Partners, PO Box 905, Youngsville, NC 27596
Purr Partners is a 501(c)(3) ALL volunteer organization – 100% of ALL donations go to supporting and rescuing more cats and kittens. Thank you for saving a life!