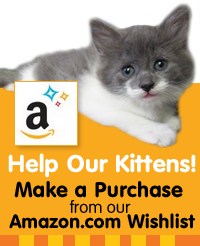 It is kitten season!  And with kitten season comes an increased need for kitten powdered milk replacer, hand-feeding supplies, pet-safe heating pads and more for our tiniest bottle babies, kitten food and high calorie supplement gel for the older kittens, as well as some of our regular supply needs.
As you do more shopping on Amazon.com during this pandemic, please consider adding in an item from our Amazon wishlist by clicking on the logo above, or on the right side of every Purr Partners web page.
Our list has just been updated to reflect our current needs, and we sincerely appreciate all help you can provide for the most fragile of our little ones!