Purr Partners, North Wake Animal Hospital, Carolinas Collision Centers and Capital Automotive Group, would like to thank all of those who donated, helped collect supplies and spread the word for the #PurrforPets campaign supporting hurricane victims in Texas and Florida!  With the contributions of the greater Wake Forest community we were able to collect much needed supplies and monetary support.  Nearly $3000 was send to Wags to Whiskers of Texas, a sister rescue to Purr Partners.  And two enormous truckloads of pet supplies are on their way to Texas and Florida!
Lawanna Johnson, Founder and Director of Purr Partners said, "It is heartbreaking to see the images of the animals — homeless, separated from their owners, afraid and fighting for their lives. We need to carry out our mission and do everything possible to ensure their well being and safe placement."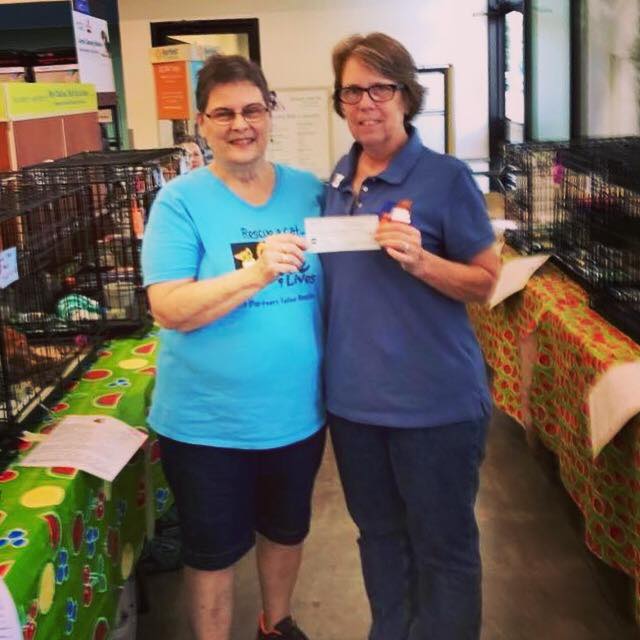 Purr Partners is pleased to announce that nearly $3000 was raised to benefit Wags to Whiskers of Texas!  
Barbara Bradley, Purr Partners Treasurer presenting Teri Kropik, Director of Wags to Whiskers of Texas with a $2000 check and $900+ worth of medical supplies!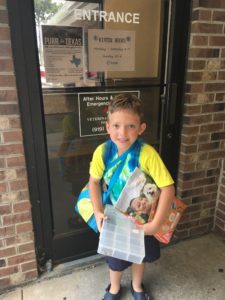 Of those donations received,  a six-year-old Wake Forest resident, animal lover and budding activist  — who wishes to remain anonymous — chose to forgo gifts at his 6th birthday party.  Instead he asked friends and family to #PURRforPets by donating money and supplies to the animals affected by hurricanes #Irma and #Harvey. This young man is leading the way in reclaiming the meaning of gift giving!  He has a bright future ahead and is a shining example to us all!  Thank you for making a difference in the lives of these animals!
Supplies, Supplies and more Supplies!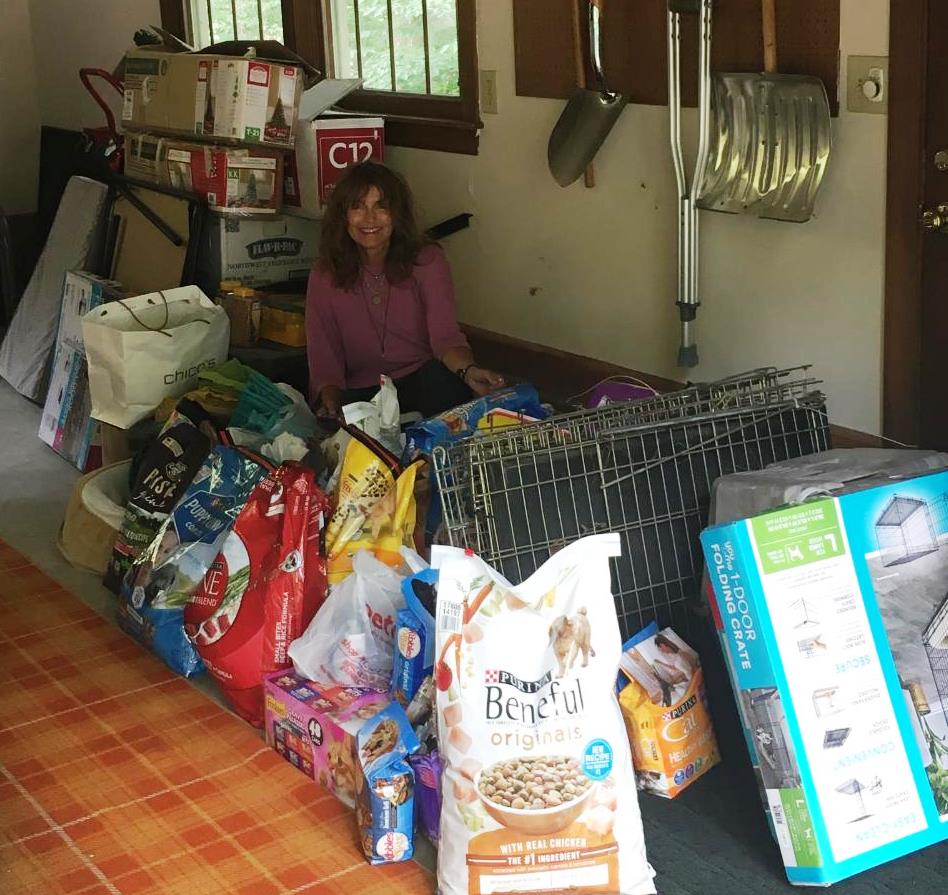 Licensed Veterinary Technician, Sharon Carlson of North Wake Animal Hospital, pictured here in her Mom's garage in Chapel Hill, with a load of pet supplies to be trucked to Houston after the devastation of Hurricane Harvey.  Carlson said, "People have been so gracious and truly awesome! We are also sending a truckload to Florida, so please keep things coming!"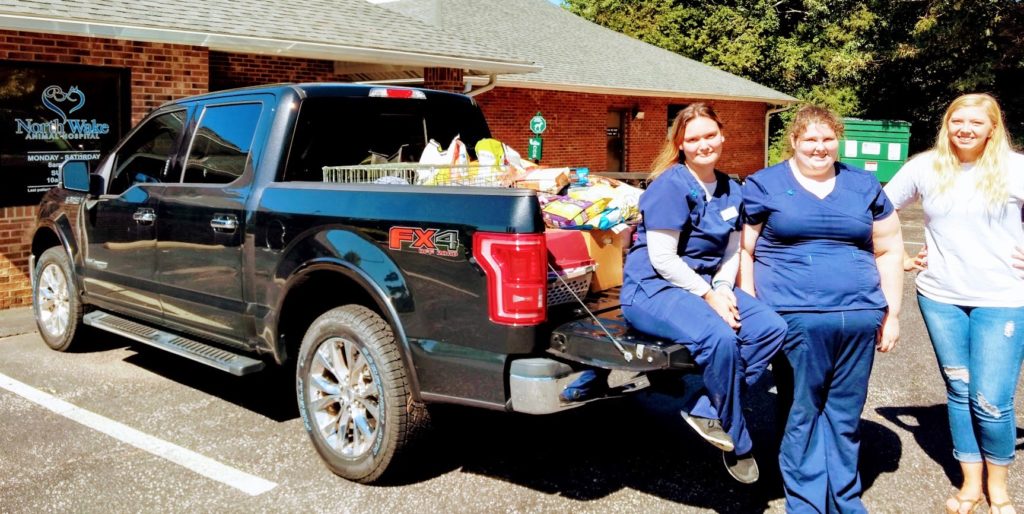 North Wake Animal Hospital's team members Samantha and Amber help Cheyenne of Carolinas Collision Center  load up more community donations supporting  relief efforts in Texas and Florida.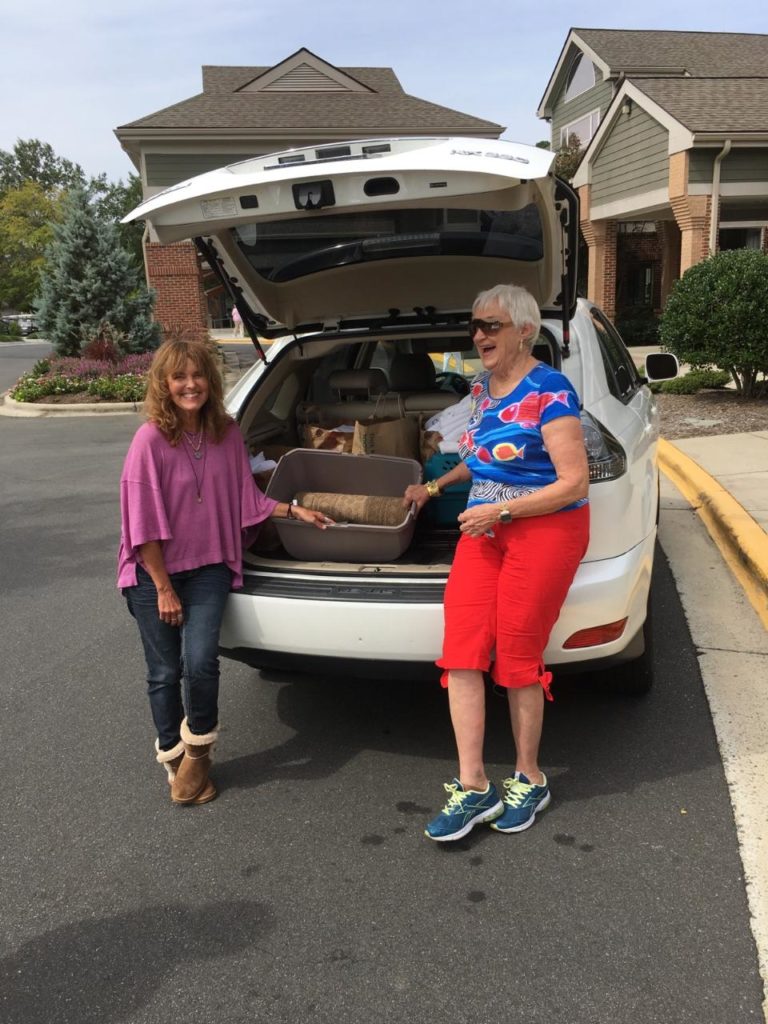 Ms. Harriet Herring and Sandy Elder collected donations at Carolina Meadows retirement community in Chapel Hill!  Thank you to all the residents and especially,  Ms. Herring, who is pictured with Sharon Carlson of  North Wake Animal Hospital.   

Read more about Purr for Texas at ABC11 
Wags to Whiskers is located just north of Houston in Porter, TX. They currently have over 150 cats and kittens and are accepting an onslaught of cats and kittens that are lost or have no homes in which to return
Like Purr Partners, Wags to Whiskers of Texas is a 501(c) 3 non-profit, no-kill, all-volunteer animal rescue.  From their location, they serve Humble, Porter, New Caney, Spring, Cleveland and the Greater Houston Area. This includes Harris, Montgomery, Liberty and San Jacinto Counties.
Donate here and select the "Shelter Rescue Program and General Fund" as the donation designation and write in "Purrs for Texas" in the optional field.

Thank you for making a difference in the lives of these deserving animals!