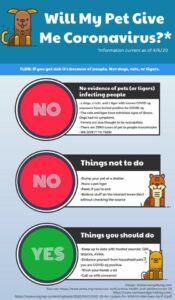 We are concerned that people are still getting incorrect information about companion animals and COVID-19.  Please check out our links below for information from reputable and trusted sources.
We always encourage pet parents to have a plan in place should you become sick or have to be quarantined for an extended period of time.  Having two weeks worth of food and medication for your pets, making arrangements with your vet for possible boarding, and having a daily check in with a friend or neighbor who can step in should you become ill are all things to have in place.
Please stay safe and help us educate people about COVID-19 and companion animals so that no pets die from lack of information or unnecessary fear on the part of their owners!
International Cat Care: COVID-19 Advice for Cat Owners
CNET: Coronavirus and Pets – How COVID-19 affects cats and dogs