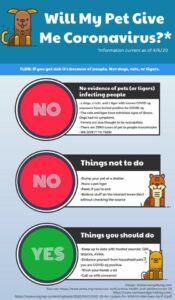 Right now is a scary time for everybody, and we understand the fear and uncertainty people are living with.  We hope you are staying safe and finding ways to deal with this ongoing crisis in our world.
We are continuing to save cats and kittens and are managing to do adoptions in a safe manner that does not involve face-to-face interactions.  We will be glad to work with you if you choose to adopt during this time.
We are very concerned that people are getting incorrect information about companion animals and COVID-19.  Please check out our links below for information from reputable and trusted sources.
We encourage everyone to have a plan in place should you become sick or have to be quarantined for an extended period of time.  Having two weeks worth of food and medication for your pets, making arrangements with your vet for possible boarding, and having a daily check in with a friend or neighbor who can step in should you become ill are all things to have in place.
Please stay safe and help us educate people about COVID-19 and companion animals!  We are concerned that many could die from lack of information or unnecessary fear on the part of owners!
International Cat Care: COVID-19 Advice for Cat Owners
CNET: Coronavirus and Pets – How COVID-19 affects cats and dogs