Adoptable Cats & Kittens
---
ALADDIN18 
DSH, Black & White Tuxedo, Male
DOB 7/8/18
Hey! Hey you!  Yes, you. I mustache you a question.
Do you like really cute, playful and sweet kittens? Do you like kittens that will snuggle with you for hours while you binge watch Netflix? Do you like to be met at the door each evening by an enthusiastic buddy who will help you share your ice cream?
Well, if you answered 'YES!' to any of these questions then I am supposed to go home with you. I am a super-social, friendly and gregarious little guy who loves people and other cats. I'm confident, curious and a real lover boy who would fit right into your family.  So what do you need to do? Submit an application and before you know it I will be eating your cat food and purring you to sleep at night. Hurry! I'm so dang adorable I won't be here long!
---
---
ANTONIO18
DSH, Brown Tabby, Male
DOB 4/1/18
Antonio and his brother, Ansel, came to us most recently.  He and his siblings were born on a roof where their Mother left them.  He is a bottle baby which means he is very attached to humans.  Since coming into his foster family's home, Antonio has been alert, gentle, and playful. He seems very curious about everything that is going on in the household! He is quite amusing to watch, as he is very athletic and flexible and loves to play! Antonio is a warm and loving kitten, and loves to rub his cheeks on you!
---
BENNIE18
DSH, Orange Tabby, Male
DOB 7/30/18
If you looked up "how to have fun" in a dictionary, there would be a picture of Bennie – either playing with himself or playing with his littermates.  He has the best personality.  He is an all around great kitty – loves to play and is also very affectionate.  Love everything; people, other cats, toys, playing in the shower.  He has great manners, loves using the scratching post on the cat tree.  He gets along well with kitties of all ages.  He has beautiful tabby markings that are so symmetrical.  If you are looking to add some fun and excitement to your life, Bennie is the kitty for you. 
---
---
CAIRO18
DSH, Black, Male
DOB 5/9/18
I'm so soft my fosters can't keep their hands off me!  And I don't mind a bit!  I love all the attention and snuggles. I love to be petted and have my head scratched. I also love to chase my brothers and sister around, climbing and jumping or playing hide and seek!  I am a super sweet, beautiful little kitten who is looking for a forever family to play and snuggle with me!
---
CANDACE18
DSH, Dilute Calico, Female
DOB 9/1/17
Candace is a wonderful girl! Purr Partners rescued this former stray at the last minute and she has proven to be a real gem! Candace adores people and will gladly accept all the attention and affection she can get. She also likes sleeping on the bed next to her foster mom. Candace has excellent litter box manners and is past the "crazy kitten" stage. Don't let her petite size fool you; Candace can hold her own! She gets along with other cats after a proper introduction and is getting used to the gentle dog in her foster home. Candace is no trouble at all and will be a terrific addition to any home. Come to meet her!
---
---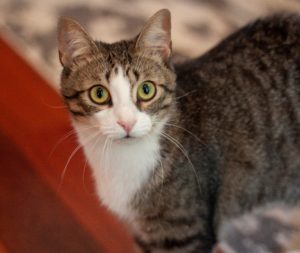 CHELSEA17
DSH, Gray & Brown Tabby, Female
DOB 3/8/17
Foster to Adopt Eligible
Chelsea is a beautiful little girl with a pink nose and striking eyes.  She came to us when she was a few weeks old – all by herself, no littermates or Momma.  The first two weeks she was quarantined to make sure she was healthy so she only had humans for playmates.  While she likes other cats and gets along with them, she is more comfortable being close to humans.
She will take all the attention you can give her.  When she is in a loving mood she will climb on your lap, put her paws on your chest and touch your nose with hers!  Sometimes what happens to a kitten early in life determines their personality – and Chelsea will be cautious at first, but once she knows you and trusts you, she will be a little love bug and a loyal friend.
She is curious about the world around her and can spot a fly or ant from 10 feet away.  She loves to watch the birds and bugs outside a window and will make little-chirping noises when something comes close to the window.  Chelsea will play with any toy you give her, but she especially likes the beam from a laser.  Chelsea would do best with a couple or single person – where she can feel safe, can accept your love and give you all hers in return. Click here for more information on our Foster to Adopt program. 
---
CHEVY
DSH, Mackerel Tabby, Male
DOB 4/26/15
Foster to Adopt Eligible


 Prescription Diet
My name's Chevy and just like my namesake, I'm fast and ruggedly handsome. I'm a sports model because I like to play; show me feathers, kicker, laser light, almost anything that moves and I'm ready for the game.  I like to find a soft lap or to snuggle up real close for some TV, especially sports or movies that have some animals in them. I'm a terrific companion kitty and am looking for a human that would enjoy my company. I have a cat tree beside the window at my foster home for cat TV and napping and do hope my forever home will have one too. I do my bit around the house, keeping up with whatever is going on and helping out by being entertaining. I'm looking for a forever home with adults or older children. I haven't had many kitty friends but with some very gradual introduction, I'm willing to give it a try. I think dogs are OK from a distance, but I haven't had much experience with them close up. If you are cat savvy and looking for a good-tempered companion, someone to hang out with you, I'm your boy! Chevy is on Urinary Food to prevent urinary tract problems that are common in male cats. His toilet habits are excellent.  He has very short hair and almost no shedding, a definite advantage. Chevy is not fond of PetSmart and the foster to adopt program gives the opportunity to see his real personality. Click here for more information on our Foster to Adopt program. 
---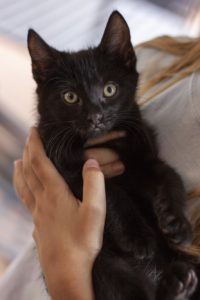 CHICKLET18
DSH, Black, Female
DOB 5/9/18
I am the only girl in a litter of five kittens!  So I've already put up with a lot in my short life!  But I am super chill and one adorable little black fur ball. I love playing with my brothers, chasing, wrestling, climbing and jumping until we are all exhausted. And then it is time for snuggles and lots of purrs!  And please rub my soft belly!  That is my favorite!  I am a beautiful kitty with loving big green eyes who is great with kids and other cats. And I'm looking for my forever home!
---
COLEY18
DSH, Black, Male
DOB 8/4/18
Super friendly, playful, glossy black kitten, with the softest, silkiest coat you'll find.  For Carolina fans, here is a miniature black panther to cuddle up with while you watch the game.  Coley also loves sports – he will be there lickity split ready for action. He'll entertain you with his playful leaps, twists and spins trying to catch toys dangling from rods.   With the skills of a soccer player, his fast little feet chase and bat balls across the floor. After some play, Coley will purr in your arms wishing for a full body massage.  Need "help"?  Coley is right there always keeping you company. His confident, out-going personality gives him all the essential qualities to be a great furry family.
---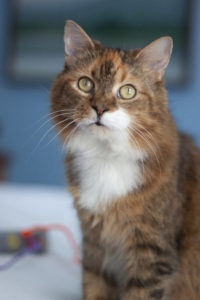 CORAL18
DMH, Torti/Butterscotch, Female
DOB 6/20/16
Are you looking for a cat that is beautiful, talks, likes laps, loves to be petted and is playful?  Search no more, you have found your kitty.  Coral is all these things and much much more. When Coral was pulled from the shelter and came to her foster home she came in the door and gave her seal of approval by giving a little meow and going right to the toys.  She especially likes the wands, with no feathers, that she can grab and pull on like a game of tug of war, rolling balls across the floor and catnip pillows that she can wrap her legs around are fun too. She doesn't mind having her fluffy fur brushed or having her claws clipped because it gives her another chance to sit on your lap. Coral would love to have a family of her own where she can run and play, and best of all just hang out with her new family, maybe find a new lap or two that is calling her name.

---
CREAM18
Siamese Mix, Blue Point, Male
DOB 8/12/18
Cream is a gorgeous Blue Point Siamese mix with sparkling blue eyes and four white paws. He is the handsome, shy, sensitive type. It takes him a moment to snuggle and purr. He loves to play and have his neck scratched. He would love to be adopted with his brother Chowder. Please come meet Cream and give him the forever home that he deserves.
---
---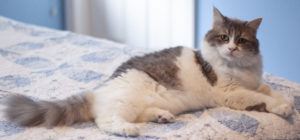 DAPHNE18
DLH, Gray with White, Female
DOB  5/1/2005
Daphne was surrendered to a shelter after a family had her for 13 years.  Why someone would surrender such a sweet lady is hard to imagine.  Daphne is a beautiful long-haired girl and may be part Maine Coon.  She has a wonderful temperament and enjoys spending her day watching out the window, and curling up with her foster mom in order to receive lots of pets and love. Daphne is currently taking applications for someone seeking a sweet, gentle lady that enjoys the attention that only a human can give.
---
---
DIEGO18
DLH, Silver Creme, Male
DOB: 7/1/2015 
I'll bet you've never seen a cat like me before! I have silky silver and gray fur with a long tail and ear tufts. Oh, and check out my black eyeliner! Somehow I wound up in a high kill shelter and was rescued by Purr Partners. Sure, I am not longer a cute little kitten but you won't find a sweeter boy anywhere. I am a friendly, passive, low key type of guy. I admit I am shy at first but that won't last long. I just need a little time to adjust to all of the new and scary things that are happening to me. My foster mom said I need to gain some weight. She also said that I will be GORGEOUS once I get some good food and TLC. I love to have my chin and behind my ears scratched. Would you please consider giving me a permanent home where I won't be abandoned again? I will blossom for you.
---
---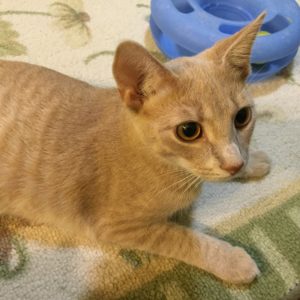 FAJITA18
DSH, Buff, Male
DOB 4/3/18
Fajita loves to play with his foster friends and realizes that everything is a potential toy. He will chase balls around the room, throw mice in the air and wrestle with any kitty that wants to join in the fun. When the fun and games are over he will let his foster mom cuddle him and listen to him purr while he enjoys the attention. Fajita will make a wonderful attention to any home.
---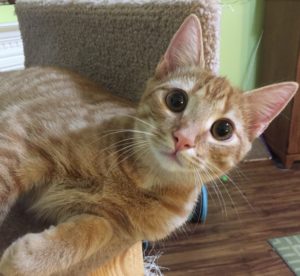 FLAME18
DSH, Orange Tabby, Male
DOB 4/3/18
Flame is an energetic little guy who loves to hang out with his foster mom for attention and belly rubs. While he is getting pets he is watching the other kitties and waiting for them to play a game that he would like to join and when he sees it, watch out, he will jump in with all four paws.  If you want laughter and love then you need Flame as a member of your family!
---
FOXY18
DSH, Agouti Tabby, Male
DOB 4/3/18
Foxy is a rare, handsome Agouti (non-striped tabby) boy with a wonderful personality. He is playful and enjoys wrestling with the other kitties, hiding in the cat tunnels and jumping out scaring the other kitties. After playtime, he loves to climb to the top of the cat tree and taking a nap with the sun shining on him. He would love to have a home of his own, is it yours?

---
GALLAGHER18
DSH, Brown Tabby, Male
DOB 6/2014
Gallagher is a very loving short haired tabby who is almost 4 years old.  He is a gorgeous male cat with very pretty markings.  Gallagher is a very shy boy at first but once he opens up (takes about a day) he is such a lover.  He loves belly rubs and laying on laps.  Gallagher is great with babies, children and other cats.  He has not had any experience with dogs but will likely be okay with a little time.   He is such an easy cat and very well mannered.  No behavioral issues.  He needs a good home with lots of love to give and he'll give lots in return.  Ideally, Gallagher would love to find a home with his sister, Glitzy.  They make a great team, but they can go separately.
---
GAYLEN18
DSH, Brown Tabby with White, Female
DOB 6/30/18
Gaylen means "tranquil or calm."  This little girl is so sweet!  She enjoys playing with her kitten toys, cuddling and napping in your lap.  She likes climbing cat towers and being with people.  Gaylen is good with kids of all ages and gets along with other kitties.  If you are looking for an affectionate and fun kitty, Gaylen is for you.
---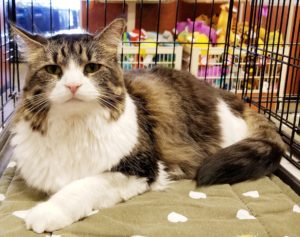 GLITZY18
DMH, Tabby and White, Female
DOB 6/2014
Glitzy is a sassy and spunky medium haired cat with an absolutely gorgeous face.  Glitzy doesn't walk, she prances.    She is a very friendly almost 4-year-old cat and loves being scratched underneath her chin.  Glitzy, like her brother Gallagher, loves fancy cat toys but her absolute favorite thing to play with is a water bottle cap.  Glitzy has the ability to hear you open a bottle of water anywhere in the house and will come running to get the cap. Glitzy is great with babies, children and other cats.   She has not had any experience with dogs but will likely be okay with a little time and proper introduction.   She is very easy going and well mannered.  No behavioral issues whatsoever just a sweetheart.   She simply needs a good home with lots of love to give.  Ideally, she would love to find a home with her brother, Gallagher, but it's not a necessity.  They make a great team and do love each other, but more importantly, she wants a loving home with cuddles and kisses.
---
HANNAH18
DSH, Black, Female
DOB 5/10/18
Hannah is a curious kitty. She has to check everything out before snuggling up with you. She loves her toys and other cats. She is great with kids and loves to play in her water bowl. She usually gets her sisters wet after putting her paws in the bowl and then shaking them, leaving her sisters to dry themselves! She will definitely keep you laughing!
---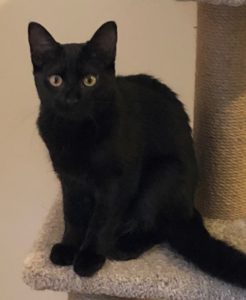 HIGHLITE18
DSH, Black, Female
DOB 5/10/18
Highlite is a big mush. She loves to be held more than most cats. She is the first to greet you when you enter a room and never wants to leave your side. She loves running around chasing a string of yarn and playing with her sisters. She is great with kids and other cats. If you want a great snuggle buddy and loyal companion then she is your girl.
---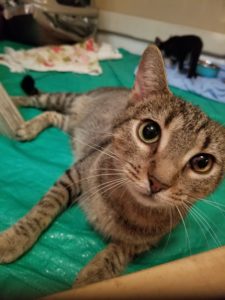 HOLLY18
DSH, Torti, Female
DOB 6/1/17
Hiya! I am a sweet, people-lover! My kittens and I were rescued just in time from Hurricane Florence. I am such a sweet and selfless cat and I looked after my own kittens as well as a few whose own mom didn't make it. Now that I have made sure that that my brood are are all well-fed, clean, and ready for the big world, I am ready for my chance to snuggle with you! I have excellent litter box and scratching manners. I have done the whole motherhood thing, so I'd really like a quieter house where I can be the center of attention for a change. Can this house be yours?
---
---
HOT COCOA18
DMH, Black & White, Female
DOB 9/1/18
Yeah, I'm a girl and have half of a milk mustache and I own it! If you are looking for a cool cat with high self-esteem aspiring to be a kitty comedian, I'm your kitty. I'm also pretty useful to have around. I have been known to clean up water spills with my tongue and chase away any stray dust bunnies from the corner. I'm confident around other kitties, dogs, and kids, and would fit in almost any kind of home.
---
IMP18
DSH, Buff Tabby, Male
DOB 7/30/18
Imp is a handsome buff tabby with white boots. He has the most beautiful markings.  He is friendly and loves to be wherever his humans.  Imp's favorite toys include balls, balled up pieces of paper and mesh tunnels.  He loves to sit on the couch with his humans, waiting for you to rub his belly.  This boy loves kitties all ages and gets along with everyone.  He is waiting for his forever family to fall in love with him and take him home.  
---
INTREPID18
DSH, Buff Tabby, Male
DOB 4/5/18
This buff baby is so gorgeous in real life. He is a bundle of energy who loves to play with his siblings. When a toy on a string is presented he can't control himself and leaps into the air trying to get it. He loves to wrestle all the time with other cats. He is very curious and seeks out other cats when you can hear them but not see them. He has not been around young children or dogs but appears to be fearless. Is this bundle of energy new addition to your family?

---
IRISH18
DSH, Buff Tabby, Male
DOB 4/5/18
Irish is a buff tabby with a huge personality. He loves to play with his brother and sister and other cats at his foster home. He's also very curious and when you sit on the floor he will come up to explore what you are doing. He likes to play with puffballs and chase a string. He has boundless energy and is always seeking something to do. He has not been around dogs or small children but very much enjoys being around people. He likes to have his head rubbed and will reward you with a loud purr. He could be just what the doctor ordered after a long day of work.

---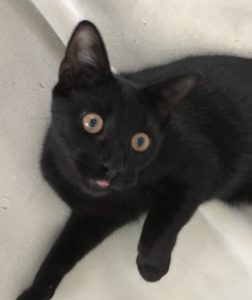 JAKE18
DSH, Black, Male
DOB 3/27/18
Looking for a funny, sweet little companion?  Jake's your little man.  This little guy loves to play and never tires – you'll give up before him.  He loves all kinds of toys, the laser pointer and anything on a string.  He jumps in the air with wild abandonment, so you have to be careful there isn't a wall or anything hard or sharp nearby so Jake doesn't hit it.
Jake is very sweet, loves to be held and purrs as soon as you touch him.  He is persistent, especially when it comes to treats – he will sit by your feet and literally squawk until you give in and give him a few.  He shows all signs of being a 'talker'.  He also gets along with other kitties.
Once we were looking all over the house for him, but couldn't find him.  Then we noticed something pink on a black table – and attached to that little pink tongue was all black Jake, sound asleep!  Jake often has the tip of his pink tongue sticking out – asleep and awake!  He also has beautiful amber eyes which stand out from his shiny black fur.
If you're are looking for a funny, lovable little guy  – just ask for Jake!

---
---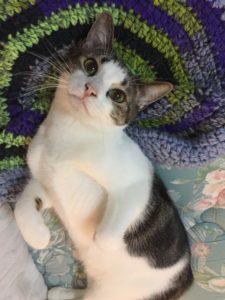 JUSTINA18
DSH, Tabby, Brown w White, Female
DOB 5/15/17
This sweet little girl is the purrfect size for your lap! She's a gentle kitty who loves the good life, away from the awful shelter – snuggling and lounging on her soft pillow is where she is most content.  She's also an avid nature lover and can often be found in a sunny windowsill watching the birds and wildlife. It's all just so fascinating!  Though she has a calm demeanor, she is not shy and will always let you know when she is nearby or hungry. She has the sweetest little meow and when you call her she will answer you back. She's always so happy to see her foster mom and she really wants to be in the middle of the action with the other foster kitties.  Please consider this little love bug to be the wonderful fur baby your home is missing — She's JUSTina, what you're looking for!

---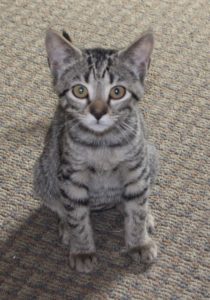 KIZZY18
DSH, Brown Tabby, Female
DOB 6/22/18
Kizzy is a very tiny, petite girl.  She came to Purr Partners at less than a month old, and she had to be syringe fed for a week or so.  She is such a loving kitty and begins to purr as soon as you pick her up.  She's an active girl, though, and loves to run back and forth in the hallway, and roll and wrestle with the other kitties she lives with.  Kizzy also loves feathers, and she loves to have someone shake them so she can pounce and jump.  This is one little girl with the sweetest face and the personality to match.  Kizzy will eventually get to full cat size, but it will probably take her a little longer to grow because she is so petite.  Everyone knows that the best things come in small packages.
---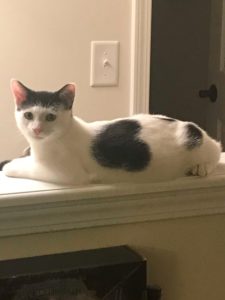 KRYPTON18
DSH, Black & White, Male
DOB 6/22/18
My name is Krypton but my foster mom calls me Cowboy because my heart is as big as Texas!  I am the sweetest most loving fellow that will play hard with other kitties then jump on your lap for snuggles and kisses.  I was bottle fed so I am very friendly and social with people and will interact with any kitten.  I love to play but am gentle so could be a great big brother to a smaller kitten.  I am very athletic, love to run and jump.  My very distinctive markings make me a very handsome fellow that will steal your heart forever.
---
LASER18
DSH, Black & White Tuxedo, Male
DOB 6/20/18
Laser is a wonderful kitten!  This boy is incredibly affectionate and has a loud purr! He loves to play with other kitties and then looks to people to love him.  No such thing as too many cuddles for this sweet boy.  He is a lapcat through and through.    He hasn't been around children or dogs but we are pretty sure that he could learn to love them too.  His foster family treasures him and knows that he will make a wonderful addition to any home.
---
---
LEI18
DSH, Gray & White Tabby, Female
DOB 6/20/18
I am a very playful girl!  I hope that my forever family has another kitty about my age so I can play and wrestle with them.  Then, when the fun is over and done, I am full of purrs for my peeps.  I just love to be cuddled and petted.  Are you looking to add some fun to your home?   If so, I am your girl! 
---
LILLY BETH18
DSH, Black, Female
DOB 3/16/17
If you want a cat that is playful, but not bothersome…cuddly but not needy, and an all-around great companion, you have to meet me! I am a gorgeous sleek girl with the biggest green eyes. I am sweet and very people friendly. I run up to you when you get home and purr and meow "hello." I'd be great in a home with a dog, or as an only cat. 
---
---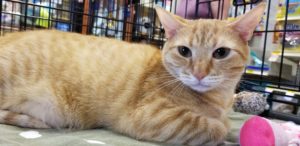 MANDARIN18
DSH, Orange Tabby, Female
DOB 5/28/17
My foster mom calls me Mandy Candy and it suits me down to the ground.  I'm a sweetheart of a cat!  Being orange, Mandarin is a great name for me, but Mandy is more my personality.  When I want your attention, I chirp and trill and will flat out ask for attention with a gentle headbutt.  I also watch TV.  If the TV is on CNN or ESPN, I'll chase the bottom banner and bat at it trying to catch it.  I'll also try to tackle football players with my mighty paw.  When I get tired of that, I'll take a nap on the TV stand.  I also love the trackball toy.  One thing, though – out of my foster mom's five cats, I get along better with the male cats than the female cats.  Go figure!  But if I needed to be an only cat, that's perfectly fine.  I'll be happy as long as I have love from my forever family!  I will return that love a dozen times over, I promise!
---
MATILDA18
DSH, Brown & Black Tabby, Female
DOB 11/20/16
Matilda is a beautiful, loving young cat.  She studies your face with her big green eyes as if she can tell what you are thinking. She was a stray that was taken in this past Jan during a cold spell by a very kind woman in Greensboro.  A few weeks later Matilda gave birth to 6 kittens.  The woman's HOA only allowed 2 cats, so she called Purr Partners asking for help.  We had some room at the time so we gladly took Matilda and her kittens.  She was an amazing Momma and now that all her babies have found homes, it's her turn.
Because Matilda was an outdoor cat, she can be shy around humans, but she warms up quickly.  She loves to be brushed and to have her back and neck scratched.  When you scratch or pet her, once you stop and as you pull your hand away, she will reach out with her paw and grab your hand letting you know she doesn't want you to stop!  She is also showing signs of being a talker.
She gets nervous when you hold her, but if you are willing to be patient with her and show her you can be trusted she will come around.  She will sit next to you or on your lap when it's quiet time.  Matilda is a wonderful, sweet kitty who with a little patience will be a loving friend for her human.
---
MINNIE18
DSH, Black & White Tuxedo, Female
DOB 4/23/18
Minnie is a friendly, inquisitive kitten with a delightful personality.  When she is in a playful mood, which is most of the time, she is very energetic, making sure she is at the center of all the action.  She goes crazy when the wand toy comes out and will chase it with gusto until she is completely exhausted.  When in a new situation, she gets nervous at first and needs time to adjust.  Once she is comfortable in her new surroundings, she is very affectionate and turns into a total cuddle bug.  She purrs constantly and likes to be carried around.  Come to meet this adorable girl and fall in love.
---
MIRANDA18
DSH, Black & White Tuxedo, Female
DOB 8/15/18
I'm all decked out for the holidays in my lush fur tuxedo, my manners are perfect, and I would love to go home with you to be your new best friend.  Charming, curious, and adorable describes my sweet personality.  I am a little cautious until I feel comfortable but soon I will be lying in your arms purring away.  Snuggling in someone's arms actually makes me feel safe and will be rewarded with appreciative purrs. As a fun-loving kitten, I enjoy active pursuits such as pouncing on feather toys or chasing balls across the floor.  After a little fun, I adore curling up for a nap at the top of my cat tree.   I will make a great furry family member for a quieter family or a  preteen/teen that wants to mother a sweet kitty. 
---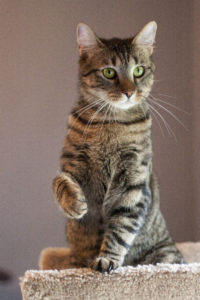 Mister MO18
DSH, Brown Tabby, Male
DOB 4/15/17
Foster to Adopt Eligible
Mr. Mo was abandoned by his "forever family" when they moved away from the apartment complex where they were living.   He was kept safe by a good Samaritan but was in a bathroom most of the time.  After being rescued by Purr Partners he is now getting the love and attention he was missing and is a terrific kitty!  This handsome tabby is curious and playful, he has been loving all the new toys at his foster home.  He also enjoys watching the birds and lying in the window sunning himself during nap time.    He is dog-friendly and ready to try again with a family who really understands what it means to be part of a family – forever.  Click here for more information on our Foster to Adopt program. 

---
MOONBEAM18
DSH, White, Male
DOB 8/1/18
Beautiful and unique, Moonbeam has lovely, baby blue eyes gazing out of a snow-white fur coat.  Such a love bug – playful, cheerful, friendly and affectionate.  Moonbeam is confident, out-going and loves to explore.  He is always ready for fun.  Agile and athletic, Moonbeam enjoys climbing cat trees, playing with fishing rod toys and chasing his kitten buddies across the floor.  Lucky, Moonbeam has his hearing intact, unlike many blue-eyed, white kittens who are born deaf.  Looking for a furry companion?   If you provide a great forever home, Moonbeam is sure to be your new best friend. 
---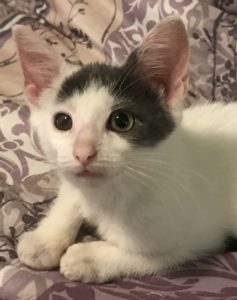 MUPPET18
DMH, White with Gray, Male
DOB 8/11/18
I was found, alone, in a field after hurricane Michael blew through. I was emaciated and very sick. A good samaritan brought me to a vet clinic for help. The vet contacted a Purr Partner's foster home who brought me home to help me get better and gain weight. I have a scar on one of my eyes from a bad infection. Otherwise, I am a very happy and healthy little guy. I love playing with toys and running around like any normal kitten. I'd love to have someone to play with. The cats in my foster home are older and they don't want to play with me, even though I try. The dogs here are nice to me so I am not afraid of dogs. Some people think I look like a Turkish Van. My foster mom says I have a kink in the bottom of my tail so I might be part Siamese. I am 100% special and adorable. 
---
---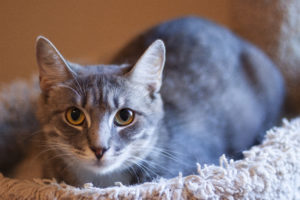 OLIVIA18
DSH, Gray Tabby, Female
DOB 5/11/17
Olivia is so precious.  She was turned in to a high kill shelter with four of her own babies and one orphan that the shelter had put in with her to nurse.  She was such a good momma, and she took care of the orphan as if he were her own.  All of her babies are older now, and it's time for Momma Olivia to find a forever home of her own.  She is a quiet, gentle girl who loves to be petted.  She gets along with other cats and kittens and is not overly demanding.  She'd just like a home where she can have a soft bed to curl up in, a window to look out of, and someone to love her.  Could that home be yours?  
---
PARASOL18
DSH, Solid Gray Tabby, Female
DOB 7/6/18
Parasol is so beautiful with her soft, classic tabby swirls and stripes just a slightly darker gray than her solid ash gray coat.  And just look at that gorgeous face!  Beauty has its strengths, and she is a little tomboy when wrestling her brother, Pewter.  Parasol is a little shy around dogs but seems confident enough to be willing to give a friendly one a chance.  She is bold, playful and adventurous with adults, cats, and kids, and will bring spunk, joy and sweet snuggles to her new forever family!
---
PARIS18
DSH, Brown & Gray Tabby, Female
DOB 9/26/15
Paris came to Purr Partners with 4 baby kittens which she has raised.  She was a terrific mom but now wants to just be a lap cat.  She is extremely sweet.  She is very quiet but does speak from time to time especially when she wants your attention.  She loves everything – playing, pets, being held and sitting on your lap.  She does not play a lot but does like to play a little.  She has not met a person she does not love.  Purr Partners thinks she was dumped because she was pregnant, but before that she must have been someones pet.  How sad she must be to have her family get rid of her.  She needs a family that will always love her.  Although she may be a little older, she will definitely make a great pet for anyone!
---
---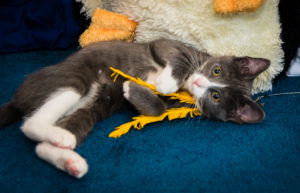 PEWTER18
DSH, Gray & White Tuxedo, Male
DOB 7/6/18
This cute kitten loves giving kitty kisses and snuggling in a lap – any lap!  He will hug your leg and look WAY up at you as if to say, "Well, pick me up, I'm ready to cuddle!"  Pewter seems curious about the dogs he sees when out and about and seems confident enough to make a great companion for one that will be friendly with him.  He is comfortable and playful with everyone he's ever met; adults, cats and kids, and he's sure that he's welcome anywhere.  This little guy has what it takes to fill his new home with happiness!
---
---
PRALINE18
DSH, Gray Tabby with White, Male
DOB 8/29/18
There are three kitties that are "triplets" – look exactly alike… But I am the more reserved shyer one.  Please don't get me wrong, I am very affectionate once I get to know you.  I just really like being with my mama.  I have a beautiful face like my brothers (as we are exactly alike) and I love to be held but it takes a little longer for me to warm up.  My foster mom LOVES me and says I make her laugh all the time!  I do tend to like to sneak up on things (most of the time in the wide open area where I can easily be seen) and POUNCE!  I am a really good hunter of balls and feathers – they don't have a chance with me around.  I would make anyone a wonderful life long friend! 
---
---
RALLY18
DSH, Torbie, Female
DOB 3/24/18
Rally has beautiful tabby stripes with tortoiseshell coloring.  She is a Tortoiseshell Tabby or "Torbie".  The gorgeous blend of cinnamon and white markings on her face, combined with her long slender frame, give her a unique look that is captivating.  Spend some time with Rally and you will, no doubt, be charmed by her sweet disposition and cute kitten antics.  She has an amusing habit of carrying her favorite stuffed toy around the house in her mouth and tossing it into the air to entertain herself.  She enjoys batting around bits of paper, chasing balls, and wrestling with her playmates.  She purrs easily and is comfortable around the friendly dog in her foster home.  If you decide to take this sweet girl home, she will become a loyal, affectionate companion that will fill your home with joy, entertainment, and love.

---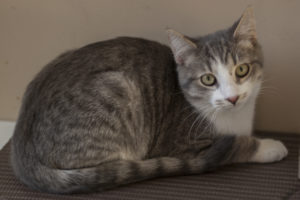 REMUS17
DSH, Silver Tabby with White, Male
DOB 6/20/17
Remus, like his brother Roman, began his life as a feral kitty in Durham and was entered into the Purr Partners program. Remus is more cautious than his brother but is slowly coming around to believing that people are to be trusted. He loves to be petted when he allows it, and we have every hope that he'll learn that people are not to be avoided but can provide love to him. Remus gets along very well with other cats and kittens but prefers to sit on the sidelines and watch all the activity or cuddle up in a small cat tree. He's a beautiful boy but will need a special adopter who will take things slowly and give him plenty of time to trust.
---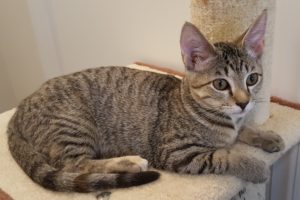 REVA18
DSH, Torbie, Female
DOB 3/24/18
Reva will steal your heart with her winning personality and sweet temperament.  This outgoing, athletic girl loves to tumble and play with her friends, chase feather wands, bat around toy mice, and watch birds from the screened porch.  After some fun, she is happy to settle on a lap to get some cuddles and show off her loud purr. She is friendly and confident and gets along well with the mellow dog in her foster home.  Her foster parents absolutely adore her and know her future family will too.  Reva is very social and would be happiest in a home where she has a kitty companion that she can chase around the house and take breaks with on a window sill.  You will not regret adding this awesome girl to your family.
---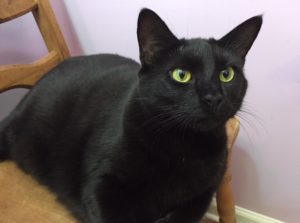 RUE18
DSH, Black, Female
DOB 8/29/16
Rue is a friendly girl with lots to say!  She has an opinion about everything and loves loves loves attention. As you can see she has striking eyes and shiny black fur and along with her great personality she makes a delightful kitty.  Rue would love to have a home of her own and hopes that she will get her forever home soon as she has lots of love to give a very special person.
---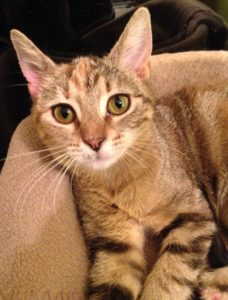 RYLEE17
DSH, Cinnamon Tabby, Female
DOB 9/23/17
Rylee is a regal, pretty princess at first glance. You will see her watching her fostermates from afar, too prim and proper to be bothered with messing up her fur.  But, turn your head and Rylee will pounce on an unsuspecting kitty or be swatting at their tail when they walk by! Rylee is a fierce little competitor when she is in the fray, so don't let her sweet innocent expression fool you into thinking that she is not a tough cookie! Take some time to meet Rylee and you too will fall in love with her sweet personality. 
---
---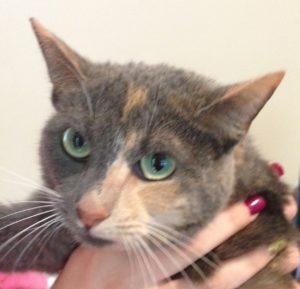 SANGRIA
DSH, Dilute Calico, Female
DOB 3/20/14
Sangria has been in foster care her whole life. Her mother was rescued by Purr Partners and promptly gave birth to 5 kittens, Sangria is the only one left.   She was the shyest out of her litter and remains quiet and reserved with people. She gets along well with other cats and has been with other cats her whole life. She is a beautiful, unique looking girl with vivid green eyes who has been overlooked. Sangria would do best in a relatively quiet home with a patient person who will take the time to let her become comfortable at her own pace. If you are that special owner, please consider completing an application for Sangria today! 
---
---
SERENADE18
DSH, Dilute Torti, Female
DOB 4/24/18
I am a petite beautiful little girl who loves to run and greet you when you come home. I like to play, running after my toys you throw. I get along with other cats. I also like some down time just sitting on your lap.
---
SESAME18
DSH, Buff & White, Male
DOB 7/28/18
I'm a sweet, fun treat for any time of the year!  My idea of the perfect winter evening is curling up on a warm blanket next to you.  I'm a happy, cheerful, playful kitten who enjoys snuggling, romping, exploring and playing.  Favorite toys?  Well, just about anything I can bat about.  I also love to eat!  After a little playtime I would love to cuddle and fall asleep in your arms.  I am a gentle, confident kitten that gets along with other cats, and gentle older children.  All in all, I'm a spectacular kitten looking for a great forever home.
---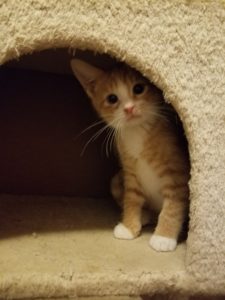 SKITTLES18
DSH, Orange Tabby with White, Male
DOB 8/22/18
If I were a fortune cookie, I would read "be the fun!" I absolutely love humans and want to interact with you. I am up for whatever you want to do as long as I can have a little toy beside me! I am great with kids, especially young kids, and I have a sturdy constitution that will likely work with a family dog too. I'd be great in an active household where there is always something to watch and do!
---
---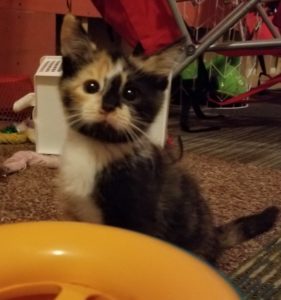 SPARKLE18
DSH, Dark Calico, Female
DOB 8/22/18
I am a woman of high taste. I enjoy classical music, long walks to my litter box, a sensuous plate of room temperature tuna, and wondering if my kibble is "raw, organic vegan." I insist on sleeping on top of a human until they start cramping up. I purr especially loudly when you are on the phone. I am excellent with children, the elderly, and both small and large dogs…mostly out of respect for my loyal subjects. I'd fit in any household looking to elect a benevolent dictator.
---
SPICE18
DSH, Brown Tabby, Female
DOB 8/22/18
If I were a spice in real life, I would be "sweet heat" because I love to be with you, and I am a lap cat. When I am not cuddling you, I am a quiet girl who watches the world with big eyes and a Mona Lisa smile. I am totally chill with big dogs and other cats. I'd fit in great in a calmer setting where someone is looking for a soulmate.
---
---
SUNKIST
DSH Orange Tabby with White, Male
DOB: 7/15/15


Chronic Sinusitis
Sunkist is the cutest, silliest, funniest boy who loves to play and entertain. He is quite active and mischievous. He likes toys and loves to chase the broom when you sweep. He gets along very well with other cats. He loves treats. So why has he been in foster care for over a year and a half? In January of 2016, he was just a half-grown kitten pulled from a high kill shelter. He came to us with a severe sinus infection where he was sneezing blood. He was treated with multiple courses of antibiotics but every time he came off of antibiotics, he would start sneezing and eventually would develop sinus and respiratory infections. We tried different antibiotics and extended courses of antibiotics but Sunkist could never stay well for long. He was even seen at the vet school but there has been no cure found for him. His infections are not contagious and are caused by damage in his sinuses from when he was a kitten so he will always be susceptible to infections. He will periodically need antibiotics and steroids. Despite all of this he is a happy boy that would love nothing more than a real home for the first time in his life. He is not a placid lap cat because he is so busy all of the time. He would love a family with older kids or other cats to play with – maybe even a dog! He is stuck in foster care through no fault of his own. We have found homes for cats with many different medical issues before and we know that there is a home out there for Sunkist. Could it be you that will open your heart and home to this deserving boy?
---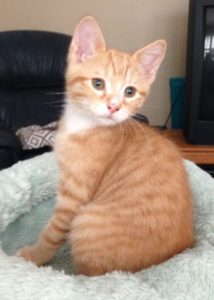 SUPERMAN18
DSH, Orange Tabby, Male
DOB 8/1/18
Superman to the rescue to liven up your home spreading cheer and fun wherever he goes.   Never be bored again. He is a ginger cat like Puss and Boots, curious, affectionate, and playful.  After some relaxing purr and cuddle time…. let the games begin!  Just name your favorite toy and I bet it's his favorite too.  He loves to play, anytime, anywhere, rod toys, balls, mice or romping with other kitties.  Superman also is very affectionate adorably purring and snuggling in your arms.  Faster than a speeding bullet he is in your lap as soon as you sit. He will greet you at the door asking to be held.  Superman has it all:  good looks, charm, snuggly and lots of fun.   He is sure to make a great companion for any family.
---
---
TESS18
DSH, Dilute Torti, Female
DOB 4/19/18
Tess is the cutest and sweetest kitty! She is a little shy at first, but soon warms up and loves to snuggle and roll over onto her back for tummy rubs. She is a quiet, gentle little girl who is good with other cats and children and would love to have a forever home!
---
---