Available Cats & Kittens
Here are all our cats and kittens who are ready to find their forever homes.  Please read our Adoption Policies before completing an Adoption Application.  
Adoption Fees and more info on how to adopt a Purr Partners cat or kitten can be found here.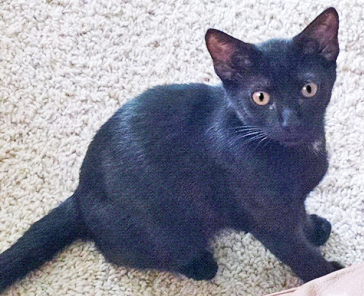 ALADDIN
DSH Black, Male
DOB 3/1/16
Aladdin is a sweet and spunky boy! He loves to play with his fellow kittens and is good with kids. He is an excellent ball chaser and toy grabber. He especially loves toys with bells. While he has too much energy to stop and cuddle on his own, if you pick him up you will immediately hear his loving purr. See adoption fees at top of page.
ANNIE
DSH,  Silver Tabby with White, Female
DOB 9/1/15
Like Little Orphan Annie, our girl is a real optimist. She came to Purr Partners with a severely injured tail that had to be amputated. Throughout the ordeal, she never complained about the pain and took her medicine without objection. All healed now, she's an affectionate and energetic young adult who's eager to find out about the good things life has in store, beginning with a home of her own. She shows every indication that she will enjoy being, at least part time, a lap cat. She does still engage in some play-fighting, though, so she's probably best suited to a home without very young children. Oh, and by the way, her lovely green eyes are mesmerizing.  See adoption fees at top of page.
ARABELLA
DMH, Buff and White, Female
DOB 4/15/16
Petite, dainty, pretty girl looking for a new best friend.  I have a super fuzzy tail and soft, medium length hair you will really enjoy petting. All I need is a loving, warm, breathing, can-opening, treat-dispensing, cat-toy-wielding, real, live person to call my very own!  Someone, who won't mind me following them about for attention.  I am playful but not over the top like those younger kittens – you won't find me climbing your drapes.  I have wonderful litter box manners and will make a great companion.  I became homeless after becoming a teen Mom.  I was a good Mom, raised my kids and am really ready for some fun in a loving new home.   Being young, I want the carefree days of being a playful teenager again.  If you provide a great forever home, I will add the love.  See adoption fees at top of page.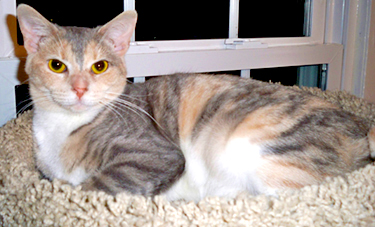 BETTINA
DSH Dilute Calico, Female
DOB 5/1/15
Little Bettina was a tiny kitten rescued by a kind lady and brought to her foster mom. She is very loving, playful and curious and enjoys playing with her other kitten friends. Always ready to explore new surroundings and help out her foster Mom, Bettina is a joy to have around. After a busy day of playing, bird watching on the screen porch and hiding in the big tunnel toy, Bettina is ready to snuggle up with you and purr away into the night, resting up for another exciting day!!!! Come and let Bettina show you how much love and joy she has to share!!!! She's waiting for you!!! See adoption fees at top of page.
CATALINA
DSH, Black, Female
DOB 7/30/16
I am a mama kitten and I have 4 beautiful kittens – they are very sweet but I need my own family.  I love to play with my babies and take care of them but I like my people more.  I love to talk with my foster mom and my dream is to be continually petted!  I am curious and fun.  I will give you head butts, pop up to meet your hand when you reach to pet me and find you if you are missing me!  I am really a great kitten.  Please give me a chance and I will give you a lot of love!   Purr Partners rescued my entire family as my owner mom had to go to a nursing home.  I am so happy that all my kittens are safe and well taken care of.  See adoption fees at top of page.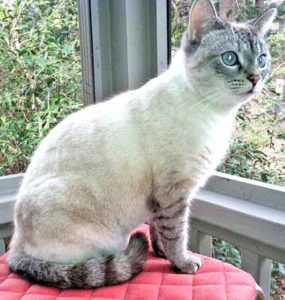 CHAI
Lynx Point Siamese cross, Female
DOB 7/1/15
First off, you need to know that Chai's eyes would make Paul Newman jealous and earn the love of any Tar Heel devotee. In many ways, she is all Siamese – intelligent, playful, curious – but with a softer voice, more compact body, and shorter tail. Also like Siamese, she bonds tightly with her human and when she feels secure is affectionate and outgoing. In fact, her foster mom was amazed at how quickly she acclimated to a new setting and ingratiated herself into the household. She and her young foster sister regularly challenge each other to sprints through the house and games of patty-cake. She loves the great outdoors (a.k.a., the screened-in porch) and (of course) high places, empty boxes, and black pants. Unlike the other two cats in residence, who run for cover, she is willing to watch basketball games with her foster mom. (Actually, she watches the foster mom from a safe distance, but we won't get into that.) She does not like to be confined, though she is learning that carriers aren't all evil. Hint: she's very food-motivated. Chai is a joy as a houseguest but deserves a forever home of her own. Because she may have had a bad experience with a human youngster in a previous life and because she combines speed and a love of the outdoors, we recommend her new home consist of adults (with maybe other kitties or a dog) who know better than to leave doors open for more than point-two seconds. For sure, with Chai in the house, those adults will not need to leave home for entertainment.  See adoption fees at top of page.
CHARLESTON
DSH Black and White, Male
DOB 3/1/12
Charleston is a wonderful boy who gets along with everyone! He loves his other foster friends and even tries to get the kittens to play with him. His favorite toy is a crinkly rabbit that he found and now he likes to carry it around the house. He watches each evening for his foster mom to home so he can show her how much he missed her. Charleston is a youngster at heart and would love to find a family that he can call his own. See adoption fees at top of page.
CHEERIO
DSH, Orange and White Tabby, Male
DOB 8/20/16
Cheerio is a lover – he loves people, he loves toys, he love laser pointers, he loves cat trees, he loves cats of all ages – and he would LOVE to go home with a great furever family.  Cheerio ended up at a high kill shelter –  when PurrPartners saw him,  we knew he deserved a second chance – and here he is.  He likes to play with his foster brothers and sisters, but is also content to sit on the couch and snuggle with you.  He will roll over and demand that you rub his belly!  He will do well in a family that has other cats.  This sweet boy would be a great addition to any family.  See adoption fees at top of page.
CLOVER
DSH, Black with Dark Brown Stripes, Male
DOB 11/27/16
Did you hear that?  That is Clover purring – it never stops.  He just loves to be held, sit on your lap, cuddled!  Oh, and you men out there, this kitten LOVES men!  He will snuggle right up against you.  He is very very affectionate toward his people.  He loves to play as he is a kitten, but he wants much more to be loved.  If there are two of you on the couch, it is hard for him to figure out who to love on first and how long to spend with each one – he will go back and forth until he is tired then will snuggle up on one of you.  Sometimes foster mom and sometimes foster dad – he loves everyone!  He wants you to know that if you meet him you will fall in love with him!  He will just melt your heart.  His history?  He was born to an outdoor cat and taken in by a woman who became disabled in a car accident and was being moved to a nursing home.  Purr Partners stepped in and rescued him.  He is very  happy to be in a home and being loved.  He loves playing with other kitties as well.  See adoption fees at top of page.
DANDY LION
DSH, Orange Tabby with White, Male
DOB 11/14/16
Dandy Lion was pulled from a high kill shelter right before his time was up.  He's a little on the cautious side, but is gradually beginning to warm up.  He loves to play with the other kittens he lives with and really likes being cozy in the tunnels on the cat trees in his foster home.  He's a gorgeous little guy with his soft fur and little round face.  He will be a sweetheart if given a calm family and the time he needs to learn to trust. See adoption fees at top of page.
DAPHNE
DSH, Black, Female
DOB 12/25/16
Fun, friendly, bubbly, and energetic, that's me! I am full of fun-loving, fearless personality.  I have all the traits of a loveable, sweet, active, curious kitten. As soon as you open the door, I'm bursting out of it ready to greet you.  I will be front and center in the middle of any action or conversation.   Affectionate and playful, I am always ready for fun.  I've got fast little feet that could challenge the best runner as I dash across the floor.  I enjoy active pursuits, such as climbing, racing and wrestling with my sister Dolly. After a little fun, I would love to nestle in a warm human lap for a nice nap.  I am a confident, adventurous kitty who will be a wonderful addition to your family.  See adoption fees at top of page.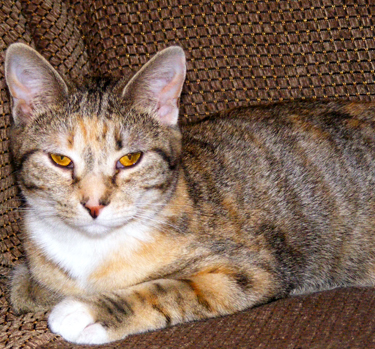 DARBY
REDUCED Fees only $25 !
DSH Torti/Tabby/Tuxedo, Female


Special Needs: Epilepsy
DOB 5/26/11
Darby is a cutie, a bit shy at first but definitely comes out of her shell after she explores her surroundings. She loves to play with her toy mouse and a game of smack and chase is always fun! Toys are great, but in the sunny afternoons, Darby stretches out by the door to watch the birds and wonder just how she might catch one of those very aggravating and tempting creatures. Darby loves belly rubs and doesn't mind asking nicely for more and more and more and more… well, she loves to have her belly rubbed – you get the idea! Darby was rescued from a local high kill shelter when her time was almost up, and ever since then, she's been determined to show her gratitude. Loving and affectionate, gentle and easy-going, Darby is very sure there is someone somewhere just for her. After all – she was lucky once: why not twice? Kitty daydreams of a forever home keep her spirits up and her heart hopeful. Darby is patient, and she is keeping the faith that very soon it will be her turn to go home to where she will live out her days as the much loved kitty of the household. See adoption fees at top of page.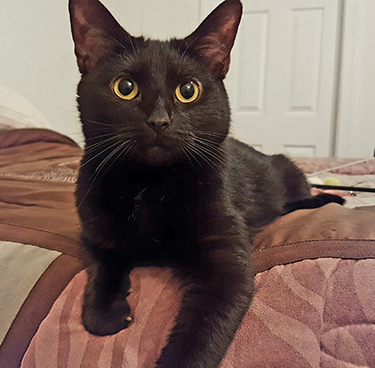 DESTINY
DSH, Female
DOB 4/20/13
Destiny, and her twin sister, Harmony, were rescued from a high kill shelter where very few cats make it out and even fewer black cats! Destiny is not sure why they say people say black cats are bad luck – she experienced the best luck ever – a chance to live! And, because she is so appreciative, she wants to share her luck with you. Destiny loves to be held. Cuddling is her all time favorite thing, and she can't wait to have a family to cuddle with. She is great with other cats, and one of her favorite games is playing in the cat tunnel with her sister. Sleek and glamorous, loving and affectionate, Destiny just might be your destiny! See adoption fees at top of page.
DEVINE
DLH, Tabby with White, Female
DOB 3/1/16
Devine is looking for a person or family who is interested in LOVE.  Since she has been with Purr Partners, Devine has shown nothing but LOVE.  She will forgo food if it will allow her to sit on your lap and be petted and cuddled!  She sits and waits for you to come home, then her face lights up and she runs to be with you.  Devine will require brushing, but don't worry –  she enjoys it, because it allows her to be with you!  Devine requires a home that will shower her with the attention she craves.  See adoption fees at top of page.
DICEY
Black and White, Female
DOB 11/10/16
Dicey is a little sweetheart who enjoys getting her belly rubbed.  When you pick her up she will sit with you while you rub her and sometimes will stop to cuddle, but is purring all the time.  She is still learning what to do with toys, but she loves other kitties and tries to do what they do.   Dicey is looking for a home that preferably has another kitty that will play with her, but if not another kitty, then a person that will shower her with attention.  See adoption fees at top of page.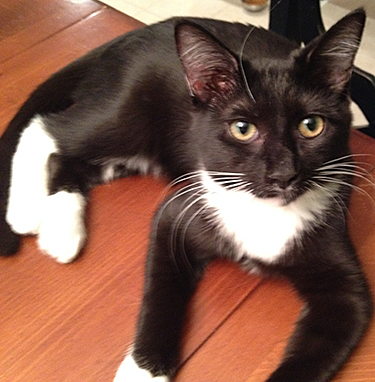 DIGIT
DSH Black and White Tuxedo, Female
DOB: 3/4/15
Digit is a quiet little girl, except when the games begin. She is in her siblings' games and always tries to find the angle to win! She loves the little soft balls and if someone steals it, watch out, she will hunt you down to get it back. Like her siblings she is a sweet little girl, who is looking for her forever home. See adoption fees at top of page.
DOLLY
DLH, Black and White, Female
DOB 12/25/16
Pretty, charming, fluffy and fabulous, that's me.  My upbeat personality with the right combination of sassy is sure to win you over.  I am a real doll, cute like a stuffed animal but fun and adventurous.  I like to be the life of the party, where the action is and voicing my opinion.  My antics will delight and entertain you as I race across the floor chasing my toys.  A perfect day includes petting, exploring and playing chase through the crinkle tunnel with my sister, Daphne.   After a little playtime, I would love to cuddle and fall asleep in your arms.   Stroking my long soft fur as we snuggle will make me purr and purr. I am a confident kitty and will would make a great companion.   See adoption fees at top of page.
FIESTA
DSH, Dilute Calico, Female
DOB 11/20/16
Hi, I'm Fiesta, a pretty, pastel colored calico with shades of caramel, silver and white. I am a limited edition, sweet, fun-loving, affectionate girl.  Ready for fun and a new best friend?  I am.  I adore romping, exploring and having fun – you know – Girls just want to have fun!   Tossing and chasing little furry stuffed mice is one of my favorite activities.  But I'm sweet, kind and affectionate as well!  After some play, I would love to cuddle and purr the night away with you.  Lionel Ritchie sings my song:  Well, my friends, the time has come to adopt and have some fun.  We're going to party, Fiesta, Forever.  All night long!  So if you're ready for an adventurous, outgoing, all around fun kitty who loves to cuddle, then look no further. Give me a chance and I will be a loving companion and your friend forever.  See adoption fees at top of page.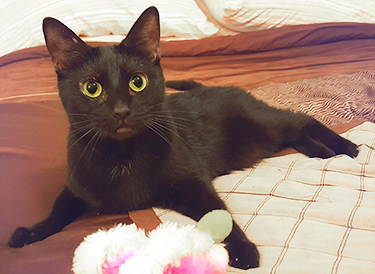 HARMONY
DSH, Female
DOB 4/20/13
Harmony, and her twin sister, Destiny, were rescued from a high kill shelter, and they have been waiting for a quite a while for their people to come along. Harmony is a purr queen, and she will serenade you with her soft purrs when you hold her and brush her. She is good with other cats, and she would be good in just about any household. She loves toys and playing, and those furry mice are her absolute favorite. Harmony does not believe that people don't like black cats – what's not to like? A beautiful, sleek, gleaming coat, sparkling eyes, and a wonderful personality… Harmony is special… and she is hoping that YOU can see that! Give her call and ask her out – on a forever date! See adoption fees at top of page.
HOODIE
DSH, Brown Tabby, Male
DOB 9/1/16
Hoodie was found all alone in a barn – not sure how he got there or what happened to the rest of his family.  He was hungry, cold and afraid.  He was very shy when he met his foster humans and cats.  But not anymore.  Hoodie loves to play and gets along well with kitties of all ages.  He hasn't had the opportunity to meet any dogs yet, so we are not sure how he would react.  His favorite pasttime is to wrestle with his friends – then settle down and groom them.  When you first meet Hoodie,  he is a little shy, but once he warms up to you, he is an incredibly sweet boy.  Laser pointers, ribbons and anything with catnip are his favorites.  When it is time to settle down, he likes to snuggle up next to you for a nap.  He would be an awesome addition to any family.  See adoption fees at top of page.
JILLY
DSH, Dilute Torti, Female
DOB 1/20/17
Hi, I'm Jilly, sweet, gentle, and affectionate.   I am a little cautious at first, but once I know you I adore being held and snuggled.  Snuggling in a warm lap, purring and making biscuits is my idea of a perfect day. I am a quiet kitten that enjoys playing but if you are on the couch expect me in your lap. Don't be surprised if I try to follow you.  I am the sweetest little thing and I don't think you will be able to resist me.  I am gentle kitten who enjoys playing with other kitties and older children.  If you provide a loving home, I am sure to be your new best friend.  See adoption fees at top of page.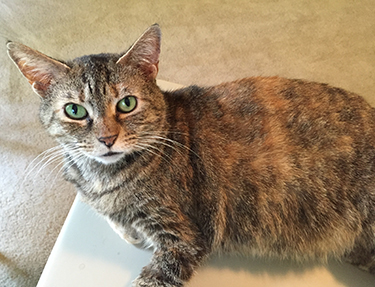 JULEP
DSH, Torti/Tabby, Female
DOB 3/1/09
Julep came from a high kill shelter and settle in right away in her foster home.  She loves attention and being petted, she also enjoys her catnip toys.   Julep is beautiful both inside and out and she would make a great companion for anyone looking for an adult kitty.  She is not high energy but will talk to you if you are not paying attention to her.  Julep is searching for a home that she does not share with another cat.  She would love to be a part of your home. See adoption fees at top of page.
KAHLUA
DSH Brown Tabby with White, Male
DOB 4/15/16
If you are into fun and entertainment, Kahlua just might be the kitty for you!  He's a high energy boy who is funny, curious, playful, silly, and affectionate.  He is a very social kitty who likes every cat he meets, so he's always looking for new feline friends – and if they are willing to play and chase, so much the better!
Kahlua would be wonderful with an active family.  He never uses his claws, and if someone is willing to play, he's willing to be involved.  He is great with dogs, thinks they all love him even when they are not too sure about him, and he is pretty much fearless.  He is not a candidate to be an only kitty unless there are kids that are active and willing to entertain him. He lives life in the fast lane, except for those snuggle times, so we don't think he's going to fit well in a really quiet, calm home.   He loves to explore and investigate, but he is not destructive unless it's accidental (but that doesn't mean he doesn't get into things!).  If you have a kitty looking for an active playmate, or a dog that loves cats and is willing to chase and romp, Kailua just might be perfect!  He's a pretty awesome kitty who is looking for his own special home. See adoption fees at top of page.
KUDZU
DSH, Black Tabby, Male
DOB 4/15/16
They call me Kudzu because I have a tendency to grow on things, mainly people! I'm a spunky little guy who loves to climb, run and play chase with my brother, Koala. People are my favorite thing though. When my foster dad is lying down, I often run full speed and leap on his chest to get some much needed love and attention. He says I'm great at snuggling and I purr as loud as a race boat too! Me and my brother would thrive in any type of home because of our love for people and because of our love for each other. Come on down to Petsmart so you can meet us in person!  See adoption fees at top of page.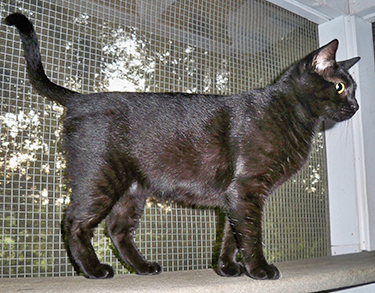 LICORICE
DSH Black, Female
DOB 6/1/14
"Miss Licks" as she is called by her foster Mom is a lovely, sweet, and playful girl. Miss Licks had a very difficult beginning finding herself in a kill shelter, but happily rescued by Purr Partners. Upon arrival at her foster Mom's it was quickly noticed that she had a serious and very painful injury to her tail. 2 hours later she was being seen by a Veterinarian who also discovered that she had several bite marks on her hip as well. It appeared that she had been attacked possibly by another cat. She stayed overnight for medical care, then home to her foster Mom for love and healing. Today Miss Licks is a beautiful, sleek, playful girl who loves attention and is always happy to see you. She had been terrified of other kitties but over time and trust she now has many kitty friends she plays with and enjoys time out on the screen porch with. She loves to "wag" her tail when she greets you and give lots of rubs and head butts. Miss Licks is now ready for her next step to find a loving family who will love to be loved by a tail wagging kitty!!!! See adoption fees at top of page.
LIMERICK

DSH, Black and White, Female
DOB 9/1/15
Limerick is a happy and easy going kitty.  She prefers her back and chest scratched and every so often likes a good belly rub.  Her favorite spot is perched up on the kitty tower watching the birds and squirrels outside.  She enjoys the company of the resident cats and loves to play chase.  Limerick is learning to coexist with the resident dog.  If the dog leaves her alone then she leaves the dog alone.  If the dog gets too close, she is fearless and will let the dog know.  Limerick does great with kids and likes to be brushed and fussed over.  She is looking forward to meeting her forever family! See adoption fees at top of page.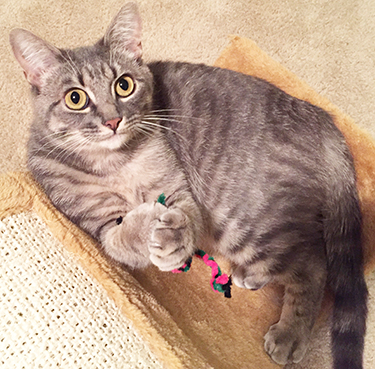 LUNA
DSH Silver Tabby, Female
DOB 3/1/15
When Luna was rescued from the high kill shelter and came to live in her foster home, she settled in quickly.  She loves her toys and is great with the computer.  She can type, send emails and even do online shopping!  She loves attention and getting lots of love from her foster mom.  Luna would love to have a home of her own that she does not share with other cats.  Luna would make a great companion and would shower you with love. See adoption fees at top of page.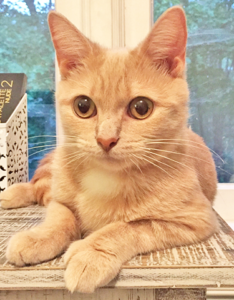 MARIEL
DSH, Cream/Buff Tabby, Female
DOB 9/1/15
Mariel is absolutely gorgeous with her stunning blonde locks, adorable round face and piercing amber eyes. She is a small girl but she is full grown. She came into a high kill shelter with her 4 kittens.  All of her kittens have been adopted so now it is her turn.  Mariel is the sweetest girl and she just wants to be loved. She likes to play with strings and crinkle balls and she loves her scratching post. She also loves to play hide and seek with her foster mom.  She truly is a unique girl with a funny personality.  As soon as she knows she can trust you, she will come and sleep right next to you. She may even lay on top of you if you are lying down. She likes to be wherever you are and will be your constant companion.  She is good with dogs but is cautious around other cats. Her foster mom thinks that she may have been attacked by another cat in her former life because she was covered with scratches and she doesn't like to be touched near her hind quarters.  So, none of that rear end lifting with Mariel!  Won't you give this little doll a chance at a better life than the one she started with and take her home with you. See adoption fees at top of page.
MERCURY
DSH, Grey and White Tabby, Male
DOB 10/20/16
Meet Mercury – a sweet sweet lovable boy.  He is a little shy at first – but once he warms up, he is so cute.  He and his sister came to PurrPartners from a high kill shelter – once again, we saw a beautiful kitten that deserved a chance at a furever home.  He is a laid-back kitten that is content to sit on your lap and be loved. He purrs nonstop.   He loves to play with cat toys – I have watched him entertain himself with a toy mouse,  flipping it up in the air and chasing it and batting it around.  He loves to chase a laser pointer around the room.  Mercury gets along well with cats of all ages.  Make him a part of your family – you won't regret it!  See adoption fees at top of page.
MICKEY
American Long Hair, Persian mix, Male
DOB 3/11/15
Mickey, sweet, gentle boy, loves people. He loves nothing better than to sit with his foster Mom, purring as he is being rubbed. Being a big boy, a large lap works best, but he seems to think that lap sitting is pretty wonderful and add a little snuggling too. Mickey would like a quiet home and older children would be fine with him. He just met one of the other cats in the house and was interested but had no problem with the meeting, and he does enjoy playing pat paws under the door. There are no dogs in his foster home so we don't know what Mickey thinks of them. He is cautious about his surroundings but adjusting to his foster home nicely. He has shown some interest in toys but would rather hang out with his human. He prefers to remain on the floor or low furniture, not a jumper.
With his long fur Mickey will need daily brushing which he enjoys and someone who understands the needs of long haired cats. If you are looking for a super sweet, loyal companion Mickey is your kitty.  See adoption fees at top of page.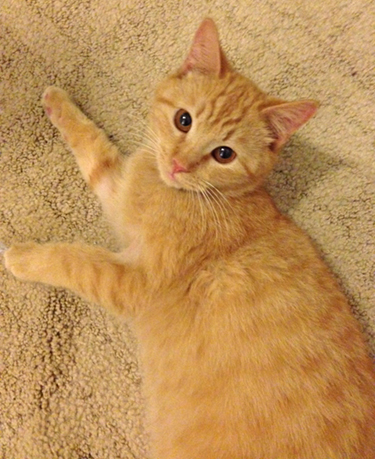 MIDAS
DSH Orange Tabby, Male
DOB: 7/15/15
Do you know the story of King Midas? How everything he touches turns to Gold? Well, I am hoping that I can turn your heart into gold! You see, I kind of need a miracle here. I came from a shelter where I almost didn't make it out alive. I am very meek and mild and I like to hide behind my foster brother (a cat!) for protection. My foster mom thinks I am precious and I will be just fine as long as a kind and patient person chooses to take me home with them. I haven't had a lot of stability in my short life and that is all I really need. I know that the right person can help me overcome my shyness and blossom into a loving pet. Will you be the one to cherish me? See adoption fees at top of page.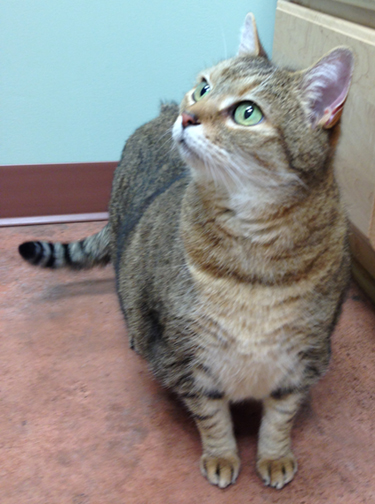 MINDIE
REDUCED Fees only $25 !
DSH Brown Tabby, Female


Special Needs: Obese and needs to have a limited-probably prescription diet
DOB: 7/15/11
Mindie's story is a sad one. She clearly was someone's pet and through no fault of her own she would up in a high kill shelter. Her whole world was turned upside down. Mindie was naturally terrified by this turn of events. Because she was so frightened, the shelter assumed she was mean and nearly put her to sleep. Purr Partners agreed to rescue her and take her into foster care until a new home can be found. Mindie is a very loving cat that is confused about her circumstances. She loves her foster mom but is still wary of her surroundings. Mindie is overweight and must lose some weight. Her current foster home is working with her on a diet. She needs to be brushed in the back because she is unable to groom herself. She is very good about being brushed. She will flop over on her side and roll around to solicit attention from her foster mom. Mindie needs a gentle and patient person who can heal her psychological wounds and restore her faith in humanity. She will probably require a prescription diet or all canned food diet to assist with her weight loss. Other than this, she will be no trouble and a wonderful companion for the right person. See adoption fees at top of page.
MOBIUS
DSH, Grey and White Tuxedo, Male
DOB 2/17/16
Hi!  My name is Mobius, and I was brought into a high kill shelter with a wounded leg that the shelter workers thought was broken.  The shelter immediately called Purr Partners, and my foster mom came right up to get me and took me right to the vet.  It turns out that my leg wasn't broken, but someone, possibly another cat, bit me and made my leg so sore I couldn't walk on it.  And that's how I came to be a Purr Partners kitty.  My leg is all healed now, and I'm looking for my forever home.  My foster mom says I'm a very handsome, special, grey and white tuxedo, but I wouldn't know about that.  I haven't been able to look in a mirror to check it out. I really do like people, though, and every time I see my foster mom, I roll over for a belly rub. I get along with the other cats and kittens I live with, and there are some other animals called dogs in my foster home, but I don't pay any attention to them. My foster mom likes to pick me up and cuddle me, and I don't mind that at all. I think it would be so wonderful to have a forever home and to be someone's special kitty.  See adoption fees at top of page.
MYSTIC
DSH, Brown Tabby, Male
DOB 5/3/16
Mystic was found by two good Samaritans and was subsequently accepted into the Purr Partners program. He is a very handsome boy and has a striking tabby coat pattern.  Mystic, along with being very handsome,is a very friendly, sweet boy.  He doesn't mind being picked up and will purr for hugs and cuddles.  He gets along with the other kitties he lives with and loves to play with them.  The cloudiness that is apparent in his left eye is the result of an old injury, and while he is totally blind in that eye, it doesn't bother him.  He has been seen at Animal Eye Care in Cary, and they have found nothing wrong with the eye, and it requires no further attention.  Mystic is a very loving kitty, and he would do very well with just about any family.   See adoption fees at top of page.
NEVILLE

DMH, Male
DOB 4/15/2016
Hi, I'm Neville! Can you guess who I'm named after?  That's right, singer Aaron Neville – you see, my foster mom listens to all musical genre but Aaron Neville is one of her favorite singers.  A little about me, isn't that what you want to hear?  My sister Nina and I were rescued 3 months ago from a very high kill shelter after we were brought in without our mother.  We were only 2 weeks old, couldn't eat on our own so the shelter workers put us with a surrogate mom cat who unfortunately rejected us.  Purr Partners jumped into action, rescuing us and we went to live with a nice lady that specializes in bottle kittens.
I'm a fun loving guy, I like running, jumping, playing with all kinds of toys especially anything I can bat around.  During the day I like to sleep on the cat tree with my sister or one of the other foster kittens I share my life with.  I am a black panther except for a white spot on my throat, my coat is shiny and luxurious, medium length, with some smoke undertones.  Did I mention that I have the loudest purr ever and when I'm happy I really crank it up.   I'm affectionate, seeking out my foster mom when I'm ready to lay in her lap or just beside her to be close – my favorite place to sleep at night is in the bed with her.
Neville has lived in a home with other cats of all sizes as well as 2 dogs, a Westie and very large Dane mix. He would do well in a home with low key, calm dogs because when the dog friends bark he runs for cover.  Neville has  never been around small children so we aren't sure how I would react to them.  Bottle babies are very affectionate and loving, seeking out affection because they have had a lot of one on one with their foster mom.  Some bottle kittens really don't realize they are cats, they think they are humans in some ways.  Neville has immaculate litterbox habits, never having an accident outside the box.
Neville would provide hours of entertainment and his loud purr is something to hear!  See adoption fees at top of page.
NIFTY
DSH, Grey and White, Male
DOB 10/7/16
Nifty has an adorable mustache. He is a clever boy with a playful side. He will nibble on your toes if they are peeking out from a blanket. If you are laying down he will come up to you to give you some kisses.  Ever the curious kitten, if he hears a noise he wants to investigate and find out what is making the noise. He likes the circles with the ball in it and will sit in there playing until something else catches his eye. He also enjoys chasing the pen lights up and down and all around.  When he finally slows down he can be seen snuggling on a humans lap. He is fine with other cats, but has not been around dogs. His playful personality would go well with a growing family.   See adoption fees at top of page.
NIRVANA
DMH, Black, Female
DOB 9/16/16
Nirvana is a very loving kitten that likes to run and play around the house with other kitties. She gets along well with other cats and likes to be  petted and brushed. Her favorite pastime is to play with toys and she will make a wonderful addition to your family.  See adoption fees at top of page.
PASTEL

DSH Dilute Tabby, Female


Special Needs: FIV+
DOB 3/7/15
Pastel is a stunning cat, her fur is a very soft, creamy, greige that is all the rage this season and says that and she would look amazing in a pearl collar!   She is quite affectionate and comes running when you call her name.  Pastel is a snuggle bug and will cuddle up with you and purr away while your read, watch TV or sip your wine.  Like any beautiful girl, she prefers to be the center of your world and will do well in a home where she can be the star!   She is very playful and will entertain you with her antics.  Pastel also enjoys playing with and is good around children.
Pastel is FIV+. This means that she has a compromised immune system, however, as an indoor cat, she can live a long happy life.   Won't you be her knight in shining armor and give her the life she has always wanted and deserves?  See adoption fees at top of page.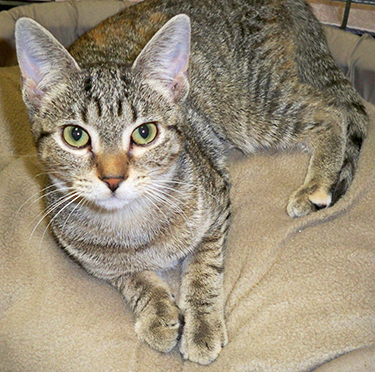 REVLON
DSH Torbie, Female
DOB 5/5/14
Revlon was born along with her 3 siblings in a high kill shelter and remained there until they were rescued and brought to their foster mom, 4 weeks later. As she was ill when she arrived, Revlon required a great deal of care and love to recover and has blossomed into a beautiful, sweet, purring little girl. She loves to be held, snuggled and played with. She has developed a strong bond to people and loves to be close and be as helpful as she can in whatever it is you are doing!!! She is also very social with other kitties and loves to chase toy balls and mice around. Please come and meet sweet Revlon – she has kitten kisses to share!!! See adoption fees at top of page.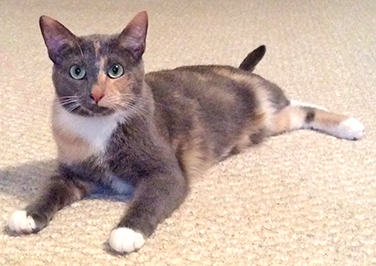 SANGRIA
DSH Calico, Female
DOB 3/20/14
Hi, I am Sangria, I come from a litter of 7. I am very frisky. I love to run and chase toys and like to put on a show. I may even run so fast and roll across the floor. I love to be petted and loved. Please consider me for your furrever kitty. See adoption fees at top of page.
SCORPIO
DMH, Ragdoll mix, Black and White Tuxedo, Male
DOB 10/11/16
Scorpio is a gorgeous Ragdoll mix, a medium to long hair tuxedo, with a full luxurious tail.  He loves to be petted and will flop down at your feet anytime he wants a rub.   He likes to be carried and goes limp when you pick him up, he will cuddle and lay on your lap for hours.  At bedtime he will race to your room and jump on your bed in hopes that he can sleep there with you all night.  He's quite a character and will follow you all over the house and keep you company with his chattering and squeaky meow.   He will stay close in case you need some help with your daily chores — like making the bed and dusting.  In his spare time he loves to play…his favorite game is chasing and jumping at a feather wand.
Scorpio had very little contact with humans before he was rescued and has worked hard at becoming socialized.  He does nibble on toes and sometimes a finger or two so he would be best in a home with older children.  He is being fostered with other kitties and dogs but prefers humans to animals. Won't you consider being his forever human? See adoption fees at top of page.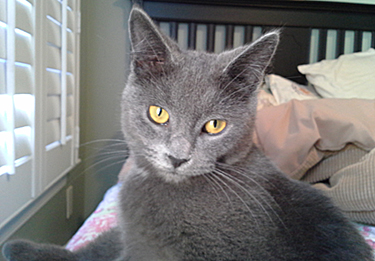 SHAYLA
DSH, Female
DOB 7/15/15
Miss Shayla is a twin, blue/grey, approximately 7 months old. Shayla is super sweet and loving. She was rescued from a shelter and placed in a foster home, with her twin sister Miss Sklya, the foster families' 2 cats and a golden retriever named Ruby. When she first arrived, it was discovered that Shayla had been in some sort of a accident and was injured. Purr Partners stepped up and paid for her surgery at the VHS hospital. After her recovery, she is doing really well, running, playing and reminds us of a monkey! She is missing some hair, from the surgery but it is growing in. She needs to go to a active home with other cats and cat friendly dogs. Would love for the twin sisters to go to their new home together, if possible! Both are wonderful!! See adoption fees at top of page.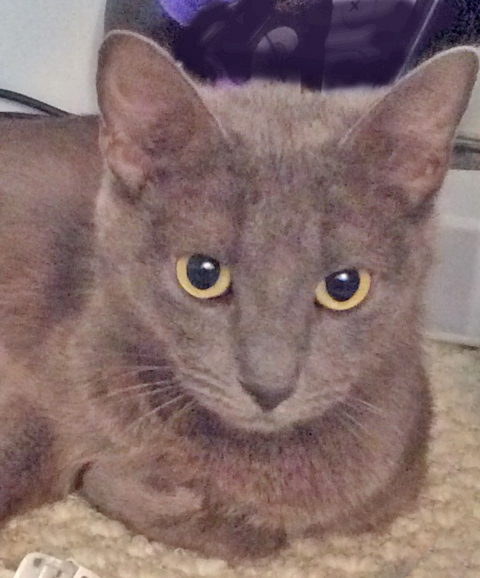 SHENANDOAH
DSH, Female
DOB 12/1/12
Shenandoah came to us from a shelter as a stray, and while in the shelter delivered 7 babies.She came to us very skinny. While at her foster mom's home she took very good care of all 7, and gained trust in foster mommy to hold and play with all her cute babies. Now all the babies are old enough to be adopted, Shenandoah needs a furrever home as well. Once she gains your trust she is very sweet. She will purr, but never learned how to play. We are working on that as well as having her gain some weight. Please consider me and give me a chance. See adoption fees at top of page.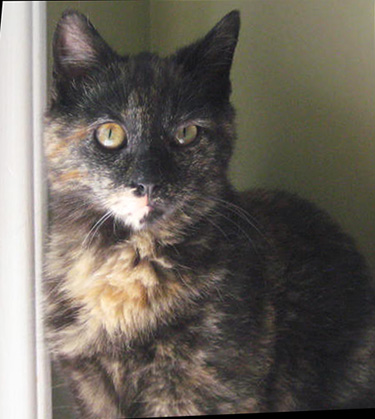 SIENNA
DSH Torti, Female
DOB 12/31/12
Sienna was once considered disposable and she is lucky to be alive. She is has learned to trust, and she is braver every day. She and her sister were thrown in the dump when they were about 7 weeks old, and things were not looking good. However, they were brave enough to not let themselves starve to death, and so they were discovered, and now life is way better! Sienna does not have mean bone in her body, and while it will take a special person who is willing to be patient and kind, the reward will be great. Sienna adores other cats and kittens, and she purrs like crazy when she is petted and loved on. She's still a little nervous about some things, but she has a brave heart, and she's working hard on her fears. Surely someone out there will be willing to give her a chance. It's not fair that such a horrible beginning and such cruelty from humans should prevent her from having a loving home of her own! Sienna still believes in the goodness of people! See adoption fees at top of page.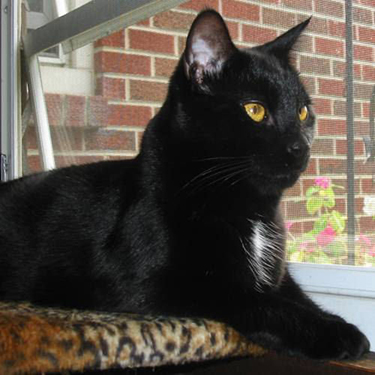 SILHOUETTE
DSH Black, Female
DOB 4/1/15
Silhouette may not have had a good start to her life, and she still bears some of the "scars" of this previous life, but she is a lucky girl now! Silhouette and a sibling were dumped on the side of the road in a rural area, but she was brave enough to seek out help. Cold, emaciated, dirty, and sick – she begged passing people for help. Cautious and concerned, but needing help, she finally convinced someone to call us, and so after much care, she is a happy girl now that shows her gratitude. When she came to us, she wasn't much more than a silhouette, but now she is a gorgeous "house panther!" She is a petite girl with a sleek and shiny black coat and a small white patch on her chest. She is definitely a talker and loves to share stories. She is very loving and affectionate and will lay her head on your shoulder and purr and close her eyes as if to say, "I can't believe how good my life is now!" Silhouette is not shy, she gets along well with other cats, but she would do better with older kids and adults. She loves to play and romp, and she can be silly and funny. She is nervous at first in a new situation, but it doesn't last long. She loves to cuddle, give head butts, and face rubs, and more than anything, she would love to have a home of her own with someone who will love and care for her always. Due to her early life with little or no care, she has a healed ulcer in one eye that doesn't affect her at all. She has a chronically runny eye, but it's slight, and it doesn't bother her. She believes that someone is out there who is looking for a small, slightly imperfect black cat who has tons of love to offer! A special kitty for a special person – Silhouette promises to be your shadow! See adoption fees at top of page.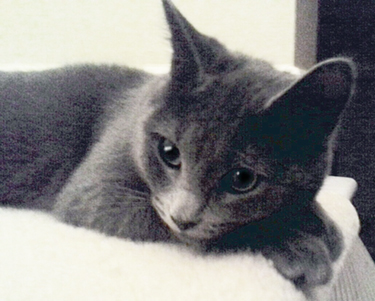 SKYLA
DSH, Female
DOB 7/15/15
Miss Skyla is a fun loving, playful grey/blue kitten. Born July 15, 2015 with her twin sister, Shayla. Rescued from a shelter and now in a foster home, with her twin sister and her foster family plus Ruby … a golden retriever. She races to the screened in porch to watch the birds and hang out during the day. At night she snuggles with her sister and plays with everyone!! Would love for Skyla to be adopted into a active, other cat/dog home and possibly with her sister!! They do love each other. 🙂 See adoption fees at top of page.
STRUDEL
Calico, Female
DOB 9/1/15
Strudel is a great kitty!  She's a lot of fun, loves other cats, friendly dogs and would go great in any home.  She loves to play, but also wants to hang out on the couch with you and get lots of loving!  She would do best with another kitty or friendly dog to play with.  If you have room in your heart and home for such a wonderful girl, Strudel is the one for you! See adoption fees at top of page.
SUNKIST
DSH Orange Tabby with White, Male
DOB: 7/15/15
Hello! I am an adorable little boy that was rescued from a scary shelter. I am shy at first until I get to know you. I am active and love to play with toys. Sometimes I act silly and clown around. I am a well behaved boy and I always use my cardboard scratcher. I am curious about you so I hope you'll find it in your heart to want to bring me home with you. I get along well with other kitties. My foster mom thinks I might be part Siamese because if you look closely, I have a slightly crossed eye. I am just a handsome guy that likes to have fun and I'd like to share life with you. See adoption fees at top of page.
TANGELO
DMH, Orange and White, Male
DOB 11/1/16
Tangelo is a very loving boy who has no fear! He has the softest fur and just look at those gorgeous teal eyes! He came to his foster home from the shelter and immediately made himself at home. He loves to be with you, loves to watch TV with the family and when he's ready to play he will bring his wand toy to you. He carries them around with him! He loves everyone and everything! Gets along with the family dog, other cats and would love kids. He's such a sweet boy and would like to find his forever home soon so he can start loving you forever. How can you resist that face!!  See adoption fees at top of page.
TEMPEST
DSH Dilute Torbie, Female
DOB 6/1/14
Tempest (Tempie) is a very sweet girl who purrs all day long, loves attention, and will give you endless affection. Rescued from a kill shelter just in time, Tempest quickly adjusted to her new life filled with love and many kitty friends and is now a happy girl! She loves to trot along after you, play with her mouse toys, settle down in the evening to watch TV with you, and cuddle with you at night. Tempest is now searching for her forever family and promises to be your companion forever. Not just another kitty – come and meet Tempie! See adoption fees at top of page.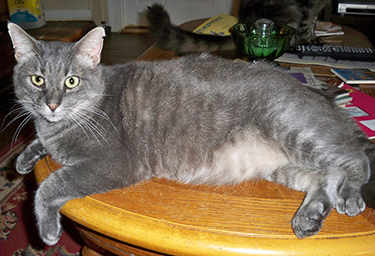 THOMAS

DSH, Male


Special Needs: FIV+
DOB 6/1/13
Thomas is one BIG Beautiful grey boy!! Weighing in at around 14 lbs., this boy is a very gentle, kind, easy-going, sweet boy. He so loves attention, lounging on the screen porch chairs, dozing in the sun, peeking at the birds and squirrels who come to eat. He gets along easily with other kitties and enjoys playing with the little catnip mice and crinkle balls. He so enjoys attention and always comes to see what you are doing and if you might need a paw to help!!!
Thomas was rescued only hours from death as he had tested + for FIV, Kitty AIDS, not to be confused with human HIV. The virus in cats means that they have a compromised immune system. However it does not diminish a long and happy life, many FIV kitties live well into their late teens, enjoying a long and loving life. For more info on Thomas please contact Purr Partners. Thomas is waiting for his Furrrrever Loving family. See adoption fees at top of page.
TIGER LILY
DSH, Tabby, Female
DOB 10/15/16
Beautiful, petite Tiger Lily loves people, being held and lap sitting are on her favorites list. She will sit for long periods of time, purring and enjoying being on a warm lap. But don't let her calm demeanor fool you; this little girl has her fun, playful side. She is a terror to pipe cleaners or a stuffed mouse, pouncing, rolling, and jumping all at the same time. And she can polish off a bowl of cat food in no time. She would love another kitten playmate and she knows how to ignore a cat friendly dog. She would also enjoy children who know how to snuggle and play.
Tiger Lily's beautiful distinct tabby markings are quite eye catching but she thinks of herself as just a fun snuggly kitty looking for a forever home. See adoption fees at top of page.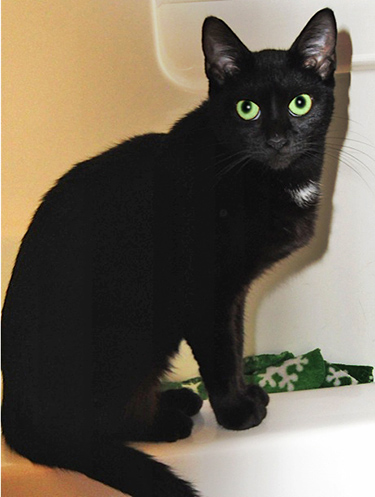 TYRA
DSH Black, Female
DOB 9/1/13
Hi there! My name is Tyra and life has been pretty hard for me. I was abandoned at a barn with my sister when we were young, and my sister was killed by dogs. Then I had kittens and four of my beautiful babies were also killed by dogs. The man at the barn said he didn't like cats, so he wouldn't protect me. I was very sad to have lost my babies, and worried that the dogs might get the only one I had left, but then Purr Partners took me in, and I am so happy! My baby, Tallulah, and I are warm, fed and doing very well now. My foster mom is good to me, but what I really want is a home of my own. I purr and purr when my foster mom pets me just to show her how relieved I am to be somewhere safe, but I haven't really gotten this lap thing yet. It looks so warm and cozy when my foster mom cuddles Tallulah, but I guess because of my early experiences, I'm not quite willing to get on her lap myself yet. I know I will someday, but for right now I'm content to just stay close and be petted. My foster mom keeps telling me how beautiful I am with my big green eyes and glossy black fur. I hope you think I'm beautiful as well and would like to take me home to be your cat. I know I will love you! See adoption fees at top of page.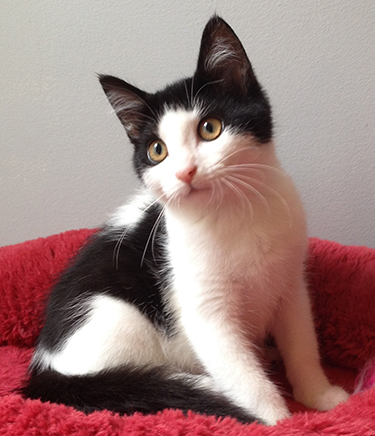 YARDLEY
DSH Black and White, Female
DOB 6/17/15
I'm a precious black and white tuxedo kitten who enjoys toys and gentle petting. I will reward you with a quiet purr when you stroke my beautiful soft fur. If you're ready, I would love to play. Romping, exploring and chasing balls is super fun. I also can't resist chasing and wrestling with my litter mates. Give me a chance and I will be a loving companion and your friend forever. See adoption fees at top of page.
YOGI
DMH, Tabby with White, Male
DOB 8/1/16
Yogi is a big ball of fluff. This beautiful kitten comes with a sad story. He was adopted as a baby from the shelter, but returned for some unknown reason. Since his return he has become very shy around adults. He LOVES other cats and can be seen to play with the older cats and the younger cats in the house. When he is in the same room with people he becomes the observer watching what is going on. He has made excellent progress in the past month to the point where he will now walk under a person's legs. He is not comfortable yet with being petted. Yogi has not been around dogs or young children. If you have a cat who you are looking for the perfect companion for then Yogi is the kitten for you.  He will become your current cats best friend.  See adoption fees at top of page.
YUM YUM
Siamese Snowshoe mix, Female
DOB 3/1/16
Hello, I am a one year old female Siamese Snowshoe mix named Yum- Yum.  I have a very petite frame, and will probably always be a smaller size cat.  I have very beautiful greenish-blue eyes that sparkle!  I have for white feet and stockings with a cinnamon colored body and typical Siamese markings.  I am a little shy until I have time to warm up to my new surroundings.  I loved to be petted and rubbed and will purr all day long!  I am looking for a forever home where I can be a lap cat.  See adoption fees at top of page.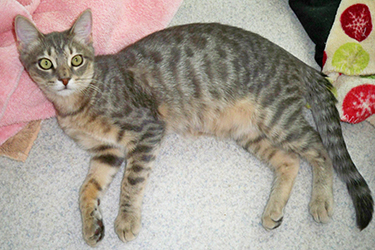 ZEPHER
DSH Grey Tabby, Male
DOB: 5/1/15
Zepher was a tiny orphan placed with a loving Momma kitty who had 6 of her own babies. Always playing and snuggling with his siblings Zepher is a happy, playful boy who loves people and playing with children. Active and curious he runs through the tunnel ambushing one of his playmates, then off to bat around the crinkle toy, grab a furry mouse and back on to the porch to see the birds. Then finding a sunny spot for a quick kitten nap to rest up for more fun!! Zepher will be a wonderful family kitten with much love to share!! See adoption fees at top of page.
Your adoption fee buys you a lifetime of love and affection.