Adoptable Cats &
Kittens
Please read our Adoption Policies before completing the Adoption Application.  
Adoption Fees and more info on how to adopt a Purr Partners cat or kitten can be found here.
Follow us on Facebook, Instagram, or Twitter and see which cats will be featured at weekend adoptathons.
---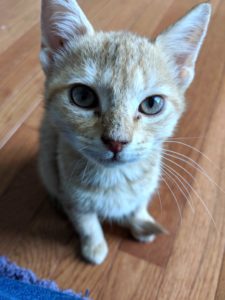 ABACUS18
DSH, Brown Tabby, Female
DOB  2/5/18
Abacus is a unique and beautiful kitten.  She is more brown than orange, and her personality is as enchanting as her coloring.  She is an observer, a playmate, and a snuggle buddy. While she is shy at first, it doesn't take her long to warm up to you and start to take charge of her surroundings.  She tells you when she's hungry or wants to be scratched. The neck is a favorite spot, followed by her ears. If you are trying to work, she is perfectly happy perching on your shoulder and supervising the activity.  She also is self-entertaining. She can chase balls, hunt stray pillow toys, and conquer a scratching post. She is quite the character, and her unusual coloring is only the beginning of this little lioness.
---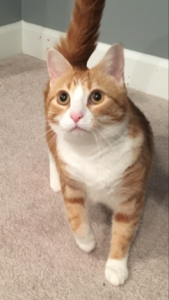 ADELA18
DSH, Orange and White, Female
DOB 04/20/2016
Adela is a gentle girl who likes to be around her foster family.  In addition to her sweet disposition, she has beautiful deep orange markings and perfectly matched little white paws.  Adela loves attention, calling you with little chirps, and rubbing against your legs until you stop to pet her.  When you do, you are rewarded with loud purrs!  She likes to play in her crinkle tunnel, run after ping pong balls, and chase her favorite toy, the laser pointer.    Adela will be a loyal companion to whoever is lucky enough to adopt her…will that be you?
---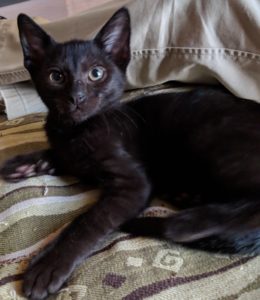 AIDEN18
DSH, Black, Male
DOB  2/5/18
Aiden is a loving kitten who wants nothing more than your complete, undivided attention.  And he lets you know it. You would never guess such a big sound could come out of his tiny mouth.  There is no mistaking when he wants to tell you something. He plays well with other kittens, but really loves playtime with people too.  His favorite toy is his own tail, or anyone else's. He won't pass up a good jingle ball or a toy on a stick. But most of all he wants your lap.  He loves a good nap on your lap, shoulder, head — he's not picky. This little guy has a lot of love to give if you can give him a wonderful home.
---
AIMEE18
DSH, Tortoiseshell, Female
DOB 1/22/18
This sweet girl wants nothing more than to sit on your lap. When you sit down she'll climb up on your lap, begin to purr, and want to be pet. She'll roll over and asked to have her ears scratched. She enjoys playing with other cats and while she small she is mighty and able to hold her own. Her current favorite toy is a laser pointer and a pom-pom ball. She has a personality that is bigger than her body. Could your house be the one where that personality fully develops?
---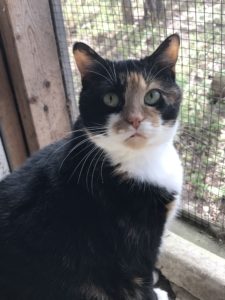 ALLYSON18
DSH, Calico, Female
DOB 4/28/12
Allyson has lived a life in pain. She was surrendered to a high kill shelter because she was urinating outside of the litter box. It turns out that Allyson was suffering from a bladder and urinary infection that her owners declined to treat her for,  over a period of years. Allyson's entire life was turned upside down when she was abandoned by the only family she knew. Allyson was a troubled kitty when she was rescued by Purr Partners. We have cleared up her medical issues with simple antibiotics but the psychological scars may take longer to heal. She came to us frightened and confused about people. After weeks in foster care, she has slowly begun to trust her foster mom. She is living with other kitties and getting along well. She is a little overweight, another sign of neglect from her previous life. Otherwise, she is beautiful girl. Due to her tragic past, we will make sure that she has a safe home where she will never be mistreated again. She will likely need some time to adapt and some patience and understanding from her new owner. Understandably, she can be defensive, at first, but underneath she is a very sensitive girl who only wants to be loved.
---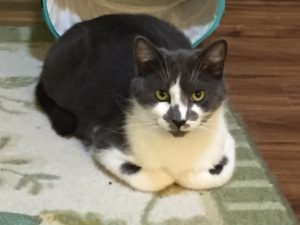 BINGO17
DSH, Grey and White, Male
DOB 3/15/17
Bingo has a great personality and enjoys playing with his foster-mates. He likes to roll the balls around the room and come to his foster mom for tummy rubs.  He is a handsome boy with cute gray markings across his nose and a very expressive face.  He would love to find a family he could call his own!
---
BOURBON17
DSH, Tuxedo, Male
DOB 
Bourbon is a cute little guy with a playful personality and a loud purr. He is well mannered and has excellent litter box skills and always uses the scratching posts. He enjoys chasing the feather toy and will jump really high to catch it. Bourbon is a little shy at first but warms up and soon will be looking to nap in your lap. Due to his gentle nature he would do better in quieter home with older children. He loves other cats and plays well with his foster siblings but also doesn't mind hanging out on his own. Bourbon is just the sweetest boy and is looking for someone who will take him home and help him blossom. You are just what he needs!
---
CHARLESTON
DSH, Tuxedo, Male
DOB 3/1/12
Foster to Adopt Eligible
Charleston is a wonderful boy who gets along with everyone! He loves his other foster friends and even tries to get the kittens to play with him. His favorite toy is a crinkly rabbit that he found and now he likes to carry it around the house. He watches each evening for his foster mom to come home so he can show her how much he missed her. Charleston is a youngster at heart and would love to find a family that he can call his own.
---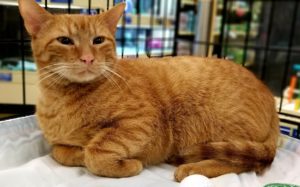 CHEETAH
DSH, Orange Striped Tabby, Male
DOB 12/1/16
Cheetah is a fun boy!  He gets along with other cats and loves to have fun, fun, fun!  He is inquisitive, loves his toy mice and rolling balls around the room.  He will sit with you and enjoy your attention.  He would love to find a forever home with someone that would enjoy a sweet, playful kitty!
---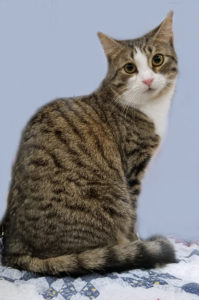 CHELSEA17
DSH, Grey/Brown Tabby, Female
DOB 3/8/17
Foster to Adopt Eligible
I am Chelsea, a little grey/brown tabby with white paws, bib and face.  When I was rescued I was all by myself and only weighed 13 oz.  I had to be force fed every few hours because I was scared and didn't want to eat.  After a diet of kitten milk and baby food, I started gaining weight and now I eat regular kitten food.  I was all alone during the 2 week quarantine, but once that was over I was able to join 7 other kittens.  However, my 'kitty manners' were lacking and the other kittens avoided or ran from me.  Who knew they wouldn't like being jumped on and beat up?  With time I have learned how to behave and now they are my close friends.  I have lots of energy, and love to get in trouble.
---
CHEVY
DSH, Mackerel Tabby, Male
DOB 4/26/15
Foster to Adopt Eligible
My name's Chevy and I'm a good ole country cat. Just like my namesake, I'm fast and ruggedly handsome. I'm a sports model 'cause I like to play; show me feathers, kicker, toy mice, most anything that moves and I'm ready for the game. I'm quite the lover, too. I like to find a soft lap and snuggle up real close for some TV, especially sports or movies that have some animals in them. And in bed — well, that just means more snuggle time and some warm sleeping. I do my bit around the house, keeping up with whatever is going on and helping out by being entertaining. My foster mom says I shouldn't live with preteen children. I think dogs are OK from a distance, but I haven't had much experience with them close up. If you are cat savvy and looking for a good-tempered companion, someone to hang out with you, I'm your boy.
---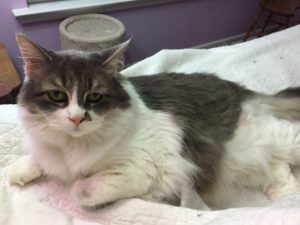 DAPHNE18
DLH, Grey with white, Female
DOB  5/1/2005
Daphne was surrendered to a shelter after a family had her for 13 years.  Why someone would surrender such a sweet lady is hard to imagine.  Daphne has a wonderful temperament and enjoys spending her day watching out the window, and curling up with her foster mom in order to receive lots of pets and love. Daphne is currently taking applications for someone seeking a sweet, gentle lady that enjoys the attention that only a human can give. 
---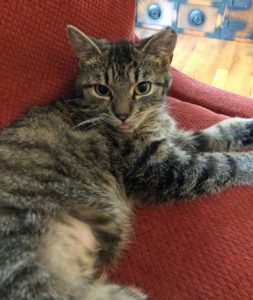 DELILAH18
DSH, Brown Tabby, Female
DOB 11/14/17
Delilah is a very sweet and loving kitten who loves to be held and cuddled.  Orphaned as a tiny kitten but somehow managed to survive the winter.  She is a recent rescue so she is still shy and a bit timid.  However, once she gets to know you she is a purr maniac and absolute cuddle bug!  She gets along fine with other cats and is fostered in a home with gentle, cat friendly dogs.   She would do best in a calm, quiet home with lots of attention and love.  She would make a great companion to a lonely cat and wants nothing more than to find her forever human who will help her blossom into the amazing kitty she longs to be!  
---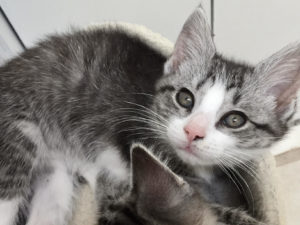 DOLLY JO 18
DMH, Gray and White Tabby, Female
DOB 04/01/2018
Dolly Jo is a happy, and energetic kitten who loves to purr!!! She is a natural at learning how to become a lap kitten, and will lay on your lap for the longest time. Dolly Jo will play with anything that is given to her, and will rest at the top of a cat tree for hours and hours  She LOVES to have her face and ears rubbed when a meal has been devoured, and will sometimes fall asleep soon afterwards. This kitten really IS a DOLL, and will be a wonderful pet in any home.
---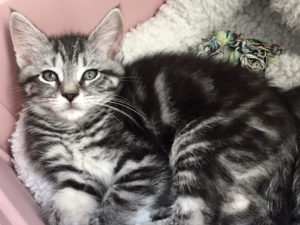 DORA GRACE 18
DMH, Gray and White Tabby, Female
DOB 04/01/2018

Dora Grace is a sweet, gentle, calm little kitty who is playful and likes to run around and play gently with her toys. She is always at her best when she is jumping, climbing and chasing whatever comes her way. She will still be somewhat cautious with new objects or situations, BUT soon will develop the necessary confidence needed in order to adjust quickly and eagerly and return to her absolutely adorable self! Dora Grace is such a sweetheart, and will be ideal for any family or household!
---
DMH, Gray and White Tabby, Female
DOB 04/01/2018

Miss Dulcie Belle is the largest of a litter of kittens that were found inside of an abandoned house. She is
 a real sweetheart and oh so lovable!  A true 'people cat" who is highly curious about the people around her. She will climb onto your lap if you are sitting on the floor for a snuggle.  Sometimes you can lay her down on her side or on her back & she will nod off to sleep right there in your lap. Dulcie Belle absolutely adores playing with toys! She will run very fast to try and catch them, and will be happy to do so until all strength has left her.  
She likes to lay down on her soft and fuzzy cat bed, and stretttttttttttch out as far as her paws, fingers, and toes will go. Dulcie Belle will be a delight for anyone to have in their family, and she will be loved by all who meet her!
---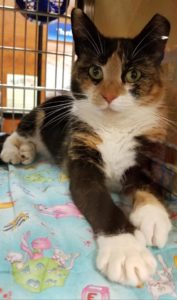 EVE18
DSH, Calico, Female
DOB 3/1/2017
Eve is a beautiful girl with a sad story. She was living in a trailer park where she was fed by one of the residents. In an effort to control the unwanted cat population, Eve was spayed, vaccinated and returned to her original location in the trailer park as part of a Trap, Neuter, Return program. Her left ear was clipped to identify her as a neutered and vaccinated outdoor cat. But Eve wanted more than being outdoors and fed scraps for the rest of her life. Eve ran away and was on her own for several months. Then she walked into a strange family's house, one day, when they opened their front door. The family couldn't keep her so Purr Partners decided to find her a real home for the first time in her life. She is a quiet and unassuming girl who is only grateful for food and a bed. She is also affectionate and loves to be pet. She needs a little time to get used to new places and pets but she is getting along fine in her foster home with the other kitties. Please consider making this deserving girl a permanent part of your life.
---
FLASHY 18
DSH, Gray Tabby, Female
DOB 3/10/18
The sweet adorable little gray tabby is all about fun. She is the life of the party in the kitten room. Her favorite thing to do is leap into the air and chase the string toy. When she gets tired of playing that game she will chase her brothers and sisters around the room. She's a whirlwind and has high energy. When you walk into a room  she begins to talk to you and gives great eye contact. She loves being in a room with other cats and people. She has had exposure to older cats and young cats but no dogs. She also has not had exposure to young children. With her outgoing personality I don't think she would have a problem with either. Could you be the ride home for her?
---
GALLAGHER18
DSH, Brown Tabby, Male
DOB 6/2014
Gallagher is a very loving short haired tabby who is almost 4 years old.  He is a gorgeous male cat with very pretty markings.  Gallagher is a very shy boy at first but once he opens up (takes about a day) he is such a lover.  He loves belly rubs and laying on laps.  Gallagher is great with babies, children and other cats.  He has not had any experience with dogs but will likely be okay with a little time.   He is such an easy cat and very well mannered.  No behavioral issues.  He needs a good home with lots of love to give and he'll give lots in return.  Ideally, Gallagher would love to find a home with his sister, Glitzy.  They make a great team, but they can go separately.
---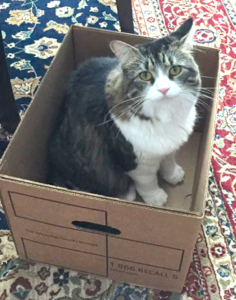 GLITZY18
DMH, Tabby and White, Female
DOB 6/2014
Glitzy is a sassy and spunky medium haired cat with an absolutely gorgeous face.  Glitzy doesn't walk, she prances.    She is a very friendly almost 4 year old cat and loves being scratched underneath her chin.  Glitzy, like her brother Gallagher loves fancy cat toys but her absolute favorite thing to play with is a water bottle cap.  Glitzy has the ability to hear you open a bottle of water anywhere in the house and will come running to get the cap. Glitzy is great with babies, children and other cats.   She has not had any experience with dogs but will likely be okay with a little time and proper introduction.   She is very easy going and well mannered.  No behavioral issues whatsoever just a sweetheart.   She simply needs a good home with lots of love to give.  Ideally, she would love to find a home with her brother, Gallagher, but it's not a necessity.  They make a great team and do love each other, but more importantly, she wants a loving home with cuddles and kisses.
---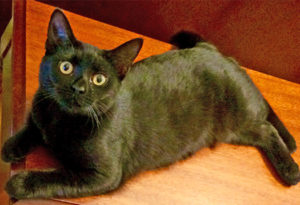 GOLDIE17
DSH, Black, Female
DOB 3/1/17
Foster to Adopt Eligible
Goldie is a sweet and extremely wonderful black cat. She was named Goldie, because of her beautiful golden eyes. She is great with children, other cats, and her foster family's dog!!!  Goldie LOVES toys and LOVES TO RUN! She loves playing with toys, and loves to be petted. She is READY TO GO to her new home! If you will come and visit with our sweet Goldie, we just know that you will want her to be part of your family.
Top 10 Reasons to Adopt Goldie
#10 You can tell people you have your own mini house panther.

#9 You'll never lose me in a snowstorm.

#8 A lint roller is not required before going out to a black tie affair. 

#7 Statistically speaking, I am friendlier than other cats.

#6 I am the most fun to play hide & seek with! 

#5  In many cultures, I am considered GOOD luck. 

#4  I am very slimming when draped over your lap.

#3  I look smashing in any collar because everything goes with black.

#2 I match any decor and will always be appropriately dressed at your cocktail parties.

#1 Because love doesn't have a color!!
---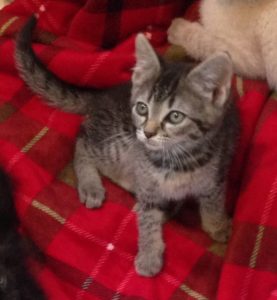 HERA 18
DSH, Tabby, Female
DOB 3/2/18
Hera is a sweet tabby who came to us from a high kill shelter. She is a petite little girl but don't let her size fool you. She loves to be in the mix of all the activities of a very busy household. She loves playing with the other kittens in the house and is able to hold her own. The big cats who live there permanently don't scare her either as she will go head to head asking for attention. When she sees her humans in the morning she jumps off the cat tree and comes running to the door. If she doesn't get attention right away she is not afraid to be vocal and let you know what she's thinking. She has not been around dogs or young children to date. Could she be the one joining your family soon!
---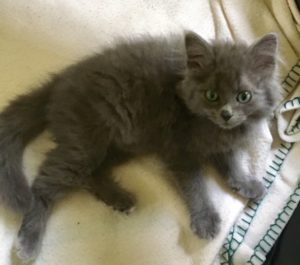 HOOLIGAN 18
DLH, Gray, Male
DOB 3.2.18
Hooligan has the most stunning pair of green eyes. When he looks at you with those eyes you can't help but fall in love. Then you get to know his personality and you truly deeply fall in love. When he walks his little tail sachey's  back and forth like a flag in the wind. He might be little but he loves to eat. He gets along well with both little and big cats. Is this big pile of gray furr headed your way? Once you meet him you won't be disappointed.
---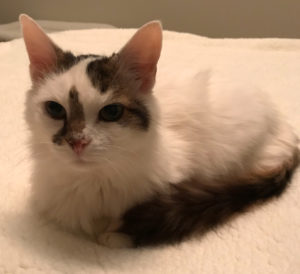 ISABELL18
DMH, Turkish Van Mix, Female
DOB 12/20/2003
I am a 15 year old Turkish Van mix. My family had me from the time I was a tiny kitten and then they dumped me at the Wake County Shelter.  I was really scared. I loved my family and they were all I knew. I do not know why they left me. However, on my final hold day at the shelter, PurrPartners rescued me. I am so thankful! I am in perfect health and get along with other cats. I just want to be with you and to be loved. I really enjoy sitting on laps and purring.  I am a very sweet girl, gentle and loving. I am looking for a wonderful home to live out my golden years. 
---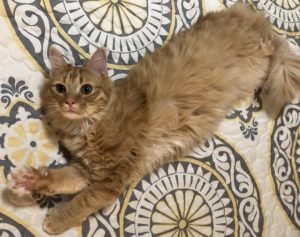 JONQUIL18
DMH, Orange and White Tabby, Female
DOB 8/20/2017
Jonquil is as pretty as the daffodil she is named after.  She is petite little kitty with a big personality.  She is super affectionate – loves to be wherever her humans are.  She will sit in your lap for hours if you rub her chin.  She is also very playful.  Loves to chase a laser pointer.  She has been known to walk around the house with a play mouse in her mouth.  Jonquil is will always greet you when you come into a room.  Loves to hang out on the couch while watching TV.  She likes to be in the middle of the action – she won't be the kitty hiding under the bed.  She is ready for her furever home…..
---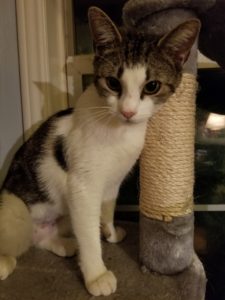 JUSTINA18
DSH, Tabby, Brown w White, Female
DOB 5/15/17
This  petite little girl is the purrfect size for your lap! She's a calm kitty who loves the good life – snuggling and lounging on her soft pillow is where she is most content.  She's also an avid nature lover and can often be found in a sunny windowsill watching the birds and wildlife, it's all just so fascinating!  Though she has a chill demeanor, she is not shy and will always let you know when she is nearby or hungry.
Please consider this little love bug to be the wonderful fur baby you home is missing — I'm JUSTina, what you're looking for!
---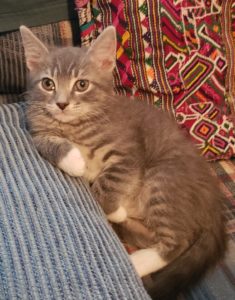 KANDEE 18
DSH, Smoke Tabby with White
DOB 3/27/2018
Kandee truly is eye candy.  She is a stunning grey tabby with white feet.  She even has a white tip on her tail.  She and her 2 brothers were brought to a shelter when they were only 7 days old.  They most certainly would have died had PurrPartners and their bottle feeders not stepped up.  After several weeks of endless bottle feedings, she is thriving and is a very active kitty.  She is the smallest in her group, but that does not slow her down.  She is fearless and loves to play hard.  She is the first to greet you when you come into the room.  Expect to see her in the middle of the action.  She loves toys, laser pointers, cat trees and people.  She loves to snuggle when it is time for a nap.  She is ready for her furever home!
---
KERMIT 18
DSH, Smoke Tabby with White
DOB 3/27/2018
Kermit and his siblings had the misfortune of ending up in a shelter when they were only 7 days old without their mom.  Their fortunes turned however when they were rescued by PurrPartners.  With tons of tender loving care and lots of late night feedings, Kermit grew in the a stunning grey tabby.  He has a goofy personality – he loves to zip around the kitten room – climb on the cat tree – do "drive-bys" on his playmates.  When it is time to relax – he is the first to jump in your lap to claim the best napping spot.  He loves being with his humans and wants to be in the middle of everything.  He gets along with kitties of all ages and would be a great addition to any family.  He is ready for his furever home, is it yours?
---
KODA 18
DSH, Black Tabby, Male
DOB 3/27/2018
Koda is a stunning black tabby with eye catching markings.  He and his siblings were dropped off at the shelter without their mom and the tender age of 7 days. With lots of tender loving care and early morning feedings, he has grown in to a super kitty. Koda is a sweet , lovable boy that enjoys snuggling with his humans as much as he enjoys playing with toys. One of his favorite past time is batting balls around the kitten room.  After a long afternoon of playing, he will be ready to snuggle in your lap for a long nap  He gets along well with kitties of all ages.  He has excellent manners – loves his scratching posts and cat tree.  He Koda will do well in any household – he is ready for furever family to take him home.
---

LIZBETH18
DSH, Torbie w/White, Female
DOB 2/4/18
Meet Lizbeth and fall in love!  She is a beautiful tortoiseshell tabby mix or "Torbie" for short and is as sweet as she is adorable!  Playful, silly and fun all the things that kittens should be!  If you want to add a cute little love bug to your life then little Lizbeth is your girl!   
---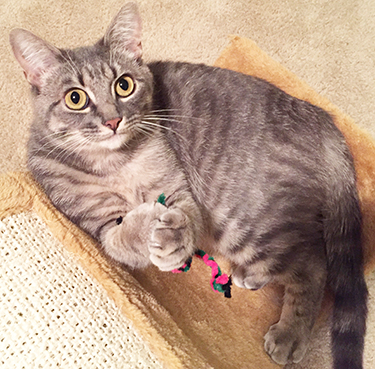 LUNA
DSH, Blue Tabby, Female
DOB 3/1/15
When Luna was rescued she settled in quickly. She enjoys playing chase with the other kitties, can type, send emails and do online shopping! She loves attention and will crawl in her foster mom's lap, gaze into her eyes and then wash her face. Luna is looking forever home full of love and cuddles, could it be yours?
---
MANDARIN18
DSH, Orange Tabby, Female
DOB 05/28/17
My foster mom calls me Mandy and I think it's kind of cute.  Being orange, Mandarin is a great name for me, but Mandy is more my personality.  Mandarin oranges don't look all that special, but then you realize that we're sweet, somewhat exotic, and always delightful.  And, as an orange tabby, females are far rarer than males.  I don't have a mean bone in my body and am quietly playful.  While I was a little slow to trust, I am now constantly badgering my foster family for attention.  I sleep on the bed all night, quietly enjoying the closeness.  Spend some time with me and you'll see that I'm looking for a family to love me.  I will do the same to my new family, I promise!
---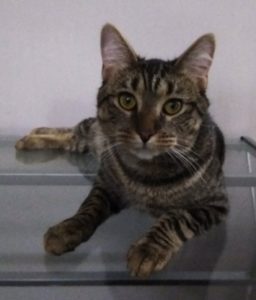 Mister MO18
DSH, Brown Tabby, Male
DOB 4/15/17
Mr. Mo was abandoned by his "forever family" when they moved away from the apartment complex where they were living.   He was kept safe by a good samaritan, but was in a bathroom most of the time.  After being rescued by Purr Partners he is now getting the love and attention he was missing and is a terrific kitty!  This handsome tabby is curious and playful, he has been loving all the new toys at his foster home.  He also enjoys watching the birds and lying in the window sunning himself during nap time.    He is dog friendly and ready to try again with a family who really understands what it means to be part of a family – forever.
---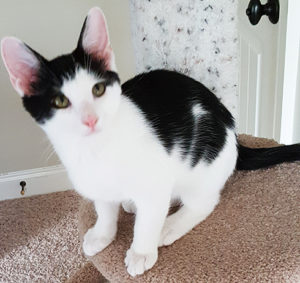 Mister PICKLES17
DSH, Black and White, Male
DOB 4/20/17
I was rescued from an old Army tool box  near Jacksonville, NC. My foster family has taken good care of me  and now I am ready to go to my forever home. I love to run around and chase toys, but I also like to be picked up and held. I purr quite loudly when you greet me in the morning. I am very curious, and will check out everything around the room. I also love treats! I can run and jump really high to catch feather toys, and will keep you happy all the time. I get along with other cats and cat friendly dogs and would make a great companion for you!   
---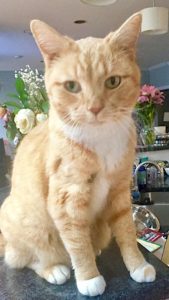 NEHI18
DSH, Orange and White Tabby, Male
DOB 3/25/16
Foster to Adopt Eligible
Nehi is just a big bundle of love in a big soft, furry body!  He loves, loves, loves attention and he will put his paw out to touch you to let you know that he wants you to keep petting him.  When he looks at you with those beautiful, almost clear green eyes, you will keep on petting him!  He likes to lay next to you or on you and will give gentle little head butts to let you know he appreciates you.  When Nehi came to Purr Partners, he had an infected bite wound and he was obviously sore all over.  He acted like he had been abused in some way and was a little cautious with his foster.  He wouldn't play because he was just unsure of the outcome. After treating with antibiotics and some pain medication he has made a full recovery and is now a trusting and loving boy.  He loves to gallop through the house and sis having a great time playing. He may take a little time in a new home to feel completely safe but once he does, he is an amazing companion.  He is not bothered by the other cats or the dog.
---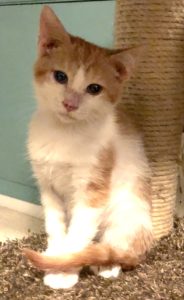 NICO18
DSH, Orange and White Tabby, Male
DOB 1/29/18
Nico – is a handsome orange and white boy.  He loves people and is very cuddly.  He is also super playful and loves to climb cat trees, chase after toys, play in empty boxes and chase laser pointers.  He and his siblings were taken to a shelter.  Under Purr Partners care they have grown up to be loving kittens.  After an afternoon of playing he loves to cuddle up with you on the couch and fall asleep on your lap.  He wants to be where you are.  Nico gets along with cats of all ages.  Loves to have a friend around – even if it is an older cat.  If you are looking for a kitty that is part of the family,  then this guy is for you…
---
NIKE18
DSH, Buff and White Tabby, Male
DOB 1/19/18
Nike is a stunning buff and white tabby.  He is the leader of the pack and greets everyone as soon as they enter the room.  Loves to climb cat trees, chase laser pointers and play in empty boxes.  When he is ready to relax, he will be in your lap, ready for a nap, so he can do it all over again.  He is not afraid of anything – not even the vacuum cleaner!  He and his siblings were taken to a shelter.  Under Purr Partners care they have grown up to be loving kittens.    Nike gets along well with kitties of all ages. This fun loving kitten will be great addition to any family.
---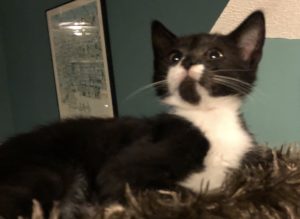 NITRO18
DSH, Tuxedo, Male
DOB 1/ 1/18
Nitro what a great kitty, and just look at the beautiful "tuxedo" he is sporting!  He is a fun loving kitten with lots of energy – but has a very sweet side too.  He and his siblings were taken to a shelter.  Under Purr Partners care they have grown up to be loving kittens.  Loves to chase laser pointer, climb cat trees, chase toys, climb in boxes – then fall asleep on your chest.  Nitro gets along with cats of all ages.  He isn't afraid of anything.  He will be the very first kitty to greet you when you come home. He will make a great addition to any family.  If you want a kitty that will be part of family – not hiding – this is your boy.
---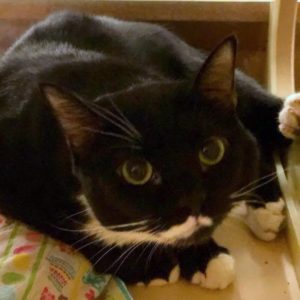 PANDA17
DSH, Black and White, Male
DOB 7/3/16\
Foster to Adopt Eligible
I am a happy and affectionate kitty and once I have scoped out a new situation it doesn't take me long to warm upI  I love attention and will make a a wonderful, loyal companion for you!  I'm awfully soft and a real purr box!  I am always looking dapper in my black and white tuxedo and white painted toes.  Please give me a chance to show you how special I am and maybe you will want to take me home with you.  I will adore you forever!  Can't wait for a home to call my very own.
---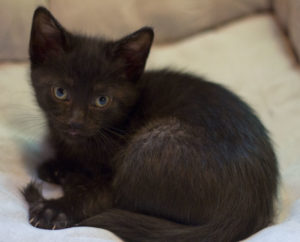 PATRONUS 18
DSH, Black, Male
DOB   3/15/18
Just like in Harry Potter, Patronus is always ready if you call him!  If you are looking for a kitty for an active household, and/or one with kids, I'm your little man!  I love to play. My favorite games include anything with a feather on it, and of course, the laser pointer.  I'd really like to show you my honed hunting skills. If toy mice are any indication, Dementors have no chance with me around! Come and let me show you!
---
PENELOPE18
DSH, Brown Tabby
DOB 6/1/2017
Penelope is one of the sweetest and most fashion-forward kitties you will ever meet!  Her hazel eyes, gorgeous swirls and striking cross pattern on her back give her a glamorous Hollywood style.  Sadly, Penelope was hit by a
car and suffered from head trauma and broken front legs.  She is healed from her injuries, but because her shoulders are out of joint, she has some trouble jumping and she will go up on her hind legs sometimes, for better support.  She needs raised bowls, soft beds, and gentle handling on her terms.  Penelope is as playful and affectionate as any other kitty, despite her limitations, and she LOVES to be cradled and carried around like a baby.  She enjoys outings in the pet stroller and watching birds at the window feeder.  She's known as an "island girl" in her foster home, as she wants to lend a paw and be in the middle of all that's happening in the kitchen.  In this picture, she's "helping" sort coupons.  Penelope likes a cozy cardboard box and will chew the edges of it.  She's a scavenger (crinkle a bag and see how fast she appears!) and not everything she gets her mouth on agrees with her, so tidy habits will serve her adopter well.  Penelope needs an experienced cat person – she's not for a first-time adopter or a home with small children, due to her special circumstances.  She is very good with other kitties, but she might need a little time to trust them and be comfortable in her new home.  She has not had a chance to befriend a dog, but the right one(s) may be fine companions.  All she wants now is a family to love her forever!

---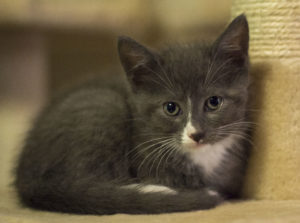 PETER PAN 18
DSH, Gray, Male
DOB   3/15/18
Even though my little body will get larger, I'll never grow up! I am a fun-loving, laid back guy with great litter box and scratching post manners.  My favorite game is hiding in a shoebox and pretending to go to Neverland.  I am great with other cats and kids.  I would probably be fine in a house with dogs because I am so easy-going. Just like my namesake, I may be small, but I can hold my own!  Are you my family?
---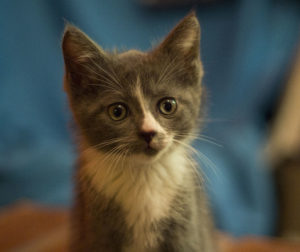 PETEY 18
DSH, Gray, male
DOB   3/15/18
Named after a character in The Hunger Games, I am loyal, quiet, and very very loved by my parents. I enjoy a good pastry (cat loaf), and I am always full of great ideas of hiding places.  My favorite places are usually in shoes or under pieces of paper, and I come when I am called.  I am a gorgeous cat with just the right mix of play and snuggle.  I can't wait to meet you!
---
DMH Russian Blue Cross, Female
Queenie is the proud mom of 5 sweet babies but she is ready now to find a home of her own. She seeks out attention from her foster mom and wants to be on her lap or sitting next to her on the couch.  She is just the sweetest girl.  She is beautiful and has gorgeous, soulful eyes and she will gaze at you with such contentment when you pet her.  She's very tolerant of the other cats in her foster home and doesn't mind the dog either.  She is still a little skinny after nursing all of those babies but she will now begin to put on some weight with some good food and will fill out beautifully.  She has soft, luxurious blue-gray fur and loves to be pet and brushed. Please consider giving this girl a home of her own. She's looking for her forever people.  
---
RAFIKI18
DSH, Orange and White, Male
DOB May 1, 2017
Rafiki had a rough start in life – found in a dumpster, brought to a shelter then rescued by Purr Partners.  Even though he had negative experience with humans – he is so forgiving.  He loves to hang out on the couch and watch TV.   Loves to give head butts – rolls over so you can give him belly rubs  Rafiki has a calm disposition – but has a playful side to.  Like to chase laser pointers, hang out on cat trees and play in empty boxes.  He gets along well with cats of all ages.  He is one of the first to greet you when you come into a room.  He likes humans of all ages.  There is not a mean bone in his body.  He is really a "COOL" cat.  He looks like he could be the mascot for jazz band.  He would be a great addition to any family. 
---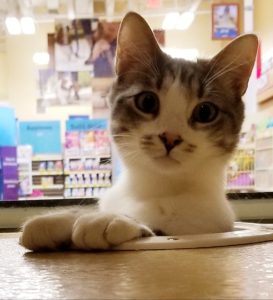 REMUS17
DSH, Silver Tabby with White, Male
DOB 6/20/17
Remus, like his brother Roman, began his life as a feral kitty in Durham and was entered into the Purr Partners program. Remus is more cautious than his brother but is slowly coming around to believing that people are to be trusted. He loves to be petted when he allows it, and we have every hope that he'll learn that people are not to be avoided but can provide love to him. Remus gets along very well with other cats and kittens, but prefers to sit on the sidelines and watch all the activity or cuddle up in a small cat tree. He's a beautiful boy but will need a special adopter who will take things slowly and give him plenty of time to trust.
---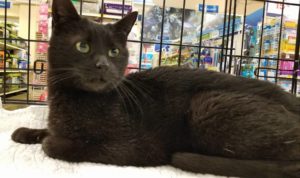 ROSALYN17
DSH, Mini Black Panther, Female
DOB 3/1/11
Rosalyn, or Rozzy for short, is a petite and affectionate kitty. She competes with other cats in the house for head rubs by trying to push their heads away with her own, to get her head under your hand. Rozzy is also a talkative cat, so if you want to have a conversationalist kitty, she's your girl! She enjoys being held and snuggled.  She would make a wonderful, loyal companion in any home.
---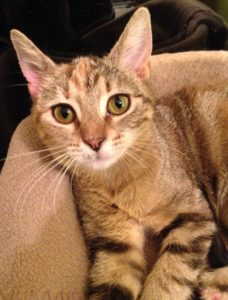 RYLEE17
DSH, Cinnamon Tabby, Female
DOB 9/23/17
Rylee is a regal, pretty princess at first glance. You will see her watching her fostermates from afar, too prim and proper to be bothered with messing up her fur.  But, turn your head and Rylee will pounce on an unsuspecting kitty or be swatting at their tail when they walk by! Rylee is a fierce little competitor when she is in the fray, so don't let her sweet innocent expression fool you into thinking that she not a tough cookie! Take some time to meet Rylee and you too will fall in love with her sweet personality. 
---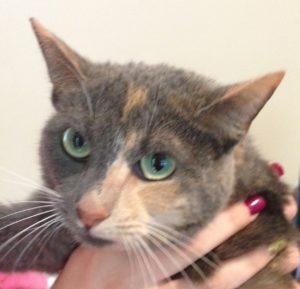 SANGRIA
DSH Dilute Calico, Female
DOB 3/20/14
Sangria has been in foster care her whole life. Her mother was rescued by Purr Partners and promptly gave birth to 5 kittens, Sangria is the only one left.   She was the most shy out of her litter and remains quiet and reserved with people. She gets along well with other cats and has been with other cats her whole life. She is a beautiful, unique looking girl with vivid green eyes who has been overlooked. Sangria would do best in a relatively quiet home with a patient person who will take the time to let her become comfortable at her own pace. If you are that special owner, please consider completing an application for Sangria today! 
---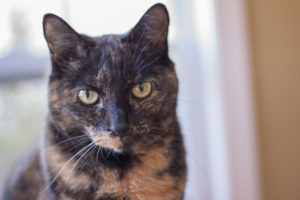 SIENNA
DSH, Torti, Female
DOB 12/31/12
Sienna was once considered disposable and she is lucky to be alive. She is has learned to trust, and she is braver every day. She and her sister were thrown in the dump when they were about 7 weeks old, and things were not looking good. However, they were brave enough to not let themselves starve to death, and so they were discovered, and now life is way better! Sienna does not have mean bone in her body, and while it will take a special person who is willing to be patient and kind, the reward will be great. Sienna adores other cats and kittens, and she purrs like crazy when she is petted and loved on. She's still a little nervous about some things, but she has a brave heart, and she's working hard on her fears. Surely someone out there will be willing to give her a chance. It's not fair that such a horrible beginning and such cruelty from humans should prevent her from having a loving home of her own! Sienna still believes in the goodness of people!
---
SMOKEY JOE17
DSH, Chocolate Tabby, Male
DOB 2/20/17
Isn't this just cutest fat-cheeked boy ever? What a handsome hunk he is, and what a sweet, sweet boy! Smokey Joe was abandoned in a box at Raleigh Cat Clinic, and so he has had the very best medical care, but now he's ready for his own home. He is a very sweet and gentle boy who is a tiny bit cautious at first, but that doesn't last long. As soon as he realizes you are not going to hurt him, he will roll over and ask for a belly rub. It's very likely he has not had a good life up until now, but everything has turned up roses for him! He is good with other cats, but he really, really loves people. He would love to have a human companion to share life with. A buddy to play with is icing on the cake! This sweetheart would probably not do well in a household that is super busy and active, but older kids would be just fine. He may look like a bruiser, but that tough exterior hides a very loving, slightly timid heart. He's ready to offer all his love and affection to the person who promises to love and care for him always! He's a cream puff in a tough-guy costume, and he's hoping you'll see and love him for both his handsome exterior and loving interior.  
---
DSH, Torbie with white, Female
OH HAI! Are you this "light at the end of the tunnel" I keep hearing about? Are you my purr-ever home? Are those adoption PAPERS you're signing? And do they say "SMOOCHIE" on them? That's MY name! (scrunches eyes tight) Please don't let this be a dream…please don't let this be a dream…
Smoochie is a laid-back, relaxed kind of girl that likes to hang out with the family.  She is as sweet as sweet can be and was an outstanding mother to a beautiful litter of kittens. Now that her mothering duties are over she is looking to retire to a nice, comfy chair in a home where she can be appreciated for her elegant poise and ladylike manners. She has some scar tissue in one of her eyes from a very old injury but she sees just fine and it doesn't bother her in the least.  She is a beautiful girl with striking swirls of tabby and calico in her soft coat.  
Smoochie's foster family says she is a joy to foster and gets along well with everyone.   She is gentle, loving and just an all around nice kitty. She isn't pushy or demanding but will follow you silently around and sit next to you until you notice her.  Sometimes she will let out a tiny little meow to let you know she is there. Won't you be the light at the end of the tunnel? Won't you be her purr-ever home? Please be her dream come true. 
---
DSH, Orange Tabby, Male,
DOB 9/1/17
Sweet Potato was found by a good samaritan in an area where people like to dump cats out in the country. The woman who found him was in the process of moving from NC to Tennessee and already taking 19 cats and several dogs with her! There was just no more room for little Sweet Potato. Now, he is safe with Purr Partners and looking for a real forever home of his own. Sweet Potato likely belonged to someone previously, who abandoned him, because he is very social with people and seeks attention from anyone he can. He is a young male and wants to be in charge but his new foster siblings were having none of that and put him in his place. He is getting along well with the other kitties in his foster home, after a few scuffles. He is afraid of dogs, so far, and we haven't forced him to meet any up close. With proper introduction, he may be OK with a calm dog. Everyone knows that neutered orange male tabbies are the best kind of pet you can have! Please consider this sweet boy for your companion. 
---
SUNKIST
DSH Orange Tabby with White, Male
DOB: 7/15/15


Chronic Sinusitis
Sunkist is the cutest, silliest, funniest boy who loves to play and entertain. He is quite active and mischievous. He likes toys and loves to chase the broom when you sweep. He gets along very well with other cats. He loves treats. So why has he been in foster care for over a year and a half? In January of 2016, he was just a half grown kitten pulled from a high kill shelter. He came to us with a severe sinus infection where he was sneezing blood. He was treated with multiple courses of antibiotics but every time he came off of antibiotics, he would start sneezing and eventually would develop sinus and respiratory infections. We tried different antibiotics and extended courses of antibiotics but Sunkist could never stay well for long. He was even seen at the vet school but there has been no cure found for him. His infections are not contagious and are caused by damage in his sinuses from when he was a kitten so he will always be susceptible to infections. He will periodically need antibiotics and steroids. Despite all of this he is a happy boy that would love nothing more than a real home for the first time in his life. He is not a placid lap cat because he is so busy all of the time. He would love a family with older kids or other cats to play with – maybe even a dog! He is stuck in foster care through no fault of his own. We have found homes for cats with many different medical issues before and we know that there is a home out there for Sunkist. Could it be you that will open your heart and home to this deserving boy?
---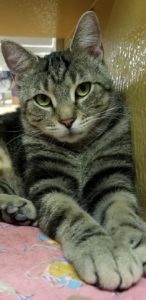 VALIANT
DSH, Brown Tabby, Male
DOB 4/2/16
Beautiful Sweet Valiant just loves people!!  He will follow you everywhere you go, curious as to what you are doing and always ready to lend a Paw to help out!!  He enjoys chasing little ping pong balls, attacking the little furry mice, and curling up on the sunny screen porch for a snooze.  He will sit with you on the couch, or cuddle with you at night.  Valiant is a love bug just looking for a forever family to love! 
---

XANADU 18
Siamese Manx. Lilac Point, Male
DOB 11/2016
If your looking for a super sweet guy Xanadu is waiting for you! We rescued this blue eyed beauty has hopes of finding him, his forever home. We don't know much about this special guy except he is a 1 and a half year old Siamese Manx which is a very interesting type of cat. Not sure if he's good with other cats or dogs because we don't have any,  but I do know he is very charming and you will fall in love with him if you give him the chance. 
---
YETI 18
DSH, Lilac Point Siamese mix, Male
DOB 3/20/16
Don't let a handsome face and luxurious fur coat fool you!  There is so much more to this Lilac Point Siamese mix boy. Yeti has a heart of gold.  He is a dreamboat lover boy and a real gentleman.  He always uses his litter box, does not scratch when playing and will make you lots of kitty biscuits!  He especially loves to snuggle and loves head rubs.  His favorite toy is a mouse tied to the end of a string.  But he is true to his gentlemanly traits and is a laid back cool dude.  He gets along fine with the small, gentle dog in his foster home.  
Like many of our kitties, Yeti has had a tough time.  His origins are not known but somehow found himself on his own.  He knew enough to ask a human for help who turned him in to an animal shelter.  That is when PurrPartners stepped in.  Yeti was covered in sores believed to be mostly from fleas.  He was a bit scruffy looking, to say the least, and is now the handsome prince you see in his picture.
This kind, sweet boy deserves the best home possible.  One where he will never have to be on his own again, where he can be safe, comfortable and well.  In return he will give you devotion for the rest of his sweet life.
---