Adoptable Cats & Kittens
Please read our Adoption Policies before completing the Adoption Application.  
---
BINGO17
DSH, Grey and White, Male
DOB 3/15/17
Bingo has a great personality and enjoys playing with his foster-mates. He likes to roll the balls around the room and come to his foster mom for tummy rubs.  He is a handsome boy with cute gray markings across his nose and a very expressive face.  He would love to find a family he could call his own!
---
BOURBON18
DSH, Tuxedo, Male 
DOB 8/26/17
Bourbon is a cute little guy with a playful personality and a loud purr. He is well mannered and has excellent litter box skills and always uses the scratching posts.  He enjoys chasing the feather toy and will jump really high to catch it. Bourbon is a little shy at first but warms up and soon will be looking to nap in your lap. Due to his gentle nature he would do better in quieter home with older children. He loves other cats and plays well with his foster siblings but also doesn't mind hanging out on his own. Bourbon is just a the sweetest boy and is looking for someone who will take him home and help him blossom.  You are just what he needs!
---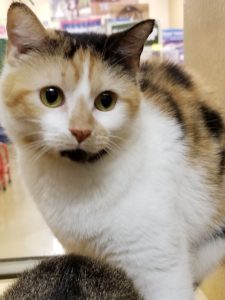 BREEZE18
DSH, Calico, Female
DOB 3/30/17
I am a sweet gentle girl with a beautiful coat of fur. I love to play with my foster-mates and lasers hide and go seek.   I'm a very brave girl who gets along with cat friendly dogs.   It will just take me some time to get to know and warm up to them!  When you are just hanging out though I LOVE to hangout right there with you and snuggle!   Adopting me would be a breeze because I would be a wonderful addition to any home!  
---
BRUNO17
DSH, Grey and White Tuxedo, Male
DOB 3/15/17
If you are searching for a handsome boy with soft silky fur that you can't help but pet and a wonderful personality, you can stop the search!  Bruno loves to throw his toys in the air and pounce on them or carry around the room while making a cute little chirping noise, so you know that he has found something interesting in the room.  He will sit on your lap for love, wash your hands and recently he has found out phones have great YouTube videos with cat games, you can find them on the Purr Partners YouTube Channel.  He loves to watch those and try to catch the fish, strings or various other things going across the screen.  Bruno would make a great addition to any family.
---
CAROLINA18
DMH, Brown Tabby, Female
DOB 3/7/17 Carolina is an affectionate girl that hasn't met anyone she doesn't like.  After the initial meeting and surveying her foster home, Carolina became an outgoing, purrfect little lady.  She is inquisitive, bright-eyed and her wonderful personality makes you just want to hug her tight!  She enjoys climbing cat trees, sitting on your lap, and will tell you how much she loves you.  Carolina would be a great fit in any home.
---
CAYENNE18
British Shorthair Mix, Orange Tabby, Female
DOB 6/30/2017
Let me tell you straight up….  I am British…  to be precise I am a British Shorthair.  I come from a pedigree with a "chucky" body, dense coat, rounded paws and broad face.  I am one of the most ancient cat breeds known.  My breed is known to be good-natured and relatively calm temperament.  This is why John Tenniel's famous illustration of the Cheshire Cat was a British Shorthair! The Cat Fanciers' Association reads:  "When gracelessness is observed, the British Shorthair is duly embarrassed, quickly recovering with a 'Cheshire cat smile'".   With all this said, I match my breed exactly!  I am very loving, gentle and easy going.  I am extremely calm (except around other animals). I love people!  All people.  Hold me (all the time), cuddle me (please), sit with me or put me on your lap, basically put me where you want and I am happy!  I am also just happy sitting in a window or walking around the house.  I am happy with almost anything.  I do not need a lot of entertainment.  I do need loving every day as I am very social even though I am quiet.  I am petite.  I purr a lot but I have a soft voice.  I like to head butts from time to time – but gentle ones.  My favorite toy is a string, not those store bought toys my foster mom bought, but a shoe string, it is wonderful.  I would be great for a couple, family with older children, or family with an only child that has a quiet gentle temperament.  Did I say I like to be brushed? And pet?  And talked to?  And held?  And a warm lap?  And a window?  Really I am very easy….  But I would not be good in a home with young children as I like a quiet environment.  And please know that I need to be an "only child".  I am TERRIFIED of other animals, but fish may be nice!
---
CHARLESTON
DSH, Tuxedo, Male
DOB 3/1/12
Charleston is a wonderful boy who gets along with everyone! He loves his other foster friends and even tries to get the kittens to play with him. His favorite toy is a crinkly rabbit that he found and now he likes to carry it around the house. He watches each evening for his foster mom to come home so he can show her how much he missed her. Charleston is a youngster at heart and would love to find a family that he can call his own.
---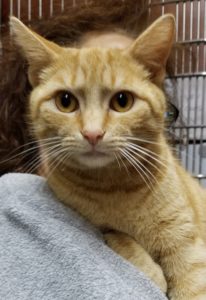 CHEDDAR18
DSH, Orange Tabby, Female
DOB 5/17/2017
Cheddar is very sweet orange tabby with the most beautiful markings.  She is a little shy at first, but once she is comfortable, she loves to be with you.  Her favorite thing to do is to give you head butts, then roll on her side so you can rub her back and belly.  She likes to lay on the cat tree and play with toys – but she is most content when she is laying in your lap.  She has a very calm disposition and compact little body.  She will most likely be a petite little girl.  She gets along with other kitties and will do well in most environments.
---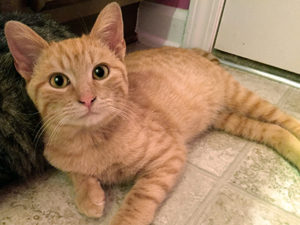 CHEETAH
DSH, Orange Tabby, Male
DOB 12/1/16
Cheetah is a fun little boy!  He gets along with other cats and loves to have fun, fun, fun.  He is inquisitive, loves his toy mice and rolling balls around the room.  He will sit with you and enjoy your attention.  He would love to find a forever home with someone that would enjoy a sweet kitty!
---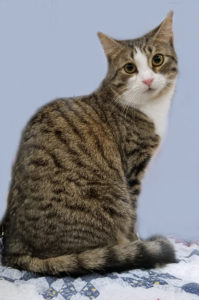 CHELSEA17
DSH, Grey/Brown Tabby, Female
DOB 3/8/17
I am Chelsea, a little grey/brown tabby with white paws, bib and face.  When I was rescued I was all by myself and only weighed 13 oz.  I had to be force fed every few hours because I was scared and didn't want to eat.  After a diet of kitten milk and baby food, I started gaining weight and now I eat regular kitten food.  I was all alone during the 2 week quarantine, but once that was over I was able to join 7 other kittens.  However, my 'kitty manners' were lacking and the other kittens avoided or ran from me.  Who knew they wouldn't like being jumped on and beat up?  With time I have learned how to behave and now they are my close friends.  I have lots of energy, and love to get in trouble.
---
CHEVY
DSH, Mackerel Tabby, Male
DOB 4/26/15
My name's Chevy and I'm a good ole country cat. Just like my namesake, I'm fast and ruggedly handsome. I'm a sports model 'cause I like to play; show me feathers, kicker, toy mice, most anything that moves and I'm ready for the game. I'm quite the lover, too. I like to find a soft lap and snuggle up real close for some TV, especially sports or movies that have some animals in them. And in bed — well, that just means more snuggle time and some warm sleeping. I do my bit around the house, keeping up with whatever is going on and helping out by being entertaining. My foster mom says I shouldn't live with preteen children. I think dogs are OK from a distance, but I haven't had much experience with them close up. If you are cat savvy and looking for a good-tempered companion, someone to hang out with you, I'm your boy.
---
CRICKET17
DSH, Tuxedo, Female
DOB 7/15/17
Cricket is the ultimate lap cat! She will sit in your lap and cuddle and purr for just as long as you want to sit still. She's a super sweet girl that has had a hard start in life, but there is not a mean bone in this pretty girl's body. She was found under a building as a small, scared kitten, and while she is a little shy, she is quickly getting over it. Her safe place is in a lap, and she will reward you with a motor that never stops! She is great with other cats and doesn't mind gentle dogs at all. She would not do well in a busy household and with small children. She would be wonderful in a small setting with someone who wants a companion and is willing to take it a little slow. She will brighten your days with her big eyes and big purr. Cricket wants a home of her own and a lap that she can call all her own!
---
DARIA18
DSH, Tortoiseshell, Female 
11/27/17
This sweet "Torti" girl has beautiful markings. She has soulful eyes that she uses to gaze at you. She likes playing with her brothers. She especially likes to jump high to get a toy on a string. When she is finished playing she will come up and snuggle with you putting you to sleep with her purr. She loves to explore and climb up and down stairs. She has been around an active house, but not young children. She has not been around dogs, but with a slow introduction, she should be fine. Could you be her special family?
---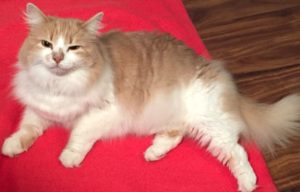 DARLA18
DMH, Orange & White, Female
DOB 6/1/2015
Darla was surrendered to a shelter when her owner, who is legally blind, became afraid of falling on her.  Darla is now trying to understand why her family left her at the shelter, but even through this difficult time in her life she allows her foster mom to pet and give her attention.  She will crawl up on the bed at night to get the security and love she so desperately wants.  Darla is looking for a home that will let her slowly get acclimated and give her the love this wonderful girl deserves.   
---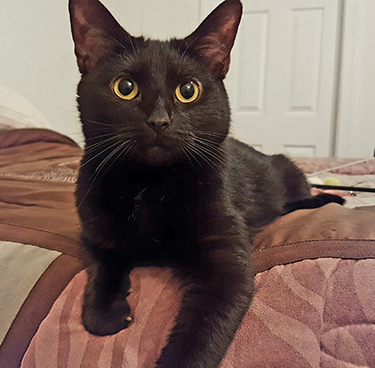 DESTINY
DSH, Black, Female
DOB 4/20/13
Destiny, and her sister, Harmony, were rescued from a high kill shelter where very few cats make it out and even fewer black cats! Destiny is not sure why they say people say black cats are bad luck – she experienced the best luck ever – a chance to live! And, because she is so appreciative, she wants to share her luck with you. Destiny loves to be held. Cuddling is her all time favorite thing, and she can't wait to have a family to cuddle with. She is great with other cats, and one of her favorite games is playing in the cat tunnel with her sister. Sleek and glamorous, loving and affectionate, Destiny just might be your destiny.
---
DIMPLES18
DSH,  Orange & White Tabby, Male
DOB 11/27/17
This boy is the funniest kitty ever. He loves to play and when his human walks out of the room and he notices they are gone and he begins to call for them. You hear his "voice" and have to call to him so he knows where you are. He very much loves to jump high for the toys on a string. When he catches them in his mouth he holds on tight and tries to run away with it in his mouth. It doesn't matter the size of the stick as he will try to run with it. He loves to snuggle when he tires out. He will climb on your chest and try to get as close as possible to being under your chin. He is great around other cats and plays well with them. He has not been around dogs, but doesn't have a shy bone in his little body. He enjoys high activity levels so a home with children wouldn't be a problem. Is this sweet boy in your future?
---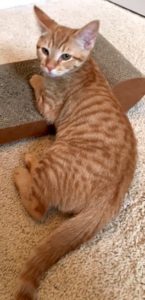 DINKUS 18
DSH, Orange Tabby, Male
DOB 11/27/17
This adorable orange tabby is a playful, fun loving cat. He has siblings that he plays with and is great with the older cats in the house as well. He recently has decided that he likes to explore under the covers and when given a blanket tries to see what is underneath it. He will go on an exploration trip and sometimes even take a slight nap under the covers. He has no personal space issues as he tries to get as close as he can to the human he is laying on. He will climb onto the lap of his favorite human if they are sitting on the floor. He will also roll over for a belly rub when in the home. He hasn't been exposed to young children or dogs but is very friendly. He likes new things so meeting a dog or children would be an adventure for him. Are you willing to go on an adventure with him?
---
DIVOT18
DSH Male Orange & White
11/22/17
This handsome boy is all about the snuggle. He loves to play with his siblings, but at the same time loves to snuggle. He has a mighty purr as he makes his biscuits next to you. He is playful and enjoys toys. He leaps to climb on your lap. He is curious about his surrounding and wanders around looking for toys to play with. At times he will run so fast that he can't stop and slide into walls or furniture. He gets up, shakes off, and takes off running again. He is good with all ages of cats. He has a nice medium energy level so he would be good in any household from busy to slower. He hasn't been around dogs but is always curious about new things. He hasn't been around young children, but with his personality would be fine. Are you looking for a new member of your family who will entertain you for years to come? If so, Divot might be your boy.
---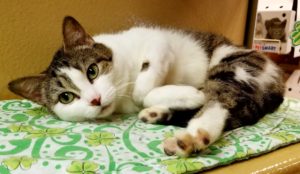 ELITA18
DSH, Turkish Van Mix, Female
DOB 5/15/17
I'm an easy going girl that loves to lounge around all day and cuddle all night. Laser pointers are my favorite toy and will keep me up all day, not much of a player I'd rather hangout with you all day and watch birds from the window and massage your shoulders. I love getting to know know new people and other animals, I'm a little shy at once but give me a chance and I will fill your heart with lots of love.
---
DLH, Ragamuffin mix, Buff, Female
I am a pretty girl and have a great personality to match, easy-going and very friendly.  I like to be around my human family, keeping them company wherever they are.  I hang out at night on the sofa with them, getting some of their attention with my meows.  I enjoy having my soft fur brushed, and show my appreciation with loud purrs.  I get along with kids and other cats and will make a great addition to any home.
---
Gallagher is a very loving short haired tabby who is almost 4 years old.  He is a gorgeous male cat with very pretty markings.  Gallagher is a very shy boy at first but once he opens up (takes about a day) he is such a lover.  He loves belly rubs and laying on laps.  This sweet boy enjoys fancy cat toys but his true love is a ponytail holder…those are his absolute favorite things.  He will spend hours playing with ponytail holders.  Gallagher is great with babies, children and other cats.  He has not had any experience with dogs but will likely be okay with a little time.   He is such an easy cat and very well mannered.  No behavioral issues.  He needs a good home with lots of love to give and he'll give lots in return.  Ideally, Gallagher would love to find a home with his sister, Glitzy.  They make a great team, but they can go separately.
---
DLH, Orange Tabby, Female
They call me Sweet Georgia Peach, I guess it's because I am a true southern belle! As a lady, I prefer the quiet pursuits like bird watching while sunning myself in the front  window, reading and long leisurely naps.  I love attention and will follow you all around the house in hopes we can play with my toys together.  I am am a very calm kitty, if you take me home you will find me to be a gentle, submissive and agreeable companion. Let's discuss housing arrangements, shall we?
---
Glitzy is a sassy and spunky medium haired cat with an absolutely gorgeous face.  Glitzy doesn't walk, she prances.    She is a very friendly almost 4 year old cat and loves being scratched underneath her chin.  Glitzy, like her brother Gallagher loves fancy cat toys but her absolute favorite thing to play with is a water bottle cap.  Glitzy has the ability to hear you open a bottle of water anywhere in the house and will come running to get the cap. Glitzy is great with babies, children and other cats.   She has not had any experience with dogs but will likely be okay with a little time and proper introduction.   She is very easy going and well mannered.  No behavioral issues whatsoever just a sweetheart.   She simply needs a good home with lots of love to give.  Ideally, she would love to find a home with her brother, Gallagher, but it's not a necessity.  They make a great team and do love each other, but more importantly, she wants a loving home with cuddles and kisses.
---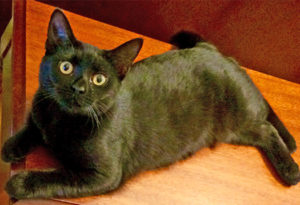 GOLDIE17
DSH, Black, Female
DOB 3/1/17
Goldie is a sweet and extremely wonderful black cat. She was named Goldie, because of her beautiful golden eyes. She is great with children, other cats, and her foster family's dog!!!  Goldie LOVES toys and LOVES TO RUN! She loves playing with toys, and loves to be petted. She is READY TO GO to her new home! If you will come and visit with our sweet Goldie, we just know that you will want her to be part of your family.
---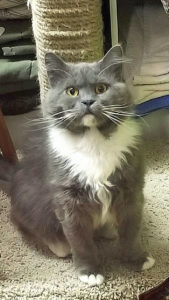 GUSTO18
DLH, Persian Mix, Male
DOB 1/1/16
Live life with GUSTO!  This very handsome guy just loves to be the center of attention! Always up for a party, and by party he means some belly rubs, a few snacks and a long hair brushing session! He rolls over so you can pet, rub and brush every inch of his body and then he comes up for a head butt and face rub and purrs his thanks. What a flirtatious little loverboy he is!  And who can say no to that adorable flat face, big beautiful, inquisitive eyes and cute little goatee that just begs to be scratched?! Gusto  definitely has the characteristics of the Persian breed —  a cute round face, snub nose, chubby cheeks and rounded ears. He's very cool, calm and sociable and prefers to be with his people. He is good with dogs and most cats, but of course he would prefer to have you all to himself. Being a Persian, his only special request is to keep up his good looks by daily brushings, he prefers his coat to be silky and smooth and ooooohhh so soft!  
---
HARMONY
DSH, Black, Female
DOB 4/20/13
Harmony being a beautiful, sweet tempered, black cat considers herself quite lucky and pampered in her foster home where she and her twin sister Destiny have been living the good life since being rescued and while they look for their forever homes. This sleek mini panther enjoys being petted and brushed; and watch out cat toys, because she is quick and lively. She also enjoys hanging out on the cat furniture with her other cat friends while they listen to classical music on the radio and gaze out the window (or cat TV as they consider it). Not having been introduced to dogs or children as her foster Mom does not have any, Harmony is not expressing an opinion on them at this time. She and her sister Destiny have always been in a calm adult home where they are considered special ladies who are looking for their special home. Maybe you have been looking for Harmony.
---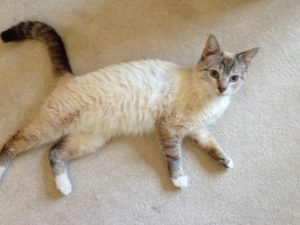 HEATHCLIFF18
Siamese Mix, Male
DOB 8/1/17
Heathcliff is the proverbial lap cat.  Once he gets over his shyness he will seek you out for love and attention.  He is very verbal and greets you with his little chirps and trills.  Every time you speak to him he has a response.  We have no idea how Heathcliff ended up in a shelter or what he has been through, but he is a little shy and afraid at times, but with some tenderness and love he warms up to you quickly.  He would thrive in a quiet home with people that want a cat that is extremely lovable and always ready to be cuddled and loved.  Heathcliff has been through a lot in his short life and deserves a safe, loving home. 
---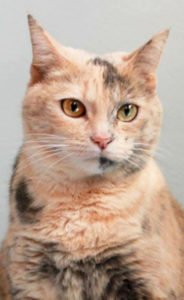 JUPITER
DSH, Dilute Tortie, Female
DOB 7/14/2014
Just look at this beauty! Have you ever seen such a gorgeous girl. She is a very unique peach Torti and her personality matches her looks. Jupiter was definitely someone's inside cat and she would love to continue that role. From her first day as a Purr Partners kitty, she made herself right at home with her foster mom. She loves to be in the same room and if you sit down she will be up on your lap in no time. She also would love it if she could share the bed with you at night! She will give you kisses and touch your face every so often just to make sure you are ok. She is good with other cats, dogs and although she doesn't live with kids now, her foster mom thinks she would be fine with them. She's a gentle and sweet girl. Won't you bring this pretty girl home and give her the forever home she deserves?
---
KARENZA18
DMH, Black Tortie, Female
DOB  03/2017
I became a foster kitty when my human died.   I am a very sweet girl and love to love so I would like to find another human to love.   While I am not a licker,  I will smell you and rub my head and body on you.  In return I would love it if you give me lots of belly rubs!  When my foster mom walks out of the room I will sometimes grab her ankle to make her stay longer, but never with claws!  I am a little shy and not fond of loud noises.  My shyness will get better once I am settled in my forever home.  My foster mom tells me I am pretty, and my fur is soft.  All I need is a forever home to show you what a good friend I am and will love you forever, unconditionally.
---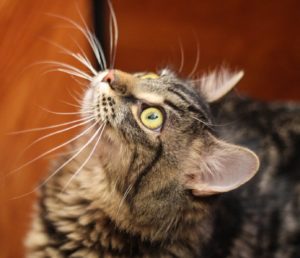 KEEPUR17
DMH, Grey/Brown Tabby, Male
DOB 8/1/17
Keepurr is the kitten everyone dreams of ! He is just the right amount of snuggly, sweet, purr box, ball of energy and even a little kitten mischief rolled into one. He LOVES to snuggle and loves to play. He will go straight from the hard chase of a toy to gentle snuggling on the couch and is gentle even while being toted around by a small child. He has been very well socialized in a house full of animals and kids and he loves them all. Great with kids of all ages, dogs and other cats. He is also super-sweet to his blind brother Keller and is a great "seeing-eye cat" to him. They are a bonded pair and must be adopted together and would be a wonderful addition to any home.
---
KELLER17
DMH, Grey and White, Male
DOB 8/1/17


Blind, born without eyes
Keller is an amazing kitten. He is sweet and energetic. He likes to play and loves to snuggle. He is fearless and doesn't let his lack of sight hold him back at all. He amazes his foster family every day with what he can do. He scales the highest cat trees, can chase a ball or fishing pole ( as long as it makes a sound ) and plays hard with the other cats and kittens. He MUST live with at least one other cat near his age, and would love to be adopted with his wonderful brother and seeing-eye cat Keepurr. He is currently in a foster home full of kids and cats and a dog and he loves them all.  Keepurr and Keller are a bonded pair and must be adopted together and would make a wonderful addition to any home. 
---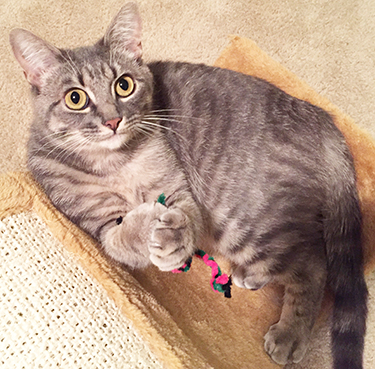 LUNA
DSH, Silver Tabby, Female
DOB 3/1/15
When Luna was rescued she settled in quickly. She enjoys playing chase with the other kitties, can type, send emails and do online shopping! She loves attention and will crawl in her foster mom's lap, gaze into her eyes and then wash her face. Luna is looking forever home full of love and cuddles, could it be yours?
---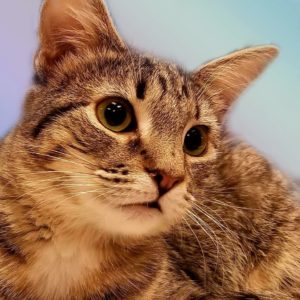 MACY17
DSH, Tabby with White, Female
DOB 6/6/17
Hi there, my name is Macy, and I'm hoping you might like to take me home with you.  I'm a very sweet girl, and whenever you pick me up and cuddle me I will purr and purr in your ear.  I live with a lot of other cats and kittens, and I have such a good time playing with them, and I even tolerate the gentle dogs in my foster home.  I love feathers and balls and fuzzy mice and especially running up and down the stairs in my foster home.  There's so much for a little kitten like me to play with and investigate, but…yawn…when I get tired my very favorite thing to do is to curl up at the very top of a cat tree and dream of my very own forever home.  I'm hoping that you are looking for a wonderful, sweet little girl like me to be your very own kitty.
---
DSH, Orange Tabby, Female
My foster mom calls me Mandy and I think it's kind of cute.

  

Being orange, Mandarin is a great name for me, but Mandy is more my personality.

  

Mandarin oranges don't look all that special, but then you realize that we're sweet, somewhat exotic, and always delightful.

  

And, as an orange tabby, females are far rarer than males.

  

I don't have a mean bone in my body and am quietly playful.

  

While I was a little slow to trust, I am now constantly badgering my foster family for attention.

  

I sleep on the bed all night, quietly enjoying the closeness.

  

Spend some time with me and you'll see that I'm looking for a family to love me.

  

I will do the same to my new family, I promise!
---
MARIEL
DMH, Maine Coon Mix, Female
DOB 5/1/15
Mariel is a delightful tiny little fluff ball and is as sweet as she is petite! She's quirky, and talkative, and curious and everything that makes cats so wonderful. Mariel is one of those kitties that just breaks our hearts, when she is at home she is a warm, sweet, wonderful little girl who just wants to curl up on your lap, purr and to be loved.  But when she meets someone new, she's scared and doesn't like the attention.  Because of that she is overlooked, folks assume she is not loving and friendly – nothing could  be further from the truth!  She is looking for someone who will be patient with her and can see past her fear and in time she will show what a truly wonderful cat she really is.  Mariel would do best in a calm household where she can be your one and only.  We hope there is someone out there that can see what we see in Mariel –  a beautiful, special girl that just needs someone to give her a chance!
MICHELANGELO17
DSH, Mini Black Panther, Male
DOB 7/1/17
This beautiful boy is super sweet and loving. He is the first to jump in your lap for nap-time and as with all three, starts purring at first touch. The cutest thing he does is suckle on the tip of his tail. When he finds a favorite toy he growls as if conquering his prey. What a cutie, endlessly entertaining.
---
MIKADO17
DSH, Black with White locket, Male
DOB 7/1/17
Hi my name is Mikado!. One of my favorite things to do is warm up your lap and serenade you with my purring. I'm super excited to see you when you come home and, as my brother Michelangelo says, I'm always up for a good game of fetch! I love to play hide and go seek and am an avid fan of Amazon Prime, click here to watch me play with my new box.  If you would like me to love, purr and entertain you, then please adopt me, you will never regret it, cause I am awesome!
---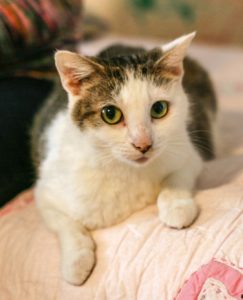 MINKA18
DSH, White and grey tabby, Female
DOB 10/30/16
I am a sweetheart! I love being rubbed on my soft belly while rolling around on the floor. I also love a nice warm lap to lay in while I turn on my purring motor for all to hear. In addition, I have a playful side of a young kitten, eager to chase toys. My favorite is chasing a laser pointer all around the room. And I'm quite comfortable being picked up and playing with both young children and adults. It also doesn't hurt that I melt hearts with my beautiful big green eyes.
---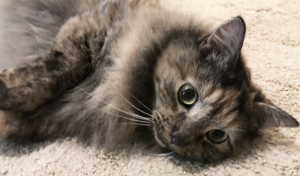 MIRAGE17
DMH, Torti, Female
DOB 1/6/16


Declawed/Behavior Issues
Gorgeous special needs cat seeks experienced cat person.  Mirage is a stunning long haired tortie that was rescued by Purr Partners Feline Rescue from a high kill shelter before she was going to be euthanized. We have no idea about her history or how she wound up there. We do know she was declawed on her front feet.  When she went to her foster home, it became  apparent why she may have been surrendered to the shelter. Mirage is a biter. This is not uncommon in declawed cats for many reasons. First and foremost, this is a painful procedure that can have long lasting psychological effects. Our vet thinks that Mirage may have been taught to play rough when she was a kitten.  We do not believe she deserves to die because she developed behavioral problems after her humans did not do right by her.  She loves and solicits attention and her behavior has improved significantly over the past several months. She likes to chase and play with toys. She rolls over and over with excitement when he foster mom walks in. She has responded well to play therapy and is food motivated.  The ideal home for Mirage is someone who understands cat behavior and is willing to continue working with her. She would like a quiet home preferably with no other pets. We can't predict what may trigger her so would not want her to be in a home with children.  We would love to see Mirage find a home of her very own.  FOR SERIOUS INQUIRIES ONLY, please email her foster Lisa or call 919-623-9807.
---
​​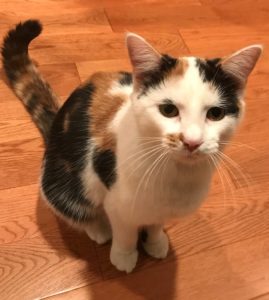 MISTLETOE17
DSH, Calico, Female
DOB 2/10/17
Mistletoe is a playful, cuddly, and loving kitty that will steal your heart! She loves to cuddle next to you on the couch and follow you around the house wondering what you're doing. She is the best feet warmer! Her favorite toys are her rolling balls and cardboard boxes. She can spend hours just watching everyone from atop her cat tree. When she wants attention she will let you know by purring and letting out the cutest raspy meows you've ever heard! She gets along really well with dogs and little children, but she wouldn't be good in a home with other kitties. All she wants is the perfect home that will love her forever!
---
DSH, Orange and White Tabby, Male
Nehi is just a big bundle of love in a big soft, furry body!  He loves, loves, loves attention and he will put his paw out to touch you to let you know that he wants you to keep petting him.  When he looks at you with those beautiful, almost clear green eyes, you will keep on petting him!  He likes to lay next to you or on you and will give gentle little head butts to let you know he appreciates you.  When Nehi came to Purr Partners, he had an infected bite wound and he was obviously sore all over.  He acted like he had been abused in some way and was a little cautious with his foster.  He wouldn't play because he was just unsure of the outcome. After treating with antibiotics and some pain medication he has made a full recovery and is now a trusting and loving boy.  He loves to gallop through the house and sis having a great time playing. He may take a little time in a new home to feel completely safe but once he does, he is an amazing companion.  He is not bothered by the other cats or the dog.
---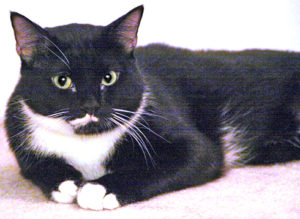 PANDA17
DSH, Black and White, Male
DOB 7/3/16
I am a happy and affectionate kitty and once I have scoped out a new situation it doesn't take me long to warm upI  I love attention and will make a a wonderful, loyal companion for you!  I'm awfully soft and a real purr box!  I am always looking dapper in my black and white tuxedo and white painted toes.  Please give me a chance to show you how special I am and maybe you will want to take me home with you.  I will adore you forever!  Can't wait for a home to call my very own.
---
DSH, Brown Tabby
DOB 6/1/2017
Penelope is one of the sweetest kitties you will ever meet! She is a gorgeous 8 month old brown tabby with striking markings all around her body. Unfortunately, Penelope was hit by a car and suffered from head trauma and broke both of her front legs. She is completely healed from all her injuries, but she has some trouble jumping and sometimes she will go up on her hind legs for better support. Penelope is just as playful and loving just like any other kitty despite her limitations. She will greet you with the sweetest purrs when she first sees you in the morning. Penelope is very good with other kitties, but she might need a little time to trust them and be comfortable in her new home. All she wants now is a family to love her forever!
---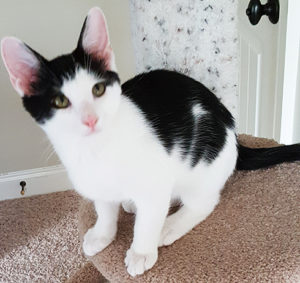 MR. PICKLES17
DSH, Black and White, Male
DOB 4/20/17
I was rescued from an old Army tool box  near Jacksonville, NC. My foster family has taken good care of me  and now I am ready to go to my forever home. I love to run around and chase toys, but I also like to be picked up and held. I purr quite loudly when you greet me in the morning. I am very curious, and will check out everything around the room. I also love treats! I can run and jump really high to catch feather toys, and will keep you happy all the time. I get along with other cats; small dogs don't bother me unless they are too rambunctious, then I will just get away from them for a little while and relax.
---
PROWLER18
DSH, Gray Tabby, Male
DOB   9/25/17
I'm Prowler and I love to prowl around to warm laps and fun toys.  I'm purrfectly calm and love to sit with you as you unwind after a busy day.  I have some blue coloring in both of my eyes that suggests that I may be partially blind.  However, I can navigate my surroundings without a problem and I follow you as you walk around the room.  I love chasing a laser pointer and I give cute little chirps when I finally catch it! Come visit me and you'll meet a real sweetheart!
---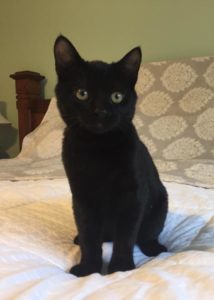 RANDALL18
Manx Rumpy Riser , Black, Male
DOB 11/15/17
'Sup…I'm aware all felines claim this, but I am actually a striking cat. The sort of cat that inspires curiosity and questions galore. The most popular question posed to the humans I hang out with is hands down "Why doesn't he have a tail?"  That's 'cause I possess – or rather, don't possess – a tail! I have a tiny knob on my rump; I am a "Rumpy Riser" Manx.  But my tail is not the only notable aspect – the rest of my body is pretty impressive as well. I possess a healthy, solid physique that's a bit chunkier compared to most cat breeds. And my muscular build is topped off by a dense double coat that is beautifully thick and silky to the touch. I sport hind legs that are visibly longer than my front legs, giving me the appearance of being perpetually prepared to pounce. Which might make me look fierce, if it weren't for the softness of my plump facial features, which lend me an overall friendly appearance that illustrates my personality purrfectly.  I'm a laid back mini house panther that's affectionate and gentle in nature. Moreover, I'm sociable and extremely patient, which makes it easy for me to mingle with children or even other pets. Oh, I'm curious too…don't be surprised if I follow you around the house and even jump in bed with you!  🖤, Randall
---
REMUS17
DSH, Silver Tabby with White, Male
DOB 6/20/17
Remus, like his brother Roman, began his life as a feral kitty in Durham and was entered into the Purr Partners program. Remus is more cautious than his brother but is slowly coming around to believing that people are to be trusted. He loves to be petted when he allows it, and we have every hope that he'll learn that people are not to be avoided but can provide love to him. Remus gets along very well with other cats and kittens, but prefers to sit on the sidelines and watch all the activity or cuddle up in a small cat tree. He's a beautiful boy but will need a special adopter who will take things slowly and give him plenty of time to trust.
---
ROSALYN17
DSH, Mini Black Panther, Female
DOB 3/1/11
Rosalyn, or Rozzy for short, is a petite and affectionate kitty. She competes with other cats in the house for head rubs by trying to push their heads away with her own, to get her head under your hand. Rozzy is also a talkative cat, so if you want to have a conversationalist kitty, she's your girl! She enjoys being held and snuggled.  She would make a wonderful, loyal companion in any home.
---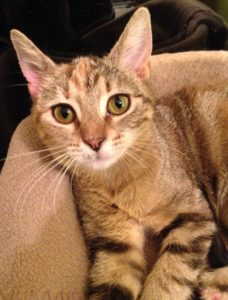 RYLEE17
DSH, Brown Tabby, Female
DOB 9/23/17
Rylee is a regal, pretty princess at first glance. You will see her watching her fostermates from afar, too prim and proper to be bothered with messing up her fur.  But, turn your head and Rylee will pounce on an unsuspecting kitty or be swatting at their tail when they walk by! Rylee is a fierce little competitor when she is in the fray, so don't let her sweet innocent expression fool you into thinking that she not a tough cookie! Take some time to meet Rylee and you too will fall in love with her sweet personality. 
---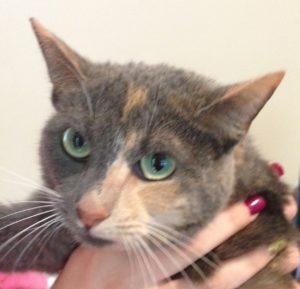 SANGRIA
DSH Dilute Calico, Female
DOB 3/20/14
Sangria has been in foster care her whole life. Her mother was rescued by Purr Partners and promptly gave birth to 5 kittens, Sangria is the only one left.   She was the most shy out of her litter and remains quiet and reserved with people. She gets along well with other cats and has been with other cats her whole life. She is a beautiful, unique looking girl with vivid green eyes who has been overlooked. Sangria would do best in a relatively quiet home with a patient person who will take the time to let her become comfortable at her own pace. If you are that special owner, please consider completing an application for Sangria today! 
---
SAVANNAH18
DSH, Torbie, Female
DOB 2/1/17
Savannah is a sweet Tortoiseshell/Tabby or Torbie and she gets along with older children and adults. She has beautiful gray and orange fur and will be just gorgeous as she grows up.  We think that she didn't grow up with too many toys as she is learning to play more every day.  Savannah is a delightful girl that is looking for a forever home.  Will you be able to make this pretty girl's dreams come true?
---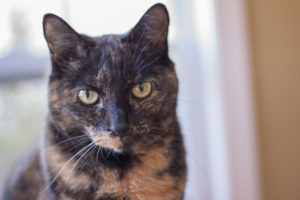 SIENNA
DSH, Torti, Female
DOB 12/31/12
Sienna was once considered disposable and she is lucky to be alive. She is has learned to trust, and she is braver every day. She and her sister were thrown in the dump when they were about 7 weeks old, and things were not looking good. However, they were brave enough to not let themselves starve to death, and so they were discovered, and now life is way better! Sienna does not have mean bone in her body, and while it will take a special person who is willing to be patient and kind, the reward will be great. Sienna adores other cats and kittens, and she purrs like crazy when she is petted and loved on. She's still a little nervous about some things, but she has a brave heart, and she's working hard on her fears. Surely someone out there will be willing to give her a chance. It's not fair that such a horrible beginning and such cruelty from humans should prevent her from having a loving home of her own! Sienna still believes in the goodness of people!
---
SMOKEY JOE17
DSH, Chocolate Tabby, Male
DOB 2/20/17
Isn't this just cutest fat-cheeked boy ever? What a handsome hunk he is, and what a sweet, sweet boy! Smokey Joe was abandoned in a box at Raleigh Cat Clinic, and so he has had the very best medical care, but now he's ready for his own home. He is a very sweet and gentle boy who is a tiny bit cautious at first, but that doesn't last long. As soon as he realizes you are not going to hurt him, he will roll over and ask for a belly rub. It's very likely he has not had a good life up until now, but everything has turned up roses for him! He is good with other cats, but he really, really loves people. He would love to have a human companion to share life with. A buddy to play with is icing on the cake! This sweetheart would probably not do well in a household that is super busy and active, but older kids would be just fine. He may look like a bruiser, but that tough exterior hides a very loving, slightly timid heart. He's ready to offer all his love and affection to the person who promises to love and care for him always! He's a cream puff in a tough-guy costume, and he's hoping you'll see and love him for both his handsome exterior and loving interior!
---
SUNKIST
DSH Orange Tabby with White, Male
DOB: 7/15/15


Chronic Sinusitis
Sunkist is the cutest, silliest, funniest boy who loves to play and entertain. He is quite active and mischievous. He likes toys and loves to chase the broom when you sweep. He gets along very well with other cats. He loves treats. So why has he been in foster care for over a year and a half? In January of 2016, he was just a half grown kitten pulled from a high kill shelter. He came to us with a severe sinus infection where he was sneezing blood. He was treated with multiple courses of antibiotics but every time he came off of antibiotics, he would start sneezing and eventually would develop sinus and respiratory infections. We tried different antibiotics and extended courses of antibiotics but Sunkist could never stay well for long. He was even seen at the vet school but there has been no cure found for him. His infections are not contagious and are caused by damage in his sinuses from when he was a kitten so he will always be susceptible to infections. He will periodically need antibiotics and steroids. Despite all of this he is a happy boy that would love nothing more than a real home for the first time in his life. He is not a placid lap cat because he is so busy all of the time. He would love a family with older kids or other cats to play with – maybe even a dog! He is stuck in foster care through no fault of his own. We have found homes for cats with many different medical issues before and we know that there is a home out there for Sunkist. Could it be you that will open your heart and home to this deserving boy?
---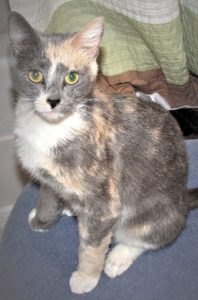 SUSANNAH18
DSH, Dilute Calico, Female
DOB 2/1/2017
Hi ya'll!  My name is Susannah and I am a sweet southern belle and love head and body rubs and in return will purr and purr!  I look forward to petting times with my foster mom and snuggling with her at night.  The small, gentle dog I live with and I get along just fine.  Oh, and my foster mom gave me this neat mouse that is the best toy I have ever had, I haven't had too many in my short life.   I have long, slender legs and tail which makes me look a bit elegant, I think.  And I do have a unique characteristic, my little black nose!   I probably would enjoy being your one and only.  I really am looking forward to my forever home and hope you will consider me.  I will love you and give you lots of purrs!!  I might even share my mouse with you!
---
THOMAS
DSH, Grey Tabby, Male
DOB 6/1/14


 FIV+
Thomas is the ultimate lap kitty.  There's nothing he likes more than to be next to you and keep you company while you read or watch TV.  He's also great company while you work on the computer and will lie next to you on your desk and ask gently for pets and loving.  Thomas is one of those big boys who are so loving and gentle, and all he wants to do is thank you for being his rescuer.  He gets along wonderfully with other cats and kittens, and he ignores the gentle dogs in his foster home. Thomas was rescued only hours from death as he had tested positive for FIV.  This virus in cats means they have a compromised immune system, however it does not mean they can't enjoy a long, healthy and happy life like every other cat.  FIV+ kitties can live well into their late teens, and it is not contagious to other cats in the home.  It is spread by deep puncture wounds like the kind un-neutered males can give each other when they fight for territory, and Thomas is a lover not a fighter.  It would be very hard to find a sweeter and more loving boy.  Please come meet Thomas…you'll fall in love with him.
---
TREKKIE18
DSH, Buff Tabby, Male
DOB 10/20/2017
Jumps, flips, twists and twirls! Give me a feather wand and I'll show you my best acrobatic. I will jump as high as I can! Playtime is my favorite time as I still have a lot of energy but I also love to share my purrs with you! If you pet me and show me love, I will serenade you with my soothing purrs. I'm very sweet and gentle, so I'd be great with children!  I love to be petted and get belly rubs! I really enjoy looking out the window on my window seat. This can entertain me for hours! I sure do hope I find my forever family soon!
---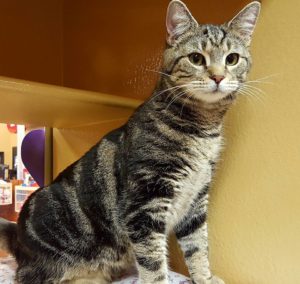 VALIANT
DSH, Brown Tabby, Male
DOB 4/2/16
Beautiful Sweet Valiant just loves people!!  He will follo
w you every where you go, curious as to what you are doing and always ready to lend a Paw to help out!!  He enjoys chasing little ping pong balls, attacking the little furry mice, and curling up on the sunny screen porch for a snooze.  He will sit with you on the couch, or cuddle with you at night.  Valiant is a love bug just looking for a forever family to love! 
---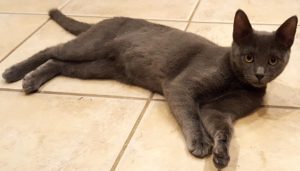 VEGAS18
Russian Blue Mix, Gray, Male
DOB 9/20/2017
Are you feeling lucky?  Check out Vegas!  That's me.  I have the signature Russian Blue triangular face, slender body, and mauve paw pads, along with an irresistible plush gray coat with a silvery sheen.  Although you may laugh, my large pointy ears are a Russian Blue trait too, so I wear them proudly.  I am a confident, curious, playful kitten with excellent jumping and climbing skills.  I am extremely friendly and love to be around people.  I purr easily and after a good play session, I am happy to settle on a lap for a nap or some cuddles. I am fascinated with the gentle dog that lives in my foster family's home and not intimidated by her at all.  Please consider taking a gamble with me.  You will discover that I am a sure bet and you have hit the jackpot.     
---