Adoptable Cats &
Kittens
AUBIN18
DSH, Siamese Snowshoe Seal Point, Female
DOB 6/1/14
Aubin is a gentle, declawed girl who came to us when her owner had a new baby so she is a little shy until she knows she can trust you.  But, along with those sweet blue eyes and cute dot on her nose, Aubin will soon win you over with her easy-going temperament and non-stop purring.  She will playfully bat at toys, but she is much more interested in rubbing on your legs to get your attention and will keep going until you stop to pet her.  Aubin likes to have all your attention so she will need to be adopted into a forever home without other cats or dogs, will it be yours?
---
---
BABE18
DSH, Black, Female
DOB 4/9/18
Babe is the only girl in a litter of 5, but she has no problem keeping up with her brothers, or any other cat for that matter.  She is very active, loves to wrestle and run wild, sometimes misjudging furniture or people that may be in her way.  
She loves climbing, anything that moves, and bare feet with painted toenails.  Babe has a funny way of running sideways with her back arched when something scares her.  She hates having to share with her brothers, and having her face washed.  She is very sweet, loves attention and is quick to purr.
Babe would fit in with any family of people and pets because of her sweet personality.  Please contact Purr Partners if you would like to meet Babe.
---
BADGER18
DSH, Black and White, Male
DOB 4/10/18
Hi, my name is Badger.  My foster mom calls me Mouse a lot.  I kind of like that.  She also tells me I am too pretty to be a boy.  Well, maybe so.  I do like to pose.  My black and white markings are pretty.  And my fur is very soft.
I came into PurrPartners from a shelter all alone.  I don't remember much but someone loved me because I am a sweet boy.  I love to play with my foster brothers but watching them is fun too.   And I am a smart little boy.  I taught my brothers how to use the scratching post!   I am in the process of getting used to the small, gentle dog in my foster home.  I am aware enough to be cautious until I know I am safe.
I am a soft, sweet, and yes, handsome boy, who just wants a forever home.  Who knows, I could be the one you have been waiting for!  And if you are patient, I might wink at you too!
---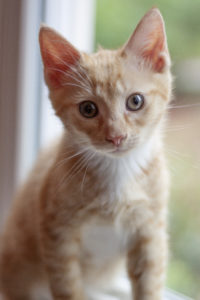 BOOGIE18
DSH, Orange Tabby, Male
DOB 4/9/18
Boogie is such a lucky little guy – when the 'B' litter was being pulled from the shelter, at the last minute we saw this little orange boy and had him added to the litter.  He doesn't know he isn't related to the other 4 kittens and we're not going to tell him.  He has been accepted and is loved very much by his new sister and brothers.
Boogie spends his days playing with kitten toys, hiding under the bed and jumping out as you walk by, and taking naps with his family.  He is known as the litterbox supervisor – because every time you clean his litter box, he is there leaning on the edge making sure you are doing a good job!
He may have been all alone at first with an unknown future, but now he is with kitties and people who love him and the chance to find a forever home – would you like to meet him?
---
BRINA18
DSH, Torti, Female
DOB  3/28/18
I'm a ball of cuteness which pairs purrfectly with my favorite toy….any kind of ball!  I have that stunning torti look and my eyes will melt your heart.  I am quite cuddly for a kitten and you will love stroking my soft fur for hours. I get along great with other cats and kittens.  I have been exposed to dogs and would likely do fine if you give me some time/space to adjust.  I'd love to meet you and gaze into your eyes!
---
BRIONI18
DSH, Torti, Female
DOB  3/28/18
Please excuse my cuteness!  It is hard not to stare when you see me.  I have a striking torti pattern with sweet little white feet.  My personality is right in the middle between introvert and extrovert.  I love a good kitten romp and leave no toy mouse un-played.  Yet, I have a softer, quieter side that loves to just hang out with you and watch the world go by.  In this way, I am the best of all characteristics of kittens.  I get along great with other cats and kittens.  I have been exposed to dogs and would likely do fine if you give me some time/space to adjust.  Have any questions?  Just ask me.  I'd love to meet you!
---
CANDYMAN18
DSH, White and Orange, Male
DOB 3/12/18  
Candyman has the perfect name!  He is just as sweet as his name indicates.  He purrs all the time, and he loves to be picked up and cuddled.  Candyman is the first one at the door to greet his foster mom when she comes in, always with his little purr machine going non-stop.  He and his siblings were abandoned at a high kill shelter that has very little room in their cat area.  We rescued these adorable kittens right before their time was up, and they are wonderful sweethearts.  Candyman gets along with other cats and kittens, he loves to wrestle and play with his brother and sister, and he thinks feathers are the best!  Candyman is a happy, go-lucky little guy who is hoping his forever family is out there looking for a sweet kitten like him.
---
---
---
CHARLESTON
DSH, Tuxedo, Male
DOB 3/1/12
Foster to Adopt Eligible
Charleston is a wonderful boy who gets along with everyone! He loves his other foster friends and even tries to get the kittens to play with him. His favorite toy is a crinkly rabbit that he found and now he likes to carry it around the house. He watches each evening for his foster mom to come home so he can show her how much he missed her. Charleston is a youngster at heart and would love to find a family that he can call his own.
---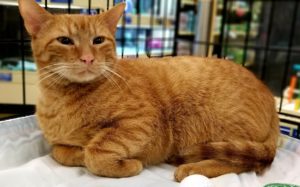 CHEETAH
DSH, Orange Striped Tabby, Male
DOB 12/1/16
Cheetah is a fun boy!  He gets along with other cats and loves to have fun, fun, fun!  He is inquisitive, loves his toy mice and rolling balls around the room.  He will sit with you and enjoy your attention.  He would love to find a forever home with someone that would enjoy a sweet, playful kitty!
---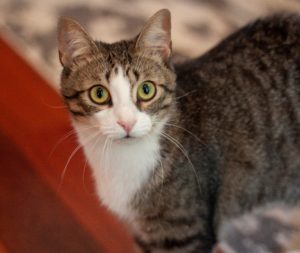 CHELSEA17
DSH, Grey/Brown Tabby, Female
DOB 3/8/17
Foster to Adopt Eligible
Chelsea is a beautiful little girl with a pink nose and striking eyes.  She came to us when she was a few weeks old – all by herself, no littermates or Momma.  The first two weeks she was quarantined to make sure she was healthy so she only had humans for playmates.  While she likes other cats and gets along with them, she is more comfortable being close to humans.
She will take all the attention you can give her.  When she is in a loving mood she will climb on your lap, put her paws on your chest and touch your nose with hers!  Sometimes what happens to a kitten early in life determines their personality – and Chelsea will be cautious at first, but once she knows you and trusts you, she will be a little love bug and a loyal friend.
She is curious about the world around her and can spot a fly or ant from 10 feet away.  She loves to watch the birds and bugs outside a window and will make little chirping noises when something comes close to the window.  Chelsea will play with any toy you give her, but she especially likes the beam from a laser.
Chelsea would do best with a couple or single person – where she can feel safe, can accept your love and give you all hers in return.
---
CHEVY
DSH, Mackerel Tabby, Male
DOB 4/26/15
Foster to Adopt Eligible


 Urinary Food
My name's Chevy and just like my namesake, I'm fast and ruggedly handsome. I'm a sports model because I like to play; show me feathers, kicker, laser light, most anything that moves and I'm ready for the game.  I like to find a soft lap or to snuggle up real close for some TV, especially sports or movies that have some animals in them. I'm a terrific companion kitty and am looking for a human that would enjoy my company. I have a cat tree beside the window at my foster home for cat TV and napping and do hope my forever home will have one too. I do my bit around the house, keeping up with whatever is going on and helping out by being entertaining. I'm looking for a forever home with adults or older children. I haven't had many kitty friends but with some very gradual introduction I'm willing to give it a try. I think dogs are OK from a distance, but I haven't had much experience with them close up. If you are cat savvy and looking for a good-tempered companion, someone to hang out with you, I'm your boy.
Chevy is on Urinary Food to prevent urinary tract problems that are common in male cats. His toilet habits are excellent.  He has very short hair and almost no shedding, a definite advantage. Chevy is not fond of PetSmart and the foster to adopt program gives the opportunity to see his real personality. More information on Foster to Adopt: http://www.purrpartners.org/adopt/f2a
---
CHYNA18
DSH, Siamese Seal Point, Female
DOB 5/5/18
Chyna is beautiful with very soft fur.  Her coloring is perfect – absolutely gorgeous.  She purrs a lot and loves people. She isn't quite sure about toys yet – I don't think she has been shown a lot of toys in her life.  She seems to be interested in but a little scared of bells.  Overall she is a very happy kitten.  
---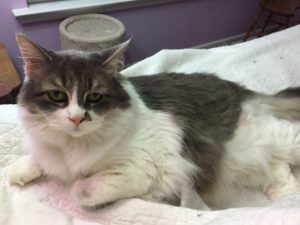 DAPHNE18
DLH, Grey with white, Female
DOB  5/1/2005
Daphne was surrendered to a shelter after a family had her for 13 years.  Why someone would surrender such a sweet lady is hard to imagine.  Daphne is a beautiful long haired girl and may be part Maine Coon.  She has a wonderful temperament and enjoys spending her day watching out the window, and curling up with her foster mom in order to receive lots of pets and love. Daphne is currently taking applications for someone seeking a sweet, gentle lady that enjoys the attention that only a human can give. 
---
DEEJAY18
DSH, Russian Blue Mix, Male
DOB  5/15/18
Deejay is a doll in every way!  He is touch controlled for purring, and he has no off button.  He is snuggler and a lover, and he just adores people!  He also loves to play and tumble, and his favorite partner is his brother, Dojo.  They are best buds who have similar personalities, and it's hard to believe there are two such amazing kittens in the world!  Deejay has unusual gray eyes that match his fur, and beautiful soft gray/blue fur- just one more plus for this boy!   He is sweetheart and is going to be someone's best buddy.
---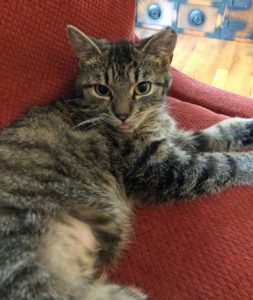 DELILAH18
DSH, Brown Tabby, Female
DOB 11/14/17
Delilah is a very sweet and loving kitten who loves to be held and cuddled.  Orphaned as a tiny kitten but somehow managed to survive the winter.  She is a recent rescue so she is still shy and a bit timid.  However, once she gets to know you she is a purr maniac and absolute cuddle bug!  She gets along fine with other cats and is fostered in a home with gentle, cat friendly dogs.   She would do best in a calm, quiet home with lots of attention and love.  She would make a great companion to a lonely cat and wants nothing more than to find her forever human who will help her blossom into the amazing kitty she longs to be!  
---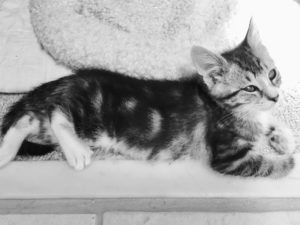 DELTA ROSE18
DSH, Classic Tabby with White, Female
DOB 4/1/18
Delta Rose is an extraordinary kitten who overcame great odds to become the gentle, active and adventurous kitten that you see now. Delta Rose (along with her sister, Dora Grace) belonged to a litter of kittens who were found in an abandoned house. She was very small, frail and needed intensive care until she began to eat on her own, gain weight and become a normal healthy active kitten. However, because of the unfortunate circumstances that began early in her life, her right eye was found to be infected. And while the infection is no longer there, the scarring remains. We are told that she does have sight (possibly limited) in that eye, and that it should not hold her back in any way.  You will  LOVE sweet Delta Rose she can become a part of YOUR family, but only if you come to see HER!
---
DICEY18
DSH, Black and White, Female
DOB 5/8/2018
I am a gentle, affectionate kitten who loves to chase around ping pong balls, bat at toy mice and wrestle with my foster sister.  I am very playful, and I hope my forever family will have another kitten who likes to play and wrestle like I do.  When I am not tumbling around, if there is a lap available, I will be the first to claim it.  I love to get cuddles and I will give you a soft purr and rub against your hand to show you I am content.  Head and neck scratches are my favorite.  Come visit me and check out my soft black and white coat.  The white patches on the outer edge of both of my ears give me unique look that adds to my attractive appearance.  Can I become your new best friend?
---
DOJO18
DSH, Gray and White Tuxedo, Male
DOB  5/15/18
Snuggle, cuddle, kiss, love… repeat.  That's Dojo, and that's what he wants to do!  This boy is truly a lover of the best kind, and he absolutely adores to be held, cuddled, kissed, and snuggled.  His purr machine goes constantly, and he is just Wow!  He's so adorable you just want to squeeze him… but he is a kitten, so he loves to play as well. He and his brother, Deejay, are some of the sweetest kittens we've had, and they pretty much live to be loved on.  They love to tussle and romp, but when a human appears – there they are.  Dojo is just the best kitten, and he's going to be someone's next big love affair!
---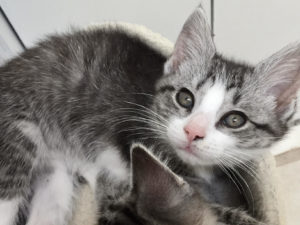 DOLLY JO18
DMH, Tabby with White, Female
DOB 4/1/18
Dolly Jo is a happy, and energetic kitten who loves to Purr!!! She is a natural at learning how to become a lap kitten, and will lay on your lap for the longgggggest time. Dolly Jo will play with anything that is given to her, and will rest at the top of a cat tree for hours and hours.  She LOVES to have her face and ears rubbed when a meal has been devoured, and will sometimes fall asleep soon afterwards. This kitten really IS a DOLL, and will be good with any family or household.
---
---
EVITA18
DSH, Tabby, Female
DOB 4/13/18
Evita may be petite and have the face of an innocent girl, but she is fearless.  She is also inquisitive, loves to climb the cat tree, play with all the toys available and of course be the leader of the pack. On the other hand, she will groom the others and loves to climb up with her foster mom for hugs and kisses. Evita is a delight and will make any home brighter with her cheerful attitude.
---
FAJITA18
DSH, Buff, Male
DOB 4/3/18
Fajita loves to play with his foster friends and realizes that everything is a potential toy. He will chase balls around the room, throw mice in the air and wrestle with any kitty that wants to join in the fun. When the fun and games are over he will let his foster mom cuddle him and listen to him purr while he enjoys the attention. Fajita will make a wonderful attention to any home.
---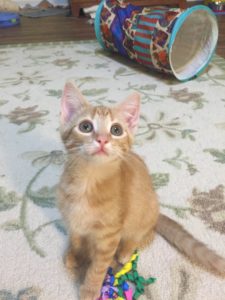 FLAME18
DSH, Orange Tabby, Male
DOB 4/3/18
Flame is an energetic little guy who loves to hang out with his foster mom for attention and belly rubs. While he is getting pets he is watching the other kitties and waiting for them to play a game that he would like to join and when he sees it, watch out, he will jump in with all four paws.  If you want laughter and love then you need Flame as a member of your family!
---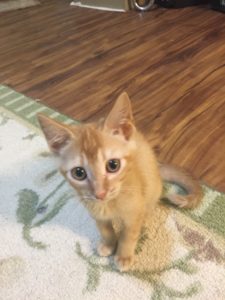 FOXY18
DSH, Orange Creme, Male
DOB 4/3/18
Foxy is a handsome two-toned orange boy with a wonderful personality. He is playful and enjoys wrestling with the other kitties, hiding in the cat tunnels and jumping out scaring the other kitties. After playtime, he loves to climb to the top of the cat tree and taking a nap with the sun shining on him. Foxy would love to have a home of his own, is it yours?
---
GAIA18
DSH, Calico, Female
DOB 4/13/18
Gaia is a cute little calico with a heart of gold. She loves to play with the other kitties and with all the toys she can find.  Inquisitive but loving she will bring joy to anyone that wants love  and excitement in their life. 
---
GALLAGHER18
DSH, Brown Tabby, Male
DOB 6/2014
Gallagher is a very loving short haired tabby who is almost 4 years old.  He is a gorgeous male cat with very pretty markings.  Gallagher is a very shy boy at first but once he opens up (takes about a day) he is such a lover.  He loves belly rubs and laying on laps.  Gallagher is great with babies, children and other cats.  He has not had any experience with dogs but will likely be okay with a little time.   He is such an easy cat and very well mannered.  No behavioral issues.  He needs a good home with lots of love to give and he'll give lots in return.  Ideally, Gallagher would love to find a home with his sister, Glitzy.  They make a great team, but they can go separately.
---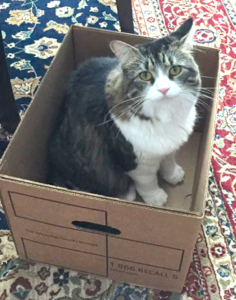 GLITZY18
DMH, Tabby and White, Female
DOB 6/2014
Glitzy is a sassy and spunky medium haired cat with an absolutely gorgeous face.  Glitzy doesn't walk, she prances.    She is a very friendly almost 4 year old cat and loves being scratched underneath her chin.  Glitzy, like her brother Gallagher loves fancy cat toys but her absolute favorite thing to play with is a water bottle cap.  Glitzy has the ability to hear you open a bottle of water anywhere in the house and will come running to get the cap. Glitzy is great with babies, children and other cats.   She has not had any experience with dogs but will likely be okay with a little time and proper introduction.   She is very easy going and well mannered.  No behavioral issues whatsoever just a sweetheart.   She simply needs a good home with lots of love to give.  Ideally, she would love to find a home with her brother, Gallagher, but it's not a necessity.  They make a great team and do love each other, but more importantly, she wants a loving home with cuddles and kisses.
---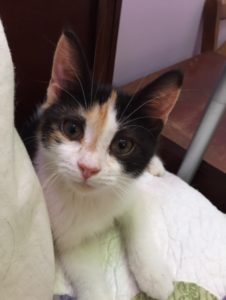 GRAFITTI18
DSH, Calico, Female
DOB 4/13/18
Grafitti is a beautiful calico with a wonderful temperament and a playful attitude. She enjoys playing with the wands, mice and balls, but especially enjoys running and playing with the other kitties up and down the cat tree and across the room.  She a great little girl and will make a wonderful addition to any family.
---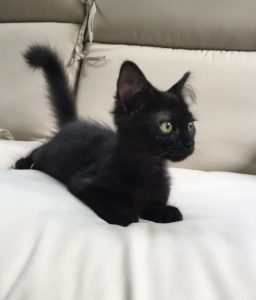 HARLEE18
DMH, Black, Female
DOB 3/2/18
Looking for a gentle, silky soft, fuzzy kitten, then look no further!   Harlee is the girl that everyone wishes they could have in their life according to Urban Dictionary.  She's an amazing, funny, sweet girl with gorgeous eyes that is always there by you when you need her.  So true, this kitten tries hard to live up to her name.   In her free time, she enjoys running around and playing with toys and her siblings, eating, and being cuddled!   The purring begins as soon as she is scooped up to be hugged.  Easy going, she gets along with everyone.  If you provide a great forever home, Harlee will add some fun, laughs and love.
---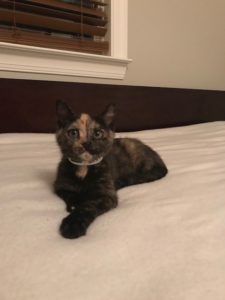 HONEYSUCKLE18
DSH, Torti, Female
DOB 03/01/18
Hi!  One of my favorite things is to snuggle up to take a nap and snuggle, I just love to be loved!!  Like my coloring, I'm unique as can be. When I'm not napping I can usually be found playing with my toys. I love to interact with people, so I really like the feather wand my foster mom got me. She'll swing it back and forth and up and down…so back and forth and up and down I go!  I'm really excited to find my furever home! Will you be my furever home? If so, I hope you have a feather wand…
---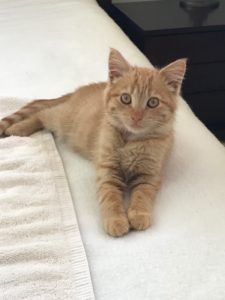 HUNK18
DSH, Orange, Male
DOB 02/28/18
My name is Hunk and I'm full of spunk!! I love to cause mischief especially when I'm on the hunt for my toy mouse. My toy mouse likes to hide from me because I'm so ferocious! When my mouse is hiding, I love love love to play with the feather wand. It's a great way to interact with my foster family and it's great exercise for me! I will seek your attention when it's time for some rubs. I just love to be scratched under my neck and belly. I'm searching for my furever home. My perfect forever home will have lots of toys and feather wands and I just know they'll love me more than anything!
---
INTREPID18
DSH, Buff Tabby, Male
DOB 4/5/18
This buff baby is so gorgeous in real life. He is a bundle of energy who loves to play with his siblings. When a toy on a string is presented he can't control himself and leaps into the air trying to get it. He loves to wrestle all the time with other cats. He is very curious and seeks out other cats when you can hear them but not see them. He has not been around young children or dogs but appears to be fearless. Is this bundle of energy new addition to your family?
---
IRISH18
DSH, Buff Tabby, Male
DOB 4/5/18
Irish is a buff tabby with a huge personality. He loves to play with his brother and sister and other cats at his foster home. He's also very curious and when you sit on the floor he will come up to explore what you are doing. He likes to play with puffballs and chase a string. He has boundless energy and is always seeking something to do. He has not been around dogs or small children but very much enjoys being around people. He likes to have his head rubbed and will reward you with a loud purr. He could be just what the doctor ordered after a long day of work.
---
ISHTAR18
DSH, Dilute Torti, Female
DOB 4/5/18
Sweet Ishtar is the only female with two brothers. She might be a petite thing, but she has no trouble keeping her own with the brothers. She likes to play rough and chase them across the floor. She is curious, observant, and fun to watch. She finds high places in which to observe things going on around her. She has not been around dogs or young children. She is good with other kittens and big cats. Her markings are as unique as her personality. Could she be going home with you this weekend?
---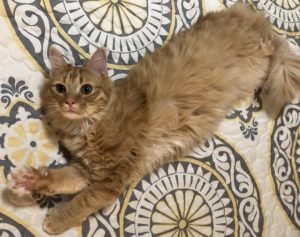 JONQUIL18
DMH, Orange and White Tabby, Female
DOB 8/20/17
Jonquil is as pretty as the daffodil she is named after.  She is petite little kitty with a big personality.  She is super affectionate – loves to be wherever her humans are.  She will sit in your lap for hours if you rub her chin.  She is also very playful.  Loves to chase a laser pointer.  She has been known to walk around the house with a play mouse in her mouth.  Jonquil is will always greet you when you come into a room.  Loves to hang out on the couch while watching TV.  She likes to be in the middle of the action – she won't be the kitty hiding under the bed.  She is ready for her furever home…..
---
---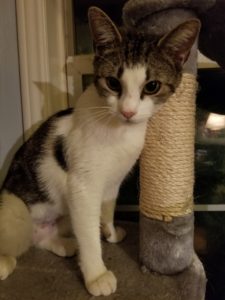 JUSTINA18
DSH, Tabby, Brown w White, Female
DOB 5/15/17
This  petite little girl is the purrfect size for your lap! She's a calm kitty who loves the good life – snuggling and lounging on her soft pillow is where she is most content.  She's also an avid nature lover and can often be found in a sunny windowsill watching the birds and wildlife, it's all just so fascinating!  Though she has a chill demeanor, she is not shy and will always let you know when she is nearby or hungry.
Please consider this little love bug to be the wonderful fur baby you home is missing — I'm JUSTina, what you're looking for!
---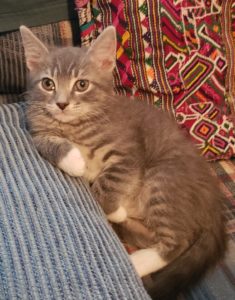 KANDEE18
DSH, Smoke Tabby with White
DOB 3/27/18
Kandee truly is eye candy.  She is a stunning grey tabby with white feet.  She even has a white tip on her tail.  She and her 2 brothers were brought to a shelter when they were only 7 days old.  They most certainly would have died had PurrPartners and their bottle feeders not stepped up.  After several weeks of endless bottle feedings, she is thriving and is a very active kitty.  She is the smallest in her group, but that does not slow her down.  She is fearless and loves to play hard.  She is the first to greet you when you come into the room.  Expect to see her in the middle of the action.  She loves toys, laser pointers, cat trees and people.  She loves to snuggle when it is time for a nap.  She is ready for her furever home!
---
LACY18
DSH, Tabby, Female
DOB 4/7/2018
Lacy is the sweetest and spunkiest little girl. She is the first to greet you when you get home and give you some love. She loves to play 'soccer' with her ball and loves to chase after a good piece of yarn. She is great with other cats and with kids and loves to be held. She curls up next to me on my chair whenever I am working, she just wants to be next to you. If you want the best cuddle buddy, Lacy is the perfect cat for you.
---
LATTE18
DSH, Tabby with White, Female
DOB 4/7/2018
Latte is the cutest and fluffiest little girl. She went from being super timid and calm to the most loving and affectionate kitten. She loves to be held and will curl up next to you any chance she gets. She loves running around chasing a string of yarn and playing with her sister. She is great with kids and other cats. If you want a great snuggle buddy and loyal companion then she is your girl.
---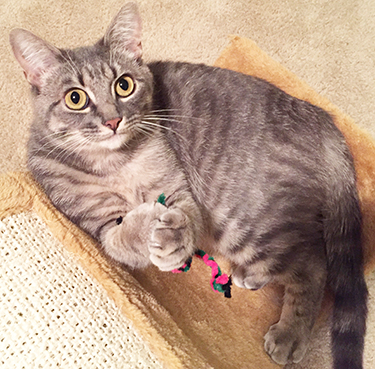 LUNA
DSH, Blue Tabby, Female
DOB 3/1/15
When Luna was rescued she settled in quickly. She enjoys playing chase with the other kitties, can type, send emails and do online shopping! She loves attention and will crawl in her foster mom's lap, gaze into her eyes and then wash her face. Luna is looking forever home full of love and cuddles, could it be yours?
---
MANDARIN18
DSH, Orange Tabby, Female
DOB 05/28/17
My foster mom calls me Mandy and I think it's kind of cute.  Being orange, Mandarin is a great name for me, but Mandy is more my personality.  Mandarin oranges don't look all that special, but then you realize that we're sweet, somewhat exotic, and always delightful.  And, as an orange tabby, females are far rarer than males.  I don't have a mean bone in my body and am quietly playful.  While I was a little slow to trust, I am now constantly badgering my foster family for attention.  I sleep on the bed all night, quietly enjoying the closeness.  Spend some time with me and you'll see that I'm looking for a family to love me.  I will do the same to my new family, I promise!
---
MARKIE18
DSH, Tortie with White, Female
DOB 4/2/18
Fun, affectionate, fantastic, that's me!  I'm all wrapped up in an orange accented coat as bright as sunshine with a sunny personality to match.  I was a bottle baby so I love attention, being carried, hugged and cuddled.  I will greet you purring at the door, snuggle against your legs hoping to be picked up and hugged.  I have a fun, lively personality, am adventurous and enjoy exploring, playing and racing after my kitty pals.  After some fun, I am most interested in a warm lap for a nap. I'm gentle and mellow for such a youngster and will purr contentedly when you spend time with me. I am the sweetest little thing and I don't think you will be able to resist me. Won't you come visit this adorable ball of fur and see if I'm the match for you?
---
MATILDA18
DSH, Brown & Black Tabby, Female
DOB 11/20/16
Matilda is a beautiful, loving young cat.  She studies your face with her big green eyes as if she can tell what you are thinking. She was a stray that was taken in this past Jan during a cold spell by a very kind woman in Greensboro.  A few weeks later Matilda gave birth to 6 kittens.  The woman's HOA only allowed 2 cats, so she called Purr Partners asking for help.  We had some room at the time so we gladly took Matilda and her kittens.  She was an amazing Momma and now that all her babies have found homes, it's her turn.
Because Matilda was an outdoor cat, she can be shy around humans, but she warms up quickly.  She loves to be brushed and to have her back and neck scratched.  When you scratch or pet her, once you stop and as you pull your hand away, she will reach out with her paw and grab your hand letting you know she doesn't want you to stop!  She is also showing signs of being a talker.
She gets nervous when you hold her, but if you are willing to be patient with her and show her you can be trusted she will come around.  She will sit next to you or on your lap when it's quiet time.  Matilda is a wonderful, sweet kitty who with a little patience will be a loving friend for her human.
---
---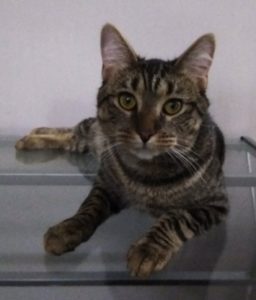 Mister MO18
DSH, Brown Tabby, Male
DOB 4/15/17
Mr. Mo was abandoned by his "forever family" when they moved away from the apartment complex where they were living.   He was kept safe by a good samaritan, but was in a bathroom most of the time.  After being rescued by Purr Partners he is now getting the love and attention he was missing and is a terrific kitty!  This handsome tabby is curious and playful, he has been loving all the new toys at his foster home.  He also enjoys watching the birds and lying in the window sunning himself during nap time.    He is dog friendly and ready to try again with a family who really understands what it means to be part of a family – forever.
---
MOCHA18
DSH, Black, Female
DOB 11/17
Mocha is a very shy timid petite girl that needs a patient person to work with her and show her unconditional love and affection. She recently appeared one day at a local barn in the company of a couple feral cats.  She is an adorable petite little solid black short haired girl that loves toys and playing. She is very sweet and loves attention and will sit on your lap
for hours and purr. She enjoys licking your fingers once she gains your trust. She loves to be with other cats and calm polite dogs. A home without children would probably be best for Mocha. Please come meet Mocha and give her a loving forever home!

---
MOSES18
DSH, Black and White Tuxedo, Male
DOB 4/8/18
My namesake was a great leader and prophet. Wow, I'm just a kitten and can't guarantee that I will make this world a better place, but I can add some joy and fun to your life.  I'm cute, playful, cuddly and utterly delightful to be round.  I have a unique white stripe on my face like a skunk, but I am so much cuter. Friendly and loving attention from being a bottle baby, I have never met a stranger.   I was a favorite at the Durham kitty café, enjoying sitting, cuddling and spending time with the kids. Gentle, playful, snuggly and sweet makes me a great choice for any family. I hope you won't mine, I will purr at your feet and follow you about, hoping to "help".  I'm all decked out in my tuxedo; my manners are perfect and I'm ready for the party when I go home with you to become your new best buddy. 
---
MUSTARD18
DSH, Orange Tabby with White, Male
DOB 4/2/18
Did someone ask for Mustard?  Here I am, perfect for summer, sure to add a little spice to your life just like your favorite seasoning.  After all I am a ginger cat,  like Puss and Boots, so you know what that means – curious, playful, spunky and special.  I'm all those things and more. You couldn't ask for a sweeter or more loyal companion.  After some relaxing purr time…. let the games begin!  Just name your favorite toy and I bet it is my favorite too.  I love to play, anytime, anywhere, rod toys, balls, mice or romping with other kitties.  I run and explore with wild abandonment occasionally misjudging walls, doors and people's feet.  Sure to keep you laughing and entertained.  I also have my affectionate side which is adorable, purring and snuggling in your arms.  After playing hard, I look for a soft, warm lap to snuggle in for a nap. In other words, not to brag but I'm the total package:  good looks, charm, snuggly and lots of fun.   I have an A+ personality that is sure to make me a great companion.  Your summer will not be complete without Mustard.
---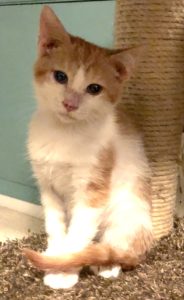 NICO18
DSH, Orange and White Tabby, Male
DOB 1/29/18
Nico – is a handsome orange and white boy.  He loves people and is very cuddly.  He is also super playful and loves to climb cat trees, chase after toys, play in empty boxes and chase laser pointers.  He and his siblings were taken to a shelter.  Under Purr Partners care they have grown up to be loving kittens.  After an afternoon of playing he loves to cuddle up with you on the couch and fall asleep on your lap.  He wants to be where you are.  Nico gets along with cats of all ages.  Loves to have a friend around – even if it is an older cat.  If you are looking for a kitty that is part of the family,  then this guy is for you…
---
NIKE18
DSH, Buff and White Tabby, Male
DOB 1/19/18
Nike is a stunning buff and white tabby.  He is the leader of the pack and greets everyone as soon as they enter the room.  Loves to climb cat trees, chase laser pointers and play in empty boxes.  When he is ready to relax, he will be in your lap, ready for a nap, so he can do it all over again.  He is not afraid of anything – not even the vacuum cleaner!  He and his siblings were taken to a shelter.  Under Purr Partners care they have grown up to be loving kittens.  Nike gets along well with kitties of all ages. This fun loving kitten will be great addition to any family.
---
---
PANDA17
DSH, Black and White, Male
DOB 7/3/16
Foster to Adopt Eligible
I am a happy and affectionate kitty that wants to be an active part of my family's life. I love attention and enjoy company – very much a people cat! In my foster home, I live with dogs (both big and small), other cats and teens. I am a wonderful companion cat as I like to sit next to my family on the couch, bed or at people's feet if they are working on the computer. I am in the Foster to Adopt program because I am not fond of visiting PetSmart. It can take me a little while to warm up to new people on the first meet and greet, so you usually can't enjoy my real charm and loving personality right away. I am actively working on my shyness though. If you take a chance on me and take me home, you won't be sorry. You will see me blossom quickly and certainly by the second day (probably, before that – hint, give me treats!). Please reach out to Purr Partners for us to have a playdate at my foster home in North Raleigh.   More information on Foster to Adopt: http://www.purrpartners.org/adopt/f2a.
---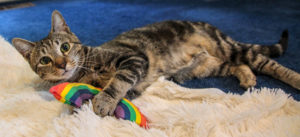 PENELOPE18
DSH, Brown Tabby
DOB 6/1/2017
I'm a loving kitty, who wants nothing more than to be carried about, cradled in your arms. The first thing you will notice about me is that I have a  sweet disposition and inquisitive personality; closely followed by my stunning coat of swirls and stripes.  If I'm feeling curious, you'll get to see my adorable habit of sitting up like a squirrel as I check out what is going on.  I am a gentle little lady who prefers the finer things in life, a soft bed, good food and a peaceful environment.  I absolutely adore when it's spa day — manicures, gentle massages and regular brush outs are a few of my favorite things.  I also enjoy going out in my stroller for my evening walk around the neighborhood.  I don't mind spending time with older children and a gentle cat-friendly dog might make a nice companion for me as well.  I would love to meet you…You never know, I just might be the love of your life!
Photo by Meri Martin
---
PENGUIN18
DSH, Black & White Tuxedo, Male
DOB  5/4/18
Hi- I am Penguin and I just love people!  I am a bottle baby.  That means that I am VERY comfortable with humans and being held and loved.  In fact, I believe that I am human even though I am constantly purring!  My favorite thing is to do is curl up in your lap when you want to watch TV, read a book or even take a nap.  I love to play with other cats (big and small ones), and kids too.  I haven't seen many dogs in my short life but my foster mommy tells me that they are just bigger cats.  I really enjoy playing with balls and toy mice.  I would really love to find my forever home with you.  If you adopt me, I will let you hear my loud purr!
---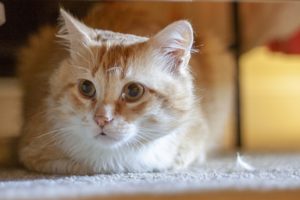 PERCIVAL18
DMH, Orange and White, Male 
DOB 5/1/15


 FIV +
If you are one of those special people who love the big ol' boys, then you will absolutely adore this one!! Percival came to Purr Partners from the shelter but he was clearly loved at some time in his short life. He's one of those cats that wants to be near you all the time. He cannot get enough pets and belly rubs and ear scratches. He loves to rub and twirl all around your legs and will reach up to meet your hand when you pet him. He's a tall boy with long legs and six toes on his front paws. He's very muscular and has a round face and chubby cheeks and large, expressive eyes. He's just the most loving cat and only wants you to reciprocate with acceptance. Percival is FIV positive which means he was probably exposed as a young cat while outside but it means NOTHING as far as his quality of life. He is NOT contagious and this will in NO WAY shorten his life. He can live with other cats and dogs with no problem and in fact, he would welcome a feline companion as he is extremely fond of his foster mom's cats. He is fine with the dog too and kids would not be a problem. He may not enjoy being held but he's pretty big so it's probably best.
---
---
---
---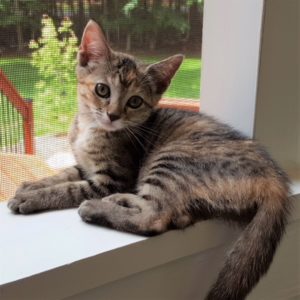 RALLY18
DSH, Torbie, Female
DOB 3/24/2018
Rally has beautiful markings.  She is a Tortoiseshell Tabby or "Torbie".  She is a little more reserved than her siblings, but she is still very playful and loves to get cuddles.  Although she enjoys batting around toy mice, chasing feather wands, and wrestling with her siblings, sometimes she prefers to find a high perch and just watch the mayhem from above.  She likes other kitties and is comfortable around friendly dogs.  If you decide to take this sweet girl home, she will become a loyal, affectionate companion that will fill your home with love and entertainment. 
---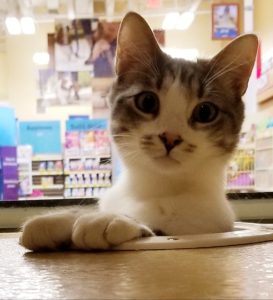 REMUS17
DSH, Silver Tabby with White, Male
DOB 6/20/17
Remus, like his brother Roman, began his life as a feral kitty in Durham and was entered into the Purr Partners program. Remus is more cautious than his brother but is slowly coming around to believing that people are to be trusted. He loves to be petted when he allows it, and we have every hope that he'll learn that people are not to be avoided but can provide love to him. Remus gets along very well with other cats and kittens, but prefers to sit on the sidelines and watch all the activity or cuddle up in a small cat tree. He's a beautiful boy but will need a special adopter who will take things slowly and give him plenty of time to trust.
---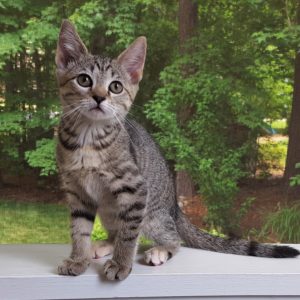 REVA18
DSH, Torbie, Female
DOB 3/24/2018
This adorable girl will steal your heart with her winning personality.  She is a super friendly, playful kitten who loves to tumble with her littermates, bat around play mice, chase balls, and watch birds from the screened porch.  After some fun, she is happy to settle on a lap to get some cuddles and show off her loud purr.  She is adventurous and confident and gets along well with the gentle dog in her foster home.  Reva will thrive in a house where he gets plenty of human attention and has a kitty playmate. You will not regret adding this sweet kitten to your family.   
---
---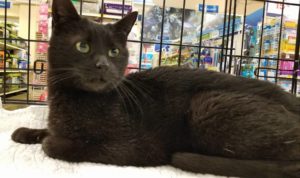 ROSALYN17
DSH, Mini Black Panther, Female
DOB 3/1/11
Rosalyn, or Rozzy for short, is a petite and affectionate kitty. She competes with other cats in the house for head rubs by trying to push their heads away with her own, to get her head under your hand. Rozzy is also a talkative cat, so if you want to have a conversationalist kitty, she's your girl! She enjoys being held and snuggled.  She would make a wonderful, loyal companion in any home.
---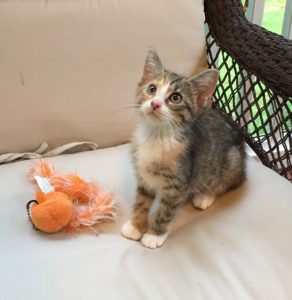 ROSEMARY18
DSH, Torbie with White, Female
DOB 4/6/18
I'm a little love bug dressed up in a pretty colorful fur coat with white accents.  For my photo I tried my very best to sit sweetly and gaze at the camera but it was very hard.  I wanted to race to the nearest person to be hugged and petted instead. My favorite place is where ever you are.  I I enjoy being snuggled in a warm pair of arms then I am ready for some fun.  I'm a typical kitten who loves to romp, play and eat.   I enjoy active pursuits, such as chasing my siblings through the tunnel and pouncing on feather toys. After some fun I am most interested in a warm lap where I can settle in for a nice nap. Pick me up and I will purr for you.  All in all, I'm an ideal cat – gentle, sweet and entertaining. Won't you come visit and see if I'm the match for you?  Everyone say I am truly one of the sweetest most lovable kittens you'll ever meet.
---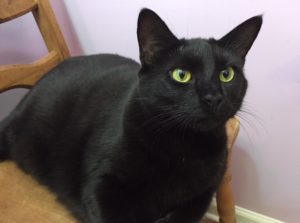 RUE18
DSH, Black, Female
DOB 8/29/16
Rue is a friendly girl with lots to say!  She has an opinion about everything and loves loves loves attention. As you can see she has striking eyes and shiny black fur and along with her great personality she makes a delightful kitty.  Rue would love to have a home of her own and hopes that she will get her forever home soon as she has lots of love to give a very special person.
---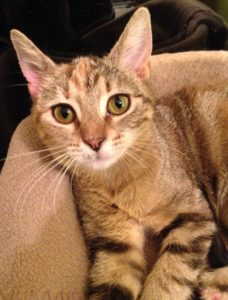 RYLEE17
DSH, Cinnamon Tabby, Female
DOB 9/23/17
Rylee is a regal, pretty princess at first glance. You will see her watching her fostermates from afar, too prim and proper to be bothered with messing up her fur.  But, turn your head and Rylee will pounce on an unsuspecting kitty or be swatting at their tail when they walk by! Rylee is a fierce little competitor when she is in the fray, so don't let her sweet innocent expression fool you into thinking that she not a tough cookie! Take some time to meet Rylee and you too will fall in love with her sweet personality. 
---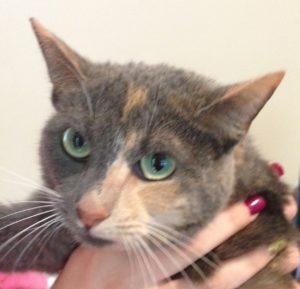 SANGRIA
DSH Dilute Calico, Female
DOB 3/20/14
Sangria has been in foster care her whole life. Her mother was rescued by Purr Partners and promptly gave birth to 5 kittens, Sangria is the only one left.   She was the most shy out of her litter and remains quiet and reserved with people. She gets along well with other cats and has been with other cats her whole life. She is a beautiful, unique looking girl with vivid green eyes who has been overlooked. Sangria would do best in a relatively quiet home with a patient person who will take the time to let her become comfortable at her own pace. If you are that special owner, please consider completing an application for Sangria today! 
---
SERENADE18
DSH, Dilute Torti, Female
DOB 4/24/18
I am a petite beautiful little girl who loves to run and greet you when you come home. I like to play, running after my toys you throw. I get along with other cats. I also like some down time just sitting on your lap.
---
SLOOPY18
DSH, Dilute Torti,Female
DOB 4/24/18
I am a beautiful thin sleek kitty.  I love to chase after toys, and will leap into the air to catch them when thrown. I also love to be picked up and have some snuggle time and purr. I will run and greet you when you come home.
---
---
SUNKIST
DSH Orange Tabby with White, Male
DOB: 7/15/15


Chronic Sinusitis
Sunkist is the cutest, silliest, funniest boy who loves to play and entertain. He is quite active and mischievous. He likes toys and loves to chase the broom when you sweep. He gets along very well with other cats. He loves treats. So why has he been in foster care for over a year and a half? In January of 2016, he was just a half grown kitten pulled from a high kill shelter. He came to us with a severe sinus infection where he was sneezing blood. He was treated with multiple courses of antibiotics but every time he came off of antibiotics, he would start sneezing and eventually would develop sinus and respiratory infections. We tried different antibiotics and extended courses of antibiotics but Sunkist could never stay well for long. He was even seen at the vet school but there has been no cure found for him. His infections are not contagious and are caused by damage in his sinuses from when he was a kitten so he will always be susceptible to infections. He will periodically need antibiotics and steroids. Despite all of this he is a happy boy that would love nothing more than a real home for the first time in his life. He is not a placid lap cat because he is so busy all of the time. He would love a family with older kids or other cats to play with – maybe even a dog! He is stuck in foster care through no fault of his own. We have found homes for cats with many different medical issues before and we know that there is a home out there for Sunkist. Could it be you that will open your heart and home to this deserving boy?
---
---
TANG18
DSH, Buff and White, Male
DOB 10/14/17
Tang is a beautiful, unique cat.  He came to us as a bottle baby with little squinty eyes.  He suffered from a birth defect called Eyelid Agenesis where the eyelid is malformed causing the eyelashes to rub on the eyeball.  Eventually this can cause blindness, but Tang was lucky and Purr Partners had surgery performed that allows his eyelids to function normally now.  His eyes may always look a little different, and he will need eye drops applied every day, but that is the only extra care he will need.
Tang is one of the sweetest kittens you will meet, he loves everyone – cats and people!  He seeks you out for attention with a squeaky meow and dreamy look and when he is sleepy he will snuggle on your lap.  When hungry he will let you know by rubbing your legs and then sitting on your feet.   
Tang looks like he will be a big boy based on his current size and age.  Even though he will be big, he will always be a little baby for whoever is lucky enough to have him as a part of their family. 
---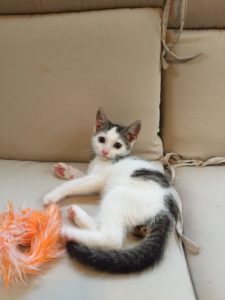 VADER18
DSH, White with Tabby Markings, Male
DOB 4/15/18
Sweet, gentle and friendly – I can't be related to Darth Vader, I am definitely not an evil member of the dark side.  I love absolutely everyone, kitty and human.  I am such a good guy, I am dressed in white with a dark tabby tail and a few tabby spots.   Playful, cheerful and affectionate describes me.  I am adventurous and love to explore the nooks or wrestle and chase my kitty friends.   Romping, playing and snuggling are on my list of favorites.  In the evening, if it is alright with you, I would love to curl up next to you while you study, watch TV or read a good book.  I am a confident, gentle kitten that likes children who will be a great addition to any family.  Please come meet me, you will not be disappointed.   
---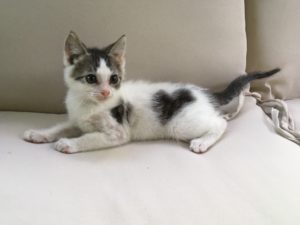 VAGABOND18
DSH, White with Tabby Markings, Male
DOB 4/15/18
Are you looking for an adorable kitty with a great big heart to be your sidekick?  Affectionate, friendly, charismatic kitten, describes me.  I even sport a beautiful, whimsical, tabby heart on my side to warn you that I'm so lovable, I am sure to steal your heart.  As an empathetic snuggle bunny, I love to gaze soulfully in your eyes while being cuddled and hugged. I have a great personality that is guaranteed to make me a wonderful companion with all the lovable traits of an active, curious, playful kitten.  I was horrified to discover a vagabond wanders aimlessly without a home.  That's definitely not me.  I need a special person to love, a warm lap to curl up in and to be a cherished furry, family member.  I am ready to make an imprint on your life.  Hurry and come meet me, you will not be disappointed.
---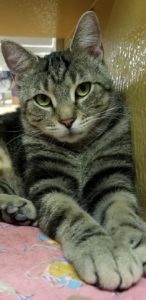 VALIANT
DSH, Brown Tabby, Male
DOB 4/2/16
Beautiful Sweet Valiant just loves people!!  He will follow you everywhere you go, curious as to what you are doing and always ready to lend a Paw to help out!!  He enjoys chasing little ping pong balls, attacking the little furry mice, and curling up on the sunny screen porch for a snooze.  He will sit with you on the couch, or cuddle with you at night.  Valiant is a love bug just looking for a forever family to love! 
---
VANITY18
DSH, Silver Tabby with White, Female
DOB 4/15/18
So sweet, so affectionate, so precious dressed in a silver tabby fur coat with white booties.  Vanity is a sweetheart who likes attention: being carried, hugged and cuddled.  Once she knows you, she will greet you purring hoping you have time to pick her up or play.  For fun, she likes to explore, play with her cat toys and hang out in the cat tree. Vanity is super quick on her feet and loves to run and chase her kitty friends.  Gentle, playful, cuddly and sweet makes her a great choice for a quieter family.
---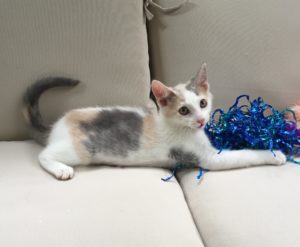 VOGUE18
DSH, Dilute Calico, Female
DOB 4/15/18
I am Vogue – popular, classy, and very stylishly dressed in soft, snowy white fur, accented in café au lait and silver.  My manners are perfect and I'm ready to go home with you to become your best buddy.  Charming, curious, and adorable describes my sweet personality.  As a fun-loving kitten, I enjoy active pursuits such as pouncing on feather or fur toys or chasing laser pointers.  After a little fun, I adore snuggling in your arms.  I am not one to brag, but I know I will be an awesome 4-legged family member that will offer years of loving companionship.  If you provide a great forever home, I will add the love.
---
XANADU18
Siamese Manx. Lilac Point, Male
DOB 11/2016
If you are looking for a super sweet guy Xanadu is waiting for you! We rescued this blue eyed beauty has hopes of finding him, his forever home. We don't know much about this special guy except he is a 1 and a half year old Siamese Manx which is a very interesting type of cat. Not sure if he's good with other cats or dogs because we don't have any,  but I do know he is very charming and you will fall in love with him if you give him the chance. 
---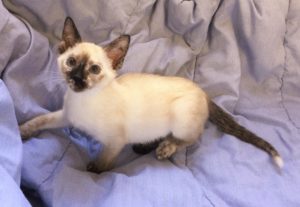 ZADA18
Siamese, Seal Point, Female
DOB 5/1/18
What a cutie and with a personality to match!  Zada and the rest of her family were abandoned at a high kill shelter with no hope of making it out till Purr Partners showed up… and now here she is!  Zada is sweet and affectionate, curious, playful, and a happy little girl.  She adores toys and running and climbing with her siblings, and like all kittens, play is the name of the game – until it's nap time, and you sleep where you fall.  A perfect kitten who needs a perfect home where she never has to worry about her future again!
---
ZADORA18
Siamese, Torti Point, Female
DOB 5/1/18
Zadora was abandoned with her mom and three siblings at a high kill shelter, but her lucky arrived when Purr Partners pulled the entire family!  Tiny Zadora is now living the life of a lucky kitten, and she's just what every kitten should be:  beautiful, funny, playful, affectionate, and adventurous.  Like her siblings, Zadora is fine with kids and dogs.  She loves to romp and be kitten-silly, but life is good when you are a kitten that is safe, loved, and cared for.  Zadora is now looking for her forever home where she never has to worry about being abandoned again.  
---
ZACK18
DMH, Tabby with White, Male
DOB 4/10/18
Little Zack is a sweet, gently boy.  He is the leader of the pack and his foster brother and sister look up to him.  His nickname is Polecat because of the unique white strip down part of his back.  Zack's fur is soft as cotton.  He also likes a good snuggle in between play times!  He will grow into a very loving and gently cat.  Zack is a special kitty and deserves a special forever home.  Are you ready for a special little boy kitty to give you unconditional love?
---