Available Cats & Kittens
Here are all our cats and kittens who are ready to find their forever homes.  Please read our Adoption Policies before completing the Adoption Application.  
Adoption Fees and more info on how to adopt a Purr Partners cat or kitten can be found here.
ACE
Black Mackerel Tabby with White Locket, Toes and Belly, Male
DOB 3/29/17
I am a snuggly and playful kitten who loves to jump, climb, run and explore.  If you take me home, I will show you plenty of love with hugs and kisses. I came to Purr Partners as an orphan with my sister,  Anastasia. We were found abandoned in the unfinished wall of a new home under construction at only 4 weeks of age. All the care and attention we got made us strong and healthy, and as a bottle baby, I am very affectionate toward people. I love sitting in laps and all the petting I can get … until I'm off to play again! I enjoy people of all ages and other cats, too!
ANASTASIA
Black Tabby, Female
DOB 3/29/17
I am a sweet, cuddly kitten with a curious and free-spirited personality. I
like to explore, and I give kitty hugs and kisses, too! I came to Purr
Partners as an orphan with my brother Ace. We were found abandoned in the unfinished wall of a new home under construction at only 4 weeks of age. All the care and attention we got made us strong and healthy, and as a bottle baby, I am very affectionate toward people and love sitting in laps, snuggling and lots of petting…until I'm off to play again! I love people of all ages and other cats, too!
ANNIE
DSH,  Silver Tabby with White, Female
DOB 9/1/15
Like Little Orphan Annie, our girl is a real optimist. She came to Purr Partners with a severely injured tail that had to be amputated. Throughout the ordeal, she never complained about the pain and took her medicine without objection. All healed now, she's an affectionate and energetic young adult who's eager to find out about the good things life has in store, beginning with a home of her own. She shows every indication that she will enjoy being, at least part time, a lap cat. She does still engage in some play-fighting, though, so she's probably best suited to a home without very young children. Oh, and by the way, her lovely green eyes are mesmerizing.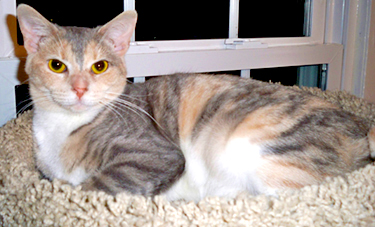 BETTINA
DSH Dilute Calico, Female
DOB 5/1/15
Little Bettina was a tiny kitten rescued by a kind lady and brought to her foster mom. She is very loving, playful and curious and enjoys playing with her other kitten friends. Always ready to explore new surroundings and help out her foster Mom, Bettina is a joy to have around. After a busy day of playing, bird watching on the screen porch and hiding in the big tunnel toy, Bettina is ready to snuggle up with you and purr away into the night, resting up for another exciting day!!!! Come and let Bettina show you how much love and joy she has to share!!!! She's waiting for you!!!
BIANCA
DSH, Grey and White, Female
DOB 3/30/17
Bianca is the only girl in the family of 5.  She is as rough as her brothers and also likes sports.  She is a great runner, climber and is quick.  When she needs a rest and a little love she will seek out her foster mom.  Bianca will make a great addition to any home.
CAMELIA
DSH, Tabico, Female
DOB 1/10/16
Miss Camelia has had a tough time in her very short life until Purr Partners rescued her from a kill shelter.  She is very submissive and shy, not sure what is coming but now has started to trust and enjoy her new life.  She enjoys time out on the screen porch, gets along with other kitties who help her to know that all is well. She is still nervous about being picked up, but is getting better. Camelia will need a kind and loving family to continue to assure her that she is loved and has nothing to fear. Perhaps you are that wonderful family who would like to change her life, came and meet Camelia!!

CAMEO
Torti, Female
DOB 4/5/17
Cameo is a gorgeous girl who is the athlete of the bunch.  She loves to chase toys and outpaces her siblings so she is the first to greet her human in the morning ensuring she gets her kisses.  Her job is to keep the boys in line.  She loves her kisses and snuggling next to her human. If a human isn't available for nap time she will find a quite hideaway as she doesn't like loud noises.  She doesn't mind small mild tempered dogs and just getting use to adult cats.  She is smart and lively and a joy to play with.
CAPONE
DSH, Black and White, Male
DOB 4/5/17
Capone has a white chest patch and a stripe of white between his front arms making him look rather dapper. He is an adventurer, always checking out what is going on so he doesn't miss out.  He loves to lay on his humans shoulder and snuggle up.  He loves to be rough and tumble with his brother and sisters to practice his surprise skills.  He often seeks out his humans and circles their feet until they pick him up so they can better hear his purr.  He doesn't mind small mild tempered dogs and just getting use to adult cats. Capone will start purring as soon as he sees you and immediately walk up to get scratchies, very affectionate and playful.
CATALINA
DSH, Black, Female
DOB 7/30/16
Hello, my name is Catalina, but you can call me CatyCat. I am looking for someone that has the following qualifications to be my new owner.
The MUST have's
a warm lap or if you have one of those laptops, I can adjust to your side or legs
a hand so I can get lots of rubs
love music because I purr all the time
leave the house from time to time so that I can wait for you at the door and welcome you home
a good conversationalist, as I love talking to my human friends
a warm bed for me to sleep on, preferably yours
a few toys as I do like to play a bit – I like to play with my humans and alone
Here are some things you may want to consider, but really don't matter a whole lot to me –
I am a distant relative to the black panther, my regal breeding is very apparent — as I can be mysterious, I am incredibly loving, loyal and a little piece of the wild for your home and heart!
I don't mind being brushed but I handle keeping my majestic black coat clean and soft, so it is not required or necessary.
I am petite and will not grow any more, so my little legs do not allow me to jump high enough to get onto the counter or most tables but I usually can handle a couch or bed.
I am full figured (but prefer the term "fluffy") because I had 4 kittens and have not yet gotten my girlish figure back…and honestly, I am not real good at dieting.
My black fur goes with everything and will match any decor, but sometimes I wish I had stripes or was more colorful so more folks would notice me at the adoptathons. I learned that black cats have the lowest adoption rates so I am trying not take it personally.
I am fun loving, never aggressive or grumpy to people as I love them all! I would be good with children, the elderly or anyone who wants to love me! I don't really know if I can like a dog but am willing to try!
I am very sweet and beautiful throughout and pleasure to have around, even my foster mom says so!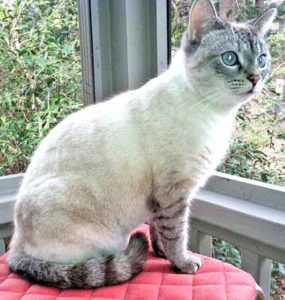 CHAI
Lynx Point Siamese cross, Female
DOB 7/1/15
Chai is a petite, beautiful girl who has been a source of joy and amazement in her foster home. She accepts other animals, enjoys playtime with a young foster sister, and gives less accepting fur creatures plenty of personal space. Although not a lap cat, Chai likes to hang out around her humans and has become more affectionate over time. Still, she's leery of being picked up and under some circumstances may become overstimulated or nervous. While a savvy cat person can easily recognize the warning signs, it is for this reason we will not adopt Chai out into a home with young children. Her dream is for a calm, adult home within an hour's distance of Raleigh. She'll award extra points to an applicant with a screened-in porch for bird-watching, her very favorite pastime.
CHANTILLY
DMH, Grey and White, Female


Special Needs: FIV+
DOB 6/25/16
This shy, pretty teenage mom is looking for the safe, peaceful home that will encourage her sweet personality to blossom.  Not a lap cat yet, but responds to affection with a purr will warm your heart.  She is good with gentle children, and she is very hopeful for home where she is loved and cared for the rest of her life.   Chantilly is FIV+, which is transmitted only through a serious bite from another cat – the kind of bite that occurs in a fight between two unneutered males.  She can live safely with other cats as it is not contagious:  sharing food and water bowls, mutual grooming, play, sharing a litter box – none of those things transmit the virus.  Her lifespan will be of normal length, so essentially, this virus has little or no effect on pretty Chantilly!  This sweet girl has not had a good life, but she is now learning that people can be kind and loving.  She is a beautiful girl that will continue to fill in her coat and grow more beautiful as a good diet and good health develop.
Chantilly was dumped in a high kill shelter with her cute baby, Cupid.  She adores Cupid, but he's becomes a bit wayward, so she's adjusting to the empty-nest syndrome, and she's ready to transfer all her love to her human companion.  If you are interested in beautifying your home, and filling your heart with love, Chantilly is the girl for you!
CHAPLIN
DSH, Black and White Tuxedo, Male
DOB 4/5/17
Chaplin has gorgeous white eyelashes to go with his Tuxedo look.  Chaplin is a huge people person and loves to purr. He is available for love in all forms, belly rubs, chin rubs, head scratches, napping together.  He likes to race his siblings around but is easily amused all by himself, whether it is his own tail or a binder clip, he is so much fun to watch and play with.  He has been around a small dog and doesn't mind it.  If you are looking for a kitten that will give you 110% unconditional love, then Chaplin is for you.
CHARLESTON
DSH Black and White, Male
DOB 3/1/12
Charleston is a wonderful boy who gets along with everyone! He loves his other foster friends and even tries to get the kittens to play with him. His favorite toy is a crinkly rabbit that he found and now he likes to carry it around the house. He watches each evening for his foster mom to home so he can show her how much he missed her. Charleston is a youngster at heart and would love to find a family that he can call his own.
CHAUCER
DMH, Orange Tabby, Male
DOB 5/20/16
I think it's obvious at one glance how cute I am.  I'm unique in that I look like an orange lynx!  Face fur sticking out from my cheeks, the fur tags coming out the tops of my ears – I'm an original!  There's no way to know what my background is, so I'll stick with 'orange tabby who looks way cooler than most orange tabbies'.  I am also what my foster mom calls 'assertive'.  I was surrendered with another orange tabby who may or may not be related to me, they don't know and for sure I have no idea, I'm a cat.  But out of the two of us, I have the dominant personality.  If my foster mom is petting my roommate and I want to be petted, I'll butt in to get what's mine.  That's because I love to give and get affection.  I roll all around on the floor, I want my tummy rubbed, I lay on the floor in all kinds of crazy positions because I can also be quite the clown!  I love playing with feather wands, mice, and believe it or not, tennis balls!  My foster mom feels that it would definitely be for the best if I were the only cat in my new home who can (and will) bask in the undivided attention of adoring humans.  There's no way to know if I had dogs in my prior life, my foster mom doesn't have any, so big question mark there!   One thing there's no doubt about, I love me some humans!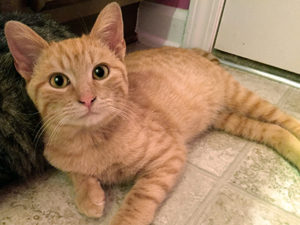 CHEETAH
DSH, Orange Tabby, Male
DOB 12/1/16
Cheetah is a fun little boy!  He gets along with other cats and loves to have fun, fun, fun.  He is inquisitive, loves his toy mice and rolling balls around the room.  He will sit with you and enjoy your attention.  He would love to find a forever home with someone that would enjoy a sweet kitty!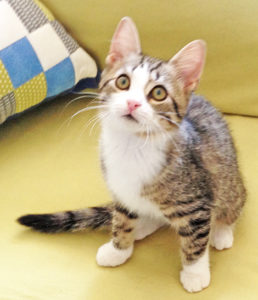 CHELSEA
DSH, Female
DOB 3/8/17
I am Chelsea, a little grey/brown tabby with white paws, bib and face.  When I was rescued I was all by myself and only weighed 13 oz.  I had to be force fed every few hours because I was scared and didn't want to eat.  After a diet of kitten milk and baby food, I started gaining weight and now I eat regular kitten food.  I was all alone during the 2 week quarantine, but once that was over I was able to join 7 other kittens.  However, my 'kitty manners' were lacking and the other kittens avoided or ran from me.  Who knew they wouldn't like being jumped on and beat up?  With time I have learned how to behave and now they are my close friends.  I have lots of energy, and love to get in trouble.
CHEERIO
DSH, White and Orange, Male
DOB 8/1/16
Cheerio is a lover…he loves other cats, he loves kittens, he loves to play, he loves to eat, he loves a laser pointer, he loves hanging out on the porch, but most of all he loves people. He markings are very unique and so his is personality. He comes running when you call his name. He also likes belly rubs. He is great with kids of all ages and will even walk on a leash outside. He gets along well with all the cats in his foster home. He can even get the older cats to play for a while. When it is time to settle down, Cheerio loves to hang out with you on the couch. He is also a good bed buddy – likes to sleep at your feet. He would make a great addition to any home – especially if he had another cat to play with him.
CHEVY
DSH, Grey and Black Mackerel Tabby, Male
DOB 4/26/15
Chevy is a good old country kitty who has had a hard life until he was rescued by Purr Partners. You can tell by his scars and rugged good looks that he has had to fight for survival throughout his short life. The fact that he has reached 2 yrs old as a stray/farm cat attests to his skills. Chevy loves a good lap and being rubbed and is more than willing to help out in this area. And he'll let you know when he has had enough. Generally he likes to hang out with you. He has never met a full food bowl that he doesn't like and again will help to make sure that it's filled. His kitty litter habits are excellent and he has quickly adapted to staying in a safe home. Chevy would be best as an only cat with someone who is cat savvy and patient with his adjustment. No preteen children.
CHEX
Grey Tabby, Male
DOB 3/31/10
Chex is such a sweet big boy!  He's very friendly, has no fear of anything, is a great lap cat and just wants to be with his special person.  He is very low-key and affectionate and even purrs when you look at him!  He has lived with an elderly lady all his life and has been very well cared for until she had to go into a nursing home.  Now he desperately misses having a home of his own and a special person to share it with.  He would make a great addition to any home!
CHILI
DMH, Orange Tabby, Male
DOB 5/20/16
I've had a life full of mystery so far.  I was surrendered to a high kill shelter when I was around a year old with another cat who may or may not be my brother.  We're both orange and we look similar, but our personalities are night and day!  It took some time for my foster mom to get me to trust her.  That usually means that whatever happened to me before she took me in left me with some anxiety.  Now that I'm happy and secure, I'm gaining weight, playing like crazy, and have shown my true personality.   I'm very laidback and very affectionate.  My foster mom comes into our room and I run to her for attention.  We have a heavy petting session (PG rating only, puh-lease, you people have dirty minds!) because I'm insatiable when it comes to bonding.  I love playing with feather wands and all kinds of mice – except real ones, because there aren't any in my room.  There are a couple cat trees, though, and I spend a lot of quality time lounging and looking out the windows.  I've met my foster mom's personal cats, but that's a longer road for me.  It would probably be for the best if I'm the only cat in the house.  I love humans, but I'm suspicious of other cats.  That's not to say I can't get along with them, but they would need to be as laidback and easygoing as I am.  My foster mom has no idea if there were dogs in my earlier mystery life, but she doesn't have any so there's no real way of knowing how I'll react to a dog.  Could be great, might not be.  But I'll tell you what – there's absolutely no question that humans are the best!
CUPID
DMH, Grey and White, Male
DOB 3/15/17
This soft, affectionate kitten with the grey "beard" and cute belly spot is
sweet and cute in every way. Cupid is curious and playful, but does not
bite, keeps his paws respectfully soft and uses his claws on scratching
posts and the cat tree. He behaves so well because his attentive mom is
raising him – they still live together in their foster home! He gets along
well with kids and other cats; not sure about dogs, but the right one may
win him over. We expect high demand for this quiet little lover, so get
your application in before he shoots his arrow through someone else's heart!
CYNDAR
DSH, Black and White, Male
DOB 4/5/17
Cyndar has a white chest patch and a little white under one arm.  Cyndar is rough and tumble with his brothers and sisters, but extremely loving towards his human.  He loves to sit on your feet while you are cooking (just in case you forgot he loves food). Cyndar has a super loud purr but it takes a little scratching to get it out of him… once it starts it never stops.  He likes to wait for his siblings to try something before he joins in to be sure its safe.  He doesn't mind small mild tempered dogs and just getting use to adult cats. Cyndar loves to lay on your neck/chest and will happily sleep purring away all cuddled up next to you.
DANCER
Brown Tabby, Female
DOB 5/10/10
Dancer is SUCH a sweet girl!  She came back to us after her owner could no longer take care of her – through no fault of her own.  She is a  lap cat, likes to talk to you, and will definitely tell you her opinions on being in a carrier!  She's very affectionate and loves to give face rubs, head butts, and show you how well she "dances", by stretching her body every way she can.  She has this "frowny face" you can't help but love – so cute.  As a new born kitten, Dancer was one of the faces of Purr Partners, as she just has that magnetism, personality and look you can't resist.  Give this girl a chance and she will fill your home with love – she would make a wonderful addition to ANY home!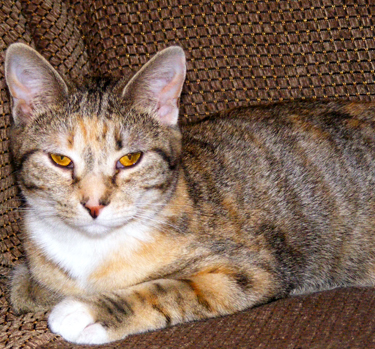 DARBY
REDUCED Fees only $25 !
DSH Torti/Tabby/Tuxedo, Female


Special Needs: Epilepsy
DOB 5/26/11
Darby is a cutie, a bit shy at first but definitely comes out of her shell after she explores her surroundings. She loves to play with her toy mouse and a game of smack and chase is always fun! Toys are great, but in the sunny afternoons, Darby stretches out by the door to watch the birds and wonder just how she might catch one of those very aggravating and tempting creatures. Darby loves belly rubs and doesn't mind asking nicely for more and more and more and more… well, she loves to have her belly rubbed – you get the idea! Darby was rescued from a local high kill shelter when her time was almost up, and ever since then, she's been determined to show her gratitude. Loving and affectionate, gentle and easy-going, Darby is very sure there is someone somewhere just for her. After all – she was lucky once: why not twice? Kitty daydreams of a forever home keep her spirits up and her heart hopeful. Darby is patient, and she is keeping the faith that very soon it will be her turn to go home to where she will live out her days as the much loved kitty of the household.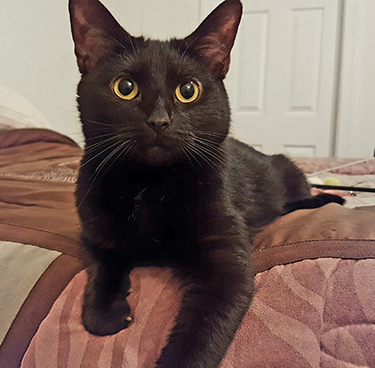 DESTINY
DSH, Female
DOB 4/20/13
Destiny, and her twin sister, Harmony, were rescued from a high kill shelter where very few cats make it out and even fewer black cats! Destiny is not sure why they say people say black cats are bad luck – she experienced the best luck ever – a chance to live! And, because she is so appreciative, she wants to share her luck with you. Destiny loves to be held. Cuddling is her all time favorite thing, and she can't wait to have a family to cuddle with. She is great with other cats, and one of her favorite games is playing in the cat tunnel with her sister. Sleek and glamorous, loving and affectionate, Destiny just might be your destiny!
DEXTER
DSH, Black and White, Male
DOB 4/1/17
Hi – I am Dexter and I love people!  My brothers and I were found very young without our mother so we were bottle fed.  This was such a treat!!  It means that we are very comfortable with humans and being held and loved.  My favorite thing is to do is curl up in your lap when you want to watch TV, read a book or even take a nap.  I love to play with other cats (big and small ones), and kids too.  I haven't seen many dogs in my short life but my foster mommy tells me that they are just bigger cats.  I really enjoy playing on cat trees and towers –I have learned that they make great scratching posts too.  I would really love to find my forever home with you.  If you adopt me, I will let you hear my loud purr!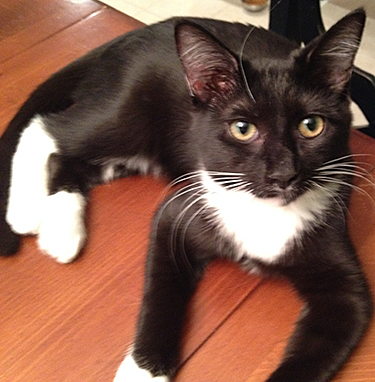 DIGIT
DSH Black and White Tuxedo, Female
DOB: 3/4/15
Digit is a quiet little girl, except when the games begin. She is in her siblings' games and always tries to find the angle to win! She loves the little soft balls and if someone steals it, watch out, she will hunt you down to get it back. Like her siblings she is a sweet little girl, who is looking for her forever home.
FIGARO
DSH, White with Black, Male
DOB 4/3/17
Figaro is a delightful kitten that loves to have a good time. He will look at you with his big bright eyes and give you a hug and kiss before he is off looking for fun. He gets along well with his other foster friends and will play with anyone that wants to get in the game. He has not met anyone he doesn't like or want to play with. Figaro even has a girlfriend (foster Bianca) and they love to play together! Figaro is looking for a home that wants a playful and fun little boy.
FRAZIER
DSH, Brown Tabby with White, Male
DOB 10/15/13
Hi! My name is Frasier, and I am probably the most handsome and friendly boy you'll ever meet. I love hanging out with people and any other cats that will play with me. I would love to have a playmate in my new forever home. My favorite things to do are playing with toys of all kinds, getting back massages and head scratches, watching out the window, and talking to anybody who wants to chat. I have very soft fur and people always remark about my unique coat, so I like to keep it neat and clean to show it off. I am good with kids and dogs. I may be a small boy, but I have a big personality and a whole lot of love to share.
FROST
DLH, White, Male
DOB 4/5/16
Frost is a wonderful easygoing boy who tries to get along with everyone. He came into his foster home stretched out on the floor and waited to be loved. He enjoys the ball that goes around in the circle and playing with his foster friends. Older cats do not seem to understand Frost's love to chase and play, so he is looking for a home that has a cat under a year. He has a foster friend (Cheetah) that understands him and wouldn't mind being adopted with him, if you are looking for 2 kitties! Frost does do a lot of talking so be prepared for a sweet kitty that has a lot to say!
GEMMA
DMH, Brown Tabby, Female
DOB 8/1/15
Gemma is a true "Gem".  She and her 3 kittens were surrendered to a shelter and their time was running out when Purr Partners got the call. Her picture does not do her justice. She has beautiful tabby markings and a fluffy tail that never stops moving. She is a petite little girl with a big personality. She loves to be wherever her humans are. If you are relaxing on the couch, it won't be long before you are joined by her. She has a very calm temperament and likes to play for short stints. Her favorite past time is sitting on her cat tree looking out the window. You can see her in the window every time you drive up and she is waiting for attention as soon as you come in the door. She tolerates other furry friends, but prefers to be an only cat in town.  Now that her kittens no longer need her – she is ready to go to her furever home.
GRAVY
DSH, Grey and White, Male
DOB 8/16/16
Gravy is such a good kitty!  He is so incredibly friendly, very brave, loves everyone and is a great lap cat.  He was bottle fed as a small kitten so he's extremely lovable and does not fear anything.  He loves to give you kisses and head butts and nosey-rubs.  He's just such a joy to have around!  He gets along great with other cats too.  He just wants a home of his own and people he can love.  He promises to be the best boy ever!  He would be a great addition to any home!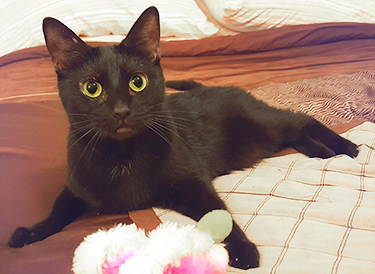 HARMONY
DSH, Female
DOB 4/20/13
Harmony, and her twin sister, Destiny, were rescued from a high kill shelter, and they have been waiting for a quite a while for their people to come along. Harmony is a purr queen, and she will serenade you with her soft purrs when you hold her and brush her. She is good with other cats, and she would be good in just about any household. She loves toys and playing, and those furry mice are her absolute favorite. Harmony does not believe that people don't like black cats – what's not to like? A beautiful, sleek, gleaming coat, sparkling eyes, and a wonderful personality… Harmony is special… and she is hoping that YOU can see that! Give her call and ask her out – on a forever date!
HOODIE
DSH, Brown Tabby, Male
DOB 9/1/16
Hoodie was found all alone in a barn – not sure how he got there or what happened to the rest of his family.  He was hungry, cold and afraid.  He was very shy when he met his foster humans and cats.  But not anymore.  Hoodie loves to play and gets along well with kitties of all ages.  He hasn't had the opportunity to meet any dogs yet, so we are not sure how he would react.  His favorite pasttime is to wrestle with his friends – then settle down and groom them.  When you first meet Hoodie,  he is a little shy, but once he warms up to you, he is an incredibly sweet boy.  Laser pointers, ribbons and anything with catnip are his favorites.  When it is time to settle down, he likes to snuggle up next to you for a nap.  He would be an awesome addition to any family.
IMP
DSH, Male
DOB 3/14/17
Imp (brother to Iris) is a fun kind of guy. He loves crawling into his crinkle tunnel and playing peek-a-boo when you walk by. He is all black. As his name suggests, he used to be small. However, with good food and some playtime with his sister Iris, Imp is now the bigger of the two kittens! Imp is a very active kitty that needs a kitten playmate at home. He is good with older children, dogs, and other cats but also needs a quiet place to cuddle at the end of the day.
IRIS
DSH, Female
DOB 3/14/17
Iris (sister to Imp) is a black kitten with a cute white patch under her chin. If you look really closely, you can see a few white ear hairs as well. Iris is gorgeous as her name suggests. She loves playing with crinkly toys and wrestling with her brother Imp. She is a very active kitty that needs a kitten playmate at home. She is good with older children, dogs, and other cats but also needs a quiet place to cuddle at the end of the day.
JASMINE
DLH, Torti, Female
DOB 8/1/2011
Jasmine is a gorgeous, super sweet girl who just about lost her life because she was trapped and brought to the shelter and labeled feral.  Nothing could be further from the truth!  She is a sweetheart and loves, loves, loves to be petted and smooched on.  She was terrified in the shelter and her long, beautiful coat was matted down the skin.  It was so bad, she could hardly move.  She flinched when your hand reached toward her, so we don't believe she had very many good things happen to her in the last few years. But now, the real Jasmine has appeared, and she is a total sweetheart!  She loves to be with you and will follow you.  If you sit down, she will be right there.  We had to have her shaved down, but her beautiful coat is coming back in, and she will be even more of a stunner when it's full again.  She will need grooming and brushing daily to keep her looking and feeling her very best.
Jasmine is great with other cats – she is not dominant or aggressive in any way.  She just wants to be someone's beloved girl and give them all her love and affection.  She deserves a home where someone will love her and care for her for her next 7 lives – and make sure she is always safe. She's not shy and loves to explore and investigate.  Sunbathing is a favorite activity, and meal time is the most favored activity of all!  She loves, loves, loves her breakfast and dinner, but she is a dainty eater and never messy.
Jasmine shows in every way she knows how that she is happy and grateful to once again be in the house and safe and loved.  She has the cutest little meow, and she is gentle and sweet.  Jasmine is FIV+, but that does not affect her ability to live safely with any other cat.  It does not affect her lifespan, is not contagious to other cats, dogs, or people, and she is perfectly healthy.  She's the complete package – beautiful to look at and beautiful inside as well.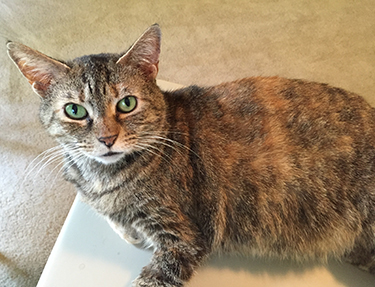 JULEP
DSH, Torti/Tabby, Female
DOB 3/1/09
Julep came from a high kill shelter and settle in right away in her foster home.  She loves attention and being petted, she also enjoys her catnip toys.   Julep is beautiful both inside and out and she would make a great companion for anyone looking for an adult kitty.  She is not high energy but will talk to you if you are not paying attention to her.  Julep is searching for a home that she does not share with another cat.  She would love to be a part of your home.
KAMRYN
DSH, Female
DOB 3/8/17
I'm Kamryn, a little girl, mostly black with white paws and bib, and some cute white spots on my nose!  I was very shy when first rescued, but I have really learned how to trust and have become a real sweetheart.  I spend my days playing with the other kitties.  I especially like when the humans play with me.  I like balls with bells, feathers and boxes to hide in.  I am very well-behaved, I eat well and have lots of energy. I would do well in a home with kids, other young cats, or a small dog.
KELSEY
DSH, Female
DOB 3/8/17
I'm Kelsy, a super cute and cuddly brown tabby.  I live with 7 other kittens and 4 adults so I know how to get along with other cats of all ages.  I am not shy and I do like to be held and cuddled.  When I first see you or am being held I start purring.  Playing with toys, hiding in boxes and wrestling with the other kittens are my favorite things.  If you are looking for a sweet little girl, I'm the one.  If you would like to meet me when I'm not at Pet Smart, contact Purr Partners and my foster Mom will get in touch with you.  Hope to meet you soon!
LARISSA
Maine Coon mix, Female
DOB 7/1/16
Larissa is one of the most polite and sweetest cats you will ever meet! She is very friendly and loves to snuggle.  She has big beautiful yellow eyes and very long whiskers. She also has typical large hairy Maine Coon ears. Larissa is a little thin currently, but will be gaining weight with proper care.  Please come meet Larissa, you will want to make her a part of your family!
LARUE
DSH, Torbie, Female
DOB 4/3/17
Larue joined the Purr Partners family when she was 2 days old. Her mother (Libra) had her in the shelter and Larue and her 4 siblings were taken in by a foster family. She was given a quiet bathroom to nurse and grow strong. She started out on the small size, but quickly put on weight and loves food. She has recognized when the foster mom is bringing breakfast or dinner and starts to dance around in anticipation of a good meal. She is the first one over to the plate and the last one to leave. Her active running around will keep her "trim" as she gets older. Her silver hair around her face makes her look different and makes people stop and stare. She loves to chase her siblings around the room. She will jump up on the couch for a quick hello and then is off and running. When tired she will snuggle in your arms and take a nap. She is good around other cats (older and younger), good with plenty of activity in a house, and isn't afraid of anything (except maybe the vacuum). She has not been around dogs so we don't know how she will do. Are you the kind of family who is looking to add a new member to your crew?
LIBRA
DSH, Orange and White, Female
DOB 7/1/15
Libra came to Purr Partners with her 5 little babies. They were just 2 days old when they came to their foster home. Libra nursed her babies into the healthy, confident, sweet babies they are today. Now it is time for her to find her forever home.  She has a great vertical leap and there isn't anything she can get over to see what's on the other side. She likes to explore and wander around the house.  She is an observer who watches everything. She is calm and if you sit down on the couch she will start to "talk" and come over to be petted. She is cautious around other cats, but this is probably because her babies are near. She has not been around dogs so we don't know how she would do. If given a chance this little girl with an amazing heart will touch your heart. She will be a forever friend who will give you more love than you can imagine. Are you her forever………?​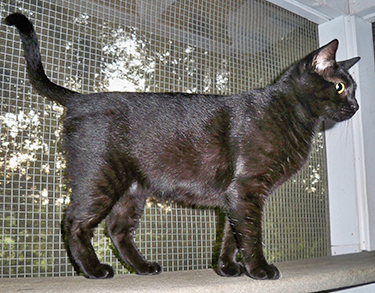 LICORICE
DSH Black, Female
DOB 6/1/14
"Miss Licks" as she is called by her foster Mom is a lovely, sweet, and playful girl. Miss Licks had a very difficult beginning finding herself in a kill shelter, but happily rescued by Purr Partners. Upon arrival at her foster Mom's it was quickly noticed that she had a serious and very painful injury to her tail. 2 hours later she was being seen by a Veterinarian who also discovered that she had several bite marks on her hip as well. It appeared that she had been attacked possibly by another cat. She stayed overnight for medical care, then home to her foster Mom for love and healing. Today Miss Licks is a beautiful, sleek, playful girl who loves attention and is always happy to see you. She had been terrified of other kitties but over time and trust she now has many kitty friends she plays with and enjoys time out on the screen porch with. She loves to "wag" her tail when she greets you and give lots of rubs and head butts. Miss Licks is now ready for her next step to find a loving family who will love to be loved by a tail wagging kitty!!!!
LIMERICK

DSH, Black and White, Female
DOB 9/1/15
Limerick is a happy and easy going kitty.  She prefers her back and chest scratched and every so often likes a good belly rub.  Her favorite spot is perched up on the kitty tower watching the birds and squirrels outside.  She enjoys the company of the resident cats and loves to play chase.  Limerick is learning to coexist with the resident dog.  If the dog leaves her alone then she leaves the dog alone.  If the dog gets too close, she is fearless and will let the dog know.  Limerick does great with kids and likes to be brushed and fussed over.  She is looking forward to meeting her forever family!
LINCOLN
DSH, Orange and White, Male
DOB 4/3/17
Lincoln was lucky that his mom was already in the shelter when he was born. He was brought into Purr Partners (along with his mother and 4 siblings) at the age of 2 days. He was able to be in a safe quiet space to nurse and get stronger and bigger. His mother (Libra) took fabulous care of him and he is growing up to be a healthy, strong boy. His favorite thing to do is chew on shoe laces. He will even take a ride up and down on a shoe so as to not have to let go of his lace. He loves to run and chase his siblings around. He is a kitten with plenty of energy so it would be best for him to be adopted with a friend or for his forever home to already have a cat who loves to play. He has been around plenty of noise and activity and isn't bothered by it. His foster family has 2 big cats and he doesn't shy away from looking over to see what they are doing. He has not been around dogs, but with his fearless personality he would probably be fine.  He would bring a family hours of entertainment and joy. Are you that family?
LOKI
DSH, Orange and White, Male
DOB 4/3/17
Loki was born in the shelter with 4 other babies. His mom (Libra) had only just given birth 2 days prior when Purr Partners stepped in to save his life. He spent the first 4 weeks in a bathroom receiving love and nourishment from his mother. He was warm and safe and given the opportunity to grow. He explored his surroundings with a fearless sense of adventure. Soon it was clear that this sweet boy needed to be moved to a bigger space to explore more things. Since that time Loki and his siblings have explored the house and spent hours playing. His favorite thing to do is sit on your shoe and try to eat your shoelace. If you lift your shoe he might even come up with the shoe! He is a great eater and loves to chase his siblings around. He is good with older and younger cats. He hasn't been around dogs, but is curious about all things new. Could you be his forever family?
LORENZO
DMH, Orange Tabby, Male
DOB 3/23/17
+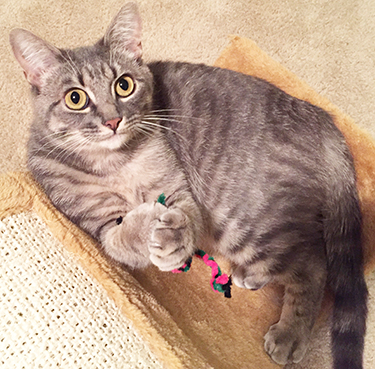 LUNA
DSH Silver Tabby, Female
DOB 3/1/15
When Luna was rescued from the high kill shelter and came to live in her foster home, she settled in quickly.  She loves her toys and is great with the computer.  She can type, send emails and even do online shopping!  She loves attention and getting lots of love from her foster mom.  Luna would love to have a home of her own that she does not share with other cats.  Luna would make a great companion and would shower you with love.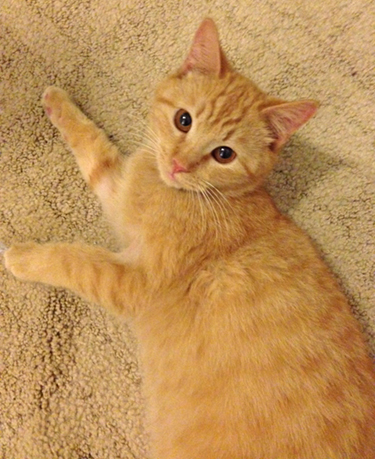 MIDAS
DSH Orange Tabby, Male
DOB: 7/15/15
Do you know the story of King Midas? How everything he touches turns to Gold? Well, I am hoping that I can turn your heart into gold! You see, I kind of need a miracle here. I came from a shelter where I almost didn't make it out alive. I am very meek and mild and I like to hide behind my foster brother (a cat!) for protection. My foster mom thinks I am precious and I will be just fine as long as a kind and patient person chooses to take me home with them. I haven't had a lot of stability in my short life and that is all I really need. I know that the right person can help me overcome my shyness and blossom into a loving pet. Will you be the one to cherish me?
MYSTIC
DSH, Brown Tabby, Male
DOB 5/3/16
Mystic was found by two good Samaritans and was subsequently accepted into the Purr Partners program. He is a very handsome boy and has a striking tabby coat pattern.  Mystic, along with being very handsome,is a very friendly, sweet boy.  He doesn't mind being picked up and will purr for hugs and cuddles.  He gets along with the other kitties he lives with and loves to play with them.  The cloudiness that is apparent in his left eye is the result of an old injury, and while he is totally blind in that eye, it doesn't bother him.  He has been seen at Animal Eye Care in Cary, and they have found nothing wrong with the eye, and it requires no further attention.  Mystic is a very loving kitty, and he would do very well with just about any family.
NICOLE
DSH, Female
DOB 6/25/16
My adorable kittens and I were saved from a rural county shelter. The PurrPartners volunteer went to pick them up and the shelter was going to just euthanize me. Hey! I just turned 1 year old and still have my whole life in front of me! I'm a great catch! I am playful…but not drive-you-crazy playful. I am cuddly, but not co-dependent. I'd be great in a home with other cats or as a solo cat. I've had some problems with dogs in the past, so I will not be great in a house with dogs. Could you be my forever home?
NIFTY
DSH, Grey and White, Male
DOB 10/7/16
Nifty has an adorable mustache. He is a clever boy with a playful side. He will nibble on your toes if they are peeking out from a blanket. If you are laying down he will come up to you to give you some kisses.  Ever the curious kitten, if he hears a noise he wants to investigate and find out what is making the noise. He likes the circles with the ball in it and will sit in there playing until something else catches his eye. He also enjoys chasing the pen lights up and down and all around.  When he finally slows down he can be seen snuggling on a humans lap. He is fine with other cats, but has not been around dogs. His playful personality would go well with a growing family.
NIRVANA
DMH, Black, Female
DOB 9/16/16
Nirvana…"the state or place of great happiness and peace".  This little girl wears her name well, and that's just what she will give you if you are the fortunate person who chooses to adopt her and bring her home.  She is a very sweet girl who loves to be cuddled, petted and loved on.  Nirvana turns on her little purr machine and rubs on your face just to let you know how happy she is to be with you.  Like all of our babies Nirvana came from a high kill shelter, but she's a very optimistic little girl and knows there's a special family out there that is just looking for a wonderful kitty like she is.  Nirvana is an active girl who gets along with the other cats and kittens she lives with and loves to roll around and chase them, and she also likes to play with her toys and the laser light.  Black cats are usually some of the most loving cats there are, and Nirvana definitely proves that theory.  Did you know that all black cats have some Siamese in them?  They just wear different clothes.  Please consider our little lovebug, Nirvana…you won't regret it.
PARADISE
Brown Tabby, Female
DOB 11/8/16
Paradise is a little sweetheart!  Like her brother Polo, she loves attention and will rub up against you until you notice her.   She has a sleek body and beautiful markings.  She enjoys the feather wands and the cat tree.  She is quiet but as she gets comfortable in your home she will climb up to be with you and enjoy the petting she hopes will come.   Like her brother, Paradise will be a great addition to your family.
PASTEL

DSH Dilute Tabby, Female


Special Needs: FIV+
DOB 3/7/15
Pastel is a stunning cat, her fur is a very soft, creamy, greige that is all the rage this season and says that and she would look amazing in a pearl collar!   She is quite affectionate and comes running when you call her name.  Pastel is a snuggle bug and will cuddle up with you and purr away while your read, watch TV or sip your wine.  Like any beautiful girl, she prefers to be the center of your world and will do well in a home where she can be the star!   She is very playful and will entertain you with her antics.  Pastel also enjoys playing with and is good around children.
Pastel is FIV+. This means that she has a compromised immune system, however, as an indoor cat, she can live a long happy life.   Won't you be her knight in shining armor and give her the life she has always wanted and deserves?
PHOENIX
DSH, Grey and White, Female
DOB 7/26/09
Phoenix is an 8 year old, front-declawed female who came to us from the animal shelter.   Phoenix's owner lost her home and after multiple attempts to find this sweet kitty a new place to live, she had to make the difficult decision and turn her into the shelter.   Phoenix had been with this person since she was a kitten so this was devastating to both Phoenix and the owner.  The shelter contacted Purr Partners and our hearts broke for this unfortunate girl.  So … we took Phoenix in.  After 10 mins. of arriving at her foster home, she was purring, playing and snuggling.  She is so affectionate and loves everyone.   She gets along well with cats, dogs, kids, men, women.  I think she might even snuggle with a mouse if she had the chance.  She loves affection and is very laid back.  She likes to cook (well, oversee it) so be ready for some company in the kitchen.  She loves to explore open cabinets and play with laser pointer.   She is a happy cat who just wants to be with you.  If you have a place in your home for this girl, please apply.
POLO
Brown Tabby, Male
DOB 11/8/16
Polo is a purring machine!  He loves attention and will come right up and do whatever it takes for you to notice him.  He is inquisitive and a fun kitty.  He currently is in a foster home with his sister Paradise and they enjoy playing together and sometime tussling for a toy.  He is a joy to be around and will be a great addition to any family.
PRIMROSE
Torti, Female
DOB 3/24/17
I am a playful female kitten who likes to run and play with my toys and other kittens! My favorite game is hide and seek, especially in the covers! I love being held gently and given lots of attention and snuggles. And I have soft fur!! I bring fun, love, and more sweetness into my forever home!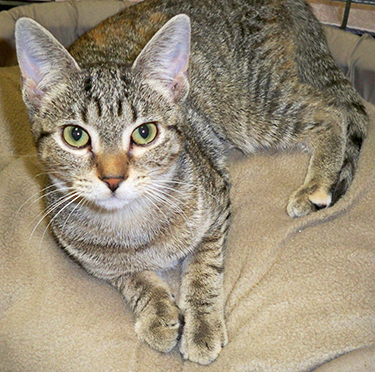 REVLON
DSH Torbie, Female
DOB 5/5/14
Revlon was born along with her 3 siblings in a high kill shelter and remained there until they were rescued and brought to their foster mom, 4 weeks later. As she was ill when she arrived, Revlon required a great deal of care and love to recover and has blossomed into a beautiful, sweet, purring little girl. She loves to be held, snuggled and played with. She has developed a strong bond to people and loves to be close and be as helpful as she can in whatever it is you are doing!!! She is also very social with other kitties and loves to chase toy balls and mice around. Please come and meet sweet Revlon – she has kitten kisses to share!!!
ROSALINDA
DSH, Female
DOB 3/1/17
I'm Rosalinda, a black and white little girl. My family call me Jumper because I can jump higher than any of the other kittens. Me and the other 7 kittens spend our days playing with our toys, playing hide and seek, and chasing one another. At quiet time, usually after I eat, I love to snuggle with humans.  I'm usually one of the first to want to be held or lay on a lap. If you would like to meet me, contact Purr Partners and my foster Mom will set up a time and place that's convenient for you to hear my awesome purr.  Hope to meet you soon!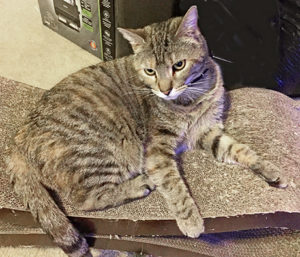 ROSE MARIE
DSH, Female
DOB 1/18/09
Rosie was found with an injured leg that ultimately we had to amputate but she has adjusted completely to life as a "tripod" kitty and it hasn't slowed her down any! She can zip up and down the stairs and jump over a fence with that one back leg, so don't let her fool you into thinking she is handicapped! She is a lovely torbi with stunning gold yellow eyes, estimated to be about 8 years old, and is a wonderful housecat, very quiet and calm most of the day, but she craves some playtime every day and will let you know if she isn't getting enough attention! She uses her litterbox and scratching posts, and is a textbook "lap cat", wanting to sit on your lap (on her own terms!) and lie across your work area, or will follow you into the bathroom to get some attention, she always wants to be with her person, but when she has needed to be secluded in a room for her own safety, or gets shut out of the room where everyone else is, she is so good and doesn't cry at the door to come in like most cats, just waits patiently for you to come and find her. She gets along well with cat-friendly dogs with a bit of "getting to know you" introduction time, but can be territorial and a little aggressive with other cats, so would definitely be best as an only cat. She is very smart and loves treats, and has been learning some simple tricks, as well as how to go outside on a leash and harness. She can be a bit shy and skittish in a strange place but once she adjusts, she is just the most well behaved, loving, affectionate little special cat, and she needs a special home where she can be the center of attention that she so much deserves!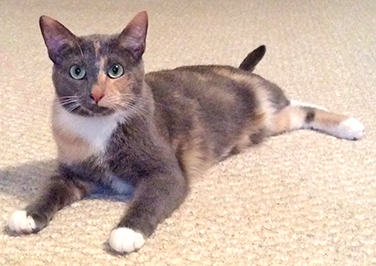 SANGRIA
DSH Calico, Female
DOB 3/20/14
Hi, I am Sangria, I come from a litter of 7. I am very frisky. I love to run and chase toys and like to put on a show. I may even run so fast and roll across the floor. I love to be petted and loved. Please consider me for your furrever kitty.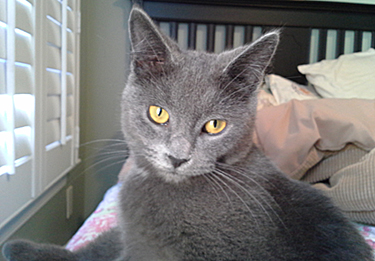 SHAYLA
DSH, Female
DOB 7/15/15
Miss Shayla is a twin, blue/grey, approximately 7 months old. Shayla is super sweet and loving. She was rescued from a shelter and placed in a foster home, with her twin sister Miss Sklya, the foster families' 2 cats and a golden retriever named Ruby. When she first arrived, it was discovered that Shayla had been in some sort of a accident and was injured. Purr Partners stepped up and paid for her surgery at the VHS hospital. After her recovery, she is doing really well, running, playing and reminds us of a monkey! She is missing some hair, from the surgery but it is growing in. She needs to go to a active home with other cats and cat friendly dogs. Would love for the twin sisters to go to their new home together, if possible! Both are wonderful!!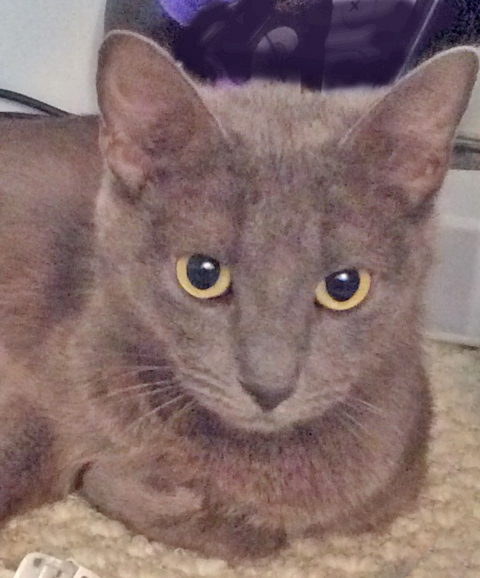 SHENANDOAH
DSH, Female
DOB 12/1/12
Shenandoah came to us from a shelter as a stray, and while in the shelter delivered 7 babies.She came to us very skinny. While at her foster mom's home she took very good care of all 7, and gained trust in foster mommy to hold and play with all her cute babies. Now all the babies are old enough to be adopted, Shenandoah needs a furrever home as well. Once she gains your trust she is very sweet. She will purr, but never learned how to play. We are working on that as well as having her gain some weight. Please consider me and give me a chance.
SHOGUN
DSH Buff with white paws, Male
DOB 4/14/17
Shogun is every bit "The General" his name implies! Alert, playful and highly inquisitive, he is the first to explore new things in his environment. He loves leading his brothers to venture far and wide in search of new games, whether it is diving into bags of paper recycling or batting a toy mouse like a soccer ball in an exciting game of chase! He's  a challenge to photograph while awake because he's always in motion! As such he would be best suited in an active home with fellow explorers like his brother Suede. When all that kitten energy is burned off he goes in search of a soft blanket and lap to cuddle in for sleepytime. His fur is silky soft and his green eyes gaze adoringly at you as his loud purrs melt away the tension from your day…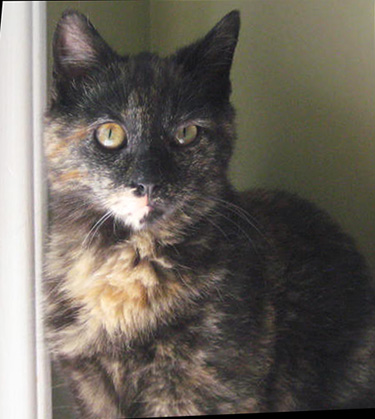 SIENNA
DSH Torti, Female
DOB 12/31/12
Sienna was once considered disposable and she is lucky to be alive. She is has learned to trust, and she is braver every day. She and her sister were thrown in the dump when they were about 7 weeks old, and things were not looking good. However, they were brave enough to not let themselves starve to death, and so they were discovered, and now life is way better! Sienna does not have mean bone in her body, and while it will take a special person who is willing to be patient and kind, the reward will be great. Sienna adores other cats and kittens, and she purrs like crazy when she is petted and loved on. She's still a little nervous about some things, but she has a brave heart, and she's working hard on her fears. Surely someone out there will be willing to give her a chance. It's not fair that such a horrible beginning and such cruelty from humans should prevent her from having a loving home of her own! Sienna still believes in the goodness of people!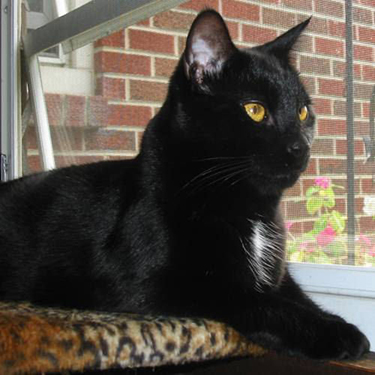 SILHOUETTE
DSH Black, Female
DOB 4/1/15
Silhouette may not have had a good start to her life, and she still bears some of the "scars" of this previous life, but she is a lucky girl now! Silhouette and a sibling were dumped on the side of the road in a rural area, but she was brave enough to seek out help. Cold, emaciated, dirty, and sick – she begged passing people for help. Cautious and concerned, but needing help, she finally convinced someone to call us, and so after much care, she is a happy girl now that shows her gratitude. When she came to us, she wasn't much more than a silhouette, but now she is a gorgeous "house panther!" She is a petite girl with a sleek and shiny black coat and a small white patch on her chest. She is definitely a talker and loves to share stories. She is very loving and affectionate and will lay her head on your shoulder and purr and close her eyes as if to say, "I can't believe how good my life is now!" Silhouette is not shy, she gets along well with other cats, but she would do better with older kids and adults. She loves to play and romp, and she can be silly and funny. She is nervous at first in a new situation, but it doesn't last long. She loves to cuddle, give head butts, and face rubs, and more than anything, she would love to have a home of her own with someone who will love and care for her always. Due to her early life with little or no care, she has a healed ulcer in one eye that doesn't affect her at all. She has a chronically runny eye, but it's slight, and it doesn't bother her. She believes that someone is out there who is looking for a small, slightly imperfect black cat who has tons of love to offer! A special kitty for a special person – Silhouette promises to be your shadow!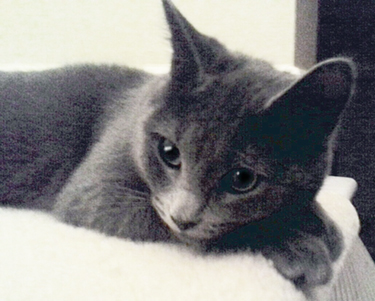 SKYLA
DSH, Female
DOB 7/15/15
Miss Skyla is a fun loving, playful grey/blue kitten. Born July 15, 2015 with her twin sister, Shayla. Rescued from a shelter and now in a foster home, with her twin sister and her foster family plus Ruby … a golden retriever. She races to the screened in porch to watch the birds and hang out during the day. At night she snuggles with her sister and plays with everyone!! Would love for Skyla to be adopted into a active, other cat/dog home and possibly with her sister!! They do love each other. 🙂
SUNKIST
DSH Orange Tabby with White, Male
DOB: 7/15/15
Hello! I am an adorable little boy that was rescued from a scary shelter. I am shy at first until I get to know you. I am active and love to play with toys. Sometimes I act silly and clown around. I am a well behaved boy and I always use my cardboard scratcher. I am curious about you so I hope you'll find it in your heart to want to bring me home with you. I get along well with other kitties. My foster mom thinks I might be part Siamese because if you look closely, I have a slightly crossed eye. I am just a handsome guy that likes to have fun and I'd like to share life with you.
TALLULAH
DSH, Calico, Female
DOB 4/10/17
Tallulah is a beautiful Calico with a unique pattern on her face.  She has a sweet and endearing personality.  Calicos are know for being gentle, warm-hearted, affectionate, intelligent and good with children.  She is an energetic kitten, who loves to run super fast, jump and play! She also enjoys cuddling, napping, snacking, video games, movies and fashion – her favorite thing to "wear" is a purple feather boa!
She is fostered with her sister, Tumbleweed,  her mother, Tula Rose and adult cats.  She has been exposed to dogs and would most likely accept living alongside a canine brother or sister after an appropriate introduction period.  Don't let this adorable little calico get away!
TESSLA

Grey, Male
DOB 3/24/17
I am a terrific male kitten who is wonderful all around! Count me in for playing anytime and yes, holding me is nice too! I love playing and sleeping with my brother, Tinsel! Please adopt us together! I bring fun, playtime and more cuddles to my forever home!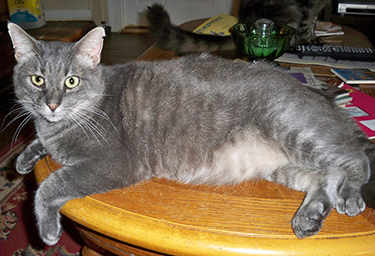 THOMAS

DSH, Male


Special Needs: FIV+
DOB 6/1/13
Thomas is one BIG Beautiful grey boy!! Weighing in at around 14 lbs., this boy is a very gentle, kind, easy-going, sweet boy. He so loves attention, lounging on the screen porch chairs, dozing in the sun, peeking at the birds and squirrels who come to eat. He gets along easily with other kitties and enjoys playing with the little catnip mice and crinkle balls. He so enjoys attention and always comes to see what you are doing and if you might need a paw to help!!!
Thomas was rescued only hours from death as he had tested + for FIV, Kitty AIDS, not to be confused with human HIV. The virus in cats means that they have a compromised immune system. However it does not diminish a long and happy life, many FIV kitties live well into their late teens, enjoying a long and loving life. For more info on Thomas please contact Purr Partners. Thomas is waiting for his Furrrrever Loving family.
TINSEL
Grey, Male
DOB 3/24/17
I am an adorable male kitten who is calm, tranquil, and I like watching others play. I play too but my level of play is quiet and gentle.  I love being held and purr often. I would love to be adopted with my brother, Tessla. I am an easy going, lovable  kitten that will bring love, peace, and a lot more purrs to my forever home!
TULA ROSE
DSH, Calico, Female
DOB 4/10/16
Tula Rose is a wonderfully gentle cat with a calm demeanor to go along with her beautiful face and perfect pink heart shaped nose. She enjoys chatting and will let you know if she's hungry. She loves to be petted and cuddled and isn't shy to let you know when she would like some attention. Calicos are know for being gentle, warm-hearted, affectionate, intelligent and good with children and she is no exception. She came to Purr Partners right after giving birth to a litter of 6 little girls and arrived at her foster home when the babies were only three days old. Tula Rose took care of her babies day and night, she kept them spotless, nursed them into chubby little kittens and cuddled non-stop. Her kittens have almost all been adopted so it is time for her to find her forever home, she is such a gentle soul it will be hard to give her up!
Her foster home has adult cats and she gets along well with them as long as they don't get to close to her kittens! She doesn't mind the dogs and would most likely accept living alongside a canine brother or sister after an appropriate introduction period.
She is a very special cat who deserves the best and will provide her forever family with much love and affection for years to come.
TUMBLEWEED
DSH Orange Striped Tabby, Female


Special Needs: Cerebellar Hypoplasia (CH)
DOB 4/10/17
Tumbleweed is a beautiful and rare striped ginger girl – only 20% of all orange tabbies born are female.  She has a fuzzy coat and is a silly little kitten, definitely the comedian of the litter!   Her CH is very mild, she has a very cute high stepping gait and a bit of a head bob when she is focusing on something.    She loves to play with her siblings and one of her favorite things to do is "attack" tiny mice and stuffed animals when they are not looking.   She's a lot of fun and always busy! She is also a girl that loves attention and petting. She cannot jump up very well due to her CH, so that should keep her off your kitchen counters!   Her mobility is very good and she can climb like crazy!   This little kitten is definitely one to consider if you want a lot of cuteness and love in your life!
YOGI
DMH, Tabby with White, Male
DOB 8/1/16
Yogi is a big ball of fluff. This beautiful kitten comes with a sad story. He was adopted as a baby from the shelter, but returned for some unknown reason. Since his return he has become very shy around adults. He LOVES other cats and can be seen to play with the older cats and the younger cats in the house. When he is in the same room with people he becomes the observer watching what is going on. He has made excellent progress in the past month to the point where he will now walk under a person's legs. He is not comfortable yet with being petted. Yogi has not been around dogs or young children. If you have a cat who you are looking for the perfect companion for then Yogi is the kitten for you.  He will become your current cats best friend.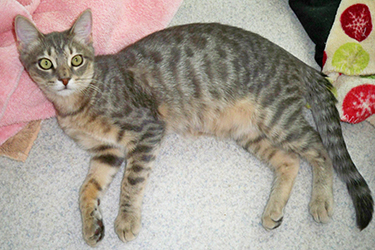 ZEPHER
DSH Grey Tabby, Male
DOB: 5/1/15
Zepher was a tiny orphan placed with a loving Momma kitty who had 6 of her own babies. Always playing and snuggling with his siblings Zepher is a happy, playful boy who loves people and playing with children. Active and curious he runs through the tunnel ambushing one of his playmates, then off to bat around the crinkle toy, grab a furry mouse and back on to the porch to see the birds. Then finding a sunny spot for a quick kitten nap to rest up for more fun!! Zepher will be a wonderful family kitten with much love to share!!
ZORRO
DSH, Black and White Tuxedo, Male
DOB 1/17/17
Zorro has quite a story to tell.  He was found as a tiny kitten hanging from his back left foot from a wooden fence and turned in to a high kill shelter.  They called us, and we rushed him right to our vet.  All of his toes were crushed on that foot, so the vet had to amputate them, but he was able to keep the large pad on the back of the foot intact.  It was touch and go as to whether the surgery would be successful and the circulation would return to the foot.  If not the foot would have to be amputated.  He was a very lucky little boy and the foot is doing wonderfully, and he walks around on the large pad just fine.  Zorro plays and wrestles with the other kitties he lives with, climbs up the cat trees in his foster home, and is a real love bug.  He will greet you right away whenever he sees you, and he loves to be picked up and cuddled and will start purring right away.  Zorro had a rough beginning, but he is so hopeful that soon he will have a loving forever home of his own.
Your adoption fee buys you a lifetime of love and affection.