Cat and Kitten Adoption in Central NC


Our cats and kittens are rescued from high-kill rural shelters in North Carolina.  2019 marked

10 Years of saving lives and we won't stop until they all have a home!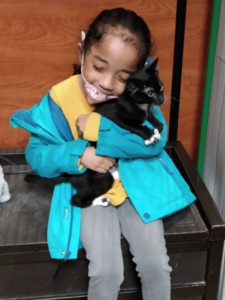 Cat rescue can be difficult and very sad at times, but THIS picture is what rescue is about, and it makes it all worth it for us! 
Rescue is about seeing a kitten making biscuits on the arm of his new little girl — who also fell instantly in love with him.  💕  Let's remember 2020 for moments like this, and let us help play matchmaker for you too so that we can save even more kitties in 2021!
** 1/15/2021 ATTENTION:  We are taking a short break from having cats and volunteers at PetSmart, but everything else goes on as normal! Pre-approved adopters can schedule meet-and-greets, cats can be viewed and adoption applications submitted from our website, and we are still busy saving cats from open-intake shelters all across the state!
Our cats will return to all three PetSmart Adoption Centers on February 3rd, and our volunteers will be at that weekend's adoptathon on February 6-7 from 11am-1pm**
Come see us at all three PetSmart Adoption Centers! 
Cat and kittens will be in the Adoption Centers Thursday

through Monday afternoons in the inside units. 

Then on Saturdays and Sundays from 11am-1pm, Purr Partners volunteers will be available as well.  Hand sanitizer will be available, distancing will be practiced, and please plan to wear a mask and follow all of the precautions posted on the Adoption Center windows to keep everyone safe.
Because of the very small space inside the adoption centers, only pre-approved adopters will be able to go in and handle the cats and kittens, but visitors can adore them through the windows anytime!   
Our
Facebook
page
highlights the kittens that are available at each PetSmart each weekend.  
We are always at the adoption centers in the Wake Forest PetSmart and the Raleigh Six Forks PetSmart, and we are now at the Raleigh Capital Crossings PetSmart  every weekend too!  
Adoption information and the adoption application is available at www.purrpartners.org/adopt and we hope to see you soon…in person!

Follow us on Facebook to view all of our cats and kittens!
Follow us on Facebook!
Purr Partners Feline Rescue
2021/01/25 @ 12:42
Purr Partners Feline Rescue
2021/01/25 @ 1:38
Purr Partners Feline Rescue
2021/01/24 @ 22:08