Foster to Adopt
We have some terrific cats who have been overlooked.  When in a cage at our adoption events they don't show all their wonderful qualities that we witness while they are in their foster homes.  Often the cats feel nervous or anxious or may struggle from cage stress stemming from their time in a shelter.  It is difficult for them to show how sweet and loving they are in that environment.  
Because of this, we offer these beautiful cats through our new Foster to Adopt program.  What do we mean by Foster to Adopt? After becoming a pre-approved adopter you will take the kitty home for up to a month at no cost.  Purr Partners will provide the food, litter and vet care.  During the month, you will see what we already know —  these are very special kitties that just need someone to take a chance on them! 
At the end of the month, you will either complete the adoption for a reduced donation of only $50 or simply return the cat to us. 
If this appeals to you, we encourage you to consider one of these very special kitties.  The beautiful babies below are patiently waiting for their special person to come along and love them forever.
If there is a kitty that speaks to your heart please download the Foster to Adopt Agreement and email it to purrpartners@yahoo.com. 
---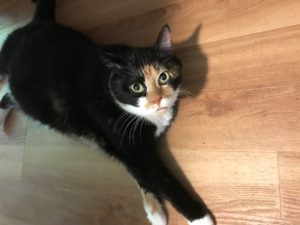 ALLYSON18
DSH, Calico, Female


 Special Diet
DOB 4/28/12
Allyson has lived a life in pain. She was surrendered to a high kill shelter because she was urinating outside of the litter box. It turns out that Allyson was suffering from a bladder and urinary infection that her owners declined to treat her for,  over a period of years. Allyson's entire life was turned upside down when she was abandoned by the only family she knew. Allyson was a troubled kitty when she was rescued by Purr Partners. We have cleared up her medical issues with simple antibiotics but the psychological scars may take longer to heal. She came to us frightened and confused about people. After weeks in foster care, she has slowly begun to trust her foster mom. She is living with other kitties and dogs and is getting along well with both. She is a little overweight, another sign of neglect from her previous life. Otherwise, she is a beautiful girl. Due to her tragic past, we will make sure that she has a safe home where she will never be mistreated again. She will likely need some time to adapt and some patience and understanding from her new owner. Understandably, she can be defensive, at first, but underneath she is a very sensitive girl who only wants to be loved. 
---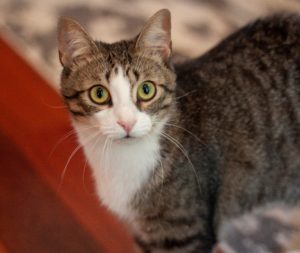 CHELSEA17
DSH, Grey/Brown Tabby, Female
DOB 3/8/17
Chelsea is a beautiful little girl with a pink nose and striking eyes.  She came to us when she was a few weeks old – all by herself, no littermates or Momma.  The first two weeks she was quarantined to make sure she was healthy so she only had humans for playmates.  While she likes other cats and gets along with them, she is more comfortable being close to humans.  She will take all the attention you can give her.  When she is in a loving mood she will climb on your lap, put her paws on your chest and touch your nose with hers!  Sometimes what happens to a kitten early in life determines their personality – and Chelsea will be cautious at first, but once she knows you and trusts you, she will be a little love bug and a loyal friend.
She is curious about the world around her and can spot a fly or ant from 10 feet away.  She loves to watch the birds and bugs outside a window and will make little-chirping noises when something comes close to the window.  Chelsea will play with any toy you give her, but she especially likes the beam from a laser.
Chelsea would do best with a couple or single person – where she can feel safe, can accept your love and give you all hers in return.
---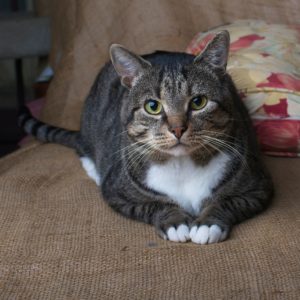 CHEVY
DSH, Mackerel Tabby, Male
DOB 4/26/15


 Urinary Food
My name's Chevy and just like my namesake, I'm fast and ruggedly handsome. I'm a sports model because I like to play; show me feathers, kicker, laser light, almost anything that moves and I'm ready for the game.  I like to find a soft lap or to snuggle up real close for some TV, especially sports or movies that have some animals in them. I'm a terrific companion kitty and am looking for a human that would enjoy my company. I have a cat tree beside the window at my foster home for cat TV and napping and do hope my forever home will have one too. I do my bit around the house, keeping up with whatever is going on and helping out by being entertaining. I'm looking for a forever home with adults or older children. I haven't had many kitty friends but with some very gradual introduction, I'm willing to give it a try. I think dogs are OK from a distance, but I haven't had much experience with them close up. If you are cat savvy and looking for a good-tempered companion, someone to hang out with you, I'm your boy.
Chevy is on Urinary Food to prevent urinary tract problems that are common in male cats. His toilet habits are excellent.  He has very short hair and almost no shedding, a definite advantage. Chevy is not fond of PetSmart and the foster to adopt program gives the opportunity to see his real personality. 
---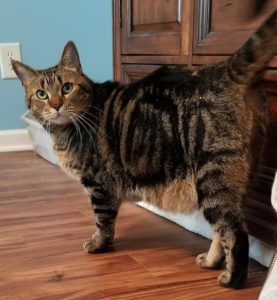 GALLAGHER
DSH, Brown Tabby, Male
DOB 6/2014
Gallagher was adopted from us as an 8-week-old kitten along with his sister.  Sadly, things in his home have changed, and he needs to find another family to call his own.  Gallagher is a super sweet and loving boy, but he is very stressed and knows something is going on, so he can't go to Petsmart without getting very upset, and when he is out of his home, he is initially frightened and doesn't want to be touched.  But that's not who he really is!  Gallagher is a laid-back, sweet boy who does wonderfully with children and even infants.  He allows his human sister to pull on him and fuss with him, and he is just fine.  When he's in his home and feels safe and loved, he is a wonderful cat that loves belly rubs and laying on laps.  He is good with other cats and, given time, he will fit in anywhere.  However, because things have changed so much for him (his sister was adopted, he's losing his home), and he is sensitive to the fact that something is going on in his life, he is having problems showing his loving and sweet side.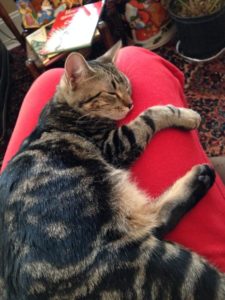 If you are looking for a wonderful, lap-loving, sweet cat that just needs time to adjust, and you are willing to allow him that time, then this boy just might be who you are looking for!  With his soft, velvety coat decorated with swirls and circles, he is gorgeous to look at, and since he's a cuddler at heart, we know someone out there is sure to be his new forever person.  If you can give him a chance, we are sure you won't regret it.  
Our Foster – to – Adopt program was made for cats like Gallagher who just need a bit of time to show who they are, and it was made for people who have big hearts and recognize that some cats just need more than a few days to let you know what hides beneath that fearful attitude!  
Please contact us about Gallagher.  His foster mom will be glad to let you visit him in his home and tell you all about him!
---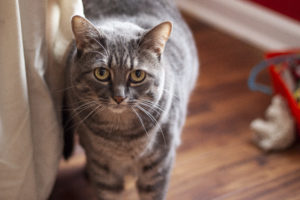 LUNA
DSH, Blue Tabby, Female
DOB 3/1/15
When Luna was rescued she settled in quickly. She enjoys playing chase with the other kitties, can type, send emails and do online shopping! She loves attention and will crawl in her foster mom's lap, gaze into her eyes and then wash her face. Luna is looking forever home full of love and cuddles, could it be yours? 
---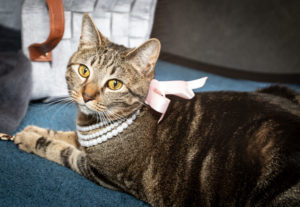 PENELOPE18
DSH, Brown Tabby, Female
DOB 6/1/17
I'm a loving kitty, who wants nothing more than to be carried about, cradled in your arms. The first thing you will notice about me is that I have a sweet disposition and inquisitive personality; closely followed by my stunning coat of swirls and stripes.  If I'm feeling curious, you'll get to see my adorable habit of sitting up like a squirrel as I check out what's going on.  I am a sociable little lady who thrives best in an easy-going home with other animal companions.   I also enjoy going out in my stroller for a walk around the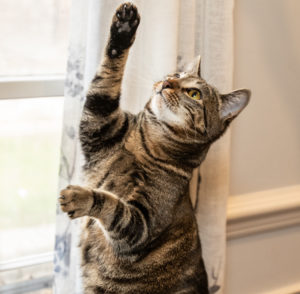 neighborhood.  I don't mind spending time with older children and a gentle cat-friendly dog might make a nice companion for me as well.  I would love to meet you, but please come see me in my foster home.  I am Foster to Adopt kitty because the cages and activity at PetSmart frighten me and give me such anxiety, I really can't be my awesome self, there.  But everyone who visits me at home says I'm the sweetest, coolest, most stylish cat they've ever met!  You never know, I just might be the love of your life!
---

Grain Free Diet & Daily Medication
Hi!  I'm Ragamuffin and I am a mature, distinctive tortie tabby lady. You may want to change my name because I went from Rags to Riches.  My foster rescued me from a feral colony where I had been looking for food. She knew I shouldn't be there because I needed medical help, so she called Purr Partners.  Now I'm healthy and I don't have to scavenge for food anymore! My road to recovery hasn't been easy, but I'm feeling much better and my beautiful tortoiseshell coat has grown back to its original beauty. I'm super sweet and I have lots of head bonks and nose boops to give! I'm also the BEST biscuit maker ever!
I'm happy here in my foster home and the other cat " housemates" but I'm ready to find my forever home to spend my golden years with someone to sit with and give me chin scratches and an occasional treat.  I'm low key, love sunbathing on the screen porch, but really want a warm lap to sit in. Even though I'm much healthier, I sometimes have some tummy trouble.
I'm a special lady with just a little bit of a challenge, but I know my person is out there! Are you my special person? I'd love to meet you. You can even foster me to see if we are compatible… I would love to meet you! 
---