Foster to Adopt
We have some terrific cats who have been overlooked.  When in a cage at our adoption events, they don't show all their wonderful qualities that we witness while in their foster homes.  Often the cats feel nervous or anxious or may struggle from cage stress stemming from their time in a shelter.  It is difficult for them to show how sweet and loving they are in that environment.  Because of this, we offer these beautiful cats through our Foster to Adopt program.
What do we mean by Foster to Adopt? After becoming a pre-approved adopter, you will take the kitty home for up to a month at no cost.  Purr Partners will provide the food, litter, and vet care.  During the month, you will see what we already know —  these are very special kitties that just need someone to take a chance on them!
At the end of the month, you will either complete the adoption for a reduced donation of only $50, or simply return the cat to us.
If this appeals to you, we encourage you to consider one of these very special kitties.  The beautiful babies below are patiently waiting for their special person to come along and love them forever.
If there is a kitty that speaks to your heart, please complete our adoption application HERE.
---
Chimichanga22
DSH, Russian Blue X, Female
DOB 6/8/2022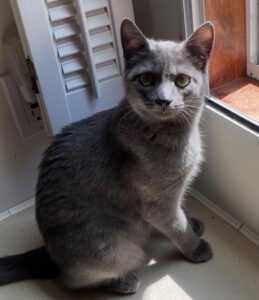 Chimichanga ("Chimi") almost lost her life in the shelter because no one knew what was wrong with her. She was doing lots of vomiting and just was not growing, but she loved life, and the shelter did not want to euthanize her, so they contacted us. When we got her, we took her in to our vet to see what was going on, and it was discovered that Chimi has megaesophagus. At the time, she had aspiration pneumonia which can be common with kitties with megaesophagus. However, since those first few weeks, we have gotten this sweet girl on a regimen that has made all the difference in the world for her, and for the past months, she has never developed pneumonia again.
Chimi is a sweetheart of a girl with lots of energy, loves toys and playing, and loves watching birds and squirrels! She gives kisses and face rubs, and along with the funny esophageal sounds, she has a big purr. She is agile and athletic like any kitten her age, and loves nothing better than attention – unless it's her food!
Megaesophagus is a congenital abnormality where the esophagus is greatly distended and pretty much flaccid. There are two types, and through a CAT scan, we found Chimi has the kind that cannot be fixed through surgery. That kind is called a vascular anomaly, and had she had that form, we would have had the surgery. Alas, she has the kind that cannot be surgically repaired.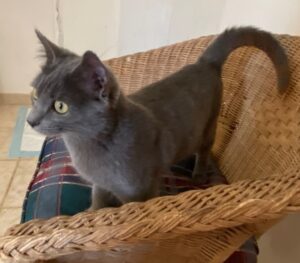 Chimichanga is a perfectly normal kitten in every way as long as she follows the regimen we have established for her. There are several MUSTS and several MUST NOTS.  Seriously, she is very easy to manage — especially if she is the only animal, or even if she is not and the humans are vigilant. The goal is to let gravity help the food move down the esophagus and into her stomach – and then it's all normal from there!
The NO-NO's are:
1. No dry food ever
2. No human food or treats
3. No overeating or gorging (even though she would love to!)
What must happen:
1. Her food is blended into a smoothie that is fed four times a day
2. She needs to eat with her head and neck elevated
3. She must be held upright for 10-15 minutes after each meal
4. Meds are given in her meals
Truly, Chimichanga is an easy management kitten — so if you think you can do it, we will help you!  She deserves a chance and a home like any other kitten, and she is such a sweetheart, we know someone will fall in love — because what's not to love?!
---
Panya23
DSH, Gray and White Tuxedo, Female
DOB 9/22/2022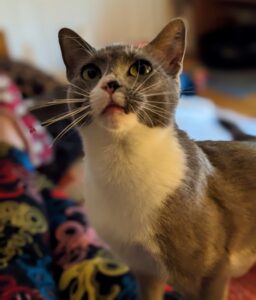 Panya is ready to find her forever home. This young lady is independent, self-sufficient, and ready for her own family.  When she was caught by Animal Control, she was found by herself.  In her foster home, she has been an only kitty.  If she will be joining other 4-legged siblings, proper introductions will need to be done. Since Panya has been taking care of herself for a while, if her forever family has other furry children, she would prefer to be the boss.
Panya really enjoys spending time with her humans. She is very content looking out the window and running through tunnels, so she doesn't need your constant attention, but she prefers that you are in the room while she looks out the window. When she wants love, she will come over to her human, asking for chin scratches.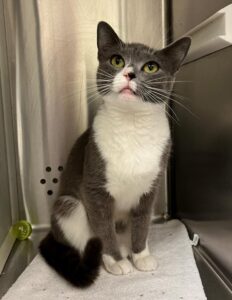 When she is done being petted, Panya will walk away. She still isn't too sure about laps or being held, but she will tolerate it for a little bit before heading out to do her own thing. Panya hasn't been around children, but due to her independent nature, she may not prefer young children.
Panya would love a forever family who is calm and patient, allowing her to continue to gain trust in her humans. If you have windows, tunnels, a teaser, and cat treats, you are ready to provide this beautiful girl her forever home.
---
Solace23
DLH, Tortie, Female
DOB 8/2/2021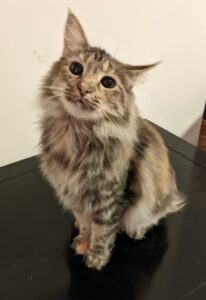 Solace came to Purr Partners after her owners dumped her outside to fend for herself. Unfortunately, life was not good to her outdoors but now she is safely back inside and she is looking for her forever home. Her pretty fluffy fur is getting back to the way it should be. She doesn't mind being brushed, but sometimes likes to play with the brush while you are trying to use it. Solace enjoys playing with wands and various other toys in her foster home. 🐾
Solace loves her foster mom and never wants her to stop giving her attention. Occasionally, if you stop giving her attention she may give you a "love nip" or if you are going to leave her, she will reach out to try to get you to stay. She likes to get comfortable on your lap, take a bath and then settle down to watch TV with you or take a nap while you read. She does gets jealous of other cats getting attention, so Solace should be an only cat. 😻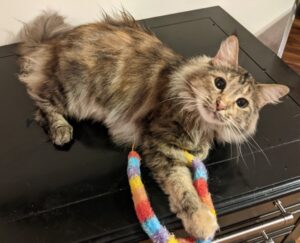 Solace is a Foster-to-Adopt kitty, which means you could foster her for a month, and decide if you can get along with her quirks. I'm betting before the month is over you will find that you cannot live without this great girl! 💖
---
Zoe19
DSH, Russian Blue X, Female
DOB 7/16/2016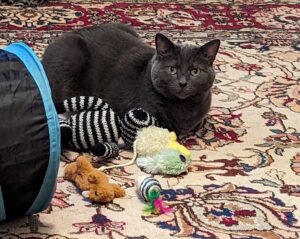 Meet Zoe!  Zoe is a fun lady who will keep you laughing with her antics but knows when to bow out and let you have some alone time. At seven years old, she has finished with the pesky into-everything kitten stage, knows the house rules, but still loves to play and be petted.
Zoe loves to chase wand toys around the house, up the stairs, up and over the sofa, from room to room. She will play until you tire out. Then she'll flop down and survey her domain. She enjoys chittering at the squirrels and birds outside. She'll hide in a box or behind the furniture as though she's a panther stalking her prey, then she'll dart out, fast as can be, zig, zag and catch the toy on the string!
She enjoys sitting with her humans, but not necessarily on or next to them. She likes her own space on the couch, within reach so you can occasionally pet her, but she won't be one to sit on top of you or let you hold her for more than a few seconds. She loves to be petted and will purr nonstop.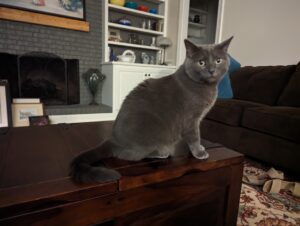 She's a great co-worker. If you work from home, she'll sit in the next cube over, and peacefully co-exist while you work, but if you haven't taken your 15 minute break or 30 minute lunch, she'll pop her head over the cube and remind you it's time to grab a coffee with her – and if the toy on a string comes out, all the better.
She's also a great sleeper. She sleeps perfectly at the end of the bed, out of the way of her humans, but still close enough. She even ensures all her stuffed animals are with her for the night and will run around the house and collect them, bring them to the bedroom, and tuck them in at the end of the bed. You can see her with all her babies in one of the pictures below. She also loves her toys and will need a good amount of stimulating toys and play.
Zoe has a lot of personality, a bit too much for other pets.  She would like to be your one and only.  Zoe is a great cat for a single person or couple with no children and no plans to have children. When she is unhappy with a situation, her first instinct is to let you know – sometimes with a swat if you didn't read her body language which is very telling.  Her nails don't come out on the first or usually even the second swat, but adults need to know to give her some space and walk away. Kids probably wouldn't understand her body signals. A firm 'no' and walking away from her does the trick. She sulks for a little while and then the clouds part and she's back to being sweet Zoe.