Foster to Adopt
We have some terrific cats who have been overlooked.  When in a cage at our adoption events they don't show all their wonderful qualities that we witness while they are in their foster homes.  Often the cats feel nervous or anxious or may struggle from cage stress stemming from their time in a shelter.  It is difficult for them to show how sweet and loving they are in that environment.  
Because of this, we offer these beautiful cats through our Foster to Adopt program.  What do we mean by Foster to Adopt? After becoming a pre-approved adopter you will take the kitty home for up to a month at no cost.  Purr Partners will provide the food, litter and vet care.  During the month, you will see what we already know —  these are very special kitties that just need someone to take a chance on them! 
At the end of the month, you will either complete the adoption for a reduced donation of only $50 or simply return the cat to us. 
If this appeals to you, we encourage you to consider one of these very special kitties.  The beautiful babies below are patiently waiting for their special person to come along and love them forever.
If there is a kitty that speaks to your heart please download the Foster to Adopt Agreement and email it to purrpartners@yahoo.com. 
---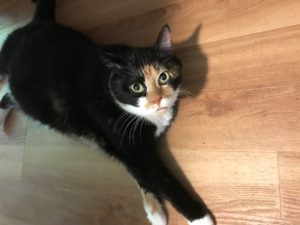 ALLYSON18
DSH, Calico, Female


 Special Diet
DOB 4/28/12
Allyson has lived a life in pain. She was surrendered to a high kill shelter because she was urinating outside of the litter box. It turns out that Allyson was suffering from a bladder and urinary infection that her owners declined to treat her for,  over a period of years. Allyson's entire life was turned upside down when she was abandoned by the only family she knew. Allyson was a troubled kitty when she was rescued by Purr Partners.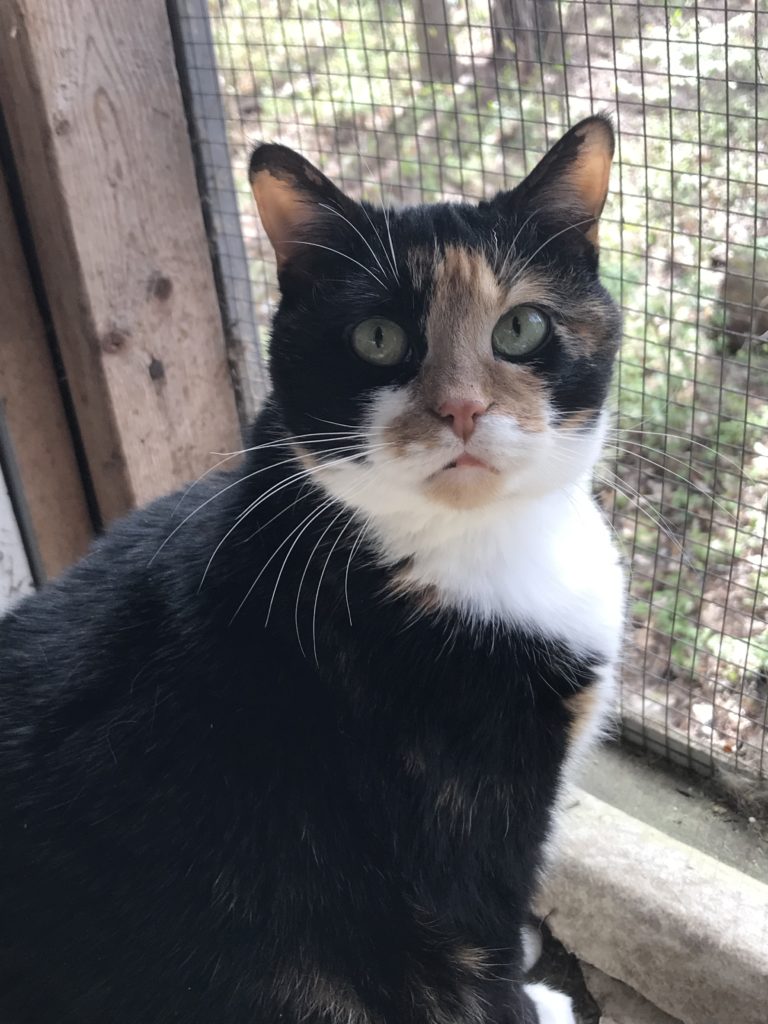 We have cleared up her medical issues with simple antibiotics but the psychological scars may take longer to heal. She came to us frightened and confused about people. After weeks in foster care, she has slowly begun to trust her foster mom. She is living with other kitties and dogs and is getting along well with both. She is a little overweight, another sign of neglect from her previous life. Otherwise, she is a beautiful girl. Due to her tragic past, we will make sure that she has a safe home where she will never be mistreated again. She will likely need some time to adapt and some patience and understanding from her new owner. Understandably, she can be defensive, at first, but underneath she is a very sensitive girl who only wants to be loved.
---
TAPIOCA18
DSH, White with Gray, Female


 Hyperesthesia, daily meds
DOB 10/1/2016
Tapioca is a gorgeous princess that loves to bask in the sun and is so full of personality and unique quirks. She has her own language of soft chirps and meows that leave you to know exactly what she is thinking. Her fur is soft and silky like a bunny. She loves to be around people and is often in the room even if you don't notice her immediately you may hear her soft cooing purr and turn to see her silly facial expressions or her silly sleeping positions like she likes to sleep on her back with one leg sticking up in the air and her paws covering her face. She is always entertaining herself whether it's trying to get the water feeder to bubble or whooshing a piece of food across the floor so she can chase it, wiggle her butt, pounce, then toss it again and start over until she has won her game and eats it. She loves her humans and sometimes at night cuddled in bed she will curl her paw around her foster mom's thumb to hold her tight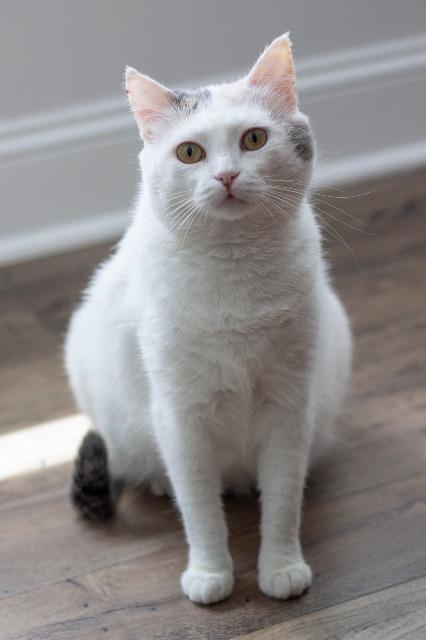 So why would such an awesome cat be offered in our foster to adopt program? Tapioca appears to sometimes hurt when you touch her anywhere on her body and untreated, she use to re-actively bite and it would take a while for her to calm down. It was confusing because other days she was absolutely loving and cuddle up with you for hours. She was given a diagnosis of hyperesthesia which means she is extra sensitive to stimuli of the senses which can be treated with medication. Tapioca likes heat, it helps soothe her and she likes a routine, calm home which helps with reducing the extra stimulus. Tapioca needs a home that will be patient as she adjusts to all the new stimuli of a new home and learns her language to read her. Once you hear her unique purr it is impossible not to fall in love.
---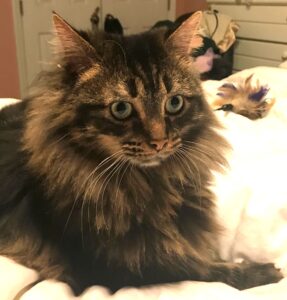 ISABELLA19 
DMH, Maine Coon X, Female
DOB: 7/15/2014
This stunning beauty was found in bad shape and was taken to a high kill shelter. When PURR PARTNERS rescued her, she was thin and had hair loss due to a flea allergy.
We traced her microchip to an owner, but they didn't want her. She was thrown away and left on the streets for an unknown period of time. In our care, she has blossomed into a healthy and beautiful cat. Their loss is our gain!
So, You might wonder why Isabella is on the foster to adopt list. Isabella does not like other cats, and that makes it more difficult to find her a good cat loving home. She can become overstimulated and temperamental, at times, but as long as she is not around other cats, she is more often happy and affectionate. She is curious and likes to play. She is good about being brushed.
The perfect home for Isabella is:
Indoors

Relatively quiet – not a lot of commotion or small children)

No other cats (she is not a big fan of dogs either)

Experience with cat behavior or willing to learn.
Isabella looks like a regal princess, we know someone wants her, is it you?