Foster to Adopt
We have some terrific cats who have been overlooked.  When in a cage at our adoption events they don't show all their wonderful qualities that we witness while in their foster homes.  Often the cats feel nervous or anxious or may struggle from cage stress stemming from their time in a shelter.  It is difficult for them to show how sweet and loving they are in that environment.  
Because of this, we offer these beautiful cats through our Foster to Adopt program.  What do we mean by Foster to Adopt? After becoming a pre-approved adopter you will take the kitty home for up to a month at no cost.  Purr Partners will provide the food, litter and vet care.  During the month you will see what we already know —  these are very special kitties that just need someone to take a chance on them! 
At the end of the month, you will either complete the adoption for a reduced donation of only $50 or simply return the cat to us. 
If this appeals to you, we encourage you to consider one of these very special kitties.  The beautiful babies below are patiently waiting for their special person to come along and love them forever.
If there is a kitty that speaks to your heart please download the Foster to Adopt Agreement and email it to purrpartners@yahoo.com.
---
ALLYSON18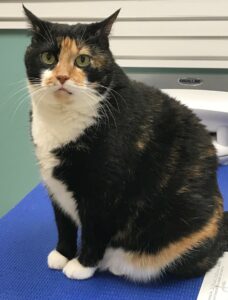 DSH, Calico, Female
DOB 4/28/2012
Allyson is a very special kitty girl. 💕 This comical beauty was turned into the shelter because of a painful medical problem that went untreated.
Allyson was rejected by her previous family of 6 years and surrendered to a high kill shelter because she was having urinary issues. Allyson had terrible infections in her bladder and urinary tract.
Allyson has been treated at the veterinary school to control her urinary condition. She requires a life long prescription diet because her body creates bladder stones. There is a medication that helps, some, and she will likely always have problems with urinary incontinence or "leaking." Her foster home uses human or puppy pads to deal with this. Allyson uses the litter box fine but sometimes she has some urine leakage that is unintentional, especially when she sleeps. Her delightful personality makes up for all this!
❤️❤️ On to the good stuff about Allyson! ❤️❤️ We think she is adorable. She is a pretty, unique looking calico with an enormous personality. She is comical, making her foster family laugh almost every day.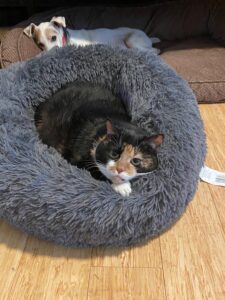 Allyson is afraid of no one; even big and little dogs are no challenge for her. In fact, they are afraid to mess with her!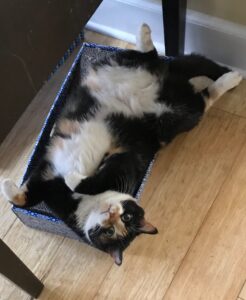 She marches to the beat of her own drummer and is loving and affectionate once you have won her over. She has big green eyes and a slightly pushed in face. She definitely has a lot of sass which is part of what makes her so endearing. Allyson is truly one of a kind!
Allyson is one of Purr Partners' special kitties that are in our Foster to Adopt program where the potential adopter and cat are given a month trial period before adopting.  If you are interested in our foster to adopt program please complete an application. Allyson would love to meet you! 😽
---
LICORICE18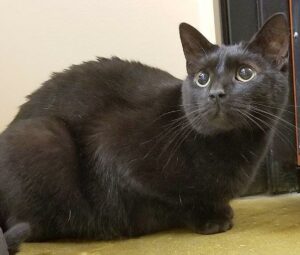 DSH, Black, Female
DOB 6/1/2014
Licorice is a beautiful, sleek kitty girl. She has been with Purr Partners and in her foster home for a good while. Although she loves her foster mom and gets along her kitty friends in her foster home it would be wonderful for her to find her forever home where she would be the special kitty.
Licorice is a sweet kitty in her foster home but tends to be the alpha cat. She would do well as an only cat where she receives all the attention. Licorice has not shown well at PetSmart where she is very scared so she has not had the opportunity to meet lots of potential adopters.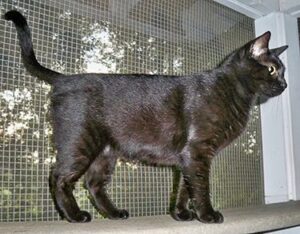 She needs to be adopted by someone who has experience with cats, with patience to let Licorice get used to her new home and human.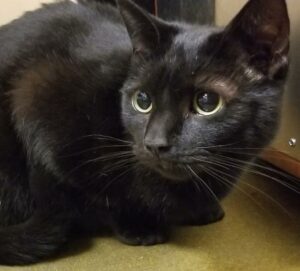 Licorice is now part of our Foster to Adopt program. Adopters and cats are given a trial of up to one month, allowing the cat enough time to become comfortable in their new home, and for the adopter to see what a delightful kitty they really are. 
---
SANGRIA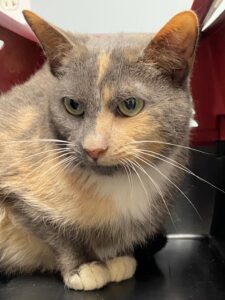 DSH, Dilute Calico, Female
DOB 3/20/2014
Hospice foster or foster to adopt – a special person is needed:
Sangria has spent her entire life in foster care. Her mother was rescued in 2014 and soon gave birth to 5 kittens, including Sangria. Sangria was the shyest of the kittens. Soon her siblings were adopted but not Sangria. She was rejected by her first foster home and went to live in her current foster home in July 2015.
Unfortunately for Sangria she remained shy and started having health problems. One day her foster mom found her on the ground, cold and not moving. She rushed Sangria to the vet where she was just barely saved. Over the years Sangria has had multiple health problems that have stumped the doctors. She had problems with her mouth and lost weight, but after having a dental with a full mouth extraction, that improved greatly. No one has been able to diagnose her problems. We suspect she may have an autoimmune disorder. Her issues include infections of unknown origins, blood work that is perfect one time then the next has a variety of values that are problematic.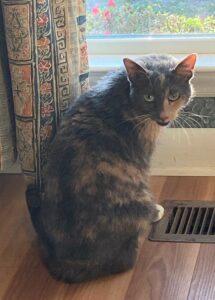 All along we had hoped to get her in good health before placing her for adoption. Now, we realize she may always have health issues – some very minor. We would like to find her a hospice foster because we do not realistically know how much time she has.
 Sangria remains shy and we think a lot of that has to do with the fact that she has not felt well for almost her entire life. We are looking for a compassionate, patient and experienced cat person that is willing to give Sangria a safe, comfortable, loving, and peaceful place to live out her days.
Sangria has always lived with other cats and likes them, so that would not be a problem if there were friendly cats in the home. What she has is not contagious but peculiar to her. Purr Partners will take care of her supplies and vet care for as long as she is in foster care. The foster must be willing to transport Sangria to the vet as needed. Sangria will periodically need medications and care. Of course, if you fall in love with her you can opt to adopt her too! She is a pretty, petite dilute tortoise shell cat with striking green eyes. She is passive and sweet and we believe she deserves a place where she gets the love and attention that will make her life better.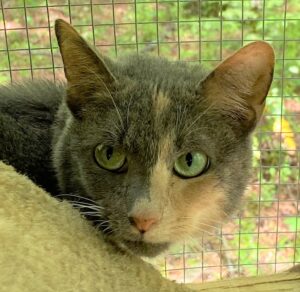 We hope there is someone out there with a big heart who is willing to help a very unlucky kitty have a loving home – for no matter how long it might be. If you are that person, contact us. We firmly believe someone reading this will be the angel Sangria is hoping for.
---