Madison's Memorial Page
To Honor the Memory of Those That Shared  and Enriched Our Lives
Learn the Story of the Rainbow Bridge, click on this link.
To add a Memorial, please go to our Donation page.
---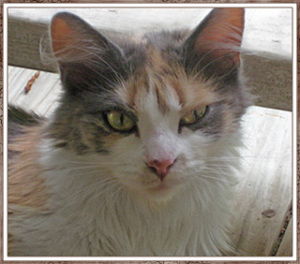 Madison and five siblings were born to Macie, a partially feral mother when Purr Partners first began. At two months, we were told Madison had a level six heart murmur and wouldn't live to be a year old. As her brothers and sisters found new homes, Madison stayed with us, and eventually, she went home with one of the founders of Purr Partner to live out her life in a real home as someone's special cat. Madison was your typical calico: demanding, opinionated, fussy, funny, loving and jealous. She never grew because her heart couldn't support it, but for two and a half years, Madison was much loved and treasured. With monthly visits to the NCSU Veterinary School to drain fluid from her lungs, she lived much longer than it was first believed she could. But slowly her heart gave out, and the day came when the decision was made to ease her suffering and let her go. Madison epitomizes our commitment to our cats and kittens – we love each of them with all the love we have to give, and every decision we make is made as if for our own cats.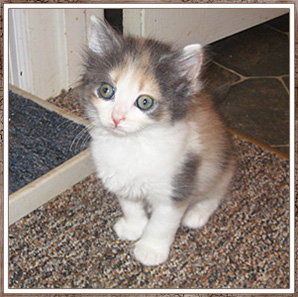 These pages are a way for people to honor their cats or kittens that have moved on to cross the Rainbow Bridge. Every face you see here will always be remembered and cherished as someone's very special angel.
By supporting these memorial pages, you help the hundreds of cats and kittens waiting hopefully for rescue in local high kill shelters. Your donation honors that special cat or kitten that stole your heart, but it also helps other cats and kittens find their way into someone else's heart.
Thank you for helping us to save more cats and kittens. As you look through these pages and read the words, you will once again be reminded of the tremendous bond that exists between humans and animals.
We believe in what we do. We believe in the power of a few people to change the lives of many. We believe that there will come a day when every animal is wanted and has a loving home.
We dedicate these pages to all those that never had the chance to have that loving home, that kind hand, and that soft voice. We may never have known them, but we honor them – and we honor you for helping us make a difference!
---
Nancy Raley d. July 16, 2022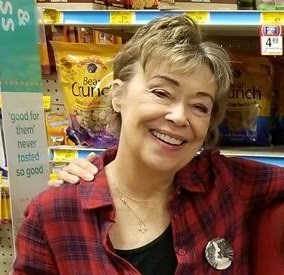 In memory of a wonderful lady, Nancy Raley, who gave her heart to Purr Partners kittens and her friendship to Purr Partners volunteers.  She always had a smile on her face and an ear to listen.  She will be sorely missed and always loved.
---
Basho 1996 – 2014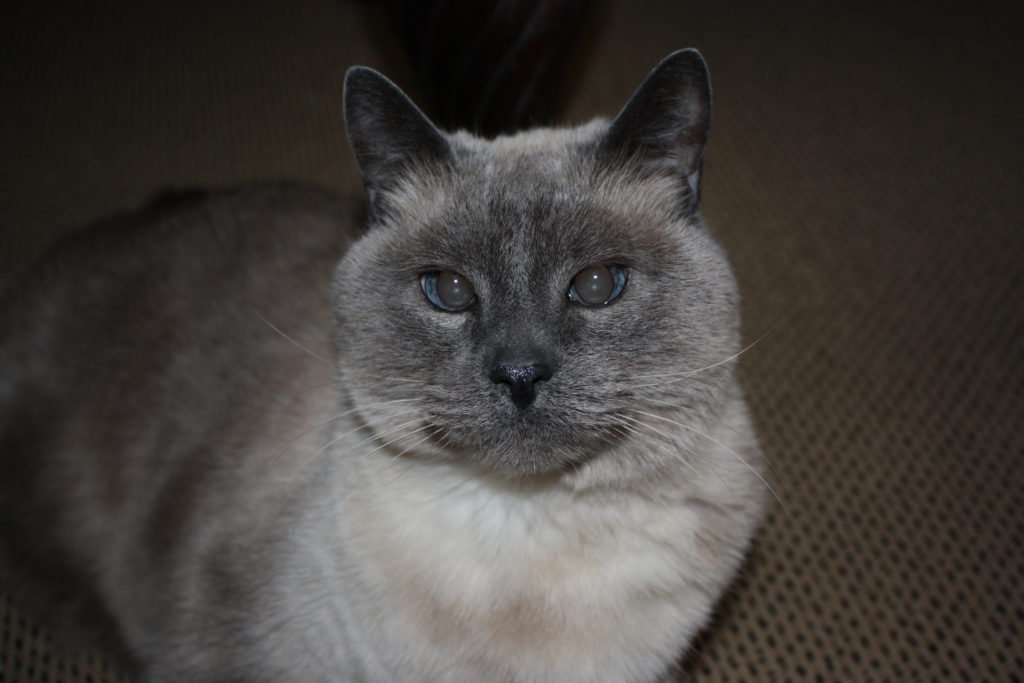 I found Basho at the Orange County animal shelter when he was about a year old. It was love at first sight. I was just out of school and starting life as an "adult" and this bob-tail, part Siamese, kitty became my friend and constant companion. For several years it was just him and me, then I met my husband and he got a second adoring owner and a sister kitty. We used to swear he was part canine because he would follow me around from room to room. He would greet us at the door when we got home from work and cry and howl when we left for work in the morning – which broke my heart a little every day. He was the very definition of a lap cat. If I sat down he was in my lap and was often very annoyed when I didn't sit down soon enough. Basho was the best nap partner: sometimes he'd share my pillow and even reach out to rest a paw to my cheek. With my husband, Basho would borough under the covers and curl up in the crook of his legs. Just before Basho would fall asleep he'd give a little content sigh that always made me feel like he knew he was safe and loved. That sigh was one of my favorite sounds in the whole world. We miss our fuzzy Basho every day.
---
Onyx March 2004 – October 2013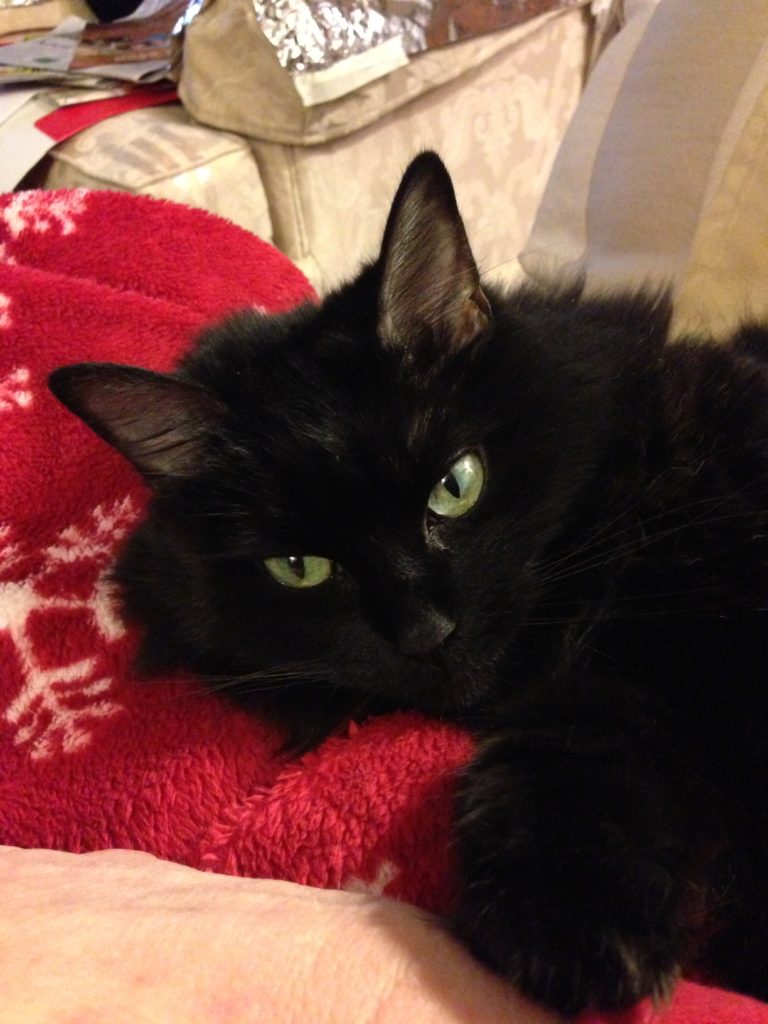 A beautiful, sweet girl, always full of joy and fun. She loved to chase the laser, and race her brother through the house. She was sleek and fast! We miss you, and we'll see you again on the other side.  ~ Kim Sterling
---
Kelsey  d. March 30, 2012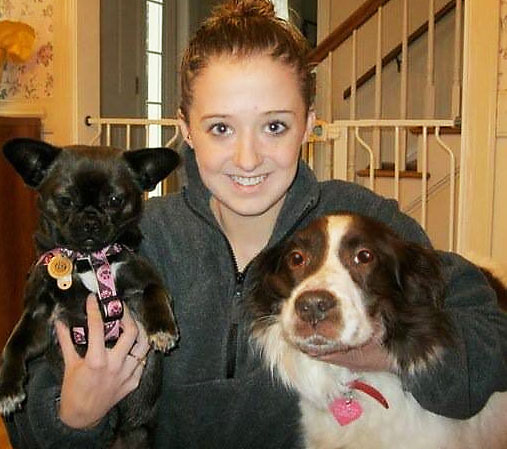 Kelsey Savage was a very special young lady who lost her courageous fight against the effects of Cystic Fibrosis on March 30th, 2012. She had a strong and enduring love for animals, contributed her time and efforts to help support those in need, and provided a loving home for her own two rescued cats and dog.
---
Dillinger (Dilly) 2003 – 2010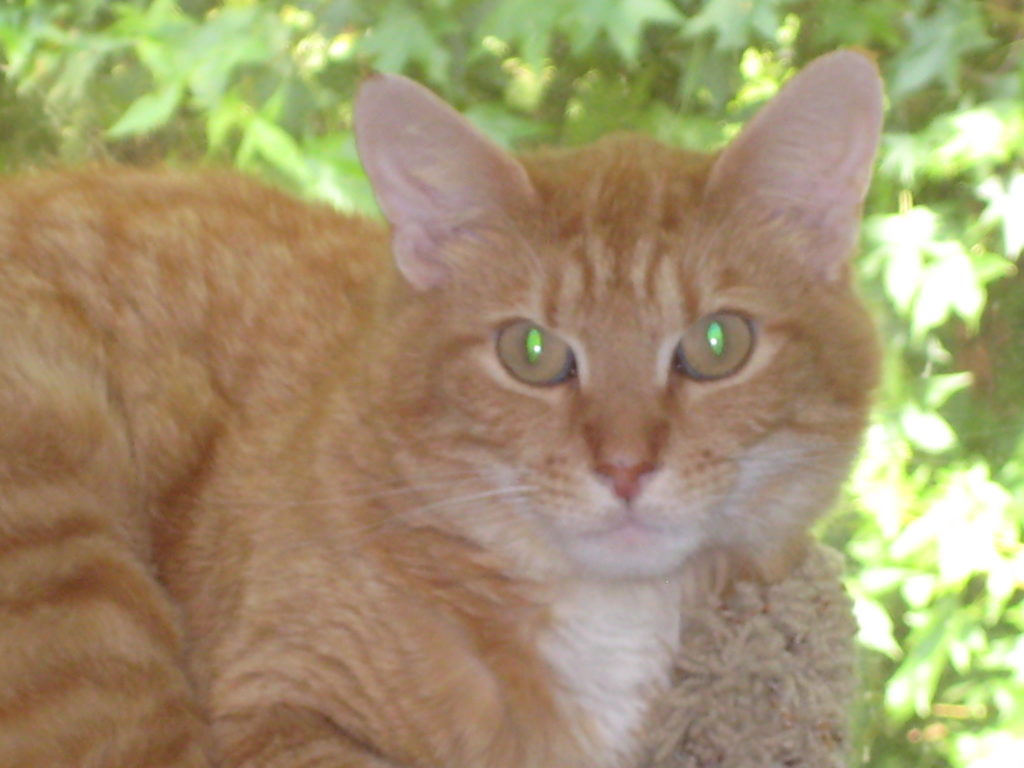 Dilly was found in the landfill enclosed in a box with his 4 siblings. Mom wouldn't allow anyone to catch her but kept leading people to the box. Once her babies were safe, she came easily and purred when picked up. Dilly came into my life first as a week old kitten, then back to me again later as a six-month-old when his adopter did not care for him. Dilly truly used up many of his nine lives, and while he brought joy, laughter, and amazement into my life, he truly was "the criminal cat." He was a collector of all things, and whenever anything was missing, the key was to find Dilly's "stash:" jewelry, pencils, socks, paper, toys: you never knew what you might see Dilly dragging down the hall. Once, even my camera in its case with him dragging it by the handle. Dilly was truly the cat you loved beyond measure and wanted to kill half the time. He would sleep on the headboard of the bed and invariably in the nightfall off on my head. Maybe one of the people who knew him put it best: "he lived his life with style!" Dilly was only seven years old when he went into kidney failure from an old problem. Letting him go broke my heart, and there is never a day that I don't miss him and want to see that devilish boy up to his old tricks. He knew how to open doors, so keeping him safe was a constant battle. He certainly had the key to my heart, but I would not have had it any other way. My Silly Dilly. I love you and miss you. You left way too soon.
---
Yogi/Kassie  April 18, 2016 – August 20, 2016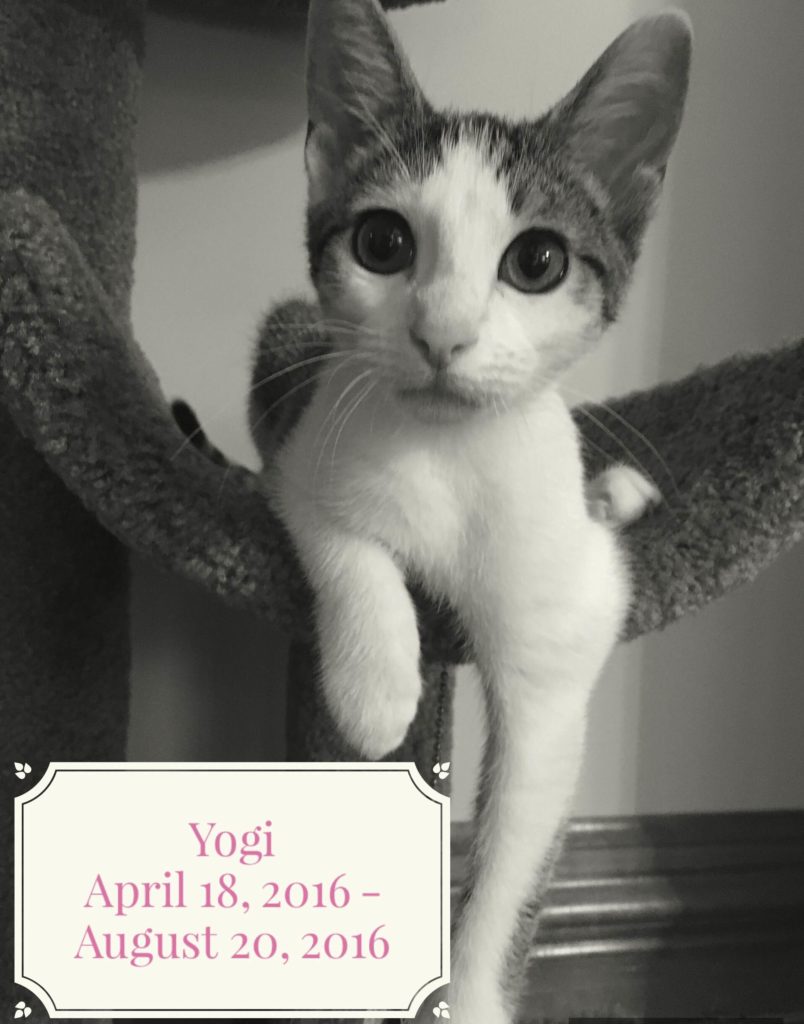 Yogi and his brother Yuli (now Chaps) were saved by Purr Partners from the Nash county shelter. He was placed in foster care with his brother and 9 other foster playmates. He was a darling little boy who played with everyone and loved to snuggle up with his brother and friends. He would play non-stop with Olympia they would run around and around the kitten room. Once he tired himself out though he loved to sleep with his foster mom. Yogi had a crush on his playmate Karisma, but Ophelia had a crush on him. He would lick Karisma's ears and in turn, Ophelia would lick his. He was a happy friendly little boy.
Yogi was adopted by the same couple who adopted his brother a month earlier. They really wanted the siblings to remain together. Unfortunately, less than a week after being adopted, Yogi (renamed Kassie) was stricken with FIP a terrible and unpredictable illness that is always fatal. In his little life, Yogi knew the best and worst of humanity – he was left at a shelter without much hope of getting out alive. But, against the odds, he was saved by a rescue, fostered, and adopted. He knew friendship, love, and the comfort of a home. He was loved by the Purr Partners family, his foster family, and his adoptive family. Until we meet again, rest dear baby.
---
Jessihope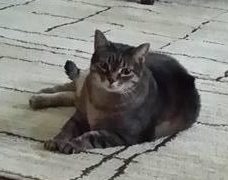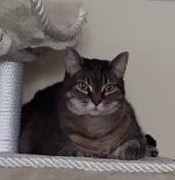 Jessihope (AKA "Kibby") came into our lives when she was four years old.  We will always and forever be grateful to Lawanna for entrusting us to adopt this sweet, gently shy, girl.  Jessi (Kibby) brought so much joy to our lives.  She was very shy and timid, but in time, she blossomed into the most loving kitty, with the most beautiful big green eyes, which she looked at me with complete love and trust. I'll never forget that look. We are broken hearted that she has been taken from us far too soon due to kidney failure. Thank you, Lawanna and Purr Partners, for giving us such a sweet little girl, who we cherished every day she was in our lives.  If there is a "Kitty Heaven", she is surely there.
In memory of Jessihope (Kibby) Jessi was much loved.                 ~ Christina Gunn