Adopt
Congratulations on making the decision to improve your life,  make the twenty-year commitment and adopt a new feline friend!  Did you know that cats lower stress and improve your physical health?  Believe it or not, cats can be good for your health! Some research indicates that owning a cat can even lower your risk of heart disease, your risk of stroke, and decrease the number of times that you have to visit a doctor.  
To dog people, taking on a cat seems like no big deal – no house training, numerous daily walks, or obedience classes. But if you are a novice at animal care-taking, the hair on the furniture, paw prints on countertops and kitty games at 3 A.M. — not to mention litter box training and daily maintenance — can take some getting used to. It's important to plan time for grooming, feeding, and interactive play, and if you are considering adopting a kitten, factor in plenty of time for socialization and supervision to ensure that the result will be a well-adjusted adult cat. 
What You Should Know About Adopting from Purr Partners
Adoption is a lifetime commitment. Be sure you can make that commitment. It is very traumatic for a cat to lose its home and come back to foster care. Don't just think about now; think about the future.

All our cats and kittens are pulled from rural high – kill shelters. We thoroughly vet every cat and kitten, but we can make no guarantees about the long term health of any of our rescues. Please be sure you can commit to financially caring for your new family member.

All of our cats and kittens are fully vetted, tested for feline leukemia and FIV, wormed, treated for fleas, vaccinated, spayed or neutered, and microchipped. Each one is seen at least two times by two different vets, and we take the recommendations of our vets for any treatment.

We do not believe that FIV positive cats have to be isolated from others. Based on all the latest research, there is no danger of transmission of this disease to other cats, and they will live an average lifespan.

We request that all potential adopters read our Adoption Policies & Guidelines before completing the application.  The application is not a commitment but allows us to start the process and communicate with you. We require at least two business days to process the application and contact you.

We choose the best home for each cat or kitten. We base this on what we know about our foster kitties, and we look at each potential adopter's situation. We try to make sure that our rescues will receive all the love and care they need and want throughout their lifetime, and we want their adoptive family to feel that their new family member is a perfect fit.

We strongly believe that having consistent veterinarian care is very important. The best chance for a cat or kitten to remain healthy is to have that annual vet visit. Having a relationship with a vet is one of the main things that we look for when deciding placement. Even totally indoor cats should get a yearly exam to identify and prevent any issues.

We are an all-volunteer group. Since most of us have full-time jobs, please be patient.  Once you apply, please check your email daily. 

We commit to every cat or kitten that we pull from the shelters, and your adoption fee helps us to provide that care. As a 100% volunteer group, every penny goes directly back to our rescues.  Our vet bills range between $50,000 to $80,000 a year. Purr Partners is self-funded through adoption fees, donations, and fundraising events and has an annual budget of approximately $175,000.

It costs us anywhere between $125 to $175 to get a cat or kitten ready for adoption; if they get sick, it takes even more! 
Adoption Fees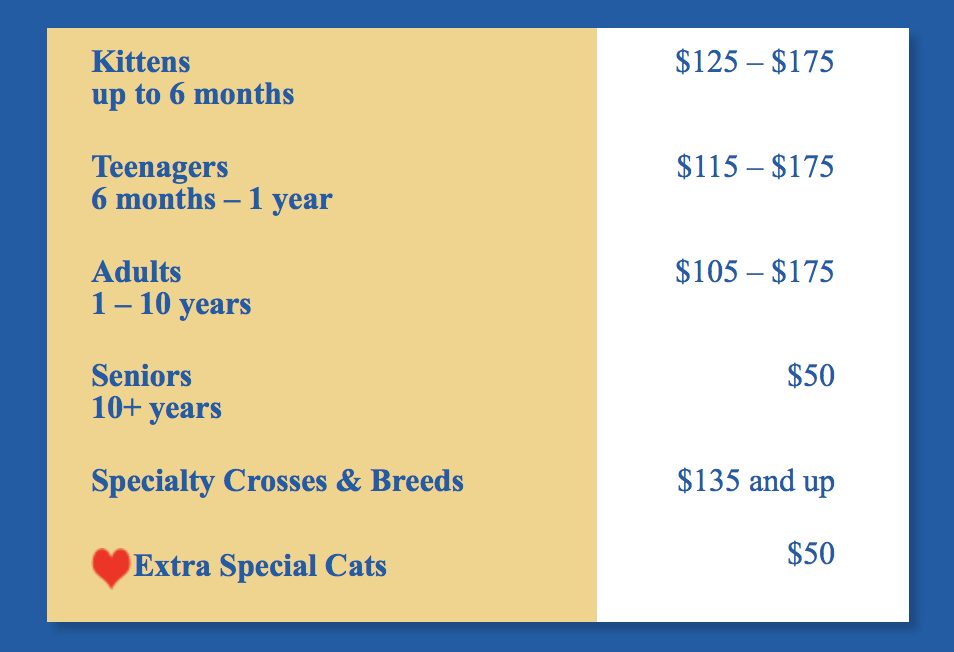 ❤Extra Special Cats:  Cats with chronic medical conditions requiring prescription medications, prescription food, ongoing medical care, and monitoring, etc.
😻$20 Discount when adopting two or more.
Our adoption fees do not begin to cover the cost of everything that we do to get a cat or kitten ready to be adopted. Were you to do the same amount of vet care that we do, it would easily cost you 3 – 4 times and often much more, adoption fees are a bargain!
All of our adoptable cats and kittens are fulling vetted and tested for Feline Leukemia Virus (FeLV) and Feline Immunodeficiency Virus (FIV), dewormed, treated for fleas, UTD on vaccines, spayed or neutered, and microchipped. Our volunteers work diligently to find these unwanted animals, permanent loving forever homes.
As a foster-based rescue, our cats live in a house with a family and not in a cage. Our cats and kittens are incredibly well-socialized as a result. We know their personalities and their likes and dislikes. Are they gentle? Would it be the right choice for families with young children? Do they get along with other cats, or would they be better as your one and only? Are they a bonafide lap-cat? What about dogs? Our adoption counselors will help you make the best choice to meet your objectives in choosing your next pet.
Being foster-based also means that we don't have a public facility or where you can stop by and visit. To meet our cats and kittens, you must become a pre-approved adopter to schedule a private meet and greet session or attend one of our weekend adoption events at PetSmart. We are proud to be a PetSmart Charities Adoption Partner and manage the PetSmart Adoption Centers in Wake Forest at 11835 Retail Drive and in Raleigh at Six Forks Station, 8825 Six Forks Road, and half-time at Capital Crossings, 2800 East Millbrook Road. Adoption events are held every weekend from 11:30 am – 3 pm.
We require an approved adoption application for every adoption, click here to complete the form and allow two business days for processing. One of our adoption counselors will contact you, and you'll be on your way to meeting your new BFF!