Adoptable Cats & Kittens
Follow us on Facebook, Instagram, or Twitter and see the featured cats for weekend adoptathons.

---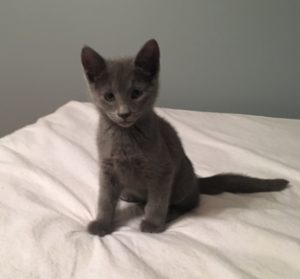 ABNER18
Russian Blue Mix, Male
DOB 12/21/18
I am a handsome guy and have a great personality to match, fun-loving and inquisitive.  I get along well with all 5 of my siblings in my foster house, but I have to purr extra loud to make sure I get all the attention!  I like to chat with whoever will listen, and I am not sure they understand me, but every night I get a nice plate of kibble so I must be saying something right!  When it is time to settle down at night, I am happy to have someone to snuggle with, maybe that will be you!
---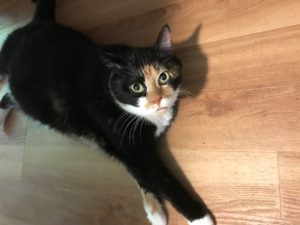 ALLYSON18
DSH, Calico, Female
DOB 4/28/12


Special Diet
Foster to Adopt Eligible
Allyson has lived a life in pain. She was surrendered to a high kill shelter because she was urinating outside of the litter box. It turns out that Allyson was suffering from a bladder and urinary infection that her owners declined to treat her for,  over a period of years. Allyson's entire life was turned upside down when she was abandoned by the only family she knew. Allyson was a troubled kitty when she was rescued by Purr Partners. We have cleared up her medical issues with simple antibiotics, but the psychological scars may take longer to heal. She came to us frightened and confused about people. After weeks in foster care, she has slowly begun to trust her foster mom. She is living with other kitties and dogs and is getting along well with both. She is a little overweight, another sign of neglect from her previous life. Otherwise, she is a beautiful girl. Due to her tragic past, we will make sure that she has a safe home where she will never be mistreated again. She will likely need some time to adapt and some patience and understanding from her new owner. Understandably, she can be defensive, at first, but underneath she is a very sensitive girl who only wants to be loved.  Click here for more information on our Foster to Adopt program.
---
DOB 9/22/18
Antares came to us from a high kill shelter.  He was so scared that he hid behind the toilet and would not let anyone touch or hold.  He has come out of his shell with the help of his foster buddies, plays with his best friend, Pounce and allows his foster mom to pet.  He is still cautious but does not run and hide when humans are around.  He is a beautiful boy with soft cream colored fur.  He needs a friend to help him feel safe and would be so happy to have Pounce in his forever home with him.  Anteres will be a loyal fur friend to someone with some patience to win his trust.
---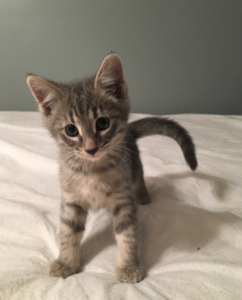 ARLIE18
DSH, Silver Tabby, Male
DOB 12/21/18
I am a fun, sweet, adventurous kitty who loves attention.  I am an active boy who gets along well with other cats, especially my other siblings.  Although I like to play with them, I find enough to do to keep myself entertained.  I enjoy chasing balls around and climb up my cat tree to watch the birds outside.   Although I play hard, I like to cuddle and even purr when no one is around to hear me!  I am a sweet boy who would thrive in a busy environment with kids and other cats.
---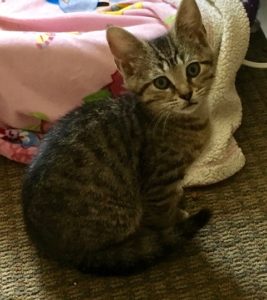 AUGIE18
DSH, Tabby, Male
DOB   4/9/18
Augie is a sweetheart!  He came into a high kill shelter with a broken back leg, but one of the wonderful vets we work with felt that because he was so young it would heal on its own.  Kitten's bones repair themselves very often, and Augie was one of the lucky ones.  He runs around with the other kittens in his foster home and wrestles and plays, and you'd never know there had ever been something wrong with his leg.  Augie has joined a litter that he was not born into, but he loves his siblings and will curl up with them and sleep after a play session.  He loves feather toys and climbing up and down on the cat trees in his foster home, and he will cuddle up when he's picked up.  His foster mom just adores him, and he will make a terrific addition to any home.

---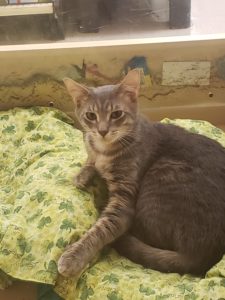 BANDANA19
DSH, Silver Tabby, Male
DOB 3/2/18
Bandana is such a sweet boy. He is calm and relaxed, but grab his favorite toy (hopefully with a feather) and watch Bandana come alive! Love me and I will love you right back. Bandana's purrs will put you to sleep as you snuggle. Do you have other pets? Because I am very laid back and will be just fine with other dogs or cats. Little humans? Yes, I am so patient, but will wiggle away when I am ready. Make Bandana a happy boy and take him home!
---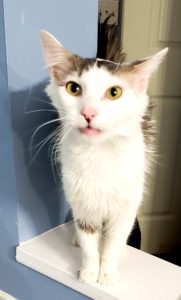 BISCOTTI19
DMH, White w/Tabby, Male
DOB 3/2/18
Biscotti is a lovebug with a fun and flirty personality. Biscotti will love you and everyone in your family. Dogs, cats and little humans too! A little curious about dogs and very patient with kids. When you talk to Biscotti he will tell you all about his day and hopes you will just as excited to him too. Biscotti tells me sometimes you may find him hidden under a chair or relaxing on the bed, but will play when you are ready! However, when you want to relax he will cuddle up right by you. What are you waiting for? Take this super sweet boy home and make him a part of your family.
---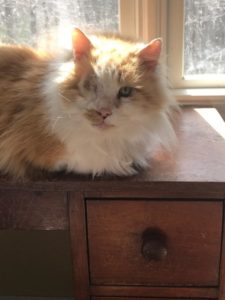 BRAVEHEART19
DLH, Orange & White, Male

DOB  2/1/18

Braveheart is a super sweet and loving boy who will follow you around and lay at your feet.  He wants to be with you, wants to be near you, and he purrs to tell you how happy he is!  He loves being brushed and just wiggles with pleasure!  Whatever you are doing, he wants to help – or at least be a part of it.  He's inquisitive and interested in everything going on, and he will be at your side whatever you are doing.   This boy is very gentle – never uses his claws – and he is super huggable and soft! 
Braveheart is a confident cat that gets along with other cats – the most he ever does is hiss at them, but there's no follow through.  He would be good with children because he's so gentle and kind.

Braveheart lost his eye and many teeth due to trauma.  The vet was not sure whether he was kicked, maybe hit with a stick, hit by a car, tossed from a car – there is no way to know – but his eye loss and the loss of his teeth have not bothered him at all.  He is still his happy and loving self who just wants a home where he is loved and safe and someone will care for him for his whole life!  After such a rough time in his life, he deserves that much!

He is FIV+, but that should not affect any decision to adopt him since it is not contagious to other cats through mutual grooming, sharing food and water bowls, sharing litter boxes, or even playing or roughhousing.  It is only spread through deep puncture wounds of the kind you see between unneutered males that fight. FIV+ cats live a normal lifespan, so the virus is a nonissue. Read more about cats with FIV on PetMD. 
---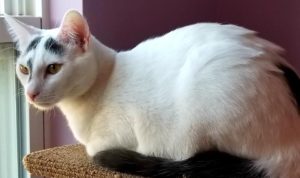 CADET18
Turkish Van Mix, White with Black, Male
DOB 9/1/17
Rescued from a shelter with only hours to live Cadet is otherwise called Mr. Wonderful by his foster mom.  This big boy is a handsome, confident, loving kitty; definitely a people cat, enjoying lots of attention and companionship.  His fur is soft and plush, the type of fur you just love to touch.  If you enjoy a good game of chase Cadet is your kitty displaying his playful speed, agility, and jumping ability in going after a toy on a string.  Cadet loves high places and hopes that a tall cat tree or two will be near a window in his forever home.  With a proper introduction he gets along with the other kitties in his foster home, and he has lived with small dogs in his previous home.  If you are looking for a loving and playful addition to your family, Cadet is ready to join you.
---
CASSANDRA18
DLH, Main Coon/Tabby, Female
DOB 4/20/13
Hi Y'all!  My foster mom made me take a picture and get on here, and yep, we're both a little upset about it.  I finally feel like someone loves me and cares about me, but she tells me there is an even more perfect home out there for me than with her.  I don't know if I believe it, but we'll see if that super special person comes along.  First, I'm not a candidate for a home with lots of activity, kids, and dogs.  I came from outside where I spent the majority of my life struggling to live, and on top of that, I had babies and was sick for all my life.  Why?  Because I had a polyp growing into my nasal area and throat, and I couldn't get well.  My foster mom said I was the sickest kitty she had seen, but the vet removed the polyp – and WOW!  I've not been sick since!  It's been heaven on earth for me!  My coat grew out (mom says I'm fuzzy, not fluffy), my eyes brightened, and my energy level shot up!  Life is tremendous now, and just so you know – I am perfectly fine with all other cats.  Can a cat be a cat whisperer?  I might be one!  Now, I hated to be held and petted at first, but foster mom has taught me just how wonderful all those scratches and that rubbing feel, so I'm really digging it now.  Nope, not a lap cat.  I'm a CAT – everything is on MY TERMS!  If you're looking for that cat that follows you around and gives you that dopey look of love – not me!  But foster mom has me figured out.  I LOVE to be in the room with her, I love for her to snatch me up, give me kisses and scratches, but then I'm down and running with my gorgeous tail thrown up over my back!  Foster mom says I'm super gentle, but I want to be FIERCE!  (Ok, I'm not – I don't use my claws at all and would never bite).  My perfect home includes a person who has a window for me to look out (screened porch a bonus!), another kitty for company (I do like to play), a cat savvy person who can keep me safe and care for me for the rest of my life – I've done the scary outside "be free" thing, and it's not for me!  Lots of love, patience, calmness, toys, boxes (love boxes!), and a promise you'll be there for my whole life!
---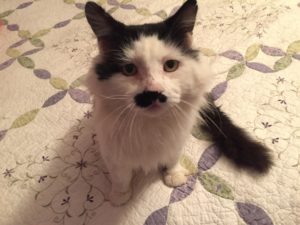 CHAPLIN18
DMH, White & Black, Male
DOB 12/15/15
Chaplin is a quiet but loving boy who will sit with you forever if you are either petting or brushing him.  When his foster mom is not home, he is content to watch out the window waiting for her return or hoping to catch a glimpse of a bird landing on the window ledge.  He is fine with the other cats in his foster home but would really like to have a place he can call home with his own family.  If you are looking for a handsome boy that would appreciate you then you, have found your boy.
---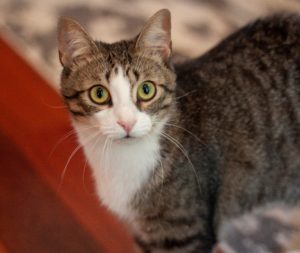 CHELSEA17
DSH, Gray & Brown Tabby, Female
DOB 3/8/17
Foster to Adopt Eligible
Chelsea is a beautiful little girl with a pink nose and striking eyes.  She came to us when she was a few weeks old – all by herself, no littermates or Momma.  The first two weeks she was quarantined to make sure she was healthy, so she only had humans for playmates.  While she likes other cats and gets along with them, she is more comfortable being close to humans.
She will take all the attention you can give her.  When she is in a loving mood, she will climb on your lap, put her paws on your chest and touch your nose with hers!  Sometimes what happens to a kitten early in life determines their personality – and Chelsea will be cautious at first, but once she knows you and trusts you, she will be a little love bug and a loyal friend.
She is curious about the world around her and can spot a fly or ant from 10 feet away.  She loves to watch the birds and bugs outside a window and will make little-chirping noises when something comes close to the window.  Chelsea will play with any toy you give her, but she especially likes the beam from a laser.  Chelsea would do best with a couple or single person – where she can feel safe, can accept your love and give you all hers in return. Click here for more information on our Foster to Adopt program. 
---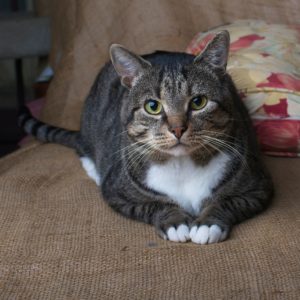 CHEVY
DSH, Mackerel Tabby, Male
DOB 4/26/15
Foster to Adopt Eligible


 Prescription Diet
My name's Chevy, and just like my namesake, I'm fast and ruggedly handsome. I'm a sports model because I like to play; show me feathers, kicker, laser light, almost anything that moves and I'm ready for the game.  I like to find a soft lap or to snuggle up real close for some TV, especially sports or movies that have some animals in them. I'm a terrific companion kitty and am looking for a human that would enjoy my company. I have a cat tree beside the window at my foster home for cat TV and napping and do hope my forever home will have one too. I do my bit around the house, keeping up with whatever is going on and helping out by being entertaining. I'm looking for a forever home with adults or older children. I haven't had many kitty friends, but with some very gradual introduction, I'm willing to give it a try. I think dogs are OK from a distance, but I haven't had much experience with them close up. If you are cat savvy and looking for a good-tempered companion, someone to hang out with you, I'm your boy! Chevy is on Urinary Food to prevent urinary tract problems that are common in male cats. His toilet habits are excellent.  He has very short hair and almost no shedding, a definite advantage. Chevy is not fond of PetSmart and the foster to adopt program gives the opportunity to see his real personality. Click here for more information on our Foster to Adopt program.

---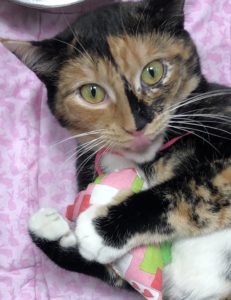 CHIMERA18
DSH, Calico, Female
DOB 2/14/18
Chimera is a sweet kitten that loves to be held, brushed and sit in your lap. She loves to run and play with her fostermates and absolutely adores playing with toys – plastic balls that have a bell in them, squishy catnip filled mice and string toys. Chimera gets along well with other cats and would make a great addition to any home!  
---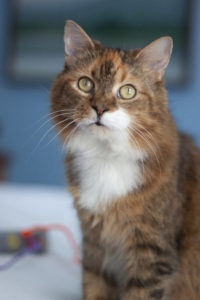 CORAL18
DMH, Tortoiseshell Butterscotch, Female
DOB 6/20/16
Are you looking for a cat that is beautiful, talks, likes laps, loves to be petted and is playful?  Search no more; you have found your kitty.  Coral is all these things and much much more. When Coral was pulled from the shelter and came to her foster home, she came in the door and gave her seal of approval by giving a little meow and going right to the toys.  She especially likes the wands, with no feathers, that she can grab and pull on like a game of tug of war, rolling balls across the floor and catnip pillows that she can wrap her legs around are fun too. She doesn't mind having her fluffy fur brushed or having her claws clipped because it gives her another chance to sit on your lap. Coral would love to have a family of her own where she can run and play, and best of all just hang out with her new family, maybe find a new lap or two that is calling her name.
---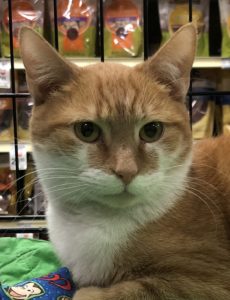 COWBOY18
DSH, Orange & White, Male
DOB 7/24/13
Cowboy is a sweet kind ginger boy; he is a small cat only weighs about 6 lbs.  But don't let that fool you!  He is always ready for action, and then he'll have a big fat nap afterward.  You will find him hanging out on the cat furniture and watching the world go by… This kitty loves to be held, brushed, and sit in your lap and is looking for a special person that he can love forever.
---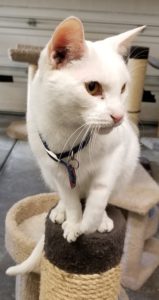 DAY18
DSH, White, Male
DOB 5/6/12
Day is a sweet boy who loves to have lots of pets and cuddles.  Gets along well with other cats and loves to play with string toys.  He enjoys being brushed and sitting in your lap. He would enjoy a home where he could be a companion to an older adult. While he has not been introduced to dogs or young children, he has a lot of love and kitty kisses to give to that special person who can understand him.
---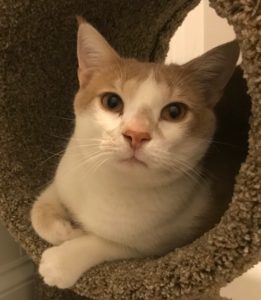 FERRARI18
DSH, Orange and White Tabby, Male
DOB 11/1/17
After taking a couple of laps around the house, Ferrari will be sure to check in with his humans for some face kisses and caresses.  Ferrari is very curious and active, he always needs to know what is going on in the house and makes sure you know he is watching! 
Before being surrendered for adoption due to allergies in the home, Ferrari lived happily with another cat and a small dog.  He is great with small children and never scratches or bites when they are too affectionate.  He loves his treats and over-indulged a bit over the holidays, but is taking his diet with grace!  Ferrari is not shy and is a wonderful addition to a busy home. 
---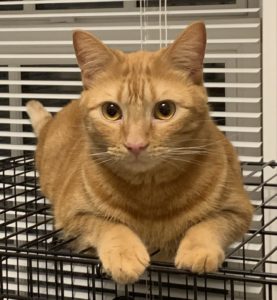 FINNIAN18
DSH, Orange Tabby, Male
DOB 3/1/17
Hi everyone! My name is Finnian, a handsome orange tabby cat, who loves humans.
I was fostered by Purr Partners from when I was three weeks old and was adopted in the summer of 2017.  Sadly, my family was moving, and they told me that they couldn't take me with them, so I am currently with a foster family again.
I love playing! I will explore all around the house while chasing and pouncing on my toys. After playing, I like taking a nap or looking out the window on my perch. My foster dad will play with me by throwing a ball which I will chase around the room and pounce on.  My mom tells me that although my body has grown up, my voice is small and I sound like a little birdie.
I didn't do well with the other cat in my previous home, but I am currently getting along well with my foster family's cat (she used to be with Purr Partners as well!).  My foster mom and dad were a little worried, but now they wish they had let me play with her sooner!
I am looking for a forever family to love me and welcome my cuddle-loving, sweet, and energetic self into their home!
---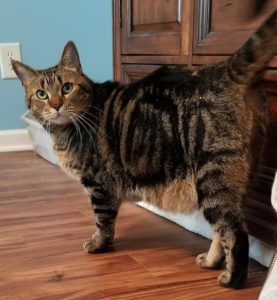 GALLAGHER
DSH, Brown Tabby, Male
DOB 6/2014
Foster to Adopt Eligible
Gallagher was adopted from us as an 8-week-old kitten along with his sister.  Sadly, things in his home have changed, and he needs to find another family to call his own.  Gallagher is a super sweet and loving boy, but he is very stressed and knows something is going on, so he can't go to Petsmart without getting very upset, and when he is out of his home, he is initially frightened and doesn't want to be touched.  But that's not who he really is!  Gallagher is a laid-back, sweet boy who does wonderfully with children and even infants.  He allows his human sister to pull on him and fuss with him, and he is just fine.  When he's in his home and feels safe and loved, he is a wonderful cat that loves belly rubs and laying on laps.  He is good with other cats and, given time, he will fit in anywhere.  However, because things have changed so much for him (his sister was adopted, he's losing his home), and he is sensitive to the fact that something is going on in his life, he is having problems showing his loving and sweet side.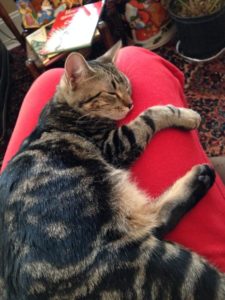 If you are looking for a wonderful, lap-loving, sweet cat that just needs time to adjust, and you are willing to allow him that time, then this boy just might be who you are looking for!  With his soft, velvety coat decorated with swirls and circles, he is gorgeous to look at, and since he's a cuddler at heart, we know someone out there is sure to be his new forever person.  If you can give him a chance, we are sure you won't regret it.  
Our Foster – to – Adopt program was made for cats like Gallagher who just need a bit of time to show who they are, and it was made for people who have big hearts and recognize that some cats just need more than a few days to let you know what hides beneath that fearful attitude!  
Please contact us about Gallagher.  His foster mom will be glad to let you visit him in his home and tell you all about him!
---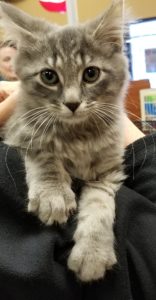 GAMBIT18
DMH, Silver Tabby, Male
DOB 10/14/18
In the Dictionary under "Cute Kitten", there should be a picture of this sweet boy!! He's a smart one as well! He is into everything and anything! He needs to know what's going on all the time and isn't afraid to voice his opinion too! He wants to be with you constantly, whether for play or cuddle time. Gambit needs to be kept busy with interactive "smart" toys. Things he needs to figure out in other words. When he is being calm, he likes to have his hair combed! He loves to dive into a pile of catnip on a cardboard scratcher then get his hair combed after he's worn out! He also likes to spend time on your shoulders. Gambit has been introduced to the foster's dogs and cats with no problems and would do well in a family with older children.  If you're looking for an energetic little guy that wants to be with you all the time then this is your guy!
---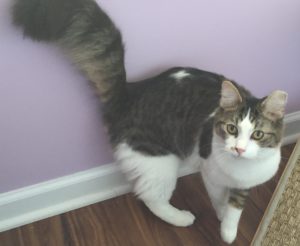 HOLLYWOOD19
Norwegian Forest X, Tabby w/White, Male
DOB 6/30/18
Hollywood, with his big fluffy tail and fur that feels like silk, is a joy to have in his foster home.  He enjoys sitting on his foster mom's lap and loves getting lots of attention.  Not knowing what he went through before coming to Purr Partners, he gets a little nervous with loud noises and sudden moves but once he feels safe again he will come back out for more love.  He plays with most of the toys in his foster home and has claimed the little box on the cat tree as his own.   He gets along with most of the other foster cats and is now looking for his own forever home.  
---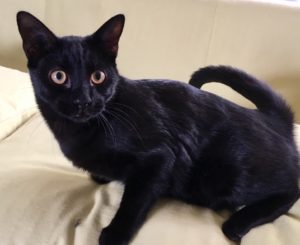 JAKE18
DSH, Black, Male
DOB 3/27/18
Come and meet Jake!  He is the best of all worlds in terms of a kitty.  First, he is absolutely gorgeous, sleek black fur, large amber eyes, and long, trim solid body – he actually looks like a miniature panther.  Then his personality – playful, mischievous, and just plain nosey.
When it comes time to play, he loves to have a toy dangled above him so he can leap straight up at grab it.  You need to be careful playing like this with him because sometimes he will leap in the air so high that he ends up crashing into nearby furniture or walls.  Yet, when alone he can amuse himself with the simplest of toys.  And, he has a soft side – when it's time to relax, he loves to climb in your lap and nap.  You would have no problem convincing him to sleep with you if that's what you desired!  He is very sweet and loves to be around people.  Jake is a joy to have around.
---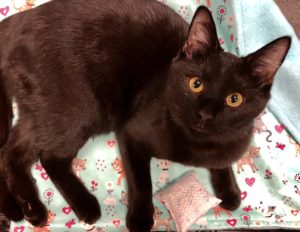 JUDA19
DMH, Black, Male
DOB 7/11/18
Juda is a sweet boy who came from a home with too many kitties. He loves to run and play with his best friend Chimera. Although he has not been to introduced to dog or children, Juda gets along well with other kitties. He loves to play with string toys and plastic balls with bells in them. He is a gentle soul who loves to be pet and cuddled. He will make a wonderful addition to any family.

---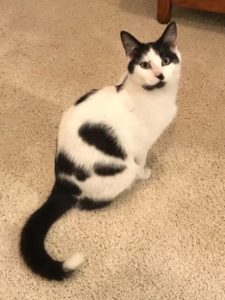 KISKA19
DSH, White & Black, Female
DOB 3/25/18
Kiska joined us with her sister Keta when she was abandoned by her owner who could no longer afford them. This sweet little girl was so happy to be back inside in a warm home. She has beautiful markings which remind you of a cow.  She is full of energy and enthusiasm for everything around her. She will brush up against your feet wanting to be pet and purr. Even though she is almost a year old she still has a lot of kitten and her as she likes to bat things around with her paws. She loves her sister and is beginning to like other cats as well. She has not been around dogs yet or young children. She would probably do well in a house that has a lot of activity or someone to keep her engaged. Could that home be your home?

---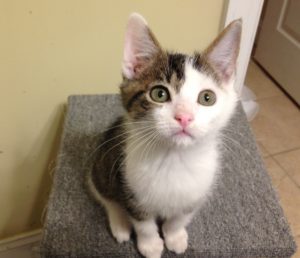 KOSMIC18
DSH, Brown Tabby with White, Male
DOB 11/22/18
Kosmic is a cuddly, cute, confident kitten who loves to be in your arms.  If there is ever a kitty Olympics for cuddling, he will receive a perfect 10.  He is a cosmic hugger. As you enter the room he runs to greet you, meowing softly asking to be picked up.  As soon as he is in your arms, the purring begins.  Put him down and he follows you about to "help" and as soon as you sit, he is ready for some lap time.  As a typical kitten, he does enjoy some play time with rod toys, and tiny toys he can carry about.  Friendly, gentle and affectionate makes Kosmic a great choice for any family looking for a sweet, cuddly kitten.
---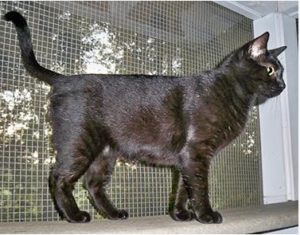 LICORICE18
DSH, Black, Female
DOB 6/1/14
"Miss Licks" as she is called by her foster Mom is a lovely, sweet, and playful girl. Miss Licks had a very difficult beginning finding herself in a kill shelter but happily rescued by Purr Partners. Upon arrival at her foster Mom's it was quickly noticed that she had a serious and very painful injury to her tail. 2 hours later she was being seen by a Veterinarian who also discovered that she had several bite marks on her hip as well. It appeared that she had been attacked possibly by another cat. She stayed overnight for medical care, then home to her foster Mom for love and healing. Today Miss Licks is a beautiful, sleek, playful girl who loves attention and is always happy to see you. She had been terrified of other kitties but over time and trust, she now has many kitty friends she plays with and enjoys time out on the screen porch with. She loves to "wag" her tail when she greets you and give lots of rubs and head butts. Miss Licks is now ready for her next step to find a loving family who will love to be loved by a tail wagging kitty!
---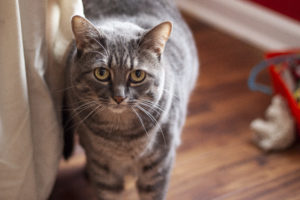 LUNA
DSH, Blue Tabby, Female
DOB 3/1/15
Foster to Adopt Eligible
When Luna was rescued she settled in quickly. She enjoys playing chase with the other kitties, can type, send emails and do online shopping! She loves attention and will crawl in her foster mom's lap, gaze into her eyes and then wash her face. Luna is looking forever home full of love and cuddles, could it be yours?  Click here for more information on our Foster to Adopt program.
---
MANDARIN18
DSH, Orange Tabby, Female
DOB 5/28/17
My foster mom calls me Mandy Candy and it suits me down to the ground.  I'm a sweetheart of a cat!  Being orange, Mandarin is a great name for me, but Mandy is more my personality.  When I want your attention, I chirp and trill and will flat out ask for attention with a gentle head butt.  I'm waiting at the door for my humans to come home every day and that's a great time of day for me.  I'm on the bed all night and near my humans all day.  I'm not a lap cat, but I'm always there.  When you get up to do something, I get up and go with you.  If you're sitting at a desk on the computer, I'm on the desk near you or laying on the floor next to your chair.  I have a heated cat bed on the desk and that's one of my favorite places.  But I also have a playful nature.  I gallivant around the house, I love all kind of toys, and of course, watching the world out of windows.  I might not be a kitten anymore but I still have a lot of kitten in me!

---
MATILDA18
DSH, Brown & Black Tabby, Female
DOB 11/20/16
Matilda is a beautiful, loving young cat.  She studies your face with her big green eyes as if she can tell what you are thinking. She was a stray that was taken in this past Jan during a cold spell by a very kind woman in Greensboro.  A few weeks later Matilda gave birth to 6 kittens.  The woman's HOA only allowed 2 cats, so she called Purr Partners asking for help.  We had some room at the time so we gladly took Matilda and her kittens.  She was an amazing Momma and now that all her babies have found homes, it's her turn.
Because Matilda was an outdoor cat, she can be shy around humans, but she warms up quickly.  She loves to be brushed and to have her back and neck scratched.  When you scratch or pet her, once you stop and as you pull your hand away, she will reach out with her paw and grab your hand letting you know she doesn't want you to stop!  She is also showing signs of being a talker.
She gets nervous when you hold her, but if you are willing to be patient with her and show her you can be trusted she will come around.  She will sit next to you or on your lap when it's quiet time.  Matilda is a wonderful, sweet kitty who with a little patience will be a loving friend for her human.
---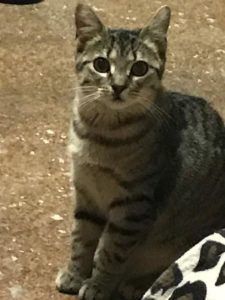 MAYA18
DSH, Brown Tabby, Female
DOB 6/5/18
Life didn't start out very good for Maya.  She was born in the county landfill and spent the early part of her life struggling to live.  Her mother did the best she could, but she was extremely malnourished, and so her kittens were as well.  However, mom brought her babies out when they were about 8 weeks old, and so they got lucky – and got trapped.  Maya determined from the start that she was not going to be a feral cat, that she wanted a home and the good life, so she has quickly opened her heart to her rescuers.  She is very sweet and loving, and she is going to be someone's best friend and constant companion.  She loves to be with you, will follow you around, and watches you with those big eyes as if to say, "Are you, my person?"  Maya is not feral at all.  She is cautious with new people, but that quickly passes, and then she is anxious to bond.  Whoever chooses Maya will truly have a friend for life!  A busy household is probably not the best setting for her, and she is not a huge fan of pushy dogs because of some early bad experiences, but if you are looking for a loving kitty that will be your shadow but never in the way, you've found her!  Maya believes, because we have promised her, that there is someone out there for her, and she is waiting patiently, and a bit worriedly, to be "found."  If you are Maya's person, please let us know so we can keep our promise to her!
---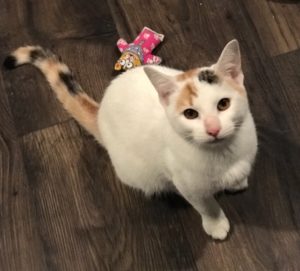 MEADOW19
DSH, Turkish Van mix, White w/Calico, Female
DOB 10/20/18 
To meet this girl is to fall in love with this girl.  She is a petite thing who is recently exhibited the desire to sit on people's shoulders. She will sit on one shoulder and then just walk across to the neck shoulder. She has the sweetest little face with her little calico splotches and then a tail with all the calico markings. The rest of her body is all white. She gets along well with the other cats in the house barely paying them any attention. When one of the other cats hisses at her she just turns her cheek and walks away. True to her Turkish Van heritage she is an affectionate cat and has already shown she will make strong attachments to the members of her family, for example, when sitting and work ing she will jump up and demand attention and reward you immediately with purring. She has not been around young children or dogs but appears to have a very calm personality. Could this be the cat for your family?
---
MERCY18
DSH, Dilute Torti, Female
DOB 10/1/18
Fancy, fun, friendly kitten, that's me.  I am a pretty girl dressed in colorful silver fur accented with apricot and white. Snuggling, exploring, playing and entertaining are my talents.  I love to play, anytime, anywhere.  Entertain the kids, I'm your girl.  There is nothing more exciting than someone dangling a rod toy.  Like a gymnast, I fly to swoop in and catch the toy.  If everyone is busy, I can also entertain myself.  I have fast little feet that will chase a ball across the floor with the skill of a soccer player.  After some fun, I adore snuggling in a warm lap; then my purr motor goes into overdrive. I also love to eat!  If you are looking for a gentle, warm-hearted kitten, who likes other cats, then look no further.  We're a match!  Let me show you how much I can love you.  

---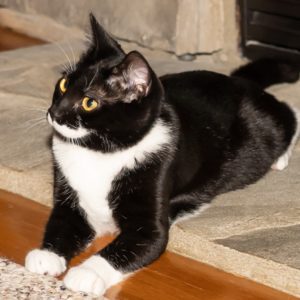 MINNIE18
DSH, Black & White Tuxedo, Female
DOB 4/23/18
Minnie is a friendly, affectionate kitty with a delightful personality.  When she is in a playful mood, she is very energetic, making sure she is at the center of all the action.  She goes crazy when the wand toy comes out and will chase it with gusto until she is completely exhausted.  Her specialty is high jumps.  She is very entertaining to watch as she jumps, turns, and flips in the air while trying to catch the wand.  She loves to be with people and is happy to be carried around or to settle on a lap to enjoy some cuddles.  Her silky, black and white coat is incredibly soft.  Minnie is comfortable with the golden retriever in her foster home and enjoys hanging out with her dog friend.  Come meet this quirky, adorable girl and fall in love.
---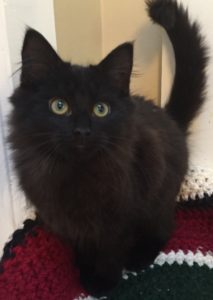 NEON18
DMH, Black, Male
DOB 11/03/18
Neon is a very sweet and very friendly kitten who only wants to be near you just as soon as you walk through the door. He loves everyone and does well with children of all ages. He is a lap kitty-in-training and will climb onto your lap if you sit next to him on the floor. He has a soft purr that is gentle and soothing. Neon has the softest fur, and enjoys gentle scratches on his head, back, tail, and belly. He is very playful and will chase toys for hours before curling up on his kitty tower to take a nap. He will do well with any family.

---
DOB 6/25/16
Nicole is a sweet, sweet girl!  She loves everyone, just wants to be on your lap and just wants a home of her own.  She's very inquisitive and will watch everything you do with her brilliant green eyes.  She loves to play and snuggle and is just absolutely darling!  Please don't let the poor skills of the photographer fool you, she's absolutely gorgeous!  Nicole has very firm beliefs, and one of them is that she shall be the one-and-only princess in the household and any other felines shall be jumped upon and bullied into submission, therefore, we do not recommend an adoption to a home with another cat (that is, of course, unless you really don't like your other cat).  She also tends to sound stuffy a lot.  Our vet says that her "stuffiness" is due to an issue when she was a kitten and will remain with her for the rest of her life, but it does not bother this brave girl at all.  She may sneeze occasionally and sound congested, but our vet assures us she's fine.  Our hope is that someone can overlook these very small quirks in a very unusual girl (have I mentioned she has more toes than most on her front paws – YES!  She's polydactyl!?).  She will make a fantastic companion to what we hope is a wonderful person who is looking for a very special girl.
---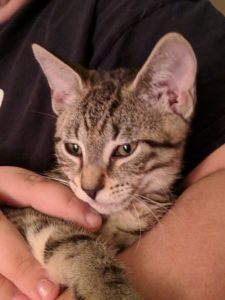 NIGEL19
DSH, Gray Tabby, Male
DOB 1/12/19
Nigel is a sweet loving soul, who will make you laugh and fall in love. He is always doing silly stuff and then he will cuddle up to you. He loves to play in the bathroom sink and bathtub, and can often be found there chasing his tail (or a foster mate!) Nigel will make the perfect lap cat, or comedian, in your home!
---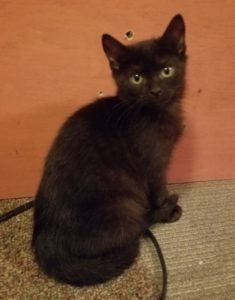 NIGHTFALL19
DSH, Black, Female
DOB  10/3/18
Brrrrreow! That's the sound that I make to greet you when you walk in the door. I am a loving, playful mini house-panther whose soft coat matches my gentle personality. I enjoy spending time with children, the elderly, and people in a wheelchair -basically I am a "people cat."  I am learning to like dogs and might befriend a cat-friendly canine with the proper introduction.  Rest assured, I absolutely adore other cats too!  If you would like to add a little pizazz and a lot of fun to your home, do give me a look!  
---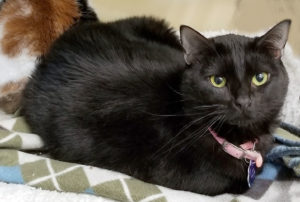 NOEL19
DSH, Black, Female
DOB 2/19/16
Noel is a kind and gentle soul in a beautiful black, green-eyed kitty who loves to be pet, brushed and sit in your lap. Playing with the fishing pole toy is one of her favorite activities and she does well around other cats. She hasn't met a dog in her foster home so she is undecided about them. Noel is looking for a quiet family home with older children and she would be good with older adults. Her list of wants includes a warm lap and a window for bird watching. If you are looking for a sweet beauty to help keep your lap and heart warm please consider Noel.
---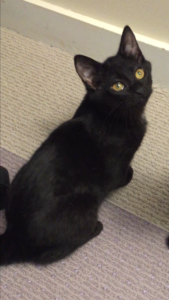 NOVELLA18
DSH, Black, Female
DOB 11/3/18
Novella is our gentle Princess, everything about her personality is dainty. She eats daintily, she runs daintily, but she can also play hard too! Novella has such a sweet soul. She will rub up against you when you walk through the door and will follow you wherever you go. She will purr and hug you if you pick her up slowly and hold her close. Mouse toys are her most favorite, and she will drag it along behind her and pounce on it like shes never seen it before! She is so much fun to be around, and your heart will warm just being near to her.
---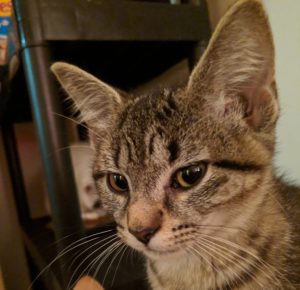 NYAH19
DSH, Gray Tabby, Female
DOB 1/12/19
Nyah is the sweetest kitten you could hope for. She loves to cuddle or chase her toys and housemates. She has grown up around dogs, and will gladly cuddle up to them. She is quite curious, and can often be found in a closet or exploring the house. Nyah is an extremely laid back and happy girl. She would be a perfect addition to your home! 
---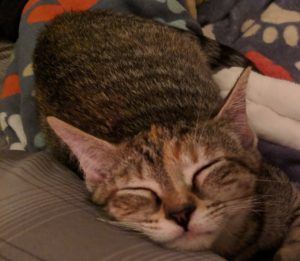 NYSSA19
DSH, Torbie, Female
DOB 1/12/19
Nyssa is a super busy girl, with lots of love to give. She loves to run, jump, and play; but, will happily cuddle up to you at bedtime. She has grown up around dogs but generally sticks to roughhousing with her siblings. Nyssa is very curious, and energetic and will use that energy to leave you laughing at her antics.
---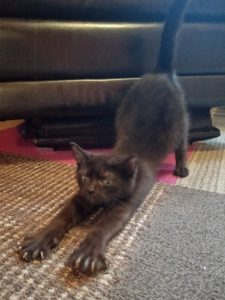 NYX19
DSH, Black, Male
DOB 10/3/18
I am the cat that will follow you from room to room, all the while keeping you safe from random pieces of string, dust bunnies, cardboard boxes, bugs, and other household menaces. I am FULL of personality. The world is my playground. I really love human attention, am great with other cats, and think dogs are pretty interesting.
---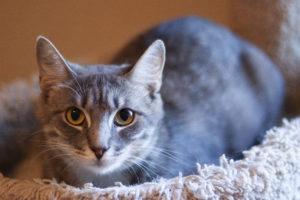 OLIVIA18
DSH, Gray Tabby, Female
DOB 5/11/17
Olivia is so precious.  She was turned in to a high kill shelter with four of her own babies and one orphan that the shelter had put in with her to nurse.  She was such a good momma, and she took care of the orphan as if he were her own.  All of her babies are older now, and it's time for Momma Olivia to find a forever home of her own.  She is a quiet, gentle girl who loves to be petted.  She gets along with other cats and kittens and is not overly demanding.  She'd just like a home where she can have a soft bed to curl up in, a window to look out of, and someone to love her.  Could that home be yours?
---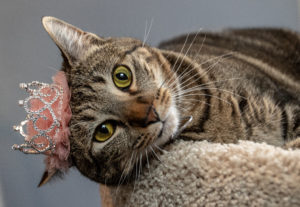 PENELOPE18
DSH, Brown Tabby, Female
DOB 6/1/17
Foster to Adopt Eligible
I'm a loving kitty, who wants nothing more than to be carried about, cradled in your arms. The first thing you will notice about me is that I have a sweet disposition and inquisitive personality; closely followed by my stunning coat of swirls and stripes.  If I'm feeling curious, you'll get to see my adorable habit of sitting up like a squirrel as I check out what's going on.  I am a sociable little lady who thrives best in an easy-going home with other animal companions.   I also enjoy going out in my stroller for a walk around the neighborhood.  I don't mind spending time with older children and a gentle cat-friendly dog might make a nice companion for me as well.  I would love to meet you, but please come see me in my foster home.  I am Foster to Adopt kitty because the cages and activity at PetSmart frighten me and give me such anxiety, I really can't be my awesome self, there.  But everyone who visits me at home says I'm the sweetest, coolest, most stylish cat they've ever met!  You never know, I just might be the love of your life!  Click here

for more information on our

Foster to Adopt

program.
---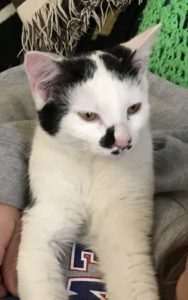 POLKA DOTS19
DSH, White with Black, Female
DOB 7/1/18
I was crying in someone's backyard and they called the cops on me! Literally. They said they thought there was a rabid cat in their back yard. Lucky for me, the nice police officer that came realized I was just hungry and scared. Thank goodness they called Purr Partners instead of bringing me to a high kill shelter. My foster mom says I am so sweet and friendly. I love people. I am a bit vocal but that is just because I want to get your attention. I start purring as soon as someone even looks at me. Foster mom says I must have belonged to someone because I am so loving but they scanned me and I didn't have a microchip. This time I hope my home will be forever and I won't ever wind up lost or abandoned again. I just love people and get along just fine with the other kitties in my foster home. Not sure about dogs, yet, but foster mom thinks I'd be good with kids. Please consider adopting me!
---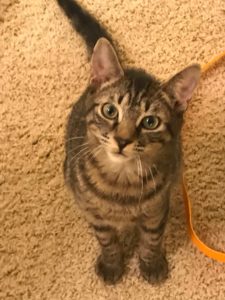 POUNCE19
DSH, Gray & Brown Tabby, Male
DOB 9/8/18
Pounce is a perfect name for me.  I am an energetic and active boy that loves to run and jump and play.  I play well with my foster friends.  I love to toss my mouse in the air and catch it and jump to get the wand toys, the higher it is the more I like it.  I love all people; not a shy bone in my body.  I am used to activity and am inquisitive and interested in everything that is going on.  I watch birds from the window and chirp at them.  I want to be your best friend forever and will give you a lifetime of love and fun.
---

Grain Free Diet & Daily Medication
Hi!  I'm Ragamuffin and I am a mature, distinctive Torbie (tortoiseshell and tabby) lady. You may want to change my name because I went from Rags to Riches.  My foster rescued me from a feral colony where I had been looking for food. She knew I shouldn't be there because I needed medical help, so she called Purr Partners.  Now I'm healthy and I don't have to scavenge for food anymore! My road to recovery hasn't been easy, but I'm feeling much better and my beautiful tortoiseshell coat has grown back to its original beauty. I'm super sweet and I have lots of head bonks and nose boops to give! I'm also the BEST biscuit maker ever! I'm happy here in my foster home and the other cat " housemates" but I'm ready to find my forever home to spend my golden years with someone to sit with and give me chin scratches and an occasional treat.  I'm low key, love sunbathing on the screen porch, but really want a warm lap to sit in. Even though I'm much healthier, I sometimes have some tummy trouble.  I'm a special lady with just a little bit of a challenge, but I know my person is out there! Are you my special person? I'd love to meet you. You can even foster me to see if we are compatible… Click here for more information on our Foster to Adopt program. 
---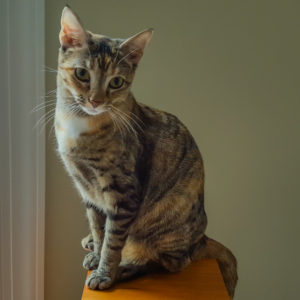 RALLY18
DSH, Torbie, Female
DOB 3/24/18Rally has beautiful tabby stripes with tortoiseshell coloring.  She is a Tortoiseshell Tabby or "Torbie".  The gorgeous blend of cinnamon and white markings on her face, combined with her long slender frame, give her a unique look that is captivating.  Spend some time with Rally and you will, no doubt, be charmed by her sweet disposition and cute kitty antics.  She has an amusing habit of carrying her favorite stuffed toy around the house in her mouth and tossing it into the air to entertain herself.  She purrs easily and likes to get scratches around her neck and ears.  She is not shy, preferring to be in the same room with her people and she is very comfortable around the friendly dog in her foster home.  If you decide to take this sweet girl home, she will become a loyal, affectionate companion that will fill your home with joy, entertainment, and love. 
---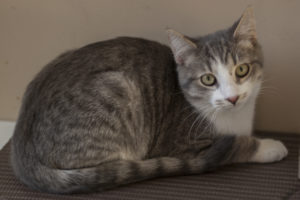 REMUS17
DSH, Silver Tabby with White, Male
DOB 6/20/17
Remus began his life as a feral kitten in Durham, but his lucky day was when he became a Purr Partners kitty.  He has always been more cautious than his siblings, but he is slowly coming around to believe that people are to be trusted.  Remus may be a little cautious around people, but he just LOVES other cats or kittens.  He would make a great companion kitty to another cat who is lonely and needs a friend.  Remus likes nothing better to curl up with a buddy either on the bed or at the top of a cat tree.  Remus loves to be petted, but it has to be on his own terms.  His greatest joy in life, though, is to have a kitty friend to run and play with, possibly do a little mutual grooming, and then snuggle up for a nap.
---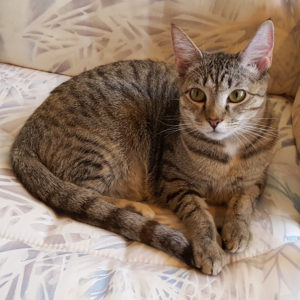 REVA18
DSH, Tabby, Female
DOB 3/24/18
Reva will steal your heart with her winning personality and sweet temperament.  This outgoing, athletic girl sometimes acts more like a dog than a cat.  She loves to be around people and follows her foster mom around the house. She greets her family at the door and is not shy about meeting new people who come to the house.  She even plays fetch!  Seriously, a long session of fetch with a little pom-pom is one of her favorite activities.  She is friendly and confident, loves to get neck scratches, and gets along well with the mellow dog in her foster home.  Her foster parents absolutely adore her and know her future family will too.  Reva is very social and would be happiest in a home where she has a kitty companion that she can chase around the house and take breaks with on a window sill.  You will not regret adding this awesome girl to your family.   
---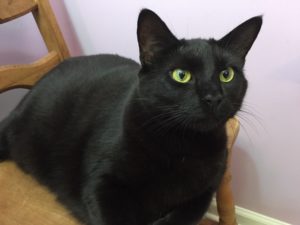 RUE18
DSH, Black, Female
DOB 8/29/16
Rue is a friendly girl with lots to say!  She has an opinion about everything and loves loves loves attention. As you can see she has striking eyes and shiny black fur and along with her great personality she makes a delightful kitty.  Rue would love to have a home of her own and hopes that she will get her forever home soon as she has lots of love to give a very special person.
---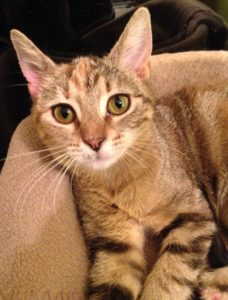 RYLEE17
DSH, Cinnamon Tabby, Female
DOB 9/23/17
Rylee is a regal, pretty princess at first glance. You will see her watching her fostermates from afar, too prim and proper to be bothered with messing up her fur.  But, turn your head and Rylee will pounce on an unsuspecting kitty or be swatting at their tail when they walk by! Rylee is a fierce little competitor when she is in the fray, so don't let her sweet innocent expression fool you into thinking that she is not a tough cookie! Take some time to meet Rylee and you too will fall in love with her sweet personality.
---
SALVATORE18
DMH, Black, Male
DOB 7/28/18
Salvatore, like most kittens, wants to play, play, play. He wants to run with his siblings playing chase, and rolling the balls around and just enjoying all that life has to offer.  Salvatore has a great disposition, is inquisitive and would love to be a member of your family.  
---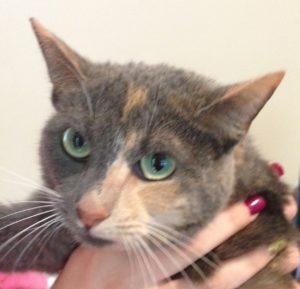 SANGRIA
DSH, Dilute Calico, Female
DOB 3/20/14
Sangria has been in foster care her whole life. Her mother was rescued by Purr Partners and promptly gave birth to 5 kittens. Sangria is the only one left.  She was the shyest out of her litter and remains reclusive with people. She gets along, well, with other cats and has been with other cats her whole life. She is a beautiful, unique looking girl with vivid green eyes who has, quietly, been overlooked due to her timid nature. We think that Sangria would do best with someone that has experience working with shy cats or a patient person who is willing to work with her and accept her for who she is. We never give up on a cat, so, if you are that exceptional owner, who can appreciate beauty through the imperfections, please contact us about possibly adding Sangria to your home. She'd also be a good companion for a lonely cat.

---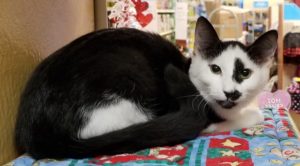 SCOTTY18
DSH, Black & White, Male
DOB 8/16/18
Scotty came into rescue when he was turned in to a high kill shelter, and his back legs did not work very well.  After going to our vet, it was determined that with age and exercise his legs would more than likely heal on their own, and so they have.  Scotty gets around fine now, and no one would know that he had any trouble when he was little.  Scotty loves other kitties and will play and cuddle with them.  He is a little cautious when he is first picked up, but will then settle in and start to purr.  He loves feathers and climbing to the top of the trees in his room.  He's a very sweet boy and don't you just love his eye patch!
---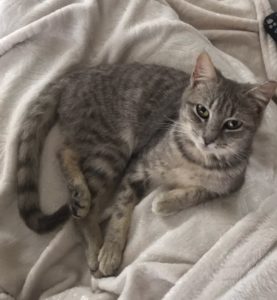 SEDONA19
DSH, Silver Tabby, Female
DOB 10/14/18
Sedona was found wandering the streets of Louisburg. Living on the streets was not the life she wanted so she found a kindhearted soul to pick her up. That kind-hearted soul brought her in, cleaned her up, and got her fixed. Since then Sedona has thrived while living in a safe and warm house. She is a petite little thing who gets along well with other cats. She is curious and loves exploring new environments. Her favorite thing to do is to find the highest spot she can to look down upon the humans in her house. When she is finished exploring she will come and sit on your lap, pepper, and make some biscuits. If you are looking for a new addition to your home look no further than the sweet little girl.
---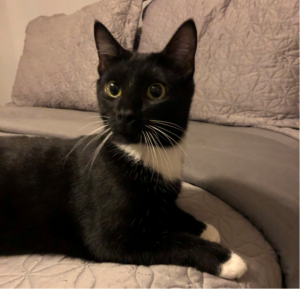 SHANDY18
DSH, Black & White Tuxedo, Male
DOB 10/28/17
Shandy – is an amazing cat that is very, very good with young children.   He is very patient and doesn't run away when they approach him.  He allows kisses and pets and an occasional hug.  When he is ready for a break, he just gets up and quietly walks away.   With his perfect black and white tuxedo markings is a stunning boy.  He has a big personality to go with his looks.  Climbing on the cat tree is a favorite past time for him. He has a steady personality with a  playful side too.   Shandy gets along with kitties of all ages.  Loves toys of any kind.  He is not shy and will always greet you when you come into the room.  He is also an explorer – I don't think there is an inch of the kitty room that he hasn't been in.  When he is ready to rest he likes to curl up on the couch or bed with you.  Handsome Shandy would be a great addition to any family – especially one with a playmate human or feline.

---
DMH, Black & White Tux, Female
DOB 3/1/18
I'm just going to put it out there – I'm a beautiful young lady!

 

I have luxuriant fur and AMAZING white whiskers.

 

You'd think that might make me a diva – well, maybe a little.

 

But only a little!

 

I'm super affectionate with not one mean bone in my entire body.

 

I will, however, sweet talk other cats into grooming me by ever-so-gently sliding my head under theirs when they're grooming.

 

I usually get some free grooming that way.

 

I mean, look how beautiful I am, isn't that what should happen?

 

Not much is known about my first year of life but that's okay.

 

My real life, my great new life, will start when my forever family takes me home!
---
SUNKIST
DSH Orange Tabby with White, Male
DOB 7/15/15


Chronic Sinusitis
Sunkist is the cutest, silliest, funniest boy who loves to play and entertain. He is quite active and mischievous. He likes toys and loves to chase the broom when you sweep. He gets along very well with other cats. He loves treats. So why has he been in foster care for over a year and a half? In January of 2016, he was just a half-grown kitten pulled from a high kill shelter. He came to us with a severe sinus infection where he was sneezing blood. He was treated with multiple courses of antibiotics but every time he came off of antibiotics, he would start sneezing and eventually would develop sinus and respiratory infections. We tried different antibiotics and extended courses of antibiotics but Sunkist could never stay well for long. He was even seen at the vet school but there has been no cure found for him. His infections are not contagious and are caused by damage in his sinuses from when he was a kitten so he will always be susceptible to infections. He will periodically need antibiotics and steroids. Despite all of this he is a happy boy that would love nothing more than a real home for the first time in his life. He is not a placid lap cat because he is so busy all of the time. He would love a family with older kids or other cats to play with – maybe even a dog! He is stuck in foster care through no fault of his own. We have found homes for cats with many different medical issues before and we know that there is a home out there for Sunkist. Could it be you that will open your heart and home to this deserving boy?
---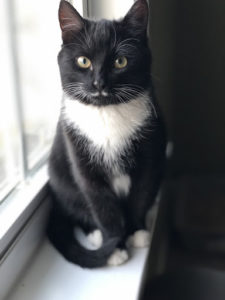 TIA19
DSH, Black & White Tuxedo, Female
DOB 10/15/18
Tia is a fun loving girl, always ready to play.  Don't think she doesn't want her cuddles though.  When she's happy and purring, you'll see her kneading the floor while she walks.  Be ready for non-stop fun with this little girl.
---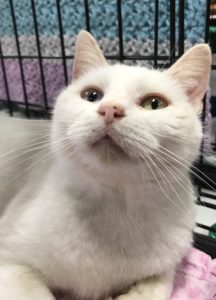 TIC TAC19

DSH, White, Female

DOB 7/15/17

My story is a sad one. I came from South Carolina where I was kept by a hoarder. Something happened and all of us cats were put out to survive on our own. We were starving and not doing well. You can see that I am white with pink skin and I was sick, dirty and sunburned when Purr Partners agreed to take me and my brother in. Despite all of my hardships I am very sweet and loving girl. I am a bit standoffish, at first, but all I really want is love. I forgive all people for what a few bad ones did to me and my feline family. My foster mom says that I will be really pretty once I recover from the starvation and neglect. She also says that I am extra special because of my 2 different colored eyes. I am used to living with other kitties. Would you like to take me home?
---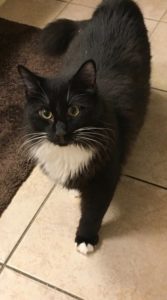 TOULOUSE18
DLH, Black & White Tuxedo, Male
DOB 2/12/18


  Medication
In the relatively short time Toulouse has been alive he has had a very hard time of it.  He was brought in to a high kill shelter after he had been hit by a car, and the shelter manager called Purr Partners to see if we could help.  We got this sweet boy right to our vet and were told that he had a broken pelvis.  The worst and most dangerous injury he had, though, was a huge hernia in his abdomen.  Because of the impact of the car, his bladder and his intestines were outside the abdominal wall and this had to be corrected immediately in order to save his life.  We authorized that surgery, and luckily it was successful.  Then Toulouse had to be on crate rest for six weeks while his pelvis healed.  During this rest period, we discovered that he had fluid in his chest cavity, though the vet did not know why.  It was thought that the impact of the car had led to a lymphatic vessel leaking into his chest, but a trip to a specialty hospital proved this not to be the case.  He has been under the care of a specialist for many months now, and although the amount of fluid is much less, the vets still don't know why it won't go away completely.  He is currently on an every-other-day dose of Prednisone, and it is unclear if he will have to take it for the rest of his life or if the fluid will eventually resolve.  
 Right now Toulouse acts like a regular cat, running and playing, sleeping on the bed, and asking for pats and rubs.  He does need a home, though, that will monitor his condition with regular checkups which may be more often than yearly.  He needs a family as well that will keep him on his meds if the vet recommends it.  Toulouse gets along with other cats and kittens, and he does very well with the two gentle dogs he lives with.  We don't know if Toulouse's lifespan will be normal, or if it may be shortened, but we do know this sweet, sweet boy needs a home and family to love him for whatever time he has.  He is a wonderful kitty who will reward you with his love and devotion.
---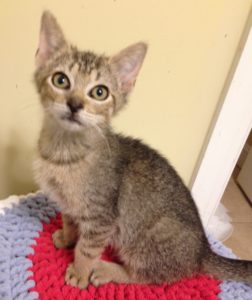 TROOPER19
DSH, Ticked Brown Tabby, Male
DOB 12/15/18
Trooper is a sweet, gentle, affectionate kitten who despite being in immense pain when rescued he only purred and wanted to be loved.  On rescue, his poor swollen feet had open sores making walking painful.  During all his hardship, he never once was grumpy, despite his ordeal – such a trooper. Life is better now.  Trooper is completely recovered and ready for his forever home.  Once again, he can run, jump, play and explore.  Trooper's laid back, playful, friendly personality gives him all the essential qualities to be a great furry family member.  
---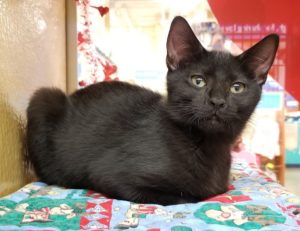 TUTTLES18
DSH, Black, Male
DOB 9/18/18
Tuttles came into a high kill shelter as an orphan.  He was a little cautious when he first came into foster care, but he has blossomed in his foster home and loves to be cuddled and petted.  He has become very outgoing, and he gets along great with other cats and kittens.  He will roll around with his kitten foster mates and have a wonderful time.  Tuttles loves to play especially if you shake some feathers so he can chase them.  When he gets tired though, he will usually pick a buddy to cuddle up with and take a nap.  Tuttles is a beautiful black house panther who is looking for his forever home and family, and he hopes very much that it might be yours.

---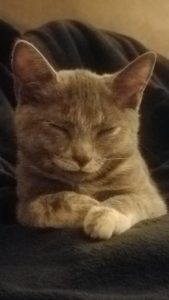 VERONA19
DSH, Dilute Calico, Female
DOB 11/1/18
Verona is a sweet female kitten who loves to play and lay on your lap.  She was brought into the shelter with her siblings, but they all got adopted, leaving her all alone.  Purr Partners took her in and gave her a loving foster home with lots of toys, good food, and playmates.  She is full of personality and starts purring the minute she sees you.  She gets along well with cats, dogs and about anyone that comes around.  She will lay on the couch with you, sleep with you at night, help you get ready in the morning and wants to be right where you are.  She would love to go to a home with another playful kitty or a sweet dog.   When Verona isn't hanging out with her humans or fur buddies, she can be found wrapped up in an electric blanket or laying on the heating vent.  She is also a big fan of a sunny window.  Verona is quite the explorer so if you have family members that leave the door open, this may not be a good fit.   Please consider making Verona part of your family…she is a very special kitty!     
---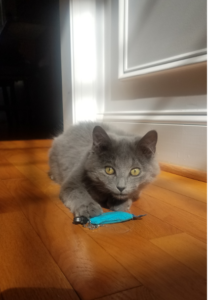 VIKING19
DLH, Gray, Male
DOB 10/1/18 
Viking is a BEAUTIFUL kitten who was brought in to the shelter after being trapped in a cage.  He was extremely scared, so Purr Partners came in and pulled him on his last day.   Once he got to his foster home he warmed right up.  He loves playing with his toys, eating canned cat food, watching the birds and making biscuits with his paws.  He pushes his face into yours and purrs so loud you can hear him in the next room.  He gets along well with cats and dogs and would do great in just about any home.  He has rabbit soft hair and loves to be brushed.  Did I mention, he likes to play… and play…and play.   Please consider adopting Viking.  He is a very special boy!
---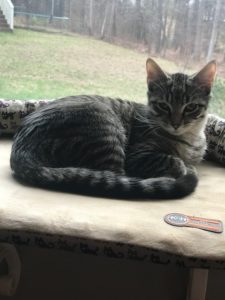 WINONA19
DSH, Gray Tabby, Female
DOB 08/02/18
I may be small, but I am packed with lots of love and purrs! One of my favorite things is to snuggle up to take a nap with my foster mom. I just love to be loved and being with my foster mom. I follow her everywhere she goes. She tells me I talk a lot, but I have a lot to say!  I will sit on your lap and snuggle under the covers with you at night.  I really enjoy playing with my toys, especially the feather wand.  I get to run around and do flips in the air!  Although I'm grateful for all the naps and snuggles my foster mom gives me, I'm really excited to find my furever home!
---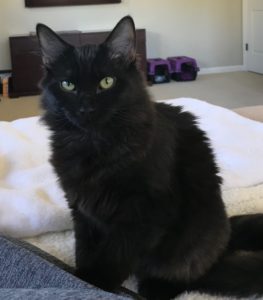 WISEGUY19
DSH, Black, Male
DOB 08/02/18
My name is Wiseguy, I am not one, but I sure am cute!  I am gentle and very laid back. I love being around my foster mom and following her around.  I like to talk, and I go crazy for the feather wand and being on the hunt! I love to carry it around the house when I catch it!  I'm searching for my furever home. My furever home will have lots of toys and feather wands and I just know they'll love me more than anything!
---