Adoptable Cats & Kittens
Follow us on Facebook, Instagram, or Twitter and see the featured cats for weekend adoptathons.
---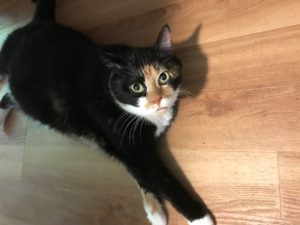 ALLYSON18
DSH, Calico, Female
DOB 4/28/12


Special Diet
Foster to Adopt Eligible
Allyson has lived a life in pain. She was surrendered to a high kill shelter because she was urinating outside of the litter box. It turns out that Allyson was suffering from a bladder and urinary infection that her owners declined to treat her for,  over a period of years. Allyson's entire life was turned upside down when she was abandoned by the only family she knew. Allyson was a troubled kitty when she was rescued by Purr Partners. We have cleared up her medical issues with simple antibiotics, but the psychological scars may take longer to heal. She came to us frightened and confused about people. After weeks in foster care, she has slowly begun to trust her foster mom. She is living with other kitties and dogs and is getting along well with both. She is a little overweight, another sign of neglect from her previous life. Otherwise, she is a beautiful girl. Due to her tragic past, we will make sure that she has a safe home where she will never be mistreated again. She will likely need some time to adapt and some patience and understanding from her new owner. Understandably, she can be defensive, at first, but underneath she is a very sensitive girl who only wants to be loved.  Click here for more information on our Foster to Adopt program.

---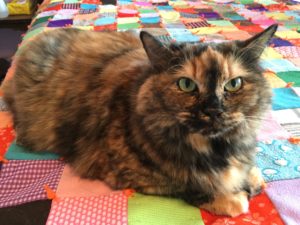 AMI19
DLH, Tortie, Female
DOB 1/1/13
Ami was left at a shelter after living for 4 years in what she thought was her forever home.  She is adjusting rather well in her foster home and is slowly making friends with the other kitties.  Ami enjoys the attention that her foster mom gives her, most of all the petting and head scratches.  If you forget to acknowledge her she will rub up against you and give a little hiss to let you know she is annoyed and wants some love.  Instead of meowing Ami hisses but don't let that put you off it's just her way to talk.  Ami would love to have her true forever home where she can lounge around and get lots of love.

---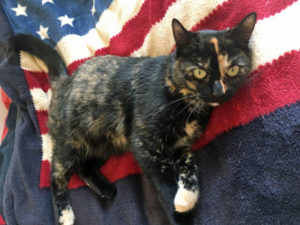 APPLE CIDER19
DSH, Tortie, Female
DOB  3/20/18
Apple Cider is a super sweet and petite kitty that is looking for her forever family.   She loves children and adults of all ages.  She just purrs and purrs with everyone – even at the veterinarian's office!  She is just so happy to be with people and will have a brief conversation with you when you speak to her.  Apple Cider loves to play with her toys, especially the interactive wand toys and is an expert at using her scratching post.  She wants to be petted often and is a great snuggler.   When she is left alone because everyone else is busy, you can find Apple Cider sprawled out in the sunshine streaming in the window.  Because she is a bit of a princess and loves attention, she would be best as an only kitty.  However, she would be good with a cat-friendly dog after an appropriate introduction period.  Do you have room in your home for awesome Apple Cider?

---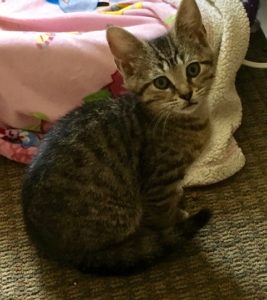 AUGIE18
DSH, Brown Tabby, Male
DOB 4/9/18
Augie is a sweetheart!  He came in to a high kill shelter with a broken back leg but one of the wonderful vets we work with felt that because he was so young it would heal on it's own.  Kitten's bones repair themselves very often and Augie was one of the lucky ones.  He runs around with the other kittens in his foster home and wrestles and plays and you'd never know there had ever been something wrong with his leg.  Augie has joined a litter that he was not born into but he loves his siblings and will curl up with them and sleep after a play session.  He loves feather toys and climbing up and down on the cat trees in his foster home and he will cuddle up when he's picked up.  His foster mom just loves him and he will make a wonderful addition to any home. 
---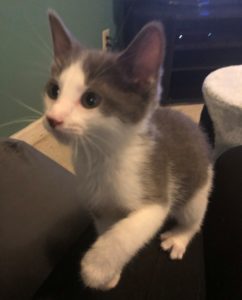 BARNEY19
DSH, Grey & White, Male
DOB 3/1/19
Barney is a very affectionate boy, with the sweetest face.  He looks a little bit like a little bear.  Barney loves to play, chase laser pointers and carry toy mice around in his mouth.  Barney and his siblings were bottle babies, so they are extremely affectionate.   He can be found taking naps at the top of the cat tree.  When you are on the couch, be ready for a snuggle buddy.  Barney will climb in your lap, and roll over demand that you rub his belly.  He gets along with cats and kittens of all ages, and has good manners.  Barney is waiting for his furever family to find him!

---
BRIA19
DSH,  Gray w/White Tabby, Female
DOB 3/1/19
Bria is an absolutely beautiful kitten.  She and her siblings were bottle babies so they are very, very affectionate.  She is playful little girl, loves to chase a laser pointer and carry balls around in her mouth.  Hanging out on the cat perches in the window is one of her favorite pastimes.  She likes watching the birds and squirrels.  She likes to lie in your lap and take a nap after an afternoon of playing.  Bria gets along very well with kitties of all ages.  She would be a purrfect addition to any family.

---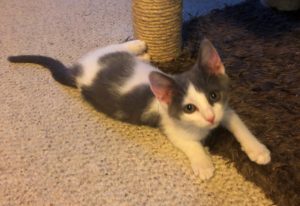 BRISTOL19
DSH, White w/Gray, Female
DOB 3/1/19
Bristol is a very confident, fun loving kitten. She and her siblings were bottle babies so they are very, very affectionate. She is very playful and especially loves to run thru mesh tunnels and jump and play in kitty cubes. She has been known to chase a ball around the room until she falls asleep. Bristol is a real snuggle buddy on the coach when it is time to rest, she will be in your lap almost as soon as you sit down. She gets along very well with kitties of all ages. She is waiting for her furever family to take her home.
---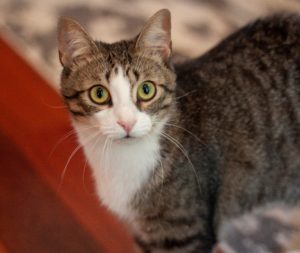 CHELSEA17
DSH, Gray & Brown Tabby, Female
DOB 3/8/17
Foster to Adopt Eligible
Chelsea is a beautiful little girl with a pink nose and striking eyes.  She came to us when she was a few weeks old – all by herself, no littermates or Momma.  The first two weeks she was quarantined to make sure she was healthy, so she only had humans for playmates.  While she likes other cats and gets along with them, she is more comfortable being close to humans.
She will take all the attention you can give her.  When she is in a loving mood, she will climb on your lap, put her paws on your chest and touch your nose with hers!  Sometimes what happens to a kitten early in life determines their personality – and Chelsea will be cautious at first, but once she knows you and trusts you, she will be a little love bug and a loyal friend.
She is curious about the world around her and can spot a fly or ant from 10 feet away.  She loves to watch the birds and bugs outside a window and will make little-chirping noises when something comes close to the window.  Chelsea will play with any toy you give her, but she especially likes the beam from a laser.  Chelsea would do best with a couple or single person – where she can feel safe, can accept your love and give you all hers in return. Click here for more information on our Foster to Adopt program. 
---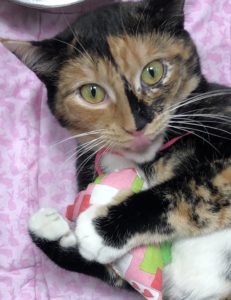 CHIMERA18
DSH, Calico, Female
DOB 2/14/18
Chimera is a sweet kitten that loves to be held, brushed and sit in your lap. She loves to run and play with her fostermates and absolutely adores playing with toys – plastic balls that have a bell in them, squishy catnip filled mice and string toys. Chimera gets along well with other cats and would make a great addition to any home!

---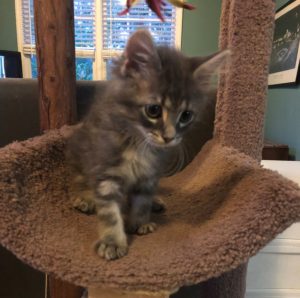 CODY19
DMH, Silver Tabby, Male
DOB 3/20/19
Cody is such a handsome kitty.  He came to Purr Partners when he was only 2 days old.  His foster mom saved his life!!  He has a big personality packed into his fluffy body.  He can climb a cat tree in record time one minute and relax in your lap the next minute, purring and waiting for you to rub his belly.  Mesh tunnels and cubes are some of his favorite toys.    Despite his rough start, Cody is a confident little kitty and is waiting for someone to fall in love with him and take him to his furever home.
---
---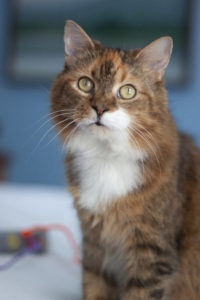 CORAL18
DMH, Tortoiseshell Butterscotch, Female
DOB 6/20/16
Are you looking for a cat that is beautiful, talks, likes laps, loves to be petted and is playful?  Search no more; you have found your kitty.  Coral is all these things and much much more. When Coral was pulled from the shelter and came to her foster home, she came in the door and gave her seal of approval by giving a little meow and going right to the toys.  She especially likes the wands, with no feathers, that she can grab and pull on like a game of tug of war, rolling balls across the floor and catnip pillows that she can wrap her legs around are fun too. She doesn't mind having her fluffy fur brushed or having her claws clipped because it gives her another chance to sit on your lap. Coral would love to have a family of her own where she can run and play, and best of all just hang out with her new family, maybe find a new lap or two that is calling her name.
---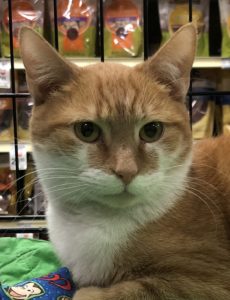 COWBOY18
DSH, Orange & White, Male
DOB 7/24/13
Cowboy is a sweet kind ginger boy; he is a small cat only weighs about 6 lbs.  But don't let that fool you!  He is always ready for action, and then he'll have a big fat nap afterward.  You will find him hanging out on the cat furniture and watching the world go by… This kitty loves to be held, brushed, and sit in your lap and is looking for a special person that he can love forever.
---
---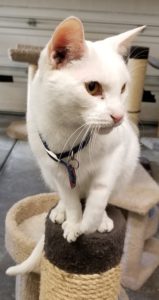 DAY18
DSH, White, Male
DOB 5/6/12
Day is a sweet boy who loves to have lots of pets and cuddles.  Gets along well with other cats and loves to play with string toys.  He enjoys being brushed and sitting in your lap. He would enjoy a home where he could be a companion to an older adult. While he has not been introduced to dogs or young children, he has a lot of love and kitty kisses to give to that special person who can understand him.
---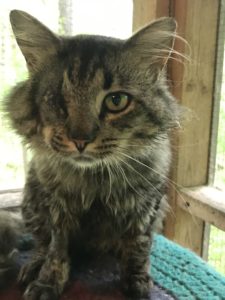 DEIMOS19
DMH/Maine Coon Mix, Brown Tabby, Male
DOB 4/1/18
I came to Purr Partners from a high kill shelter with a bad eye. No one knows what happened to me but the eye could not be saved and had to be removed. Since Day One my foster mom said I was the nicest cat, even through a lot of pain that I was feeling. I have never given her a problem or the other cats in my foster home. I am laid back and like to CHILL while watching nature and taking in the sights and sounds. I also am friendly and affectionate. You will notice that I am part Maine Coon. Not to mention my stunning good looks. I get better looking by the day as I am eating non-stop and filling out. I let my foster mom brush me and clip my nails and I just purr the whole time. Really, you can not go wrong with me. Please take me home. I am DE MOST loving boy in the world!

---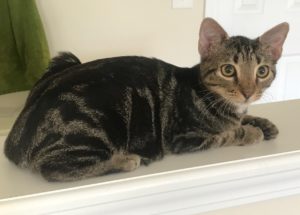 DUMBLEDORE19
DSH, Brown Tabby, Male
DOB 01/12/19
I am a handsome fellow with beautiful dark chocolate and tan swirls rather than stripes that typically tabby's.  I am special!  A bit shy but not anti-social.  I like to play and eat and will respond to snuggles with a cute little nose kiss.  I play well with my sister Darcy and am ready to be your forever friend!

---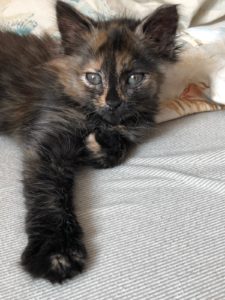 FARKLE19
DMH, Tortie, Female
DOB 2/8/19
I was born at my foster's house to a wonderful mom named Freya. She has found her forever home and now I am looking for mine. Since I was born in foster care, I am very well socialized and am great with people, kids, other cats, and dogs. I adore chasing after jingly balls and am training for the feline world cup! I love being held like a baby and would be great in almost any kind of home. 
---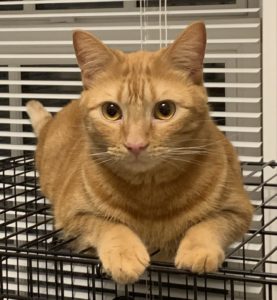 FINNIAN18
DSH, Orange Tabby, Male
DOB 3/1/17
Hi everyone! My name is Finnian, a handsome orange tabby cat, who loves humans.
I was fostered by Purr Partners from when I was three weeks old and was adopted in the summer of 2017.  Sadly, my family was moving, and they told me that they couldn't take me with them, so I am currently with a foster family again.
I love playing! I will explore all around the house while chasing and pouncing on my toys. After playing, I like taking a nap or looking out the window on my perch. My foster dad will play with me by throwing a ball which I will chase around the room and pounce on.  My mom tells me that although my body has grown up, my voice is small and I sound like a little birdie.
I didn't do well with the other cat in my previous home, but I am currently getting along well with my foster family's cat (she used to be with Purr Partners as well!).  My foster mom and dad were a little worried, but now they wish they had let me play with her sooner!
I am looking for a forever family to love me and welcome my cuddle-loving, sweet, and energetic self into their home!
---
---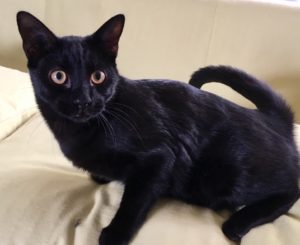 JAKE18
DSH, Black, Male
DOB 3/27/18
Come and meet Jake!  He is the best of all worlds in terms of a kitty.  First, he is absolutely gorgeous, sleek black fur, large amber eyes, and long, trim solid body – he actually looks like a miniature panther.  Then his personality – playful, mischievous, and just plain nosey.
When it comes time to play, he loves to have a toy dangled above him so he can leap straight up at grab it.  You need to be careful playing like this with him because sometimes he will leap in the air so high that he ends up crashing into nearby furniture or walls.  Yet, when alone he can amuse himself with the simplest of toys.  And, he has a soft side – when it's time to relax, he loves to climb in your lap and nap.  You would have no problem convincing him to sleep with you if that's what you desired!  He is very sweet and loves to be around people.  Jake is a joy to have around.
---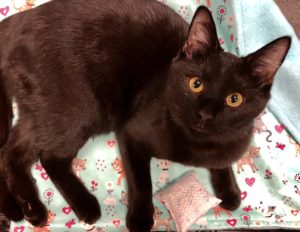 JUDA19
DMH, Black, Male
DOB 7/11/18
Juda is a sweet boy who came from a home with too many kitties. He loves to run and play with his best friend Chimera. Although he has not been to introduced to dog or children, Juda gets along well with other kitties. He loves to play with string toys and plastic balls with bells in them. He is a gentle soul who loves to be pet and cuddled. He will make a wonderful addition to any family.
---
---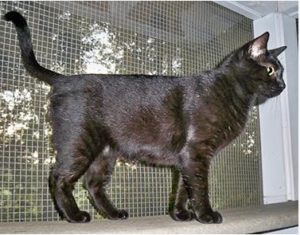 LICORICE18
DSH, Black, Female
DOB 6/1/14
"Miss Licks" as she is called by her foster Mom is a lovely, sweet, and playful girl. Miss Licks had a very difficult beginning finding herself in a kill shelter but happily rescued by Purr Partners. Upon arrival at her foster Mom's it was quickly noticed that she had a serious and very painful injury to her tail. 2 hours later she was being seen by a Veterinarian who also discovered that she had several bite marks on her hip as well. It appeared that she had been attacked possibly by another cat. She stayed overnight for medical care, then home to her foster Mom for love and healing. Today Miss Licks is a beautiful, sleek, playful girl who loves attention and is always happy to see you. She had been terrified of other kitties but over time and trust, she now has many kitty friends she plays with and enjoys time out on the screen porch with. She loves to "wag" her tail when she greets you and give lots of rubs and head butts. Miss Licks is now ready for her next step to find a loving family who will love to be loved by a tail wagging kitty!
---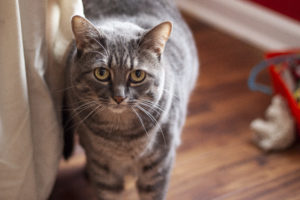 LUNA
DSH, Blue Tabby, Female
DOB 3/1/15
Foster to Adopt Eligible
When Luna was rescued she settled in quickly. She enjoys playing chase with the other kitties, can type, send emails and do online shopping! She loves attention and will crawl in her foster mom's lap, gaze into her eyes and then wash her face. Luna is looking forever home full of love and cuddles, could it be yours?  Click here for more information on our Foster to Adopt program.

---
---
MANDARIN18
DSH, Orange Tabby, Female
DOB 5/28/17
My foster mom calls me Mandy Candy and it suits me down to the ground.  I'm a sweetheart of a cat!  Being orange, Mandarin is a great name for me, but Mandy is more my personality.  When I want your attention, I chirp and trill and will flat out ask for attention with a gentle head butt.  I'm waiting at the door for my humans to come home every day and that's a great time of day for me.  I'm on the bed all night and near my humans all day.  I'm not a lap cat, but I'm always there.  When you get up to do something, I get up and go with you.  If you're sitting at a desk on the computer, I'm on the desk near you or laying on the floor next to your chair.  I have a heated cat bed on the desk and that's one of my favorite places.  But I also have a playful nature.  I gallivant around the house, I love all kind of toys, and of course, watching the world out of windows.  I might not be a kitten anymore but I still have a lot of kitten in me!

---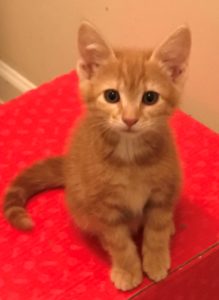 MARQUIS19
DSH, Orange Tabby, Male
DOB 3/14/19
How can you resist my adorable face and interesting?  Full of spunk and personality, I have lots of energy to play with my siblings. I take lots of play breaks to jump on a lap and get some cuddles.  I love to have my belly rubbed and get snuggles and give kisses.  My expressions tell you how much  I can love you and add life to your family.
---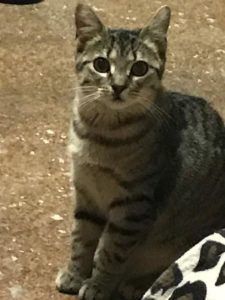 MAYA18
DSH, Brown Tabby, Female
DOB 6/5/18
Life didn't start out very good for Maya.  She was born in the county landfill and spent the early part of her life struggling to live.  Her mother did the best she could, but she was extremely malnourished, and so her kittens were as well.  However, mom brought her babies out when they were about 8 weeks old, and so they got lucky – and got trapped.  Maya determined from the start that she was not going to be a feral cat, that she wanted a home and the good life, so she has quickly opened her heart to her rescuers.  She is very sweet and loving, and she is going to be someone's best friend and constant companion.  She loves to be with you, will follow you around, and watches you with those big eyes as if to say, "Are you, my person?"  Maya is not feral at all.  She is cautious with new people, but that quickly passes, and then she is anxious to bond.  Whoever chooses Maya will truly have a friend for life!  A busy household is probably not the best setting for her, and she is not a huge fan of pushy dogs because of some early bad experiences, but if you are looking for a loving kitty that will be your shadow but never in the way, you've found her!  Maya believes, because we have promised her, that there is someone out there for her, and she is waiting patiently, and a bit worriedly, to be "found."  If you are Maya's person, please let us know so we can keep our promise to her!
---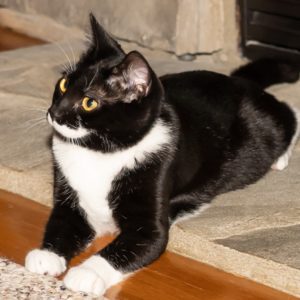 MINNIE18
DSH, Black & White Tuxedo, Female
DOB 4/23/18
Minnie is a friendly, affectionate kitty with a delightful personality.  When she is in a playful mood, she is very energetic, making sure she is at the center of all the action.  She goes crazy when the wand toy comes out and will chase it with gusto until she is completely exhausted.  Her specialty is high jumps.  She is very entertaining to watch as she jumps, turns, and flips in the air while trying to catch the wand.  She loves to be with people and is happy to be carried around or to settle on a lap to enjoy some cuddles.  Her silky, black and white coat is incredibly soft.  Minnie is comfortable with the golden retriever in her foster home and enjoys hanging out with her dog friend.  Come meet this quirky, adorable girl and fall in love.
---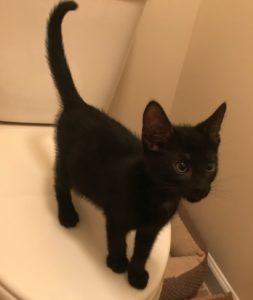 MOSES19
DSH, Black, Male
DOB 3/14/19
I'm a lively fellow who loves to explore.  Like any little kitten, my favorite things are anything that moves and wiggles.  I love boxes; great to get into or on top of.  I love my siblings, Murphy, Mirabella, and Marquis and I LOVE food.  Active and fearless I can jump high and even balance on my back legs to beg for food.  I am would be a happy and fun addition to your family!

---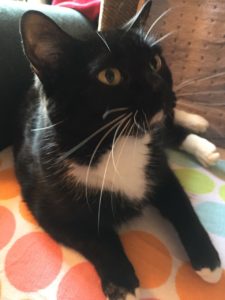 MITSY19
DSH, Black & White, Female
DOB 10/21/12
Hello, my name is Mitsy. I am about 6 years old and am a very tiny tuxedo cat who loves just hanging out. I am very sweet and playful too. My favorite toys are crinkle balls and lasers. I have been living with 2 dogs, another cat and a teenage girl. I get along great with them. I am looking for a place that is a little less busy. My current foster home rescued me from a hoarding situation at 6 months old, so I am ready to down size my family life.  I am great about using the scratching post and  I am very fussy about my appearance.  I even allow my foster mom to trim my nails weekly and am pretty good at sitting still for her.  I would also do fine as an only cat or a companion to another cat or dog but I do love being the princess. I would be a great addition to a family who has older children and a pet who needs company.
---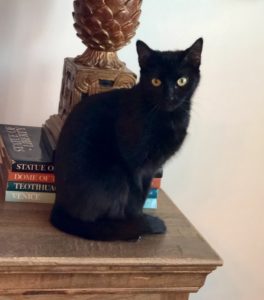 NIGHTSHADE19
DSH, Black, Female
DOB 2/14/18
Nightshade is a sweet and loving young cat. She loves to sit on the screened porch and watch the birds and squirrels and nap in the sunshine. She also loves to be picked up for some snuggles. She always greets her foster family at the front door when they come home. As sweet and playful as she is, Nightshade is a total diva and would much prefer being an only kitty in the house.
---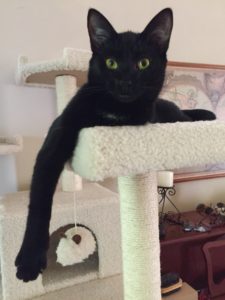 NOVELLA18
DSH, Black, Female
DOB 11/3/18
Novella is our gentle Princess, everything about her personality is dainty. She eats daintily, she runs daintily, but she can also play hard too! Novella has such a sweet soul. She will rub up against you when you walk through the door and will follow you wherever you go. She will purr and hug you if you pick her up slowly and hold her close. Mouse toys are her most favorite, and she will drag it along behind her and pounce on it like shes never seen it before! She is so much fun to be around, and your heart will warm just being near to her.
---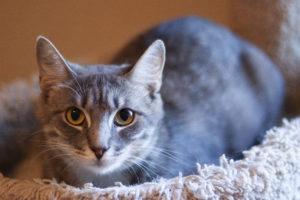 OLIVIA18
DSH, Gray Tabby, Female
DOB 5/11/17
Olivia is so precious.  She was turned in to a high kill shelter with four of her own babies and one orphan that the shelter had put in with her to nurse.  She was such a good momma, and she took care of the orphan as if he were her own.  All of her babies are older now, and it's time for Momma Olivia to find a forever home of her own.  She is a quiet, gentle girl who loves to be petted.  She gets along with other cats and kittens and is not overly demanding.  She'd just like a home where she can have a soft bed to curl up in, a window to look out of, and someone to love her.  Could that home be yours?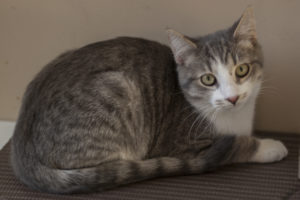 REMUS17
DSH, Silver Tabby with White, Male
DOB 6/20/17
Remus began his life as a feral kitten in Durham, but his lucky day was when he became a Purr Partners kitty.  He has always been more cautious than his siblings, but he is slowly coming around to believe that people are to be trusted.  Remus may be a little cautious around people, but he just LOVES other cats or kittens.  He would make a great companion kitty to another cat who is lonely and needs a friend.  Remus likes nothing better to curl up with a buddy either on the bed or at the top of a cat tree.  Remus loves to be petted, but it has to be on his own terms.  His greatest joy in life, though, is to have a kitty friend to run and play with, possibly do a little mutual grooming, and then snuggle up for a nap.

---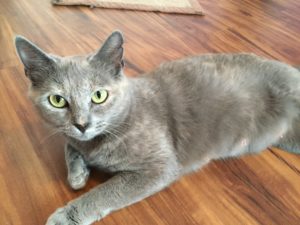 ROSEMARY19
DSH, Dilute Tortie, Female
DOB 4/26/18
Rosemary was pulled from the shelter with 5 babies.  She was a very attentive mom, but now she is looking for her own home.  Rosemary loves people and enjoys getting lots of attention from them.  She likes to play with the toys scattered around her foster home and especially likes the balls and the plastic springs.  She does do some talking and when you come home she will tell you all about her day.  Rosemary would love to be a part of your family!

---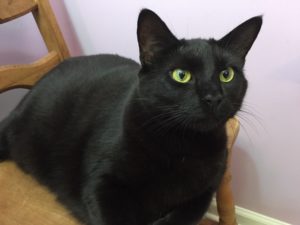 RUE18
DSH, Black, Female
DOB 8/29/16
Rue is a friendly girl with lots to say!  She has an opinion about everything and loves loves loves attention. As you can see she has striking eyes and shiny black fur and along with her great personality she makes a delightful kitty.  Rue would love to have a home of her own and hopes that she will get her forever home soon as she has lots of love to give a very special person.

---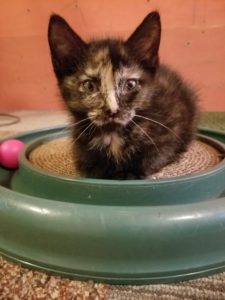 RYANNE19
DSH, Tortie, Female
DOB 3/19/19
I am just a little thing with big eyes and a soulful personality. I am watchful and calm for a kitten my age. I rush to meet you when you walk in the door and love just hanging out with you. My pastimes include jumping in and out of boxes and hiding toy mice in creative places. I am sweet and very low-maintenance. I just want to do what you want to do! I am the perfect snuggle when the day is done….or anytime! I have been around older kids, dogs, and cats with no problems.
---
SALVATORE18
DMH, Black, Male
DOB 7/28/18
Salvatore, like most kittens, wants to play, play, play. He wants to run with his siblings playing chase, and rolling the balls around and just enjoying all that life has to offer.  Salvatore has a great disposition, is inquisitive and would love to be a member of your family.  
---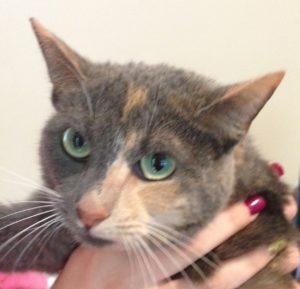 SANGRIA
DSH, Dilute Calico, Female
DOB 3/20/14
Sangria has been in foster care her whole life. Her mother was rescued by Purr Partners and promptly gave birth to 5 kittens. Sangria is the only one left.  She was the shyest out of her litter and remains reclusive with people. She gets along, well, with other cats and has been with other cats her whole life. She is a beautiful, unique looking girl with vivid green eyes who has, quietly, been overlooked due to her timid nature. We think that Sangria would do best with someone that has experience working with shy cats or a patient person who is willing to work with her and accept her for who she is. We never give up on a cat, so, if you are that exceptional owner, who can appreciate beauty through the imperfections, please contact us about possibly adding Sangria to your home. She'd also be a good companion for a lonely cat. 
---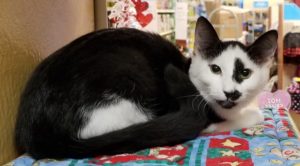 SCOTTY18
DSH, Black & White, Male
DOB 8/16/18
Scotty came into rescue when he was turned in to a high kill shelter, and his back legs did not work very well.  After going to our vet, it was determined that with age and exercise his legs would more than likely heal on their own, and so they have.  Scotty gets around fine now, and no one would know that he had any trouble when he was little.  Scotty loves other kitties and will play and cuddle with them.  He is a little cautious when he is first picked up, but will then settle in and start to purr.  He loves feathers and climbing to the top of the trees in his room.  He's a very sweet boy and don't you just love his eye patch!
---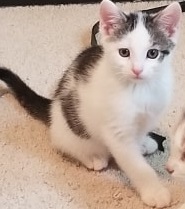 SEUSS19
DSH, Gray & White Tabby, Male
DOB 3/16/19
Seuss is a quirky little feline. He likes to rhyme, he likes to pounce, you might even say he can bounce! He loves them one, he loves them all, he might even be able to make you fall (in love with him)! Seuss is a sweet little guy that has been in foster care since the day he was born. He loves to chase his mice and coming looking for some pets. He adores children, since he can play with them too! He gets along fantastically with other cats, and loving a dog may take a little more time. As much as he loves to play, he loves sitting near his human just as much.

---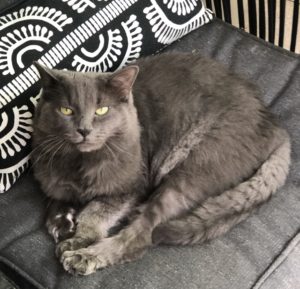 SHADY LADY19
DLH, Gray, Female
DOB 7/19/13
Shady Lady is a big old sweetheart! Her green eyes are set off by her plush, blue-gray coat. She loves affection on her own terms and doesn't like to be held. Her favorite hobbies are chasing a ribbon toy, lounging, and sunbathing on the screened porch. Shady Lady is social and will seek out her humans so she can spend time in the same room as them. She sleeps on the foot of her foster mom's bed. When she's extra happy, expect head bumps and cheek-to-cheek rubs from this regal lady. As she is a true queen, Shady Lady would do best as an only pet. 
---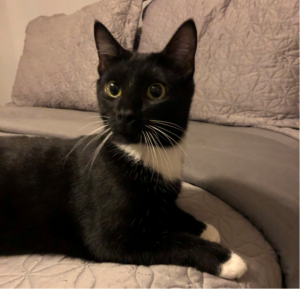 SHANDY18
DSH, Black & White Tuxedo, Male
DOB 10/28/17
Shandy – is an amazing cat that is very, very good with young children.   He is very patient and doesn't run away when they approach him.  He allows kisses and pets and an occasional hug.  When he is ready for a break, he just gets up and quietly walks away.   With his perfect black and white tuxedo markings is a stunning boy.  He has a big personality to go with his looks.  Climbing on the cat tree is a favorite past time for him. He has a steady personality with a  playful side too.   Shandy gets along with kitties of all ages.  Loves toys of any kind.  He is not shy and will always greet you when you come into the room.  He is also an explorer – I don't think there is an inch of the kitty room that he hasn't been in.  When he is ready to rest he likes to curl up on the couch or bed with you.  Handsome Shandy would be a great addition to any family – especially one with a playmate human or feline.

---
---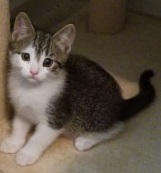 SPIDERMAN19
DSH, Gray & White Tabby, Male 
DOB 3/16/19
SpiderMan wants to swing right into your home and into your heart! SpiderMan sure is a goofy boy that loves to play, eat, sleep and purr. He loves nothing more than to spend all day running around the house, playing with mice, children and other cats. After a long day of excitement, he will curl up right next to his person and purr away until he can get some deserved sleep. SpiderMan may take some time to acclimate to any canine friends, but with time and patience, he'll be running alongside the pack as well!
---
---
SUNKIST
DSH Orange Tabby with White, Male
DOB 7/15/15


Chronic Sinusitis
Sunkist is the cutest, silliest, funniest boy who loves to play and entertain. He is quite active and mischievous. He likes toys and loves to chase the broom when you sweep. He gets along very well with other cats. He loves treats. So why has he been in foster care for over a year and a half? In January of 2016, he was just a half-grown kitten pulled from a high kill shelter. He came to us with a severe sinus infection where he was sneezing blood. He was treated with multiple courses of antibiotics but every time he came off of antibiotics, he would start sneezing and eventually would develop sinus and respiratory infections. We tried different antibiotics and extended courses of antibiotics but Sunkist could never stay well for long. He was even seen at the vet school but there has been no cure found for him. His infections are not contagious and are caused by damage in his sinuses from when he was a kitten so he will always be susceptible to infections. He will periodically need antibiotics and steroids. Despite all of this he is a happy boy that would love nothing more than a real home for the first time in his life. He is not a placid lap cat because he is so busy all of the time. He would love a family with older kids or other cats to play with – maybe even a dog! He is stuck in foster care through no fault of his own. We have found homes for cats with many different medical issues before and we know that there is a home out there for Sunkist. Could it be you that will open your heart and home to this deserving boy?

---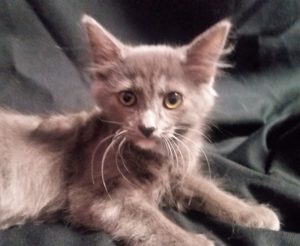 TAMARA19
DMH, Grey w/White Tux, Female
DOB 3/1/19
I am not just another beautiful face!  I love everything and everyone.  I purr all the time because I am so happy.  I love to be held, carried, pet, to play, to wrestle and to just look beautiful!  I am a little scared at Petsmart but at home I am not scared at all.  I love other cats and people.  I would be good with kids and I might be good with dogs but I really don't know.  I am such a soft kitty and so much love to give. 
---
---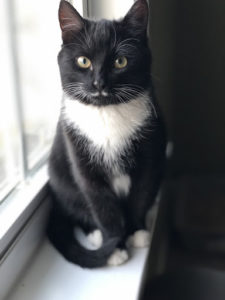 TIA19
DSH, Black & White Tuxedo, Female
DOB 10/15/18
Tia is a fun loving girl, always ready to play.  Don't think she doesn't want her cuddles though.  When she's happy and purring, you'll see her kneading the floor while she walks.  Be ready for non-stop fun with this little girl.
---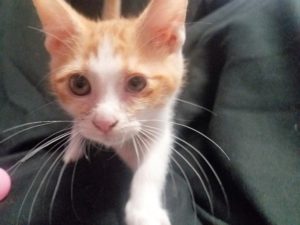 TORTELLINI19
DSH, Orange & White, Male
DOB 3/1/19
Tortellini is fun fun fun!!! He is the very sweet and funny. He loves to play and is extremely silly – making his foster mom laugh all the time. He is not all fun, he is also a huge cuddler. Once he gets tired he wants to on a lap or carried around with lots of pets. He purrs all the time. Tortellini loves playing with people, other cats but is not yet certain about dogs as he has never met one. He would be great with kids and he is very easy going.
---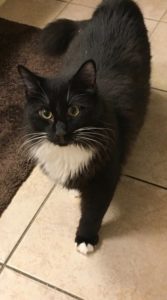 TOULOUSE18
DLH, Black & White Tuxedo, Male
DOB 2/12/18


  Medication
In the relatively short time Toulouse has been alive he has had a very hard time of it.  He was brought in to a high kill shelter after he had been hit by a car, and the shelter manager called Purr Partners to see if we could help.  We got this sweet boy right to our vet and were told that he had a broken pelvis.  The worst and most dangerous injury he had, though, was a huge hernia in his abdomen.  Because of the impact of the car, his bladder and his intestines were outside the abdominal wall and this had to be corrected immediately in order to save his life.  We authorized that surgery, and luckily it was successful.  Then Toulouse had to be on crate rest for six weeks while his pelvis healed.  During this rest period, we discovered that he had fluid in his chest cavity, though the vet did not know why.  It was thought that the impact of the car had led to a lymphatic vessel leaking into his chest, but a trip to a specialty hospital proved this not to be the case.  He has been under the care of a specialist for many months now, and although the amount of fluid is much less, the vets still don't know why it won't go away completely.  He is currently on an every-other-day dose of Prednisone, and it is unclear if he will have to take it for the rest of his life or if the fluid will eventually resolve.  
 Right now Toulouse acts like a regular cat, running and playing, sleeping on the bed, and asking for pats and rubs.  He does need a home, though, that will monitor his condition with regular checkups which may be more often than yearly.  He needs a family as well that will keep him on his meds if the vet recommends it.  Toulouse gets along with other cats and kittens, and he does very well with the two gentle dogs he lives with.  We don't know if Toulouse's lifespan will be normal, or if it may be shortened, but we do know this sweet, sweet boy needs a home and family to love him for whatever time he has.  He is a wonderful kitty who will reward you with his love and devotion.
---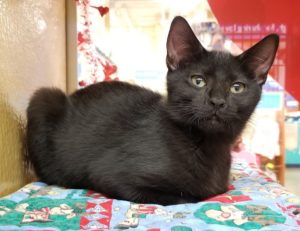 TUTTLES18
DSH, Black, Male
DOB 9/18/18
Tuttles came into a high kill shelter as an orphan.  He was a little cautious when he first came into foster care, but he has blossomed in his foster home and loves to be cuddled and petted.  He has become very outgoing, and he gets along great with other cats and kittens.  He will roll around with his kitten foster mates and have a wonderful time.  Tuttles loves to play especially if you shake some feathers so he can chase them.  When he gets tired though, he will usually pick a buddy to cuddle up with and take a nap.  Tuttles is a beautiful black house panther who is looking for his forever home and family, and he hopes very much that it might be yours.
---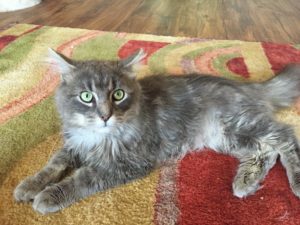 WRIGLEY19
DLH, Gray Creme, Male
DOB 6/15/18
Wrigley is a fantastic boy who has lots of love to give.  He makes the cutest little noises when you talk to him and will look up at you with those big eyes and sweet face and you will give him anything he wants!  He is fascinated with the toys in his foster home and is learning to play with most of them.  He is gentle, curious and would make a great addition to most any home.
---
---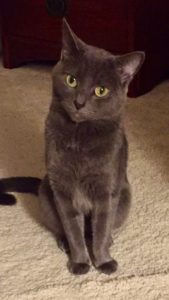 ZOE19
DSH, Russian Blue Mix, Female
DOB 4/15/17
This gorgeous girl has the softest fur and big, bright green eyes! She just wants to be loved and cared for because we don't think she was in her prior life. She was abandoned and left to fend for herself. She was a little wary of her foster family at first and who could blame her! But she has decided that maybe there are some good people in this world and it's time to trust again. She so badly wants to be near her person and sit on laps and sleep on beds. She is a little afraid of bigger cats but seems to tolerate those more her size. She is a petite girl. We are not sure about dogs and kids. This beauty was let down before but deserves another chance at forever!

---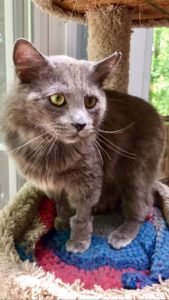 ZOLTAR19
DLH, Russian Blue Mix, Male
DOB 8/14/17
Let me tell your fortune…I see a new kitty in your future and he is big and bold and such a softy! He is a protector, peacemaker and friend to all other cats. He will want to sit on your lap, sleep in your bed and always be near you. He has to so he can make sure you are ok. He sings and chirps and comes when he is called. You will love him and he will return that love in a "Big" way.  He is a funny and playful guy and so calm. He would like to have a friend to play with but he doesn't care for those other odd animals you call dogs. Your fortune is sealed and Zoltar is ready to make your wishes come true!
---