Cats and kittens are fulling vetted and tested for Feline leukemia virus (FeLV) and feline immunodeficiency virus (FIV), dewormed, treated for fleas, UTD on vaccines, spayed or neutered, and microchipped. 
Purr Partners is a foster-based rescue and every cat and kitten is fostered by a volunteer foster family. This means that we get to know each kitty's personality and likes and dislikes.  We don't have a public facility or intake center where you can stop by and visit.  In order to meet our cats and kittens, you must attend one of our weekend adoption events or become a preapproved adopter to schedule a private meet and greet session.
Read our Adoption Policies before completing the Adoption Application.
See our Adoption Fees and information on how to adopt.
Follow us on Facebook, Instagram, or Twitter and see the featured cats at weekend adoptathons.
---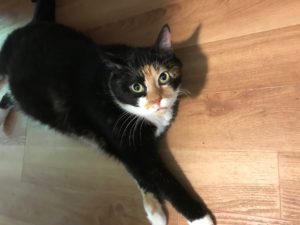 ALLYSON18
DSH, Calico, Female
DOB 4/28/12


Special Diet Foster to Adopt Eligible
Allyson has lived a life in pain. She was surrendered to a high kill shelter because she was urinating outside of the litter box. It turns out that Allyson was suffering from a bladder and urinary infection that her owners declined to treat her for,  over a period of years. Allyson's entire life was turned upside down when she was abandoned by the only family she knew. Allyson was a troubled kitty when she was rescued by Purr Partners. We have cleared up her medical issues with simple antibiotics, but the psychological scars may take longer to heal. She came to us frightened and confused about people. After weeks in foster care, she has slowly begun to trust her foster mom. She is living with other kitties and dogs and is getting along well with both. She is a little overweight, another sign of neglect from her previous life. Otherwise, she is a beautiful girl. Due to her tragic past, we will make sure that she has a safe home where she will never be mistreated again. She will likely need some time to adapt and some patience and understanding from her new owner. Understandably, she can be defensive, at first, but underneath she is a very sensitive girl who only wants to be loved.  Click here for more information on our Foster to Adopt program.

---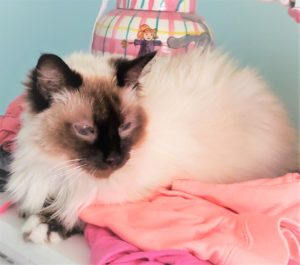 AZULA19
Siamese/Ragdoll, Seal Point, Female
DOB 7/1/13
Hello. I am Azula a super friendly Siamese/Ragdoll mix with the most purrfect markings and soft fur. But, I am very special as my eyesight is not good at all. Because of this, I can be easily thrown off guard if you enter the room without announcing yourself.It also means other creatures can frighten me too especially if they are in my periphery. My first reaction is to hiss and my claws will come out, so I really think a single fluff home with a dog would be best. I am very loving and if I know there isn't any other fluff around I will relax and love to enjoy head scratches, back rubs and baby talk. I really like to lay and snuggle Big Humans. So, if you think I would fit into your life and you promise to understand mine, will you take me to my furever home?​
---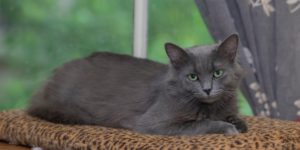 BLUEBELLE19
DMH, Russian Blue Mix, Female
DOB 7/15/18
Hey, look at me! I'm beautiful and oh so sassy! My foster mom says that I'm a lot of cat in a petite body. I guess that means that I have my own cat attitude but I'm just so cute that I can get away with it. She loves my fluffy fur and big green eyes and claims that I am quite a rascal, but I think of myself as a confident and independent young lady! I say that I have a kitten personality and like to stay active. Foster dad, the photographer, finds me to be a beautiful and talented model as you can see by my striking photos.
As for my preferences, I prefer to leave the snuggling and petting sessions to other kitties. I'd rather play, run, and explore. Show me a red dot on the floor and I'm after it. I could play for hours with the balls in the orange tower or the feather on the string. And I'm very keen to explore new rooms in the house, so many new corners and new smells. I'm not into high places as much as the low areas and the underneath. It took me a while to get comfortable in my new foster home. I'm not telling what happened to me before I was rescued by Purr Partners but I was quite scared and all I wanted to do was hide – some secrets are to be kept!
I spent the first week in the box springs of the bed but then I decided that foster mom was worthy of my trust and served good meals. Mealtimes are awesome! I've had some pretty bad experiences with hands in the past but foster mom lets me rub her hands and doesn't try to grab me. I let her get in a couple of nice rubs usually and then I'm off for the next adventure. About the other cats in the house… I've been letting them know that I am the top cat and love a good game of box and chase. I love it when one runs and I race through the house after him. I'm still trying to decide if I like them and want to play. Actually, I enjoy having the rooms to myself without other cats to keep in their places. I do love to hang out or play with my foster parents. As foster mom comes into my rooms I run to meet her when she calls me. I rub her; she rubs me, and then its playtime. She is quite good with the red dot light. I know it's her that makes the light dance and race around. Then sometimes we just sit together. I've tried lap-sitting for a few minutes and consider this might be something I could enjoy as long as all that petting and cuddling aren't involved. Oh, and I do like sleeping on the bed at night and playing with feet under the covers. I've gradually adjusted to my new foster home and feel pretty confident now but I understand that one day I'll have an even better home with a forever human that I'll learn to love and trust. They will be someone who will patiently give me time to settle and to feel confident in my forever home. I don't really think kids are my thing, and as for other cats… well, not too sure about that either. Dogs are a possibility because well, they're dogs, not cats! I really want to be your beautiful, quirky, loving BFF and I promise to love you forever if you give me a chance. Please, all you awesome cat people – take a chance on ME! I need you!
---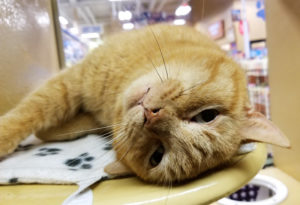 CAMEON19
DSH, Orange, Male
DOB 6/1/07
I am a senior guy who somehow wound up in a high kill shelter. I am a big boy with a big personality to match. My foster mom thinks I look like a combination of Garfield and Grumpy cat. My fur is dark orange and I have really cool light green eyes. I came to my foster home and I didn't skip a beat. I don't fight with any of the other cats in my foster home. I pretty much just mind my own business and chill out. I love affection and I will flop over for my foster mom to pet me. I will do anything to get attention! Please consider taking me home. I have some miles on me and not many teeth left but I promise to keep you entertained as long as you pet me (A LOT)!
---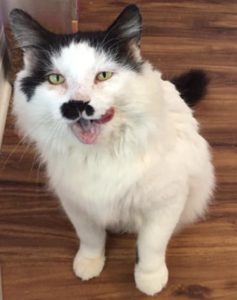 CHAPLIN18
DMH, White & Black, Male
DOB 12/15/15
Chaplin is a quiet but loving boy who will sit with you forever if you are either petting or brushing him.  When his foster mom is not home, he is content to watch out the window waiting for her return or hoping to catch a glimpse of a bird landing on the window ledge.  He is fine with the other cats in his foster home but would really like to have a place he can call home with his own family.  If you are looking for a handsome boy that would appreciate you then you, have found your boy.
---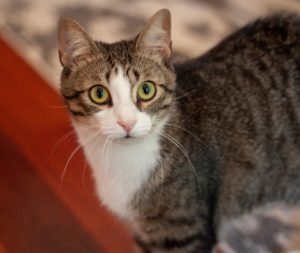 CHELSEA17
DSH, Gray & Brown Tabby, Female
DOB 3/8/17
Foster to Adopt Eligible
Chelsea is a beautiful little girl with a pink nose and striking eyes.  She came to us when she was a few weeks old – all by herself, no littermates or Momma.  The first two weeks she was quarantined to make sure she was healthy, so she only had humans for playmates.  While she likes other cats and gets along with them, she is more comfortable being close to humans.
She will take all the attention you can give her.  When she is in a loving mood, she will climb on your lap, put her paws on your chest and touch your nose with hers!  Sometimes what happens to a kitten early in life determines their personality – and Chelsea will be cautious at first, but once she knows you and trusts you, she will be a little love bug and a loyal friend.
She is curious about the world around her and can spot a fly or ant from 10 feet away.  She loves to watch the birds and bugs outside a window and will make little-chirping noises when something comes close to the window.  Chelsea will play with any toy you give her, but she especially likes the beam from a laser.  
Chelsea would do best with a couple or single person – where she can feel safe, can accept your love and give you all hers in return. Click here for more information on our Foster to Adopt program. 
---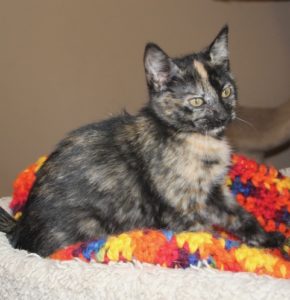 CLARET19
DSH, Tortie, Female
DOB 3/4/19
Who doesn't love a beautiful Tortie, and look at that cute little orange spot on Claret's forehead! She is a little doll baby who loves to play with her siblings and then cuddle up with them for a nap. Claret is an active little girl and a typical kitten who wants to investigate everything she comes across. But she's also up for a snuggle or two and hopes her forever home will give her lots of those.
---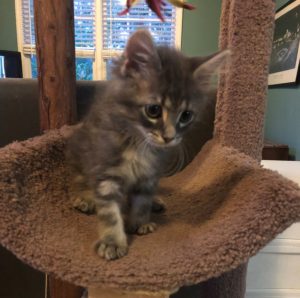 CODY19
DMH, Silver Tabby, Male
DOB 3/20/19
Cody is such a handsome kitty.  He came to Purr Partners when he was only 2 days old.  His foster mom saved his life!!  He has a big personality packed into his fluffy body.  He can climb a cat tree in record time one minute and relax in your lap the next minute, purring and waiting for you to rub his belly.  Mesh tunnels and cubes are some of his favorite toys.    Despite his rough start, Cody is a confident little kitty and is waiting for someone to fall in love with him and take him to his furever home.
---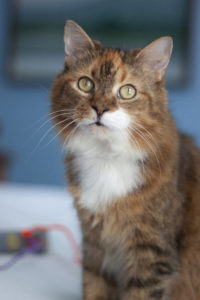 CORAL18
DMH, Tortoiseshell Butterscotch, Female
DOB 6/20/16
Are you looking for a cat that is beautiful, talks, likes laps, loves to be petted and is playful?  Search no more; you have found your kitty.  Coral is all these things and much much more.
When Coral was pulled from the shelter and came to her foster home, she came in the door and gave her seal of approval by giving a little meow and going right to the toys.  She especially likes the wands, with no feathers, that she can grab and pull on like a game of tug of war, rolling balls across the floor and catnip pillows that she can wrap her legs around are fun too. She doesn't mind having her fluffy fur brushed or having her claws clipped because it gives her another chance to sit on your lap. Coral would love to have a family of her own where she can run and play, and best of all just hang out with her new family, maybe find a new lap or two that is calling her name.
---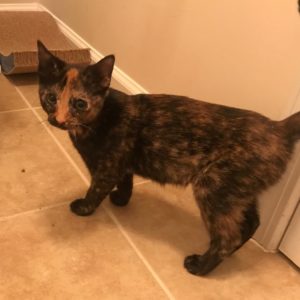 DARCY19
DSH, Tortie, Female
DOB 01/12/19
Curious and inquisitive, just what you would expect a young kitten to be!  I love to run and jump.  I am the first to the door and the food bowl when my foster mom comes in.  I want to explore and be free to entertain you with my cute little personality.  I also love laps and pets.  My brother, Dumbledore and I make a great team or I would easily befriend another kitten or young cat in your home.

---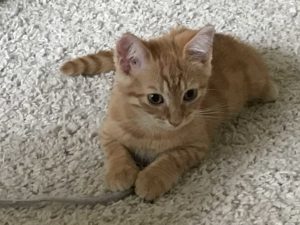 DAWLISH19
DSH, Orange Tabby, Male
DOB 5/18/19
This might be hard to believe, but I come from a long line of wizards. Just ask fans of Harry Potter! My namesake was an excellent Auror who achieved 'Outstanding' in all his 'NEWTs'. I am a magical kitten, I will say that. I move so quickly you might think I employed the use of Floo Powder, but no, I have the wonderful speed and agility all active kittens have. I'm also way cuter than most wizards. My favorite toys are EVERYTHING, but especially anything with strings or feather wands (seriously, wands). I'll chase both as long as my humans will play with me. I'm endlessly curious and enjoy romping with my two kitten roommates (also wizards).

---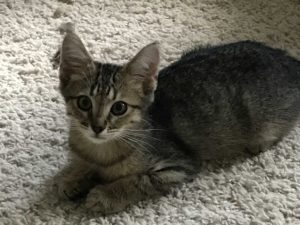 DIABLEN19
DSH, Brown Tabby, Male
DOB 5/8/19
It's possible that the first thing you notice about me are my ears. Right now they're pretty big. You know what they say – big ears, big heart. I'll grown into those ears in a few months. My face is very striking, with the dramatic dark markings around my eyes and a perfect 'M' above my eyes. My eyes are a lovely topaz color that matches my fur. I'm living a great kitten life right now, cavorting with my roommates and exploring this huge new world. I have a really loud purr motor and I love being held. I don't have a mean bone in my kitten body and I want to trust everyone I meet, cat or human. Spend some time with me and see for yourself!

---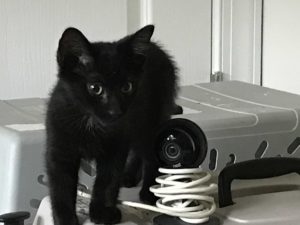 DIMITY19
DMH, Black, Female
DOB 5/8/19
Maybe you've heard of Dimity Hubbub from the novel A Hat Full of Sky? That's where my name hails from. While I'm a magical kitten because I'm fun and playful and beautiful, my only powers are in charming human beings with my sweet nature. I like being held like a baby and will purr purr purr! My favorite toys are strings, mouse toys, feather wands and of course empty cardboard boxes. I love sitting in windows watching birds, squirrels and cars, and I'm not afraid of thunderstorms – I'm riveted by thunder and the sight and sound of pouring rain!
---
DONEGAL19
DSH, Black & White, Male
DOB 3/28/19
Donegal is our very sweet and very calm kitten. He is not a high-strung energetic kitten but will enjoy chasing after a cat toy or laying by your side. He was brought into our program as a very young kitten and has adjusted nicely to our foster family. He still very much likes to play hard for a time, but will be perfectly content to lay by your side just to be near you! Donegal and his siblings are currently being introduced to our cats and dog and are adjusting nicely to this new arrangement. He loves to climb, as well as pounce on anything deemed worthy of his attention! Donegal should do well in a family with children of any age. If you will take the time to visit with him, I know that you will want him to be near you each and every day.
---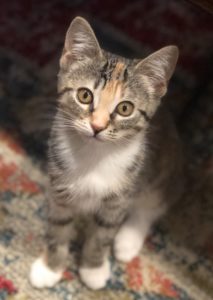 EMANUELLA19
DSH, Torbie, Tri-color, Female
DOB 4/25/19
Emanuella (Ella) is a rare and beautiful Torbie, her coat has tabby stripes with tortoiseshell markings and is quite unique.  This little girl is gentle with a sweet disposition.  She doesn't mind roughhousing with her fostermates but she might like sitting in the cat tree and watching the commotion a bit more.  She likes to be picked up and held and doesn't mind if you carry her around for a bit. Her favorite thing to play with is a soft pom-pom ball that she can chase and carry around in her mouth.  She is fostered with an active family who has cats and two dogs and is very well socialized. She will make a wonderful addition to any home.
---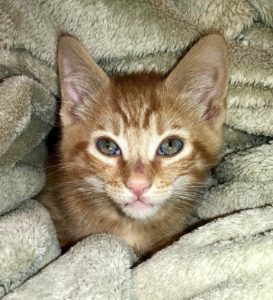 EMERSON19
DSH, Orange Tabby with White, Male
DOB 4/25/19
If you are lonely and just need someone to talk to then this is your boy!  Emerson is an absolute chatterbox and not afraid to express himself. You will always know exactly where you stand with this handsome devil and if that is anywhere near the food bin he will make it clear that he is ready for a snack!  Seriously, just take one look into his gorgeous green eyes and you'll be more than happy to oblige!  Emerson is a bundle of energy and loves to run, jump, and play with his fostermates.  His favorite toy is the trackball and chasing jingle balls across the room. After a good time, he will snuggle up next to you for a nap.  He enjoys birdwatching with is buddy Elmo at the window or on YouTube.  He is fostered with an active family who has cats and two dogs and is very well socialized. Sweet, fun and loving — what else could you ask for in a pet? 
---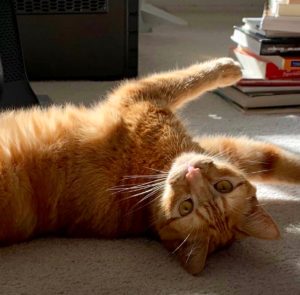 FINNIAN18
DSH, Orange Tabby, Male
DOB 3/1/17
Hi everyone! My name is Finnian, a handsome orange tabby cat, who loves humans.I was fostered by Purr Partners from when I was three weeks old and was adopted in the summer of 2017.  Sadly, my family was moving, and they told me that they couldn't take me with them, so I am currently with a foster family again.
I love playing! I will explore all around the house while chasing and pouncing on my toys. After playing, I like taking a nap or looking out the window on my perch. My foster dad will play with me by throwing a ball which I will chase around the room and pounce on. My mom tells me that although my body has grown up, my voice is small and I sound like a little birdie. I didn't do well with the other cat in my previous home, but I am currently getting along well with my foster family's cat (she used to be with Purr Partners as well!).  My foster mom and dad were a little worried, but now they wish they had let me play with her sooner!
I am looking for a forever family to love me and welcome my cuddle-loving, sweet, and energetic self into their home!
---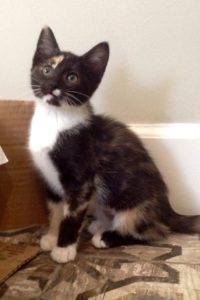 GLOW19
DSH, Tortie, Female
DOB 3/19/19
Glow Bug is a striking tortie girl who inherited her momma's pretty multi-colored coat. A Purr Partners baby who was born into our care, she is a lovely, sweet girl who plays well with others and exhibits all the confidence of a kitten who knows she is destined for great things, like gracing your home with her sunny purr-sonality.
Miss. Glow Bug is well-behaved kitten who is sociable but also a bit independent. She plays well with others but she is also good at amusing herself if everyone else is napping. She is self-assured and friendly, but not pushy and underfoot. She would adapt to any number of home situations, including mild-mannered dogs and other cats. Glow is a wonderful kitten that will grow up to be a loyal companion. Maybe yours?!

---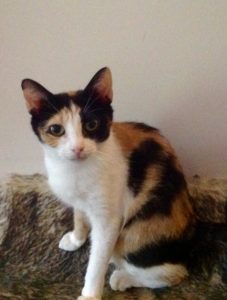 GWEN19
DSH, Calico, Female
DOB 5/1/18
Gwen is a lovely petite little girl who came to Purr Partners with her babies from a high kill shelter. She was a wonderful loving momma cat and now that her babies are grown and ready for their new homes Gwen is now looking for hers. She gets along well with everyone and is a bit shy at first but quickly warms up and likes to be where she can be with you. She likes to snuggle on the bed at night and enjoys belly rubs and baby talk. She is very low maintenance – not picky with her food, plays with whatever is around and really just enjoys napping in the sun. She would make a great addition to a quiet family that can appreciate her gentle, quiet nature.

---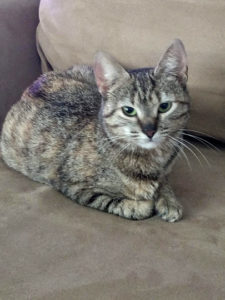 GWYNNETH19
DSH, Torbie, Female
DOB 4/1/18
Gwynneth is such a love bug you just want to cradle in your arms and stare at that cute little nose.  She came to us as a mommy, hard to believe given how tiny she is. She loves to head butt to get your attention, and then do her biscuit making dance to let you know you are rubbing her chin just right. She shows off her karate moves chasing lasers and the occasional fly. She was pretty timid at first and would try to run away but then hear the snack bag, do a 180, and come running straight back, It didn't take long before she was snuggling with her foster mommy so if you're looking for a movie night partner in crime, Gwynneth is the perfect match.
---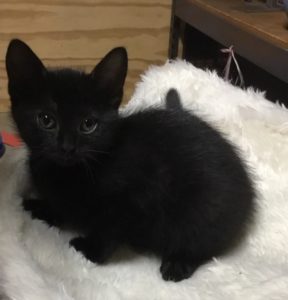 HAVANA19
DSH, Black, Female
DOB 3/25/19
Sweet Havana is such a cheerful and curious cat with her fabulous PURRRRR and a great personality she is one not to miss! She loves to chase the other kittens around at the house. She is good with her siblings and with the bigger cats in the house. Her favorite way to drink water is to stand on top of the fountain and drink from the top of the fountain! She has limited exposure to dogs. Could this be the kitten for you?
---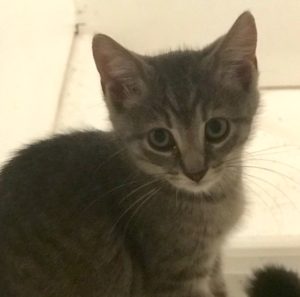 HOLLYBERRY19
DSH, Silver Tabby, Female
DOB 3/25/19
This little petite girl is so very sweet. She loves playing with her siblings and is very interested in the big cats in the house. She can't take a bad picture and will stop playing to pose for pictures. She likes to drink from a water fountain and is a good eater. When she sees her food dish in the morning she starts to "talk" to you almost like she is telling you to "hurry up and feed me!" Is she the right kitten for you? Stop by and say hi the next time you see her posted at the pet store. You won't be disappointed.
---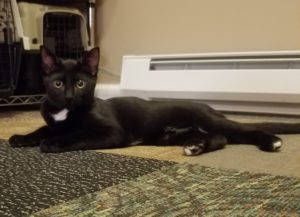 HOOLIGAN19
DSH, Black & White Tuxedo, Male
DOB  2/8/19
Boing!  I am Kitten Avenger, ready to rid our universe of stray dust bunnies and scraps of paper. I am moderate to high energy and would be great with a buddy to cute-kitty wrestle. Don't let my vigor fool you. I love a good cat nap or a long, lazy Saturday morning in bed with you. I have been around my foster's dogs and think they are awesome! I am great with other cats and with kids.

---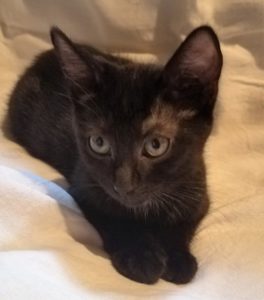 HYDROX19
DSH, Black, Female
DOB 3/25/19
Just call me ROXY! My foster mom does…I am a little shy at first but after I get to know my people, I am very loving and cuddly!!! I purr all the time and love to give kisses. I love to be held, cuddle, and sleep on my people or where ever you put me! But I like to play too like all kittens! My foster Mom really loves me and I am so glad that I was given a chance to show her how wonderful l am. She told me that anyone to be very lucky to have such a wonderful kitty!
---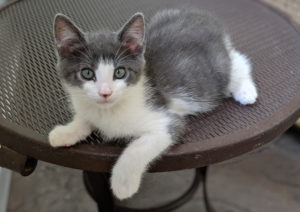 IZAAK19
DSH, Gray & White, Male
DOB 3/31/19
I am a gentle, confident, affectionate kitten who loves to chase around ping pong balls, bat at toy mice, and snuggle with my feline friends.  I have lots of love to share and since I am pretty easygoing, I would likely get along marvelously with respectful children of any age.  Whenever my foster mom is scooping the litter box, I can be relied upon to help her by jumping in and scratching about.  As I see it, any box is an open invitation to hop in and roll around.  I just can't resist them.  If you are looking for a good-natured kitten with a super sweet temperament, I am your boy.
---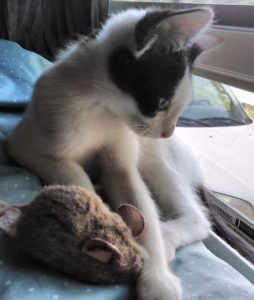 JACKSON19
DSH, Black & White, Male
DOB 4/15/2019
Hiya! Name's Jackson, make that, Action Jackson!  I am a superhero of sorts and when I'm not fighting the kitten crimes of my fostermates, I enjoy playtime with my sidekick Mr. Squeek-ums, aka my favorite toy.  Between you and me, the only thing better than that is getting lots of loving, snuggling, cuddling and purring with my humans. I am a friendly little dude and am on the hunt for my very own forever home.  I haven't been around children or dogs but with a proper introduction, I think I would do just fine with them both.  Won't you adopt me and be my superhero? 
---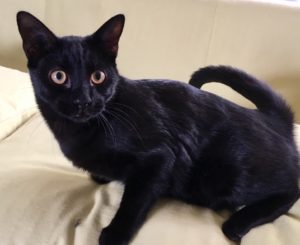 JAKE18
DSH, Black, Male
DOB 3/27/18
Come and meet Jake!  He is the best of all worlds in terms of a kitty.  First, he is absolutely gorgeous, sleek black fur, large amber eyes, and long, trim solid body – he actually looks like a miniature panther.  Then his personality – playful, mischievous, and just plain nosy.
When it comes time to play, he loves to have a toy dangled above him so he can leap straight up at grab it.  You need to be careful playing like this with him because sometimes he will leap in the air so high that he ends up crashing into nearby furniture or walls.  Yet, when alone he can amuse himself with the simplest of toys.  And, he has a soft side – when it's time to relax, he loves to climb in your lap and nap.  You would have no problem convincing him to sleep with you if that's what you desired!  He is very sweet and loves to be around people.  Jake is a joy to have around.

---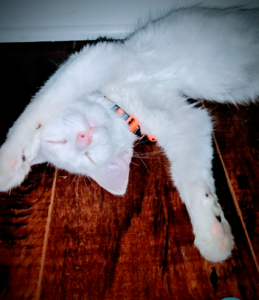 JEREMIAH19
DMH, White w/Tabby, Male
DOB 4/15/19
I am a beautiful white kitty with a tabby tail! Very easy going, I love to play whether it is with my foster mates or with humans. However, if playtime isn't in the cards, I also love loads of cuddles and kisses. Having a forever family is a dream come true, humans are awesome! I bet tiny humans are even better. I have never been around children before but I am sure we would get along great. I haven't been around dogs but I am open to meeting a kitty luvin' dog. Whoever chooses me as their fur-baby know that I will love you with every inch of my heart, while I make biscuits on your lap.
---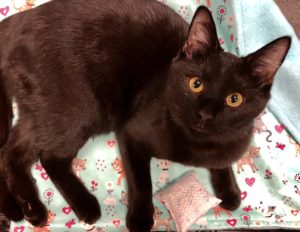 JUDA19
DMH, Black, Male
DOB 7/11/18
Juda is a sweet boy who came from a home with too many kitties. He loves to run and play with his best friend Chimera. Although he has not been to introduced to dog or children, Juda gets along well with other kitties. He loves to play with string toys and plastic balls with bells in them. He is a gentle soul who loves to be pet and cuddled. He will make a wonderful addition to any family.

---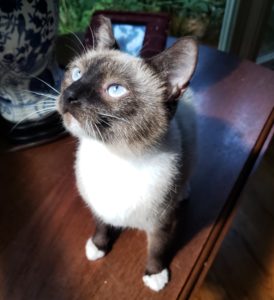 JUNEAUX19
Siamese, Chocolate Point, Female
DOB 7/25/17
HI! I am Juneaux a very friendly, very excitable Siamese cat. I am very loving and like to tell you all about my adventures. When you walk by me, please pay attention to me otherwise I may tap you on the hand or leg to remind you I am here. I have recently discovered that fluffy toys are super fun. Other cats and kittens are interesting, but I haven't figured out if I want to play with them. The canines in the house do not bother me, but if they get too close I may remind them that I am here with a tap from my paw. I will follow you around and try to get you to pick me up, but sometimes I can get a little anxious and need to be put down.So, if you are looking for a outwardly friendly cat that loves humans, I may be the one for you. If this sounds purrfect to you, will you take me home?​

---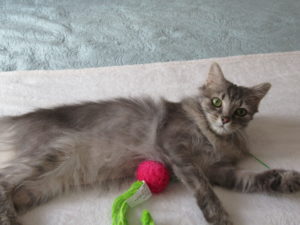 KACHINA19
DMH, Dilute Torti, Female
DOB 02/15/18


Medication

This is sweet Kachina or Little K as she is affectionately called by her foster mom. "Kachinas" are benevolent spirit beings in the religious beliefs of the Pueblo people. Among many other things, kachinas lead them in offering gratitude to the spiritual forces and provided many of the blessings of life. This tiny girl has a lot of spirit and she will bring anyone who loves her many blessings.
She has a lot of love to give to whoever makes her their own. She will snuggle, give head butts, purr continuously, even tend your bath if you let her. Quite often she will groom herself and then look at you with her tongue hanging out. She is just adorable! A bit of a clown.
She also likes to play and enjoys the boy kitties in her foster home. The other female cat is alpha so they do not get along that well. She does get along fine with the older and gentle Pomeranian.
Sweet Kachina has had a difficult time. When she was first rescued, she would not eat like a normal kitty should and was not playful at all. But this special girl was still a love bug through it all.
It was found that she had a high red blood cell count probably due to dehydration. Through patience, medication, feeding her what she wants to eat and lots of love, she has gained weight and is a playful baby girl now. She will probably need to take pred for the rest of her life. But this sweet girl opens her mouth to take the liquid pred! She is a doll.
There are over 400 kachinas in the Pueblo culture but there is only one Little K Kachina. You will have a treasure should you decide to give this loving girl her forever home.
---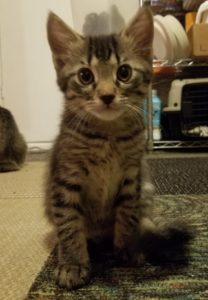 KACI19
DSH, Dark Brown Tabby, Male
DOB  4/20/19
As a scholar and a gentleman, I am always looking for the chance to read and engage in some intellectual conversation. My facial features tell you just what I think about the ideas we are discussing. I adore sitting in your lap and still have my youthful kitten energy to entertain you. I can't wait to meet you and your family. I am good with other cats, children, and my foster's golden retrievers.
---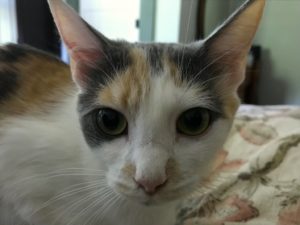 KALEIDOSCOPE19
DSH, Dilute Calico, Female
DOB 4/2018
Kali is a wonderful kitty! She has so much going for her, she is sleek, elegant and has beautiful eyes. She is also super-friendly and must be where you are so she can supervise what you are doing. You can carry her around and she will happily go wherever you bring her, especially if it is to sit next to you or to come and sleep with you at night. She is a very confident kitty and would do well with children, other cats, and nice doggies. Her manners are impeccable and she likes cat trees and scratching posts. 
Kali came to us as a pregnant momma cat and gave birth to two beautiful kittens. She not only raised her kittens but accepted orphans as her own, giving them a momma they would never have had. She is just such a sweet little lady and now that the babies are grown she is looking for a family to call her own.  Ask to meet her and be prepared to fall in love with this gorgeous girl!
---
KATO19
DSH, Gray w/White, Male
DOB 4/1/19
Kato is a lovebug who just wants to be part of the action. Whether playing with other cats, chasing toys or snuggling in with you at night, he isn't shy about being in the middle of things. He has a sunny personality and is just adorable with his big grey eyes. He is very soft and is going to be a big, handsome boy when he grows up. He is a confident kitten that will get along with anyone, including well-behaved dogs and children. He would be a wonderful addition to any family.
---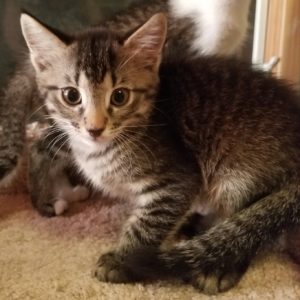 KIBBLES19
DSH, Brown Tabby, Female
DOB 4/20/19
I am a playful kitten with soft edges. I love to follow you around and would be a great buddy reading or watching TV! I was only a few days old when I came into foster care, so I have been very socialized to people. I love old people, young people, and everyone in between and get along great with other cats and my foster's dogs. I would be happy in just about any permanent home. Come and meet me!
---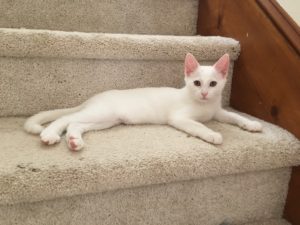 KIMONA19
DSH, White, Female
DOB 4/1/19
My Siblings and I were born on April Fools Day. I am quiet yet playful. I am a super sweet kitten. I love playing with fishing poles but I also LOVE to explore on my own. I love my siblings and would LOVE to be adopted with one of them. I am comfortable around kids, dogs, and other cats. I will make any family really happy!
---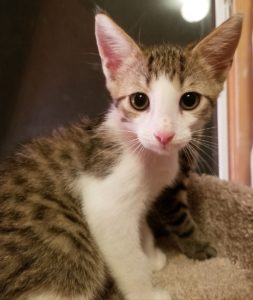 KINGSLEY19
DSH, Brown Tabby w/White, Male
DOB  4/20/19
I might be royalty and I have the youthful vigor to be your Prince Charming!  I am alert and ready to go whenever and wherever you are. I enjoy a good romp with a toy ball or mouse and I LOVE the laser pointer. When it is naptime (and I love naptime!) I snuggle up for serious cuddles and affection. I am good with other cats, children, and my foster's golden retrievers.
---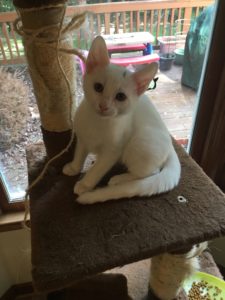 KISSES19
DSH, White, Female
DOB 4/1/19
My siblings and I were born on April Fools Day.  I am the shy one of the group and like to have my siblings to make me feel comfortable. Once I warm up to you I can be a real snuggle bug. I would love to be adopted with a sibling but get along with others. I was raised with kids, dogs, and other cats, though I am still nervous with dogs.
---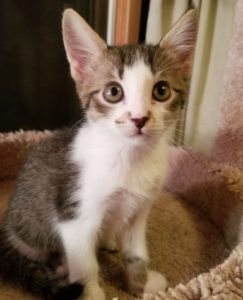 KIT KAT19
DSH, Brown and White Tabby, Female
DOB 4/20/19
I am a foster favorite. I was the runt of the litter in size, but not in personality. I have great confidence and absolutely love being with people. I get along well with children who like to play with kittens gently as well as other cats and dogs. Can I be your kitten forever?
---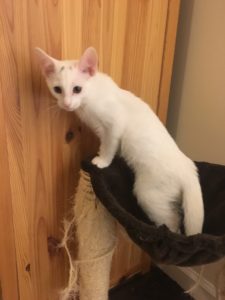 KIWI19
DSH, White, Female
DOB 4/1/19
My Siblings and I were born on April Fools Day. I am the leader of the pack, Playful and curious. I am outgoing and love to romp and play, but I also love to be loved. I have been raised around kids, dogs, and other cats. I definitely need another kitten or cat to play with as I have loads of playful energy. I get along with everyone!
---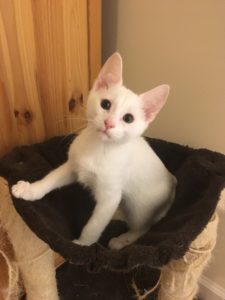 KLIBAN19
DSH, White, Male
DOB 4/1/19
My siblings and I were born on April Fools Day. I am the only boy with 3 sisters! I am outgoing, playful, and curious. I love to play hard, then I love to snuggle. I have been raised around cats, dogs, and kids. I love kids too. I need another young cat or kitten to play with as well and lots of fishing pole fun!
---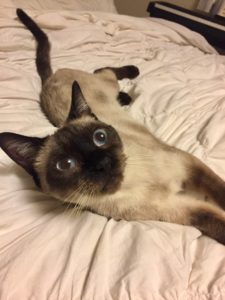 LAPIS19
Siamese, Seal Point, Female
DOB 7/20/18
What an absolute sweetheart this girl is! She adores everyone and loves every cat or dog that she meets. She is your typical Siamese. She likes to talk to you and always lets you know when she wants to have a chat. She is loyal and loving and likes to lay on or near her person and is happy as long as she's touching you. If you sit or lay on the floor she will curl up inside your arms or under your chin. She's funny and energetic and would do best with another cat who will play with her.
When Lapis was rescued, she had been living in a home with many cats and was not well cared for. She was too thin and didn't have much of her fur left due to flea allergy and neglect. She was so scared that she sat in a corner and shook. But what amazing strides she has made since being in her foster home. She absolutely loves attention and she gets very excited when it's time to eat! And because of her good nature, we think she would be fine with kids too. This beauty is waiting for you to find her and bring her home.
---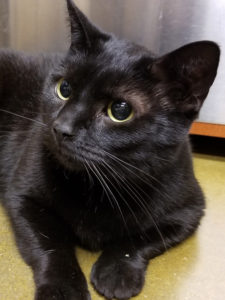 LICORICE18
DSH, Black, Female
DOB 6/1/14
"Miss Licks" as she is called by her foster Mom is a lovely, sweet, and playful girl. Miss Licks had a very difficult beginning finding herself in a kill shelter but happily rescued by Purr Partners. Upon arrival at her foster mom's, it was quickly noticed that she had a serious and very painful injury to her tail. 2 hours later she was being seen by a Veterinarian who also discovered that she had several bite marks on her hip as well. It appeared that she had been attacked possibly by another cat. She stayed overnight for medical care, then home to her foster Mom for love and healing. Today Miss Licks is a beautiful, sleek, playful girl who loves attention and is always happy to see you. She had been terrified of other kitties but over time and trust, she now has many kitty friends she plays with and enjoys time out on the screen porch with. She loves to "wag" her tail when she greets you and give lots of rubs and head butts. Miss Licks is now ready for her next step to finding a loving family who will love to be loved by a tail-wagging kitty!
---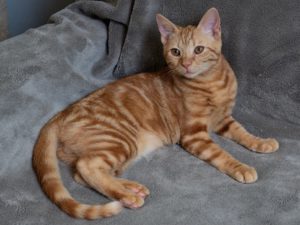 LUKE19
DSH, Classic Orange Tabby, Male
DOB 2/5/19
Luke will melt your heart with his fiery reddish-orange coat, expressive round eyes, and warm purrs. He has beautiful classic tabby markings with dark lines running along his back and a bold pattern of circles and swirls on his sides. Overflowing with charm and personality, he is the life of the party!  Adventurous, outgoing, and ready to lead his playmates into unknown territory without hesitation.  He prefers to be close to his people whenever possible and since his loud motorboat purr runs nearly non-stop, he is easy to locate. He has been quick to accept new cats and kittens and is fond of the large gentle dog in his foster home.  He just plain loves everybody, this boy is an all-around awesome kitty. 
---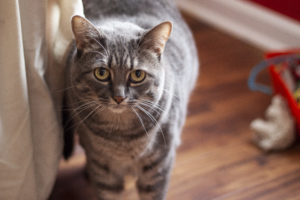 LUNA
DSH, Blue Tabby, Female
DOB 3/1/15
Foster to Adopt Eligible
When Luna was rescued she settled in quickly. She enjoys playing chase with the other kitties, can type, send emails and do online shopping! She loves attention and will crawl in her foster mom's lap, gaze into her eyes and then wash her face. Luna is looking forever home full of love and cuddles, could it be yours?  Click here for more information on our Foster to Adopt program.
---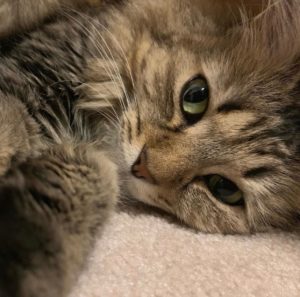 MADELINA19
DLH/Maine Coon Mix, Brown Tabby, Female
DOB  7/12/14
Madelina is an engaging little snuggle bunny.  Initially, she's very shy, but so loving and warm once you get acquainted!  Madelina is a cautious, careful girl that has not had experience with kids and other animals, but we believe she will be fine with other low-key, gentle cats.  She is probably not a cat that would do well with dogs or young kids or in a busy household.  She prefers her person all to herself and will never be far away. She'll think your lap is hers during cooler weather, and she'll entertain you with the play station she creates with her scratching post.  Be ready for lots of gentle face rubs and butts to get your attention.  You learn quickly her preferences for space and petting and if she gets a little sassy, give her a minute and her sweet nature emerges.  Madelina was adopted five years ago, but her mom has health issues and is unable to continue to care for her, and we are looking for a home for this sweet girl where she can continue to be loved and doted on!  She does eat food that controls her allergies, but she loves it and is not fussy about eating it.  (Purr Partners will provide a month's food for an approved adopter.)

---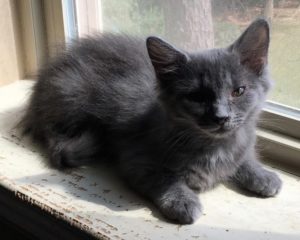 MAHALA19
DMH, Gray, Female
DOB 5/2/19
Hi, everyone! My name is Mahala, and I'm a wonderful little girl. At least that's what my foster mom tells me. I love to play with my kitten friends, and chase balls and fuzzy mice. If you pick me up I will snuggle for a little while, but then I want to get down and go running and playing again. I am, after all, a typical kitten! I would so love a home where I can be myself and have other cats or kittens to play with. If you have some dangly toys, that would be good as well. I'm fluffy, sweet and cute as can be. What's not to like? Would you please take me home with you!

---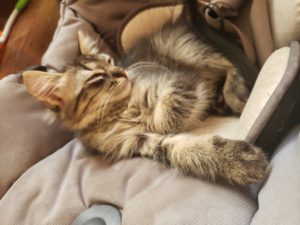 MALFI19
DMH/Maine Coon Mix, Gray Tabby, Male
DOB 5/1/19
HI! I am Malfi, a super cute Maine Coon mix with soft fur and beautiful markings especially on my belly. I am playful and like to have fun especially when playing with other kittens and cats. Dogs are interesting and little humans too. But, I really like to do my own thing, however, when it is time for rubs or food I am all yours. My favorite toys are ribbons, lasers and fluffy balls. Even though being independent has its perks, I truly love to snuggle with another furry fluff on the bed with you. I'm ready for my forever home-will it be with you?
---
MANDARIN18
DSH, Orange Tabby, Female
DOB 5/28/17
My foster mom calls me Mandy Candy and it suits me down to the ground. I'm a sweetheart of a cat! Being orange, Mandarin is a great name for me, but Mandy is more my personality. When I want your attention, I chirp and trill and will flat out ask for attention with a gentle head butt. I'm waiting at the door for my humans to come home every day and that's a great time of day for me. I'm on the bed all night and near my humans all day. I'm not a lap cat, but I'm always there. When you get up to do something, I get up and go with you. If you're sitting at a desk on the computer, I'm on the desk near you or laying on the floor next to your chair. I have a heated cat bed on the desk and that's one of my favorite places. But I also have a playful nature. I gallivant around the house, I love all kind of toys, and of course, watching the world out of windows. I might not be a kitten anymore but I still have a lot of kitten in me!

---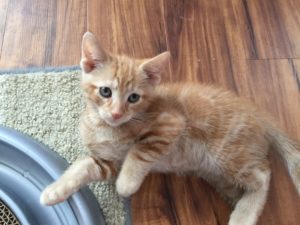 MARBLE19
DSH, Marbled Orange Tabby, Male
DOB 5/5/19
Marble is a beautiful orange marbled tabby. He loves to play chase with the other foster kitties and climb up and down the cat trees. He will roll balls around the room and carry the toy mice around so the other kitties do not steal them. He is fun, energetic and will make you laugh with his antics.

---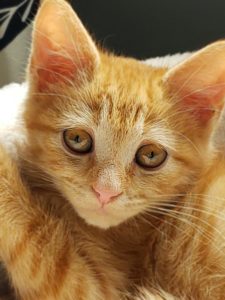 MARCEL19
DSH, Orange Tabby, Male
DOB 3/20/19
Marcel is a sweet boy who came to us from a rural county animal shelter. He was found as a stray with his sister. When Marcel arrived, he only weighed 10 oz and was very scared and dirty. Marcel is now a healthy, happy kitten who is looking for an amazing home. His sister was recently adopted so he is missing a younger cat to play and wrestle with. He loves to cuddle, play with toys, eat wet food, and purr. He has quite the talent for chasing the laser pointer and is the best lap kitten you could find. He has excellent litter box manners and even covers up the messes of other cats. He has the true personality of an orange, male tabby which is sweet, sweet, sweet! Please consider giving Marcel the best home any cat could ask for. He deserves it.

---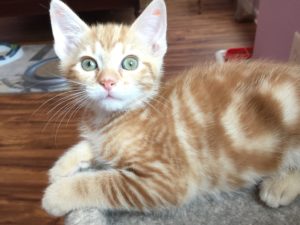 MARIPOSA19
DSH, Orange Tabby, Female
DOB 5/5/19
Mariposa is a beautiful orange marbled tabby. She enjoys playing with the other kitties in a game of chase and then curling up with them for a quick nap. Mariposa is inquisitive and likes to follow her foster mom around and give her a helping paw when needed (or not). She gets along well with others and is the first to volunteer to play with a new toy. Mariposa is a delight and sure to bring joy to your home.

---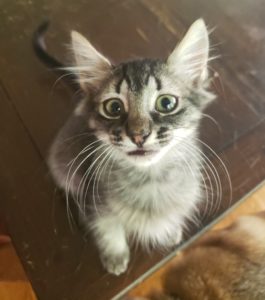 MARMITE19
DMH/Maine Coon Mix, Gray Tabby, Male
DOB 5/1/19
HI! I am Marmite a super friendly Maine Coon mix with the most purrfect markings especially on my belly. I am very loving and like to tell you all about my adventures. Playing with other kittens is the best, but I also like fluffy toys. Big cats can be fun too. When I am not running around being a kitten, I tend to follow you around and try to get you to pick me up. Dogs are interesting and little humans too. But, I really like to lay and snuggle Big Humans. Laps, necks and chests are the snuggliest. If this sounds purrfect to you, will you take me home?​
---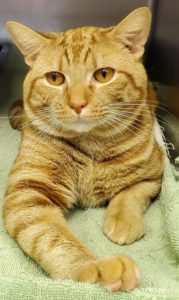 MATHIAS19
DSH, Marbled Orange Tabby, Male
DOB 7/1/17
I was surrendered to a high kill shelter with my "family" – an orange mother cat and litter of orange kittens. I have been transferred to a foster home where I am adjusting to some new surroundings. I was sad and shy for about 1 week but now I am coming along nicely. I've relaxed a bit and get along with the other kitties in my foster home. I am a large, long, handsome boy with a marbled tabby (swirled) fur pattern. My fur is dark orange, almost red. Even my eyes are orange. You are going to love my looks and my size, not to mention the famous orange tabby disposition. I won't be able to father any more kittens, though, because I am now neutered and ready to come home with you!

---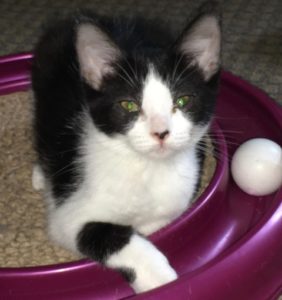 MIME19
DSH, Black & White, Female
DOB 5/2/19
Mime is such a beautiful little girl, and she's just as sweet as she is beautiful. She will look at you with her adorable eyes, and it makes you want to melt. Mime is a typical kitten who loves to play and run and wrestle with her kitten friends. She likes little mice and climbing to the very top of the cat trees in her room. When she's tired, though, there's nothing better than snuggling up with a friend and taking a little snooze. Mime is hoping her special person is out there looking for a wonderful little kitten like her.
---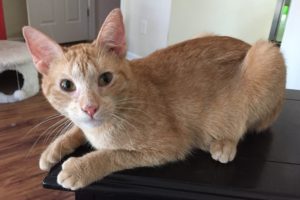 MINERVA19
DSH, Orange Tabby, Female
DOB 6/20/18
Minerva came to Purr Partners with her 5 babies. She has now raised her kids and is looking for a family of her own. She is inquisitive and loves to follow her foster mom around the house or play with the toys that are lying around the house. She loves human attention and will crawl up and sit with her foster mom for some love. Minerva would make a wonderful addition to any home.
---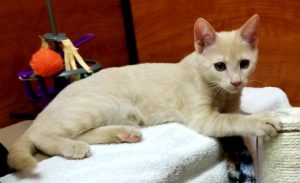 MIRABELLA19
DSH, Buff Tabby, Female
DOB 3/14/19
Playful and loving, I am a package deal. Don't let my petite size fool you; I can play with bigger kittens and cats and hold my own. I can climb and jump and run with the best BUT I love to be held and cuddled and will curl up on a lap when I am done playing. I love to explore and want to know what you are doing if you are in the room. I will make a great companion for another kitten or would be forever happy if you want me and my brother, Moses!
---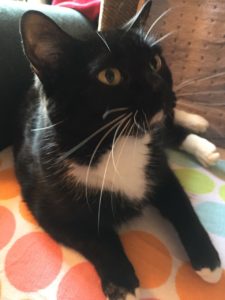 MITSY19
DSH, Black & White, Female
DOB 10/21/12
Hello, my name is Mitsy. I am about 6 years old and am a very tiny tuxedo cat who loves just hanging out. I am very sweet and playful too. My favorite toys are crinkle balls and lasers. I have been living with 2 dogs, another cat, and a teenage girl. I get along great with them. I am looking for a place that is a little less busy. My current foster home rescued me from a hoarding situation at 6 months old, so I am ready to downsize my family life.  I am great about using the scratching post and  I am very fussy about my appearance.  I even allow my foster mom to trim my nails weekly and am pretty good at sitting still for her.  I would also do fine as an only cat or a companion to another cat or dog but I do love being the princess. I would be a great addition to a family who has older children and a pet who needs company.

---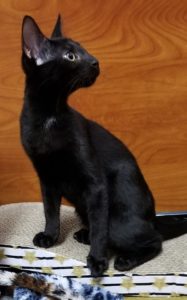 MOSES19
DSH, Black, Male
DOB 3/14/19
Inquisitive and curious, I am full of life and up for adventures. I am fearless and want to get the most out of my environment. I love to chase my buddies and wrestle with my sister foster mates!  There is still a lot of kitten left in me, but like it when you pick me up and carry me around with you. I love new environments to explore. I need a home with some activity and someone to play with…..another cat, kitten or human brother or sister. I want to become a life long member of a family.
---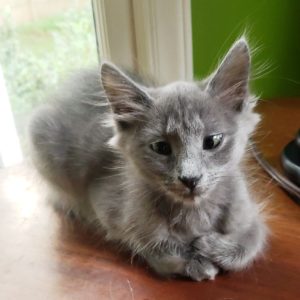 MOXIE19
DMH, Gray, Female
DOB 5/1/19
HI! I am Moxie a really cute grey fluff with unique eyes that point towards my nose (slightly cross-eyed). I am learning to be brave and want someone to show me love affection and patience. I might not like to be held at the moment, but I am not afraid of being around other kittens/cats or dogs. I really like toys that are fluffy or bouncy. When I am not running around being a kitten,I tend to follow you around to make sure you don't get lost. I love to eat too which is when you can pet me the most. Do you think you could be to accepting and loving Human for me? If this sounds purrfect to you, will you take me home?​