Adoptable Cats & Kittens
Follow us on Facebook, Instagram, or Twitter and see which cats will be featured at weekend adoptathons.

---
ADDISON18
DSH, Torti, Female
DOB 11/19/18
Addison is a gentle girl who came into her foster home with her mom and two siblings.  She is a bit cautious at first but loves to play with toys and the other kittens.  Her favorite toy is the crinkle tunnel where she can hide out and pounce on one of her unsuspecting siblings.  Addison is well-mannered, using the litter box and scratching post like a good kitty.  Come meet this beautiful girl and take her home!
---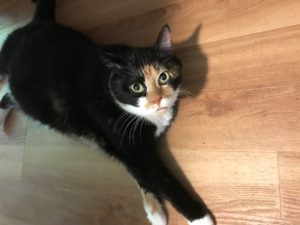 ---
BAILEY18
DSH, Brown Tabby, Female
DOB 10/2/18
Pretty, petite, affectionate kitten, Bailey adores everyone. Bailey came to Purr Partners when she was only two days old, after being found alone, hungry and cold.  Mom was nowhere to be found and never returned.  Being a bottle baby, she is very bonded to people and has never met a stranger.  Bailey's favorite place to be is wherever you are.  Bottle fed by a vet, she went to the office to be loved and held by all the staff.  Bailey is well socialized to young children, other cats and dogs.  Confident, outgoing and playful describes this teeny tiny kitten with a great big personality.  Sit down and she will be in your lap in two seconds flat. Judging from her tiny feet and small size, Bailey is likely to be a petite kitty.  If you are looking for an interactive, fun, sweet, tiny girl for your family, Bailey is purrfect.
---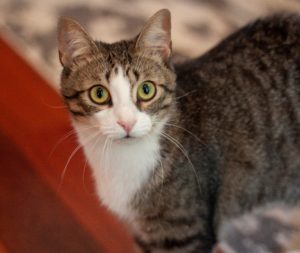 CHELSEA17
DSH, Gray & Brown Tabby, Female
DOB 3/8/17
Foster to Adopt Eligible
Chelsea is a beautiful little girl with a pink nose and striking eyes.  She came to us when she was a few weeks old – all by herself, no littermates or Momma.  The first two weeks she was quarantined to make sure she was healthy so she only had humans for playmates.  While she likes other cats and gets along with them, she is more comfortable being close to humans.
She will take all the attention you can give her.  When she is in a loving mood she will climb on your lap, put her paws on your chest and touch your nose with hers!  Sometimes what happens to a kitten early in life determines their personality – and Chelsea will be cautious at first, but once she knows you and trusts you, she will be a little love bug and a loyal friend.
She is curious about the world around her and can spot a fly or ant from 10 feet away.  She loves to watch the birds and bugs outside a window and will make little-chirping noises when something comes close to the window.  Chelsea will play with any toy you give her, but she especially likes the beam from a laser.  Chelsea would do best with a couple or single person – where she can feel safe, can accept your love and give you all hers in return. Click here for more information on our Foster to Adopt program. 
---
CHEVY
DSH, Mackerel Tabby, Male
DOB 4/26/15
Foster to Adopt Eligible


 Prescription Diet
My name's Chevy and just like my namesake, I'm fast and ruggedly handsome. I'm a sports model because I like to play; show me feathers, kicker, laser light, almost anything that moves and I'm ready for the game.  I like to find a soft lap or to snuggle up real close for some TV, especially sports or movies that have some animals in them. I'm a terrific companion kitty and am looking for a human that would enjoy my company. I have a cat tree beside the window at my foster home for cat TV and napping and do hope my forever home will have one too. I do my bit around the house, keeping up with whatever is going on and helping out by being entertaining. I'm looking for a forever home with adults or older children. I haven't had many kitty friends but with some very gradual introduction, I'm willing to give it a try. I think dogs are OK from a distance, but I haven't had much experience with them close up. If you are cat savvy and looking for a good-tempered companion, someone to hang out with you, I'm your boy! Chevy is on Urinary Food to prevent urinary tract problems that are common in male cats. His toilet habits are excellent.  He has very short hair and almost no shedding, a definite advantage. Chevy is not fond of PetSmart and the foster to adopt program gives the opportunity to see his real personality. Click here for more information on our Foster to Adopt program.

---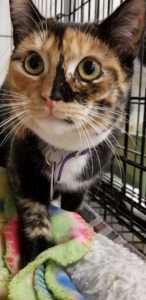 CHIMERA18
DSH, Calico, Female
DOB 2/14/18
Chimera is a sweet kitten that loves to be held, brushed and sit in your lap. She loves to run and play with her foster Mom's other kitties. She enjoys playing plastic balls that have a bell in them and string toys. Chimera gets along well with other cats and would make a great addition to your home.
---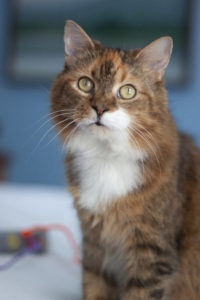 CORAL18
DMH, Tortoiseshell Butterscotch, Female
DOB 6/20/16
Are you looking for a cat that is beautiful, talks, likes laps, loves to be petted and is playful?  Search no more, you have found your kitty.  Coral is all these things and much much more. When Coral was pulled from the shelter and came to her foster home she came in the door and gave her seal of approval by giving a little meow and going right to the toys.  She especially likes the wands, with no feathers, that she can grab and pull on like a game of tug of war, rolling balls across the floor and catnip pillows that she can wrap her legs around are fun too. She doesn't mind having her fluffy fur brushed or having her claws clipped because it gives her another chance to sit on your lap. Coral would love to have a family of her own where she can run and play, and best of all just hang out with her new family, maybe find a new lap or two that is calling her name.
---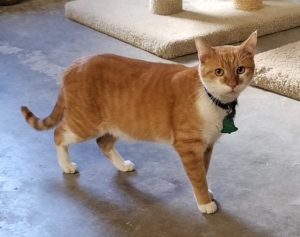 COWBOY18
DSH, Orange & White, Male
DOB 7/24/13
Cowboy is a sweet kind kitty that loves to be held, brushed, and sit in your lap. He enjoys hanging out on the cat furniture and watching the world go by. Cowboy enjoys playing with string toys and is looking for a special person that will love him forever.
---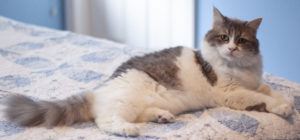 DAPHNE18
DLH, Turkish Angora, Gray with White, Female
DOB  5/1/2005
Daphne was surrendered to a shelter after a family had her for 13 years.  Why someone would surrender such a sweet lady is hard to imagine.  Daphne is a beautiful long-haired Turkish Angora mix.  She has a wonderful temperament and enjoys spending her day watching out the window, and curling up with her foster mom in order to receive lots of pets and love. Daphne is currently taking applications for someone seeking a sweet, gentle lady that enjoys the attention that only a human can give.
---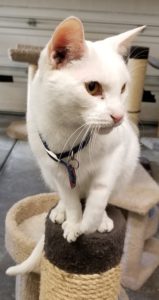 DAY18
DSH, White, Male
DOB 5/6/12
Day is a sweet boy who loves to have lots of pets and cuddles.  Gets along well with other cats and loves to play with string toys.  He enjoys being brushed and sitting in your lap. He would enjoy a home where he could be a companion to an older adult. While he has not been introduced to dogs or young children, he has a lot of love and kitty kisses to give to that special person who can understand him.
---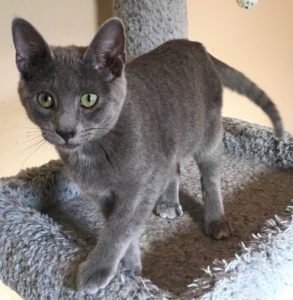 DORIAN18
DSH, Gray, Male
DOB 4/9/18
When the shelter called us to see if we would take this little guy, all they would say about him was that he was "broken".  When we went to pick him up he, indeed, did look like he was "broken" with a very crooked spine and not being able to walk.  Dorian went right to our vet, Bunn Animal Hospital, and after an exam and X-ray, it was determined that he had a broken pelvis.  We don't know whether it was from abuse or from being hit by a car.  Poor little boy spent eight weeks on crate rest, but follow-up X-rays show he is all healed and ready to find his forever home.  Dorian is a very sweet, very inquisitive little boy who loves to play with toys and with the other kittens in his foster home.  He doesn't mind being picked up, but like any kitten, he doesn't want to be cuddled for long.  He is much more interested in being off on his next adventure.  His foster mom does think he might be a lap kitty at some point, but not while he's still a kitten.  He loves to be around his people, though and is very happy being where the action is.  Dorian gets along well with other cats and kittens and the gentle dogs he lives with.  He's handsome, he's fun and he's an all around great kitty…what more could you ask for?  
---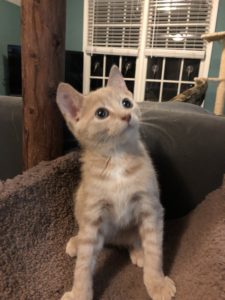 EGGNOG19
DSH, Buff Tabby, Male
DOB 12/10/18
Eggnog is a very affectionate boy, with the sweetest face.  He looks just like a little, stuffed animal just waiting to be hugged. He and his siblings started life under a house.  Their momma took good care of them – and now it is our turn to continue that care.   This cute boy loves to play, he loves chasing laser pointers and any wand toys.  He can be found taking naps at the top of the cat tree.  When you are on the couch, be ready for a snuggle buddy.  Eggnog will climb in your lap, and roll over waiting for you to rub his belly.  He gets along with cats and kittens of all ages.  He is ready to go home with his new family.
---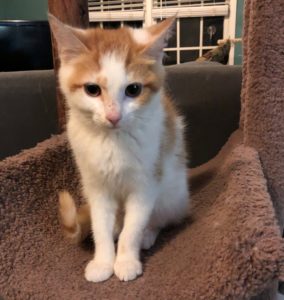 ELWAY19
DMH, White with Orange, Male
DOB 11/1/18
Elway was surrender to a shelter and was all by himself in a lonely cage.  Fast forward a few weeks and Elway as turned into a very affectionate boy with a fuzzy white and orange coat.   He loves to play, he loves chasing laser pointers and any type of wand toys.  He can be found taking naps at the top of the cat tree.  When you are on the couch, be ready for a snuggle buddy.  Elway has excellent manners, loves scratching post and even enjoys being brushed.  He gets along with cats and kittens of all ages.  He is ready to go home with his new family.
---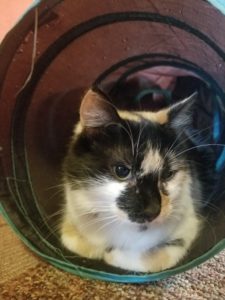 EMILEA18
DMH, Calico, Female
DOB  5/25/18
I am a Charlotte native with a southern attitude, y'all! You need a lady like me in your life, bless your hearts. I am fun!  I love to jump into empty boxes…even ones where I have squeeze in. I was also first in my kitty cotillion class for toy mouse chasing. But don't you worry, lovebug, I calm down at bedtime and just want to be near or on you. Obviously, with my upbringing, my litter box and scratching manners are impeccable. I like kids of all ages, the elderly, other cats, dogs, and just about anyone who admires my southern charm.
---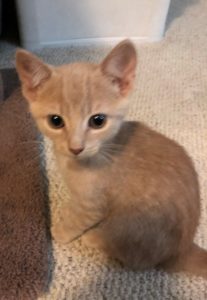 EMMETTE19
DSH, Buff Tabby, Male
DOB 12/10/18
Emmett is handsome buff tabby with the sweetest eyes. He has the most beautiful markings and great personality.  He and his siblings started life under a house.  Their momma took good care of them – and now it is our turn to continue that care.  He is friendly and loves to be wherever his humans.  Emmett's favorite toys include balls, balled up pieces of paper and mesh tunnels.  He loves to sit on the couch with his humans, and then crawl up on your shoulder and take a nap. This boy loves kitties all ages and gets along with everyone.  He is waiting for his furever family to fall in love with him and take him home.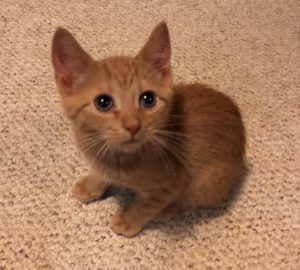 ERIS19
DSH, Orange Tabby, Female
DOB 12/10/18
Did you know that most orange tabbies are boys?  Meet Eris – she is one of the exceptions to that rule.  She is a stunning ginger girl with beautiful markings.  She is a little shy at first but wants attention, so if you are patient, you will be rewarded with her love.  She and her siblings started life under a house.  Their momma took good care of them – and now it is our turn to continue that care.  Eris likes to carry fuzzy balls around the room in her mouth.  She likes to chase balls – but she rarely returns them!  She likes cat trees, mesh tunnels, and toys, real or imagined.  She gets along well with kitties of all ages.  She would be a wonderful addition to any family.
---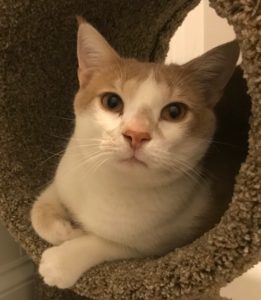 FERRARI18
DSH, Orange and White Tabby, Male
DOB 11/1/17
After taking a couple of laps around the house, Ferrari will be sure to check in with his humans for some face kisses and caresses.  Ferrari is very curious and active, he always needs to know what is going on in the house and makes sure you know he is watching! 
Before being surrendered for adoption due to allergies in the home, Ferrari lived happily with another cat and a small dog.  He is great with small children and never scratches or bites when they are too affectionate.  He loves his treats and over-indulged a bit over the holidays, but is taking his diet with grace!  Ferrari is not shy and is a wonderful addition to a busy home. 
---
---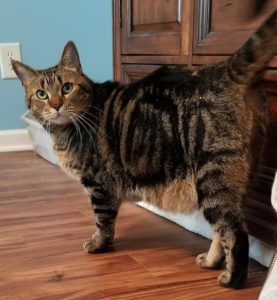 GALLAGHER
DSH, Brown Tabby, Male
DOB 6/2014
Foster to Adopt Eligible
Gallagher was adopted from us as an 8-week-old kitten along with his sister.  Sadly, things in his home have changed, and he needs to find another family to call his own.  Gallagher is a super sweet and loving boy, but he is very stressed and knows something is going on, so he can't go to Petsmart without getting very upset, and when he is out of his home, he is initially frightened and doesn't want to be touched.  But that's not who he really is!  Gallagher is a laid-back, sweet boy who does wonderfully with children and even infants.  He allows his human sister to pull on him and fuss with him, and he is just fine.  When he's in his home and feels safe and loved, he is a wonderful cat that loves belly rubs and laying on laps.  He is good with other cats and, given time, he will fit in anywhere.  However, because things have changed so much for him (his sister was adopted, he's losing his home), and he is sensitive to the fact that something is going on in his life, he is having problems showing his loving and sweet side.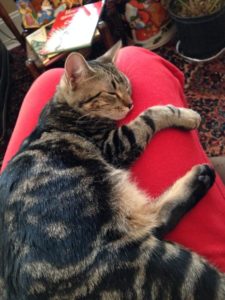 ---
GUMDROP18
DSH, Dilute Grey & White, Female
DOB 9/2/18
Gumdrop sure was named correctly – she is as sweet as candy!  She has very unusual markings and a little round face.  Gumdrop loves to be held and will fall asleep in your lap, so make sure you don't need to get up for a while once she gets up on your lap.  She is a gentle, lovable little girl who loves to hang out with the older kitties in the house and has no problem holding her own.  She also loves the smaller kittens she lives with and acts like a big sister to them.
We don't know where Gumdrop was before she ended up in a shelter, but it must have been with a loving family because she loves people and wants to be with you or know you are close by.  She is playful and curious, and makes a great playmate for kids of all ages!  She gets along with everyone and while she currently doesn't live with a dog, her personality would be suited for a friendly pup.
Gumdrop would fit into any type of family, any age, any size.  Let us know if you would like to meet this like girl.
---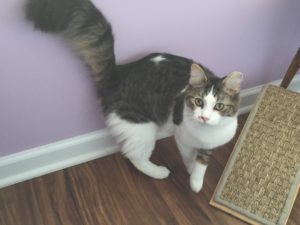 HOLLYWOOD19
Norwegian Forest X, Tabby w/White, Male
DOB 6/30/18
Hollywood, with his big fluffy tail and fur that feels like silk, is a joy to have in his foster home.  He enjoys sitting on his foster mom's lap and loves getting lots of attention.  Not knowing what he went through before coming to Purr Partners, he gets a little nervous with loud noises and sudden moves but once he feels safe again he will come back out for more love.  He plays with most of the toys in his foster home and has claimed the little box on the cat tree as his own.   He gets along with most of the other foster cats and is now looking for his own forever home. 
---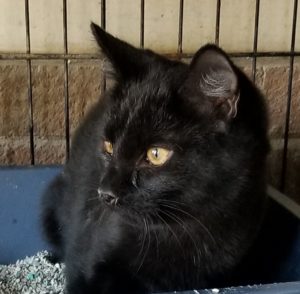 JUDA19
DMH, Black, Male
DOB 7/11/18
Juda is a sweet boy who came from a home with too many kitties. He loves to run and play with his best friend Chimera. Although he has not been to introduced to dog or children, Juda gets along well with other kitties. He loves to play with string toys and plastic balls with bells in them. He is a gentle soul who loves to be pet and cuddled. He will make a wonderful addition to any family.
---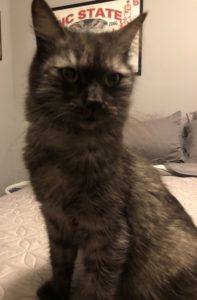 KARRAS19
DMH, Persian Mix, Female
DOB 9/10/18
Here is the $64,000 question – How did this stunning kitty end up in the shelter?  There aren't enough adjectives to describe her beauty and personality. Her photo does not do her justice.  She has the most unusually charcoal colored fur with a silver undercoat.  She has a very calm, confident disposition.  The moment you walk into the room,  she greets you with a headbutt and purrs nonstop.  She has excellent manners, loves scratching post and cat trees – especially if she can see out a window.  She has a playful side too, but is very content to sit with you so you can give her rubs and admire her!  She gets along with other cats and would do well in a quiet home.  With a little tender loving care, I can only imagine that Karras' beauty will only increase.  She is ready and waiting for her furever home.
---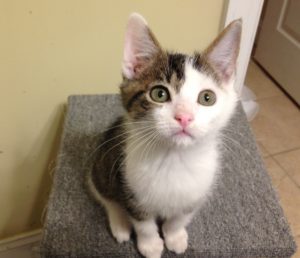 KOSMIC18
DSH, Brown Tabby with White, Male
DOB 11/22/18
Kosmic is a cuddly, cute, confident kitten who loves to be in your arms.  If there is ever a kitty Olympics for cuddling, he will receive a perfect 10.  He is a cosmic hugger. As you enter the room he runs to greet you, meowing softly asking to be picked up.  As soon as he is in your arms, the purring begins.  Put him down and he follows you about to "help" and as soon as you sit, he is ready for some lap time.  As a typical kitten, he does enjoy some play time with rod toys, and tiny toys he can carry about.  Friendly, gentle and affectionate makes Kosmic a great choice for any family looking for a sweet, cuddly kitten.
---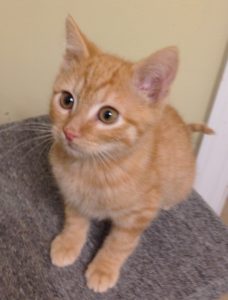 KYO19
DSH, Orange Tabby, Male
DOB 11/18/18
Charming, curious and adorable describes this ginger cat.  Kyo is very affectionate, adorably purring and snuggling in your arms when held. After some relaxing purr and cuddle time…. let the games begin!  Just name your favorite toy and I bet it's his favorite too.  He likes to play, with rod toys, balls, mice or spend time romping with his kitten buddies. This gentle kitty has great manners, uses his litter box and scratching post and gets along with everyone.  He has it all:  good looks, charm, snuggly and lots of fun.   He is sure to make a great companion for any family.
---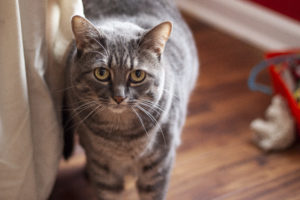 LUNA
DSH, Blue Tabby, Female
DOB 3/1/15
Foster to Adopt Eligible
When Luna was rescued she settled in quickly. She enjoys playing chase with the other kitties, can type, send emails and do online shopping! She loves attention and will crawl in her foster mom's lap, gaze into her eyes and then wash her face. Luna is looking forever home full of love and cuddles, could it be yours?  Click here for more information on our Foster to Adopt program.
---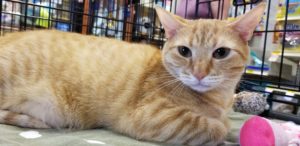 MANDARIN18
DSH, Orange Tabby, Female
DOB 5/28/17
My foster mom calls me Mandy Candy and it suits me down to the ground.  I'm a sweetheart of a cat!  Being orange, Mandarin is a great name for me, but Mandy is more my personality.  When I want your attention, I chirp and trill and will flat out ask for attention with a gentle headbutt.  I also watch TV.  If the TV is on CNN or ESPN, I'll chase the bottom banner and bat at it trying to catch it.  I'll also try to tackle football players with my mighty paw.  When I get tired of that, I'll take a nap on the TV stand.  I also love the trackball toy.  One thing, though – out of my foster mom's five cats, I get along better with the male cats than the female cats.  Go figure!  But if I needed to be an only cat, that's perfectly fine.  I'll be happy as long as I have love from my forever family!  I will return that love a dozen times over, I promise!
---
MATILDA18
DSH, Brown & Black Tabby, Female
DOB 11/20/16
Matilda is a beautiful, loving young cat.  She studies your face with her big green eyes as if she can tell what you are thinking. She was a stray that was taken in this past Jan during a cold spell by a very kind woman in Greensboro.  A few weeks later Matilda gave birth to 6 kittens.  The woman's HOA only allowed 2 cats, so she called Purr Partners asking for help.  We had some room at the time so we gladly took Matilda and her kittens.  She was an amazing Momma and now that all her babies have found homes, it's her turn.
Because Matilda was an outdoor cat, she can be shy around humans, but she warms up quickly.  She loves to be brushed and to have her back and neck scratched.  When you scratch or pet her, once you stop and as you pull your hand away, she will reach out with her paw and grab your hand letting you know she doesn't want you to stop!  She is also showing signs of being a talker.
She gets nervous when you hold her, but if you are willing to be patient with her and show her you can be trusted she will come around.  She will sit next to you or on your lap when it's quiet time.  Matilda is a wonderful, sweet kitty who with a little patience will be a loving friend for her human.
---
MAXWELL18
DSH, Brown Tabby, Male
DOB 12/13/14
Hi, my name is Maxwell, or at least that's what my foster mom calls me.  I don't remember my real name, because my foster mom found me eating outside on her porch where she puts food for feral kitties.  But I'm not feral at all, and I just love people!  I haven't told my foster mom the story of my life yet, but she thinks my former family moved away and left me to fend for myself.  Living outside is really hard, especially for a kitty who loves people the way I do.  I must have gotten attacked when I was outside, because my left ear is all torn up, but it's all healed up and doesn't bother me at all anymore.  I wasn't even neutered when foster mom found me, but I am now.  When my foster mom would put the food out every night I tried so hard to show her I was friendly, rubbing on her legs, and I actually tried to get in the house.  That's when she brought me inside, and I have just loved being back in a real home.  I sleep on the bed, and I purr and purr.  I really want to find a home with people who will love me forever and not abandon me.  I am a real love-bug who wants to share all that love with a family who will keep me for the rest of my life.
---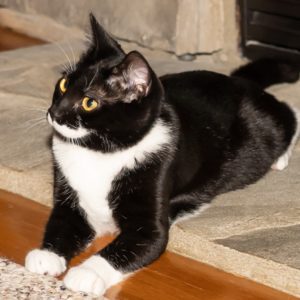 MINNIE18
DSH, Black & White Tuxedo, Female
DOB 4/23/18
Minnie is a friendly, affectionate kitty with a delightful personality.  When she is in a playful mood, she is very energetic, making sure she is at the center of all the action.  She goes crazy when the wand toy comes out and will chase it with gusto until she is completely exhausted.  Her specialty is high jumps.  She is very entertaining to watch as she jumps, turns, and flips in the air while trying to catch the wand.  She loves to be with people and is happy to be carried around or to settle on a lap to enjoy some cuddles.  Her silky, black and white coat is incredibly soft.  Minnie is comfortable with the golden retriever in her foster home and enjoys hanging out with her dog friend.  Come meet this quirky, adorable girl and fall in love.

---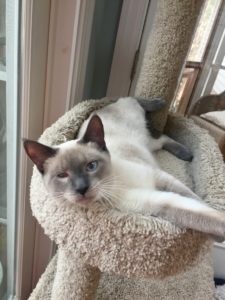 MYKI18
Lilac Point Siamese, Male
DOB 4/10/18
This is one special boy! He has overcome being dumped at the kill shelter for not being perfect and is just the absolute sweetest, most affectionate thing! He loves his foster family and all of the other cats and dogs. He is a busy boy when he's awake as most kittens are and would do best with an active playmate. He will do well in a busy household and with gentle kids too. When he's ready for a nap he will find a lap or a bed and fall soundly asleep on his back with his legs all stretched out. We aren't sure what happened to his right eye but it was already damaged when he came to Purr Partners. He has no vision in that eye so it will be removed so that there are no medical issues down the road for him. He will have a permanent wink! It doesn't slow him down at all though. He runs, jumps, climbs to the top of the cat tree and has perfect vision from his left eye. Myki will keep you entertained and be your loving companion.

---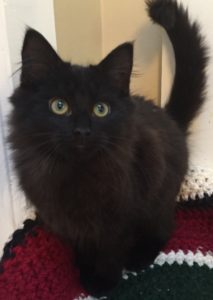 NEON18
DMH, Black, Male
DOB 11/03/18
Neon is a very sweet and very friendly kitten who only wants to be near you just as soon as you walk through the door. He loves everyone and does well with children of all ages. He is a lap kitty-in-training and will climb onto your lap if you sit next to him on the floor. He has a soft purr that is gentle and soothing. Neon has the softest fur, and enjoys gentle scratches on his head, back, tail, and belly. He is very playful and will chase toys for hours before curling up on his kitty tower to take a nap. He will do well with any family.
---
---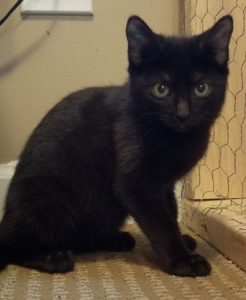 NOCHE19
DSH, Black, Male
DOB  10/3/18
I am an introvert and love the quiet company of books, Netflix, and YOU! I adore being petted and purr my enthusiasm for your gentle soul. My favorite toys include empty cardboard boxes and catnip-filled mice. I may not be the loudest kitty in the party, but I would be the perfect companion to a quieter lifestyle. I am good with other cats and am great with older children.
---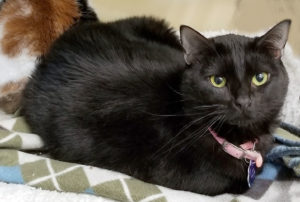 NOEL19
DSH, Black, Female
DOB 2/19/16
Noel is a kind and gentle soul in a beautiful black, green-eyed kitty who loves to be pet, brushed and sit in your lap. Playing with the fishing pole toy is one of her favorite activities and she does well around other cats. She hasn't met a dog in her foster home so she is undecided about them. Noel is looking for a quiet family home with older children and she would be good with older adults. Her list of wants includes a warm lap and a window for bird watching. If you are looking for a sweet beauty to help keep your lap and heart warm please consider Noel.
---
---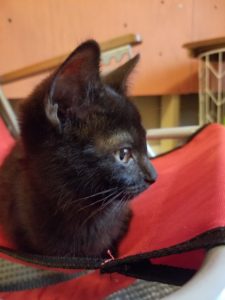 NUTELLA19
DSH, Black, Female
DOB 10/3/18
If you love interesting cats, I'm the one. I am a good blend of playful and snuggly. I'd be perfect in a home with a sweet human looking to "mother" me. I am great with other cats and have been exposed to gentle dogs. Love 'em all!
---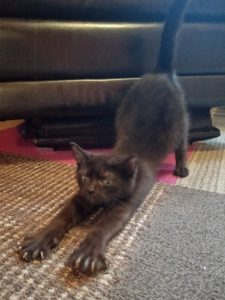 NYX19
DSH, Black, Male
DOB 10/3/18
I am the cat that will follow you from room to room, all the while keeping you safe from random pieces of string, dust bunnies, cardboard boxes, bugs, and other household menaces. I am FULL of personality. The world is my playground. I really love human attention, am great with other cats, and think dogs are pretty interesting.
---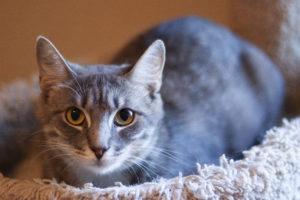 OLIVIA18
DSH, Gray Tabby, Female
DOB 5/11/17
Olivia is so precious.  She was turned in to a high kill shelter with four of her own babies and one orphan that the shelter had put in with her to nurse.  She was such a good momma, and she took care of the orphan as if he were her own.  All of her babies are older now, and it's time for Momma Olivia to find a forever home of her own.  She is a quiet, gentle girl who loves to be petted.  She gets along with other cats and kittens and is not overly demanding.  She'd just like a home where she can have a soft bed to curl up in, a window to look out of, and someone to love her.  Could that home be yours?
---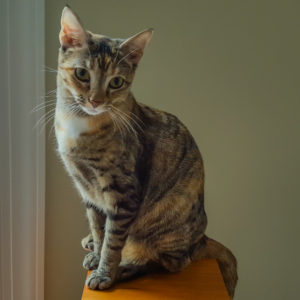 RALLY18
DSH, Torbie, Female
DOB 3/24/18Rally has beautiful tabby stripes with tortoiseshell coloring.  She is a Tortoiseshell Tabby or "Torbie".  The gorgeous blend of cinnamon and white markings on her face, combined with her long slender frame, give her a unique look that is captivating.  Spend some time with Rally and you will, no doubt, be charmed by her sweet disposition and cute kitty antics.  She has an amusing habit of carrying her favorite stuffed toy around the house in her mouth and tossing it into the air to entertain herself.  She purrs easily and likes to get scratches around her neck and ears.  She is not shy, preferring to be in the same room with her people and she is very comfortable around the friendly dog in her foster home.  If you decide to take this sweet girl home, she will become a loyal, affectionate companion that will fill your home with joy, entertainment, and love.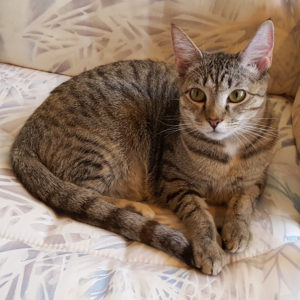 REVA18
DSH, Tabby, Female
DOB 3/24/2018
Reva will steal your heart with her winning personality and sweet temperament.  This outgoing, athletic girl sometimes acts more like a dog than a cat.  She loves to be around people and follows her foster mom around the house. She greets her family at the door and is not shy about meeting new people who come to the house.  She even plays fetch!  Seriously, a long session of fetch with a little pom pom is one of her favorite activities.  She is friendly and confident, loves to get neck scratches, and gets along well with the mellow dog in her foster home.  Her foster parents absolutely adore her and know her future family will too.  Reva is very social and would be happiest in a home where she has a kitty companion that she can chase around the house and take breaks with on a window sill.  You will not regret adding this awesome girl to your family.   
---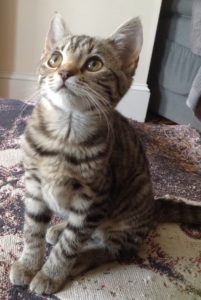 REYNA18
DSH, Brown Tabby, Female
DOB 10/20/18
Reyna is a darling kitten who loves people and other cats. She's a purr machine who loves to get under the covers at night to snuggle with you.  As with all kittens she loves to play and can turn anything into a toy. She especially likes a ball track where she can bat a ball around in a circle. She is a well-behaved kitten with excellent litterbox skills and has been taught to use the scratching post.  She would be a great addition to any loving home.
---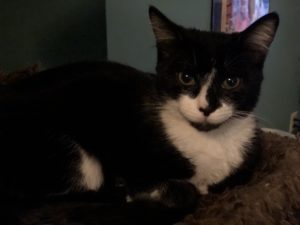 RICO19
DSH, Black & White Tuxedo, Male
DOB 7/1/18
Rico is a fun active kitty and is full of personality.  This handsome boy doesn't care that he is "formally" dressed all the time – he loves to climb on cat trees, chase laser pointers, and play with all sorts of toys.  One of his favorite activities is to watch birds and squirrels from the back porch.  Rico really loves to be where his humans are.  You can also count on him to watch TV with you and sleep on your lap.  He would do well in any environment – but an active home would be best.  This sweet boy is ready for his furever home.

---
---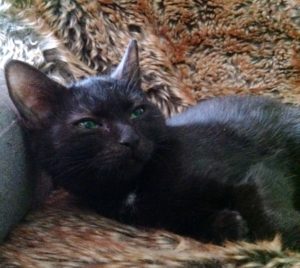 ROLLY18
DSH, Smoke Black, Male
DOB 10/2/18
Aren't I handsome? I'm not quite grey but I'm not quite black, either. I'm soft and will let you carry me around like a baby if you give me belly rubs. I love belly rubs and gentle petting. I just go limp, close my eyes and start purring. My favorite thing in the whole world, except for belly rubs, are those crinkly Mylar balls that I can carry around in my mouth and bat around. Oh, and I like warm, furry blankets especially if they on your lap because then I can get belly rubs. I would really love a family of my own to love. Are you my forever home?
---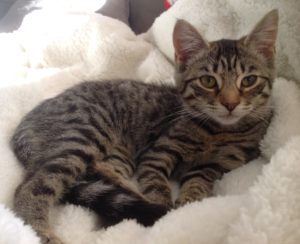 ROSETTA18
DSH, Brown Tabby, Female
DOB 10/20/18
Rosie Posey is a pretty girl with a playful yet relaxed personality. Already somewhat of an 'old soul' she likes to spend her time next to you, keeping you company. She is very social and likes to play with other cats and gets along with everyone. She is simply a delightful kitten with everything going for her except her forever home. If you are looking for a best buddy to chill and Netflix with Rosie is the girl for you.
---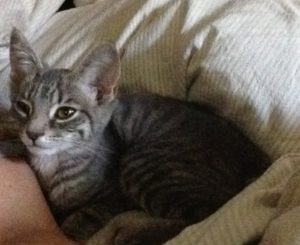 ROXIE18
DSH, Silver Tabby, Female
DOB 10/20/18
Roxie Hart knows she is going to be a star!   She has sass, she has pluck and she has good looks going for her.  She is so cute as she runs back and forth chasing whatever toy is her favorite that day. When she wears herself out she will come looking for you for snuggle time. She also likes to sleep under the covers with you at night.  She is very much a people cat. This sweet girl will fit into any home that can appreciate a kitty that what's to be part of everything.
---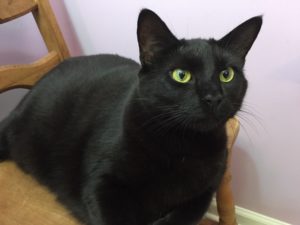 RUE18
DSH, Black, Female
DOB 8/29/16
Rue is a friendly girl with lots to say!  She has an opinion about everything and loves loves loves attention. As you can see she has striking eyes and shiny black fur and along with her great personality she makes a delightful kitty.  Rue would love to have a home of her own and hopes that she will get her forever home soon as she has lots of love to give a very special person.
---
SAGAN18
DSH, Orange with White, Male
DOB 7/28/18
Do you want a fun, energetic and all around love bug?  You can stop looking and focus on this handsome boy.  He gets along with cats, small dogs, and people.  He enjoys playing with the other fosters running, jumping and climbing up and down the cat trees.  Everything is a game and anything is a toy.  This boy will make you laugh with his antics and will bring joy to your home.
---
---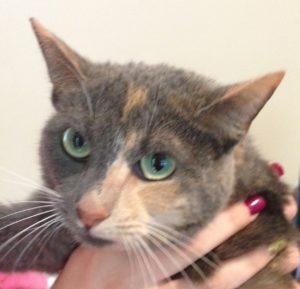 SANGRIA
DSH, Dilute Calico, Female
DOB 3/20/14
Sangria has been in foster care her whole life. Her mother was rescued by Purr Partners and promptly gave birth to 5 kittens. Sangria is the only one left.  She was the shyest out of her litter and remains reclusive with people. She gets along, well, with other cats and has been with other cats her whole life. She is a beautiful, unique looking girl with vivid green eyes who has, quietly, been overlooked due to her timid nature. We think that Sangria would do best with someone that has experience working with shy cats or a patient person who is willing to work with her and accept her for who she is. We never give up on a cat, so, if you are that exceptional owner, who can appreciate beauty through the imperfections, please contact us about possibly adding Sangria to your home. She'd also be a good companion for a lonely cat.

---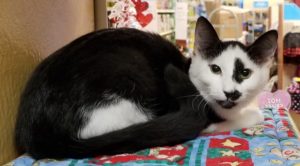 SCOTTY18
DSH, Black & White, Male
DOB 8/16/18
Scotty came into rescue when he was turned in to a high kill shelter, and his back legs did not work very well.  After going to our vet, it was determined that with age and exercise his legs would more than likely heal on their own, and so they have.  Scotty gets around fine now, and no one would know that he had any trouble when he was little.  Scotty loves other kitties and will play and cuddle with them.  He is a little cautious when he is first picked up, but will then settle in and start to purr.  He loves feathers and climbing to the top of the trees in his room.  He's a very sweet boy and don't you just love his eye patch!
---
SERENADE18
DSH, Dilute Torti, Female
DOB 4/24/18
I am a petite beautiful little girl who loves to run and greet you when you come home. I like to play, running after my toys you throw. I get along with other cats. I also like some down time just sitting on your lap.
---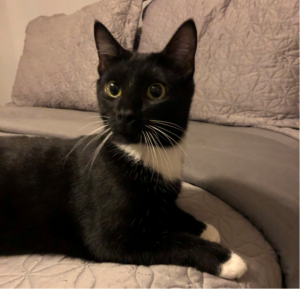 SHANDY18
DSH, Black & White Tuxedo, Male
DOB 10/28/17
Shandy – is an amazing cat that is very, very good with young children.   He is very patient and doesn't run away when they approach him.  He allows kisses and pets and an occasional hug.  When he is ready for a break, he just gets up and quietly walks away.   With his perfect black and white tuxedo markings is a stunning boy.  He has a big personality to go with his looks.  Climbing on the cat tree is a favorite past time for him. He has a steady personality with a  playful side too.   Shandy gets along with kitties of all ages.  Loves toys of any kind.  He is not shy and will always greet you when you come into the room.  He is also an explorer – I don't think there is an inch of the kitty room that he hasn't been in.  When he is ready to rest he likes to curl up on the couch or bed with you.  Handsome Shandy would be a great addition to any family – especially one with a playmate human or feline.

---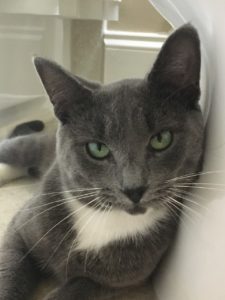 SHARKEY18
DSH, Russian Blue Cross, Gray & White, Male
DOB 7/1/2017
Sharkey is a gorgeous boy with mesmerizing green eyes!  He enjoys playing with toy mice, balls and strings and being petted.  He loves napping in cat towers and being with people.  Sharkey is good with kids of all ages and gets along with other kitties.  He is very sweet and enjoys being spoken to.  He follows his foster mom everywhere and seems to understand exactly what is being said.  
---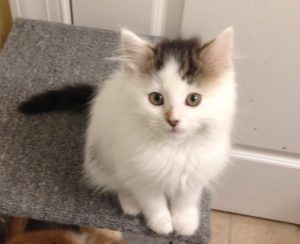 S'MORES18
Persian Mix, White with Brown Tabby Van markings, Male
DOB 11/8/18
Beautiful and unique, S'mores sports a lovely van accented, silky, snow-white coat.  Such a love bug – playful, cheerful, and affectionate.  S'mores is confident, out-going and loves to explore.  He is always ready for fun.  Climbing cat trees, playing with play mice and balls and wrestling with his kitten buddies are his favorites.  Looking for a furry companion?   If you provide a great forever home, S'mores is sure to be your new best friend.  Must be adopted with another kitten.
---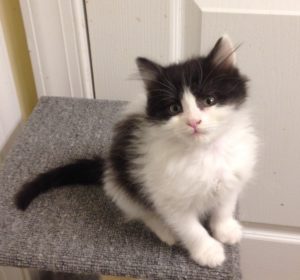 SODA POP18
Persian Mix, Black & White, Female
DOB 11/8/18
Soda Pop is a beautiful, gentle kitten with a delightfully fun, refreshing personality.  She will reward you with purrs and purrs when cradled in your arms, one of her favorite places.  She is adorned with silky, soft fur just made for petting.  Soda Pop will also make you laugh as she bats rod toys about while sitting up like she is begging for more.  Balls, play mice and swinging toys, she's always ready to play and have fun. Being a glamorous, pretty princess does not stop her from wrestling or chasing her kitten buddies. With a name like Soda Pop you have to be special, sweet and a tiny bit sassy.  Come meet her, I promise you will not be disappointed.
---
---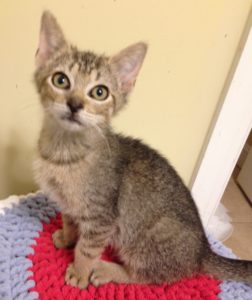 TROOPER19
DSH, Ticked Brown Tabby, Male
DOB 12/15/18
Trooper is a sweet, gentle, affectionate kitten who despite being in immense pain when rescued he only purred and wanted to be loved.  On rescue, his poor swollen feet had open sores making walking painful.  During all his hardship, he never once was grumpy, despite his ordeal – such a trooper. Life is better now.  Trooper is completely recovered and ready for his forever home.  Once again, he can run, jump, play and explore.  Trooper's laid back, playful, friendly personality gives him all the essential qualities to be a great furry family member.  
---